Love bacon but not sure which brand is the best bacon for keto? Below you can find the best tasting options and their nutritional value.
A lot of people decide to do the ketogenic diet for the simple fact that they can eat bacon. I'm not going to lie, that was a huge selling point for me as I'm a huge bacon lover!
Lose weight while eating my favorite food? Sign me up!
If you're looking for the best bacon for keto, the main thing to note here is that most bacon is 0g net carbs. The only bacon brands I have seen with carbs are the ones that have added sugar. But, that's pretty rare. Most bacon is sugar-free.
So, really, it comes down to what kind of bacon you prefer- fatty bacon aka thick cut? Crispy bacon aka thinner cuts? Do you like your bacon with flavors like maple, apple wood, hickory? Etc.
I hate going to the grocery store, so I do my shopping on Amazon Fresh. They deliver it right to my door the same day I place my order, so what's not to love?
But, I'm pretty sure most of these brands are at your local grocery store as well. So, I'm going to link them here with their names so you can click the links to see the pictures and full nutrition facts or you can just go by the name :).
If you're just here for the best bacon recipes, you can skip to the end!
The Best Bacon for Keto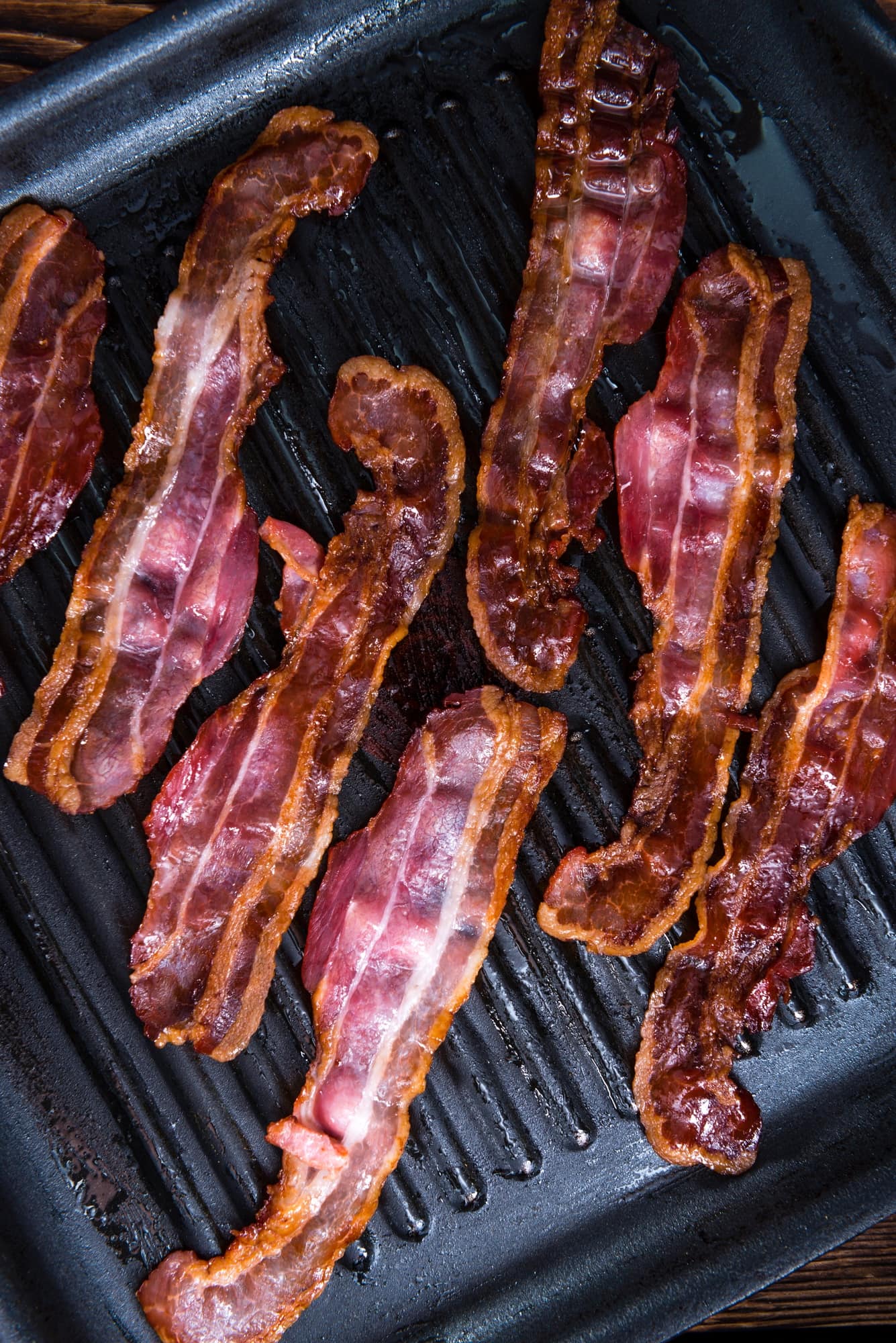 One of the great things about bacon is that you can use the bacon grease to cook many keto diet recipes. So, I like to use bacon brands that tend to have flavorful bacon fat because it can really take your recipes over the top.
Most bacon brands have the same nutrition facts, so I base this off of the mg of sodium, flavor, no net carbs and grams of protein. For the record, all of these are sugar-free bacon.
365 by Whole Foods Market, Pork Bacon Center Cut Smokehouse Uncured Reduced Sodium: 0g net carbs, 5g protein, 170mg sodium, 70 calories per 2 pan fried slices. 365 wins the keto bacon debate as far as having the best nutrients per serving with lower sodium and less calories per slice of bacon- but it also has less protein. It's also harder to find if you don't shop with Fresh or Whole Foods. However, if you can get your hands on it, it's the best option.

Wright Brand is by far my favorite bacon brand for keto and in general. All of their bacon has a premium flavor and if you care about the bacon fat, theirs is the best for cooking in. However, it is higher in calories and sodium… but also in protein.

Applegate, Organic Hickory Smoked No Sugar Uncured Bacon: 0g net carbs, 6g protein, 310mg sodium, 70 calories per 2 pan fried slices. Applegate is another really good option if your main focus is on nutrients and you can't find the 365 brand near you.

Jimmy Dean – Bacon Premium Hickory Smoked Bacon: 0g net carbs, 8g protein, 430mg sodium, 70 calories per 2 pan fried slices. 

Oscar Mayer Center Cut Original Bacon: 0g net carbs, 6g protein, 240mg sodium, 100 calories per 2 pan fried slices. 
If you already have a favorite brand of bacon, just check the nutritional value and compare it to the ones above. The truth is, most bacon has a similar nutritional content so you might be just fine eating your preferred bacon. Especially if your primary concern is carbs, since most bacon doesn't have any carbs. I would just check the sodium and calories because since you are on keto, you are likely already hitting your protein intake goals. But, if you are on keto for weight loss purposes, then you'll still want to keep an eye on your calories and sodium intake.
For that reason, it's always best to watch how much bacon you eat because it is pretty high in sodium and calories. But, you can still have it every now and then so you can actually enjoy your "diet."
Make sure when you are cross referencing your preferred bacon, that you double check the serving size. Some list a serving as one slice and others list the serving as two slices. And that makes a big difference when you're looking at high calories and sodium for just one slice. As you can see, some have lower calories for two bacon slices than other brands have for just one slice of bacon. Again, that's more important if you are doing the ketogenic diet for weight loss purposes.
There isn't any brand of bacon you're going to find that isn't keto friendly because all bacon is low in carbs. It's just a matter of looking at the entire nutritional value and seeing which one works best for your goals. That is why I only listed a few, because you can go on forever if you're looking for keto approved bacons. These just have the best flavor for the bacon itself and the bacon grease you can use to cook other recipes with.
Cured Vs. Uncured Bacon
And if you're wondering about cured vs uncured bacon, keep in mind that cured bacon and uncured bacon are both preserved pork belly, but the preservation processes use different ingredients. The curing process turns pork belly into bacon and preserves the meat. "Uncured bacon" is actually cured, but without using artificial nitrates.
For uncured bacon, they use celery powder or sea salt to cure the bacon.
Cured bacon uses artificial nitrates to cure the bacon, while uncured bacon uses natural nitrates. Uncured bacon can be saltier than cured bacon because it sits in salt brine longer since artificial nitrates cure the pork belly faster.
Flavor wise, they pretty much taste the same unless they add flavor to the brine.
It's still unknown if the natural nitrites found in celery are less harmful than those added to cured bacon, so whether or not it's healthier to eat uncured bacon… not by much. So it's up to you decide which you prefer!
Remember, it's more important to watch how much bacon you're eating because they do have a lot of sodium whether cured or uncured.
Low Carb Recipes with Bacon
Now that you know which is the best bacon for keto, here are some delicious keto/ low-carb diet recipes to help on your weight loss journey. These are all really easy and you can use them to meal prep or as a side dish or appetizer. However you decide to use them, the whole family will love every single one of these bacon keto recipes. Adding bacon to recipes is always a great way to enhance the flavor.
Easy Keto Recipes:
All of my recipes use regular bacon, but you can also substitute for turkey bacon if you prefer. I'm not a fan of the turkey bacon flavor so I prefer regular bacon. But, if you're more worried about fat content than you can definitely look in to turkey bacon as an alternative.
Click on any of them for the recipe cards for each recipe!
Share this Post on Pinterest: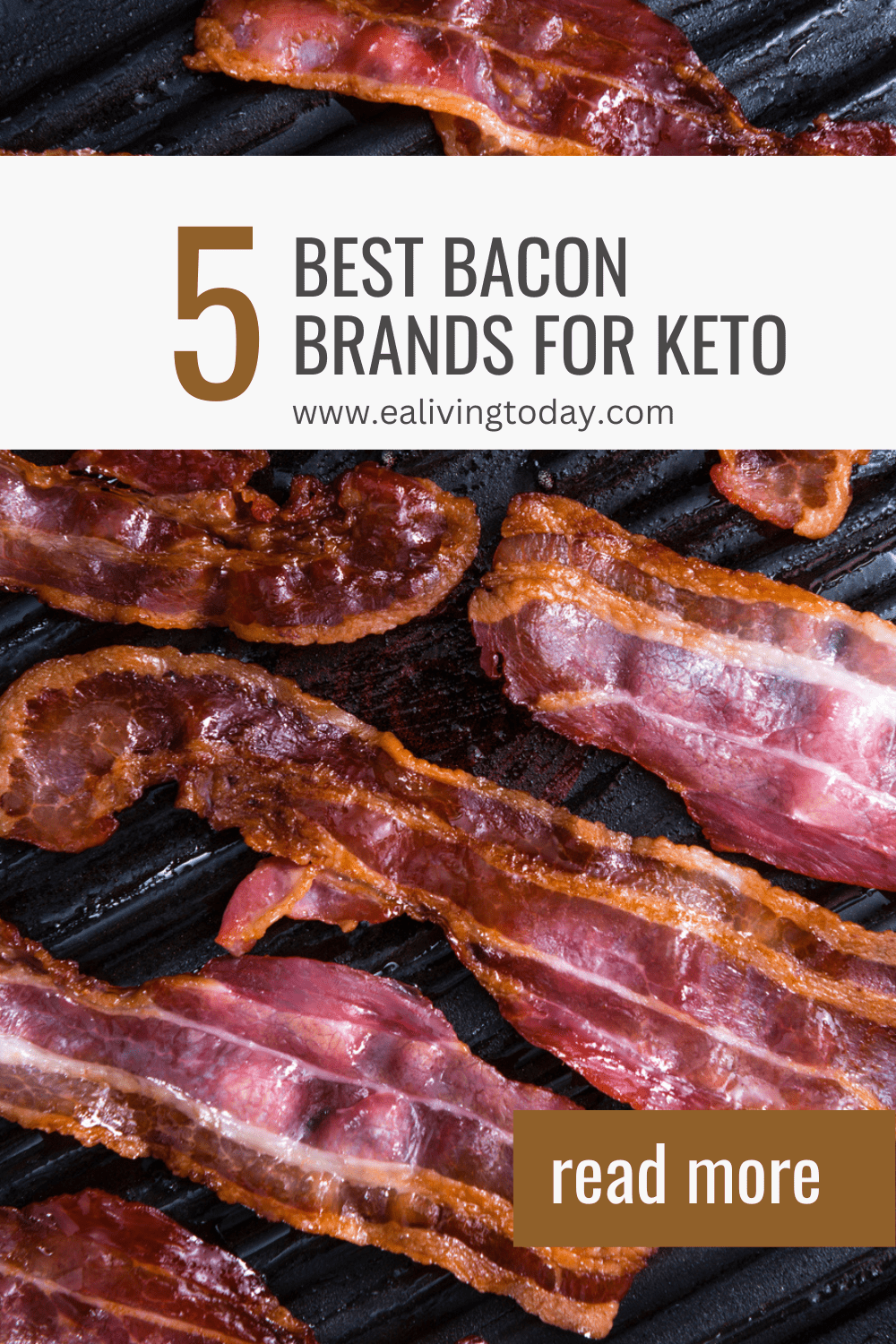 I always recommend having a keto pinterest board to refer back to when you need a keto refresher (or anything dealing with low carbs), so be sure to pin this article on Pinterest so you can easily reference it later!

Xoxo,

Jessica

P.S: Be sure to follow along on Pinterest or join the newsletter for new articles 🙂

This post may contain affiliate links to help our readers find the best products.