The great thing about keto is that you can pretty make keto versions of anything, like this keto shrimp scampi pasta recipe. All you really have to do is replace regular noodles with zoodles (zucchini noodles).
If you've never had zoodles, I promis you they're delicious. I was skeptical at first too, but if you follow this recipe- they will come out perfect!
This recipe is also great for meal prep and reheats very well. I like to use these glass meal prep containers to avoid the plastic ones.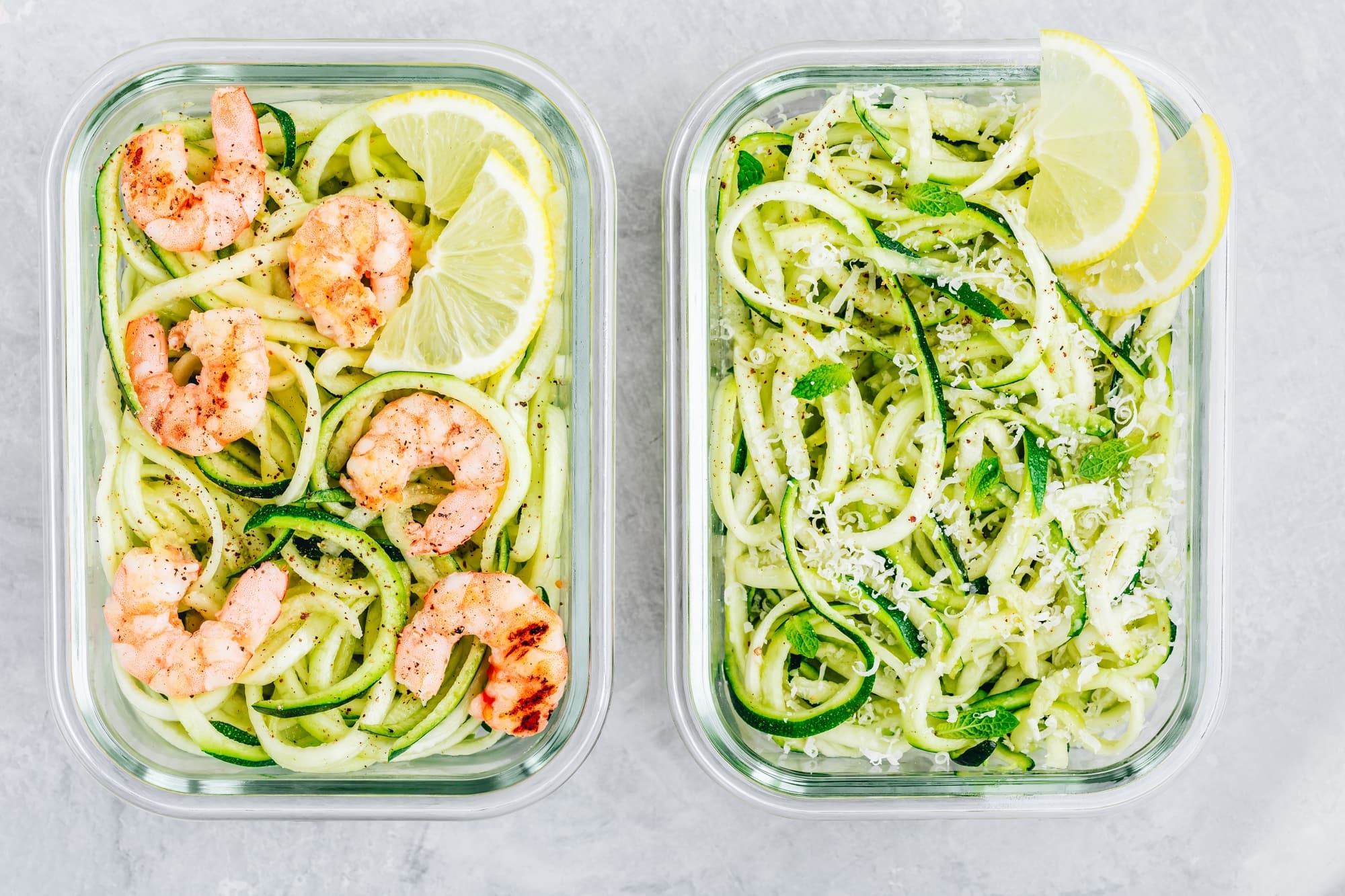 Keto Shrimp Scampi Pasta Recipe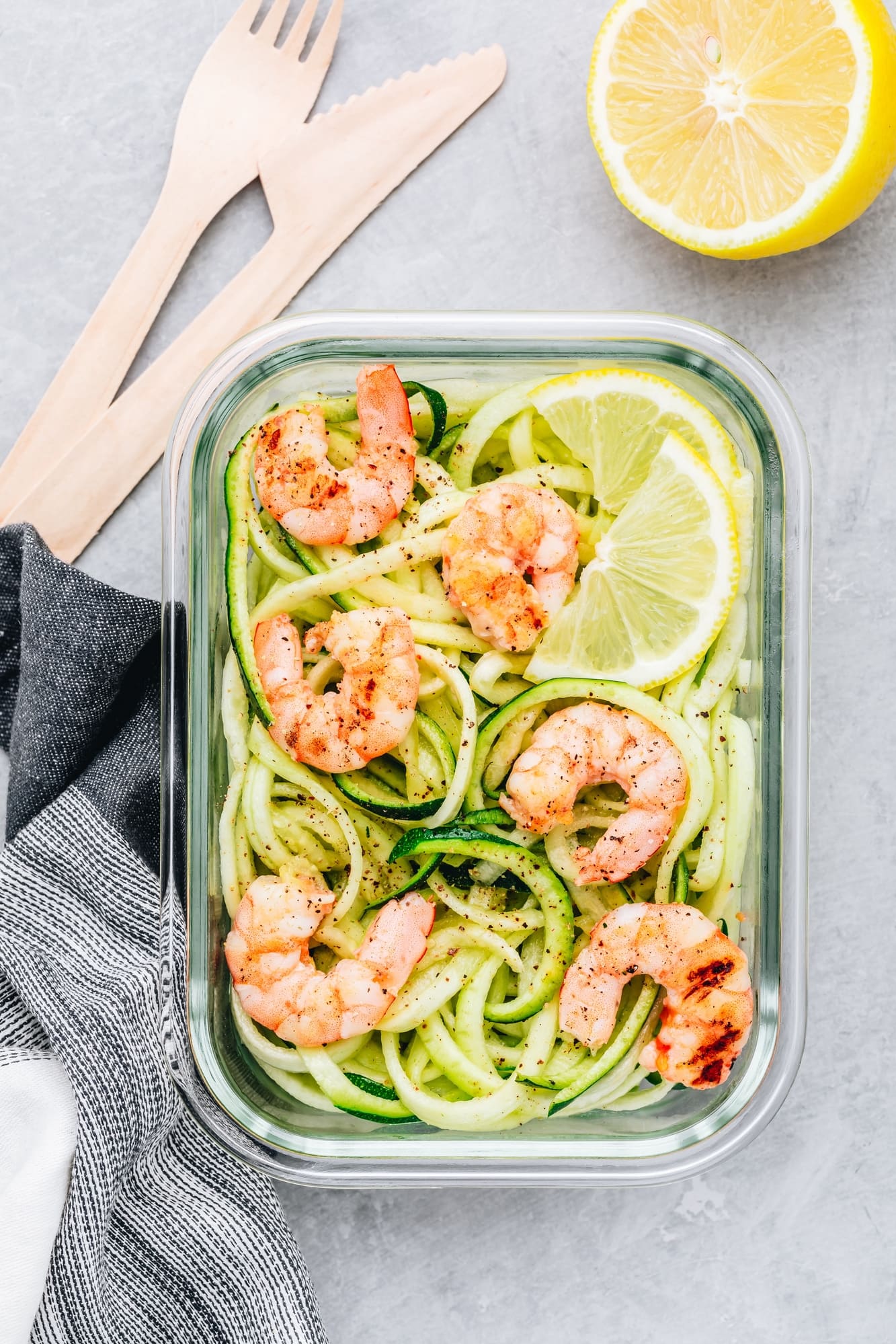 Keto Shrimp Scampi Pasta Ingredients
2 medium zucchini 

1/2 tbsp unsalted butter 

2 tsp extra virgin olive oil (divided)

4 minced garlic cloves (divided)

12 large peeled and deveined shrimp 

salt to taste

freshly ground black pepper

1 tbsp chopped fresh parsley leaves

1/2 tsp fresh grated lemon zest

3 tbsp freshly squeezed lemon juice (from 1 lemon)

1/8 tsp hot red pepper flakes
Keto Shrimp Scampi Pasta Instructions
Use a

spiralizer

to cut the zucchini into noodles. Cut the strips into 6 to 8-inch strips.

In a large nonstick pan, melt the butter and 1 teaspoon olive oil over medium heat.

Add the garlic and saute for 1 minute.

Add the shrimp, kosher salt, and the pepper and saute until the shrimp have just turned pink, about 5 minutes, stirring often. Set aside.

Add the remaining oil and garlic to the skillet, cook 30 seconds then add the zucchini noodles, kosher salt and pepper. Cook 2 minutes, stirring.

Remove from the heat, add the shrimp, parsley, lemon zest, lemon juice, and red pepper flakes. Toss well to combine and serve immediately.

Enjoy!
Keto Shrimp Scampi Pasta Nutrition Facts
Serving size: 2 (6

shrimp, 1 zucchini)

Calories: 161

Carbohydrates: 13

g

Fiber: 4g

Net carbs: 9g

Protein: 11

g

Fat: 8

g

Saturated Fat: 2.5

g

Cholesterol: 72

mg

Sodium: 76

mg

Sugar: 4

g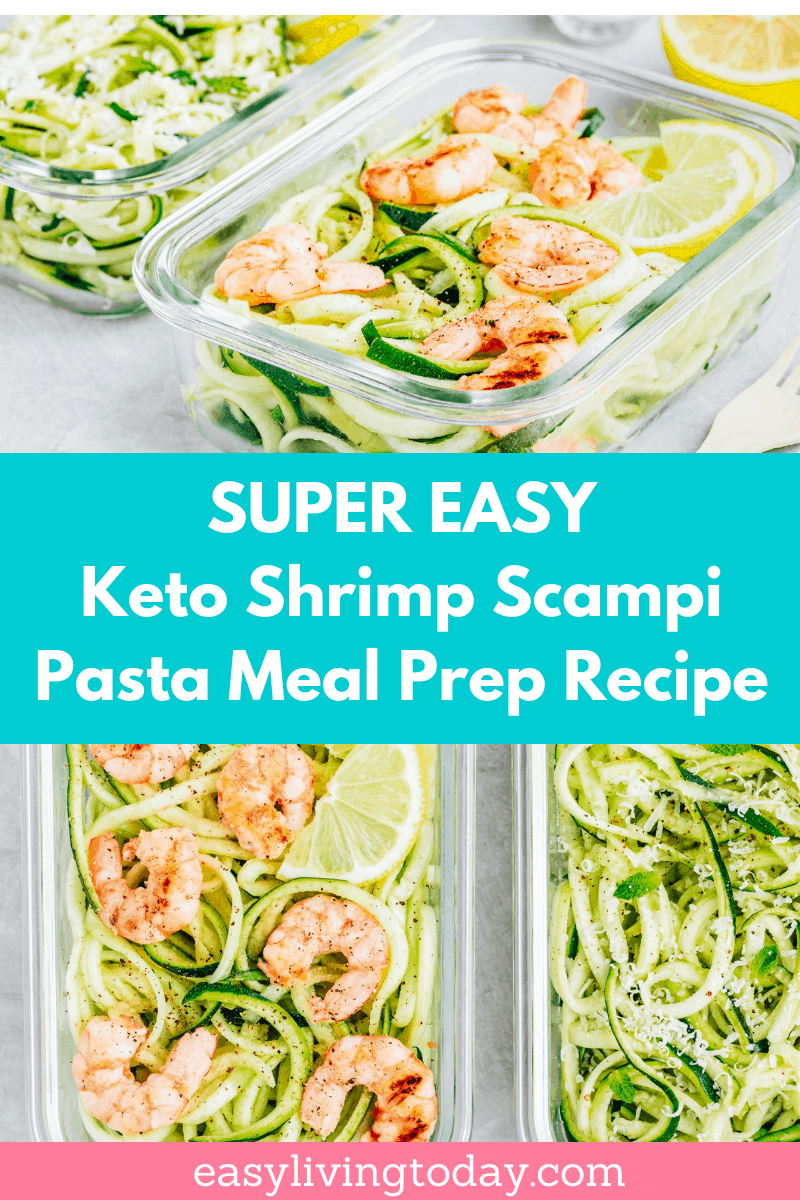 More Keto Meal Prep Recipes:
This post may contain affiliate links to help our readers find the best products.