This post may contain affiliate links to help our readers find the best products.
I'm sure you already know that boneless, skinless chicken breasts are great for you- so I wont bore you with that. What I will do is show you how to make an amazing chicken breast for dinner with this easy fajita stuffed chicken recipe!
They are absolutely a must try! They are delicious, healthy, and keto friendly with less than 4g net carbs! For that small amount of calories, you are getting a filling dinner packed with protein. It's also a great way to sneak your veggies in without anyone noticing!
The best part, though, is that it's a super easy stuffed chicken breast recipe and doesn't take much effort! And as easy as it is to make, it looks really fancy on your dinner plate!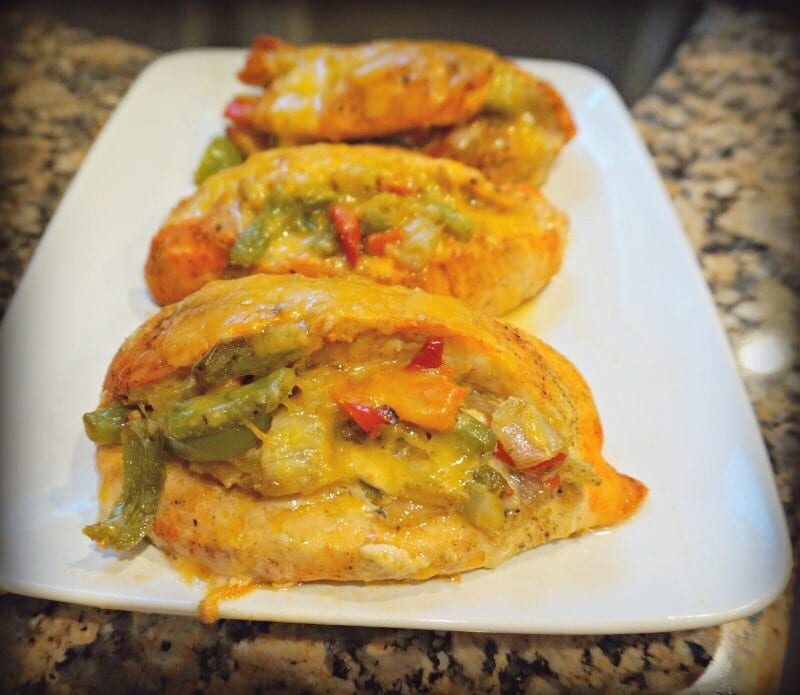 To save on calories, you want to avoid oil or use as little as possible.
In order to avoid using oil, therefore saving on calories and keeping this healthy, you should use a silicone baking mat.
You can use these with anything you bake to minimize calories, oil usage and cleanup!
Since they're reusable, it's cheaper than constantly buying parchment paper or aluminum. If you follow my recipes, you'll see I use these all the time and consider them a healthy kitchen must have!
&
&
Fajita Stuffed Chicken Recipe Video
Fajita Stuffed Chicken Ingredients
1/2 cup sliced onion
1/2 cup sliced green and red bell peppers
2 tsp. fajita seasoning
Three boneless, skinless chicken breast
1/8 tsp. each salt and black pepper
1/4 cup shredded reduced-fat Mexican-blend cheese
1/4 cup salsa *optional*
Fajita Stuffed Chicken Directions
Preheat oven to 350 degrees. Spray a baking pan with nonstick spray OR get a silicone baking mat, and put that bad boy in the baking pan instead. Then it will not require any spray, which saves you calories!
Bring a nonstick pan to medium-high heat.
Add onion and bell peppers. Cook and stir until softened, about 6 minutes.
Transfer cooked veggies to a bowl and mix with 1 tsp. fajita sauce. Stir well.
Slice a pocket in to the chicken breasts so that you can stuff them. Make sure it is not too deep where everything will fall out.
Season chicken breasts with salt, black pepper, and mix them with the remaining 1 tsp. of fajita sauce.
Divide cooked veggies and stuff in to the pockets of the breasts.
Place in the

baking pan

. Cover the baking pan with foil and bake for 20 minutes.
Remove foil and sprinkle stuffed cutlets with cheese. Bake until chicken is cooked through, about 15 minutes.
Serve with salsa if you'd like.
Enjoy!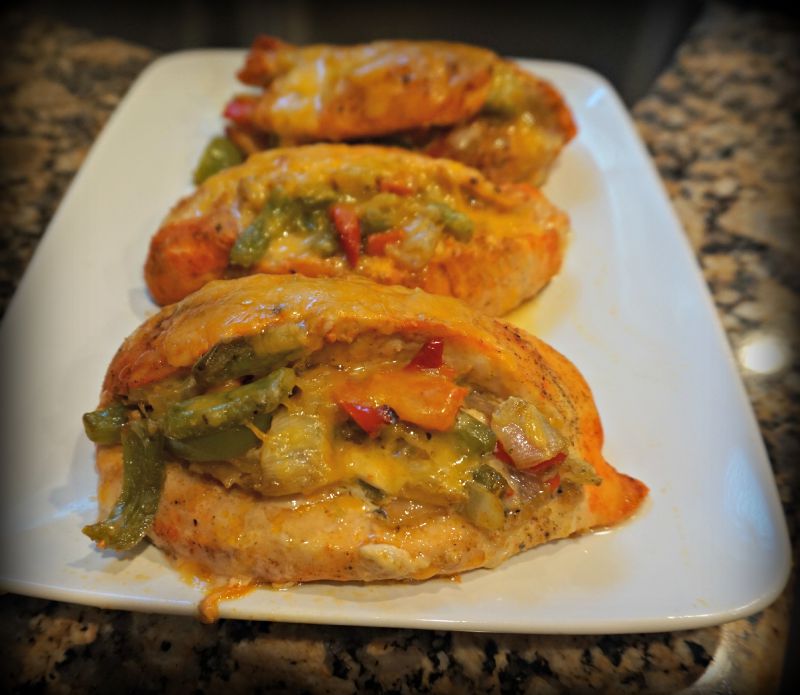 Fajita Stuffed Chicken Nutrition Facts
Nutrition Facts
Servings: 3
Amount per serving
Calories
144
% Daily Value*
Total Fat 3.3g
4%
Saturated Fat 0.5g
3%
Cholesterol 67mg
22%
Sodium 294mg
13%
Total Carbohydrate 4.6g
2%
Dietary Fiber 0.8g
3%
Total Sugars 1.4g
Protein 22.2g
Vitamin D 0mcg
0%
Calcium 29mg
2%
Iron 0mg
3%
Potassium 442mg
9%
&
For more recipes like this one and a full 21 day weight loss meal plan, get my e-book here: