Are you having a nervous breakdown about an upcoming trip with your babies? I've been there and the anxiety is enough to make you want to cancel your trip! No worries, though, I have 10 super helpful tips on how to travel with babies and land in one piece!
Tips on How to Travel With Babies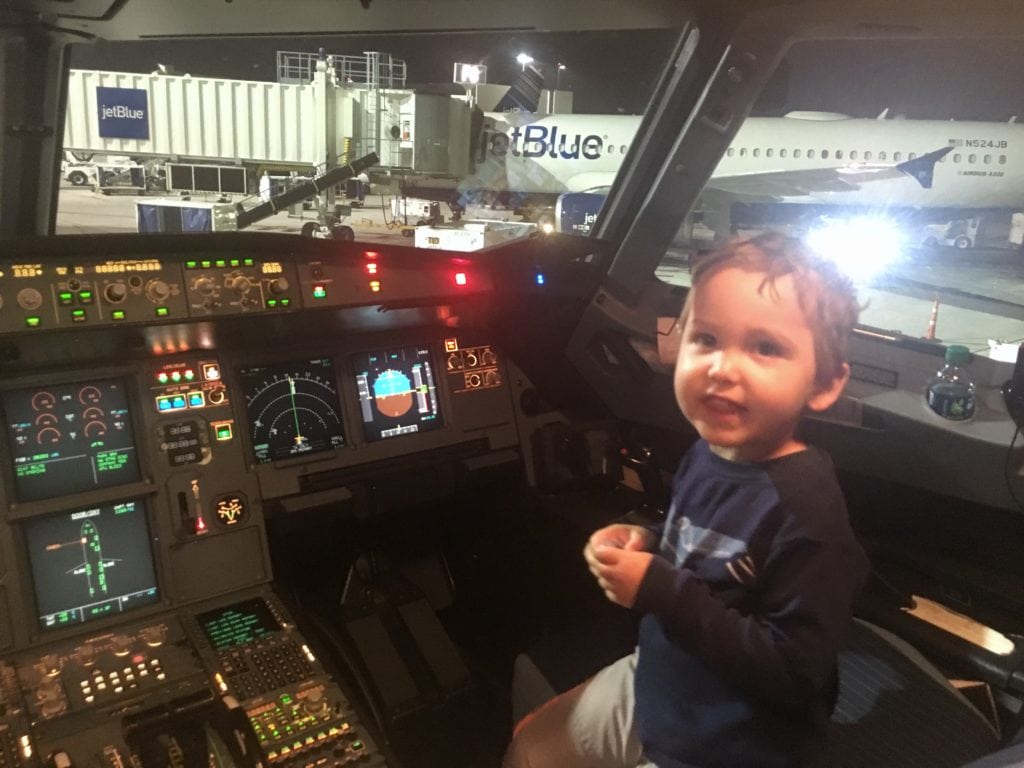 1) First and foremost, be sure to pick an Airline with baby friendly policies like JetBlue.
You want to be sure that the airline you chose will let you pre-board so you're not standing around giving the babies an opportunity to get fussy. You also want to make sure that your airline will let you gate check your stroller and have it waiting for you when you land. 
Furthermore, if you are going to use a tablet for your kids, the airline needs to have wifi available.
JetBlue does all of this and the bonus is that they have free snacks, free wifi and free kids channels available. Other airlines make you pay for these extras and the costs can easily add up.
Also, their staff is extremely friendly and are always super nice to my kids!
2) Use a baby carrier and a light stroller.
When traveling with two babies, the easiest thing to do is wear one and put the other one in a light, umbrella like stroller that's easy to fold.
I use the Summer Infant 3D Lite and love it! It's super light weight, easy to open and close, has a carrying strap, fits through the security machine, meets weight guidelines for gate checkin and is very easy to maneuver.
3) Pack snacks and bottles for takeoff and landing to help with ear popping.
When your ears pop, it's uncomfortable for you. So imagine how it feels for a baby that doesn't understand what's going on. Sucking on a bottle or pacifier will help a ton. For older kids, fruit snacks work well.
4) Have enough entertainment for the length of your flight.
I always take a tablet for my toddler because it's the easiest way to keep them entertained for a long time. You can find inexpensive tablets for kids and headphones that a toddler will actually keep on.
 Fire 7 Kids Edition Tablet

Comfortable Toddler Headphones 

I also love quiet books because they have a ton of activities for toddlers.
Another entertaining item that doubles as a place to hold their snacks is this buckle backpack.
Quiet Book 

Buckle Backpack & Toy 

5) Pack extra clothes for both you and the kids in your carry on bag. You never know if they're going to throw up, spit up, spill something, have a blow out, etc. You absolutely want to be prepared for the worst.
You can put the clean clothes in a ziplock bag so that if their is an accident you have somewhere to store the soiled clothes.
6) Pack pain meds for both you and baby. You might get a migraine and the baby may get sick as well, so be prepared.
7) Wear shoes that you can easily slide on and off. Since you're required to take off your shoes for security, you want to be able to do this easily while managing your kids and getting their shoes off.
The easiest way to do this is to wear a pair of slides. I remember getting through security and trying to put my shoes back on and tie them while wearing one baby and dealing with a toddler trying to escape the stroller… not fun.
8) Tire your kids out before the flight. This is huge. If you want your kids to sleep during the flight, they need to be exhausted.
When we have a later flight, we will take them to the park and let them run around. Then there's the excitement of the airport. So by the time they get on the plan they're exhausted and ready to sleep.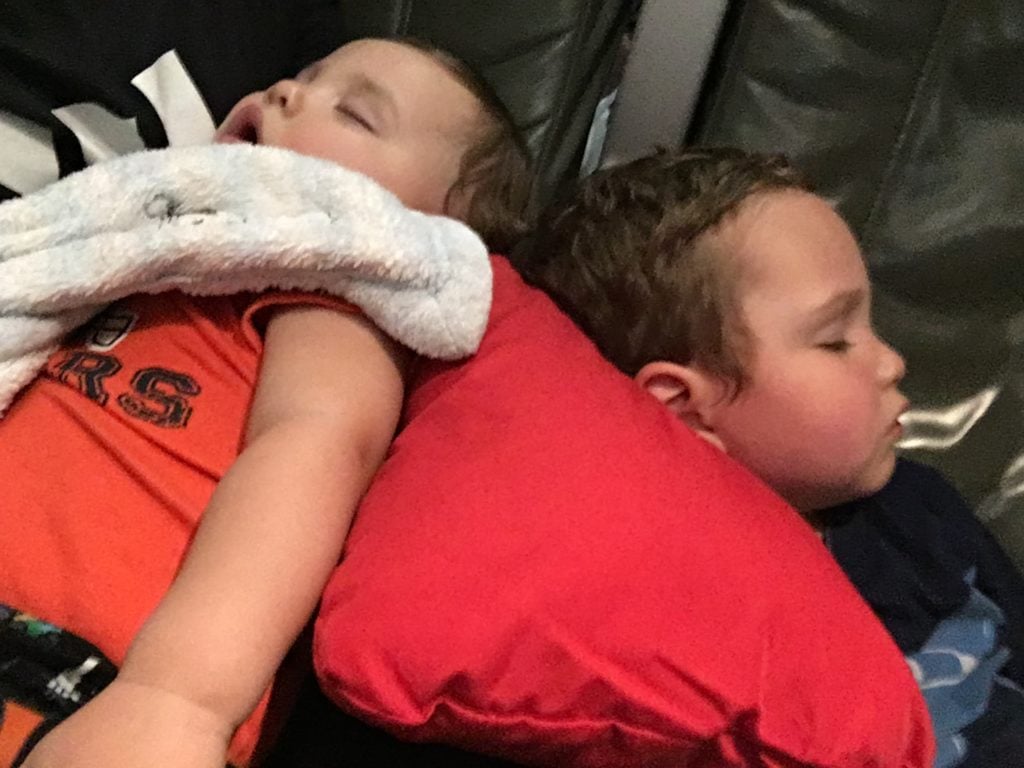 9) Rent a luggage cart if you have a lot of stuff. They have them right at the entrance for $5 and it's the easiest way to manage the kids and luggage if you have someone who can push the cart.
You can take it with you all the way to the gate and they'll turn it back in for you.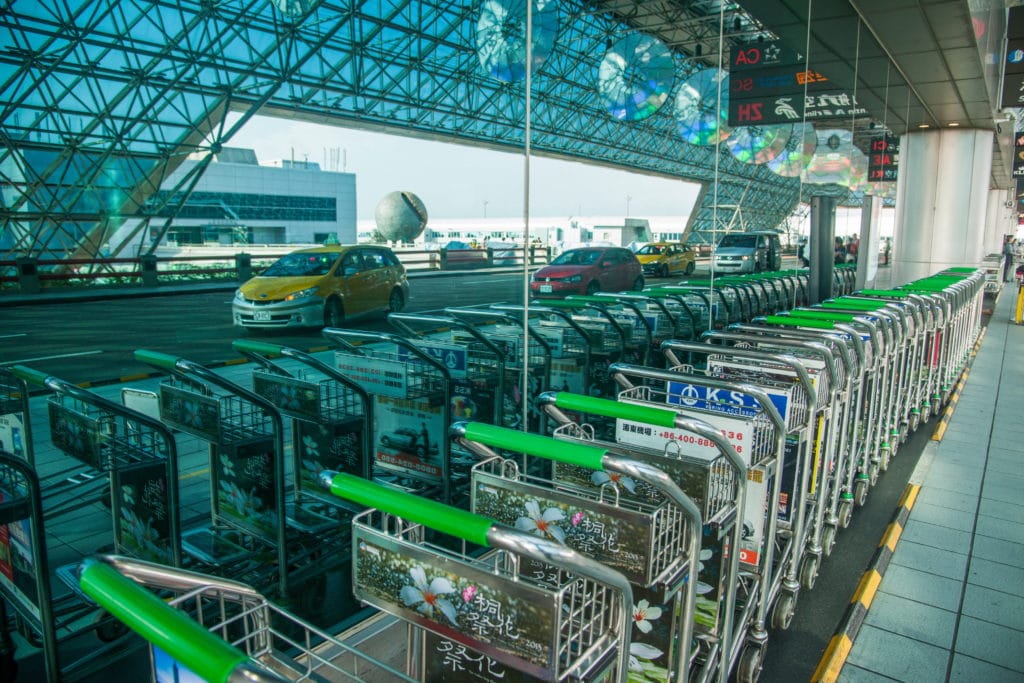 10) Get a carseat backpack if you're taking a carseat. Instead of carrying the carseat by hand you can throw it on your back like a backpack.
It also has the added benefit of padding and protecting your carseat if it gets checked. I even like to throw diapers in there to save luggage space.
Backpack Padded Car Seat Travel Bag

11) Make sure your kids are comfortable because nothing will make them more fussy than being uncomfortable.
Remember airplanes are cold, so take a warm blanket with you. I also love this inflatable footrest that you can put in front of the seat and it allows them to lay down and sleep comfortably.
Adjustable Height Leg Rest Travel Pillow

12) Most importantly, remain calm. Your kids will feed off of your energy and even if they throw a tantrum, remember that freaking out about it will just make it worse for all of you.
If things aren't going to great, take a breather and remember this is new to them and the flight will be over soon. As a matter of fact, the vacation will be over before you know it. So, in the grand scheme of things, this is just a tiny bit of time.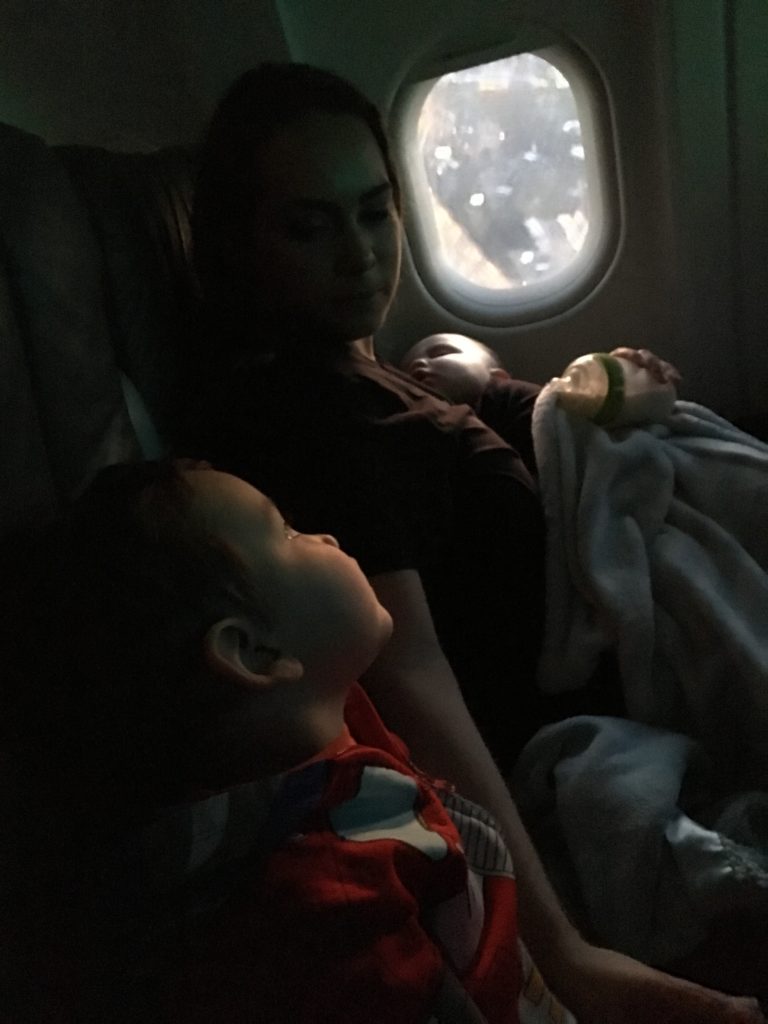 Be sure to let me know how your flight goes and if you have any other tips on how to travel with babies!
Related: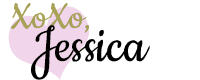 This post may contain affiliate links to help our readers find the best products.