Okay, it's no secret that in our culture food is a major key. We love to cook and we love to eat. But… a lot of what we eat is loaded with carbs. So, how can latinos manage to be successful on keto?
The good news is, a lot of the things we are used to eating are keto friendly and there are some keto hacks for latinos- yay! The bad news is, we can't eat rice, platanos or tortillas… which are staples in many of our homes.
I am Puerto Rican and Colombian and my husband is Mexican. Needless to say, I had to figure out how to make this work MY way and not just the Pinterest way.
But you can still eat chorizo with eggs and taco bowls instead of actual tacos! So, let me show you some grocery store finds that you probably didn't realize are keto friendly.
I want to focus on the things you still CAN eat vs the things you can no longer eat.
Keto Hacks for Latinos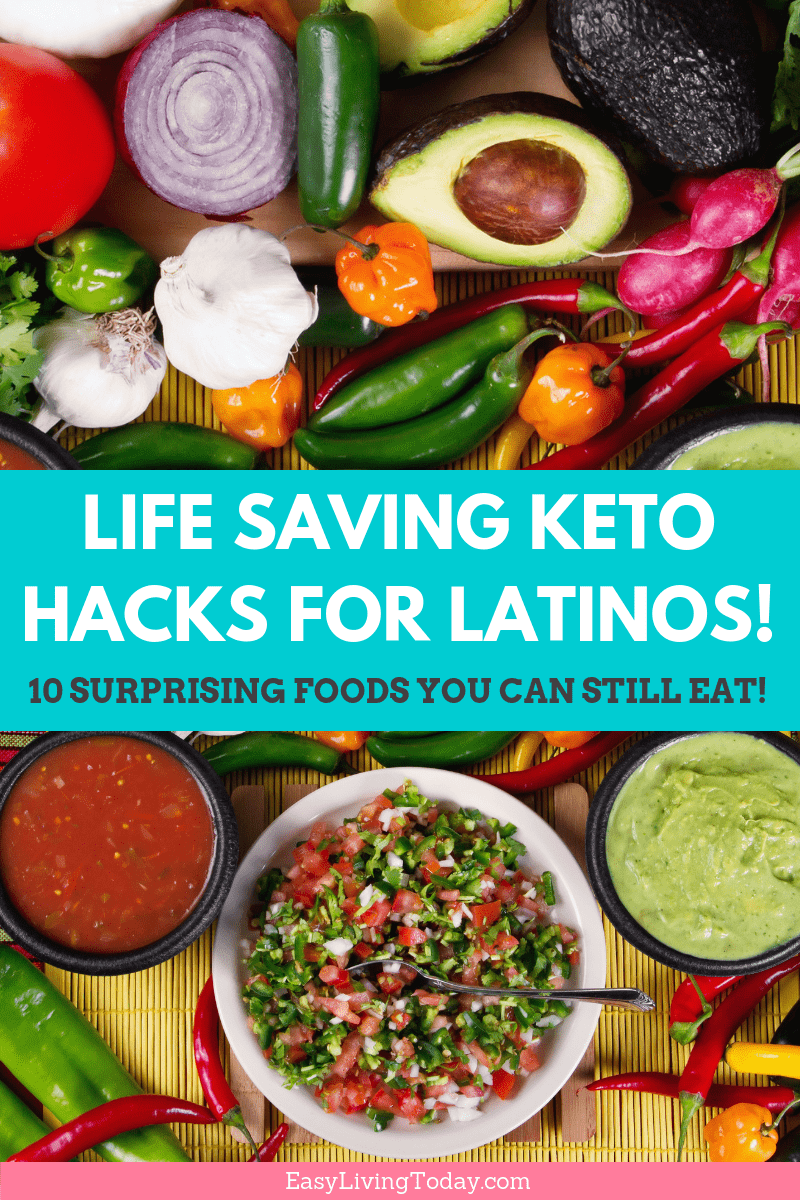 Chicharrones have 0 carbs and 9g of fat! They are perfect to eat as a snack instead of chips, but you can also make amazing keto nachos with them.
Cheese is your best friend on keto because it's low carb and comes in so many flavors. So,  yes, you can still have cheese with your coffee. Queso Fresco, Chihuaha cheese, Mexican blended cheese, Queso Caribe, etc is all keto friendly.
Chorizo has 0 carbs and 15 grams of fat, so you can still have eggs and chorizo for breakfast. You can also just eat the sausage.
Corned beef has less than 0.4g of net carbs and 15g of fat
Crema aka sour cream only has 1g of net carbs and 5g of fat, so you can continue to add crema to your food.
Salchichas have 1g of net carbs and 5g of fat (like the vienna salchichas you eat in arroz con salchichas)
You can still cook with sofrito because 1/2 cup of sofrito only has 4g of carbs and not much of that is going to get in to one serving of whatever you're cooking. If you're not sure how to make sofrito, I have easy instructions here.
Chimichurri sauce tastes amazing and you can still use it to add flavor to your meat since 1 tablespoon of it is only .6g net carbs and 8g of fat. This grilled steak with chimichurri is the perfect recipe to try.
Avocado, of course, is ver keto friendly at 2g net carbs and 21g of fat. This salmon with avocado sauce is a must try!
Valentina hot sauce (and many others) are 0 carbs- yay!
The fact of the matter is that there are still a lot of things we are used to eating in latino households that we can continue to eat while doing keto. As a matter of fact, that is one of the reasons I find keto so easy to stick to. I can cook things I would normally cook for my family and just remove the rice or tortillas from my plate. This way I do not have to cook multiple dishes for every meal!

Let me know if there is anything else I should add!

Xoxo,

Jessica

This post may contain affiliate links to help our readers find the best products.