It's nearly 90 degrees, you're sitting outside while your kids play, sweating like a mad man… and then here comes the ice cream truck or the popsicle cart (or paleta man as we call them).
You think "Oh man that's exactly what I need. A nice, cold popsicle. I'll instantly feel so much better."
… But goals, you have body goals and you don't want to fall off track.
Well, guess what? You can have a nice, cold popsicle without going off plan!
These homemade fruit popsicle recipes are delicious, healthy treats. They won't throw you off of your clean eating, but they will definitely cool you down and satisfy your cravings!
What You'll Need to Make Popsicles
Popsicle Molds
Aside from the ingredients, the only thing you really need are popsicle molds.
They make them look pretty, like actual store bought popsicles, vs if you were to just throw it in a cup or something.
They also ensure you have the perfect portion.
Popsicle molds are super cheap, so there's really no reason not to have one. Trust me, you'll get a ton of use out of them– especially if you have kids!
How to Make Healthy Homemade Popsicles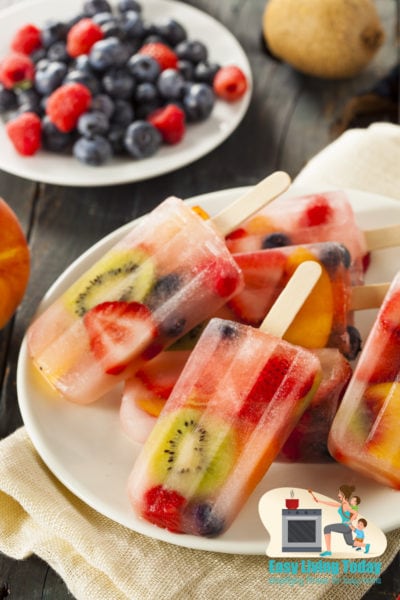 Homemade popsicles are probably one of the easiest things you'll ever make.
All it comes down to is picking your favorite fruit combinations then chopping those fruits up. Once they're chopped up, you throw them in to your popsicle mold and add your liquid of choice. It can be almond milk, coconut milk, coconut water, natural juices- whatever you like!
Then you freeze it until it's ready to eat!
It really is that simple! If you need some combination ideas, though, I've posted some of my favorite homemade fruit popsicle recipes below. Enjoy 🙂
Homemade Fruit Popsicle Recipes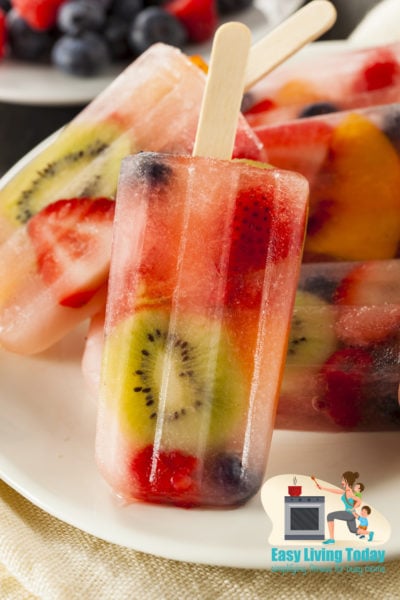 Refreshing Fruit Blend Popsicle Recipe
**Pictured above**
Ingredients
2 Kiwis
2 Peaches
1 cup Strawberries
½ cup Blueberries
2 cups Apple Juice
Directions
Peel and slice the kiwis and peaches into ¼" slices
Slice the strawberries into thirds.
Press the strawberry, kiwi and peach slices into the bottom of each mold.
Add blueberries to fill the gaps.
Add as much fruit as you can fit into the mold.
Fill the molds with natural apple juice. Don't fill all the way to the top because it'll expand when it freezes.
Freeze the popsicles overnight.
Run the molds under hot water to help the popsicles release.
Enjoy!
Vanilla, Strawberry-Kiwi Popsicles
Ingredients
Non-fat vanilla yogurt
Strawberries
Kiwis
Directions
Slice strawberries in to thirds.
Slice kiwis in to 1/4″ slices.
Add a little yogurt to mold.
Slide fruit slices down the sides so the popsicles look pretty.
Add more yogurt and them more fruit until mold is full.
Freeze overnight.
Run mold under warm water to easily remove popsicles.
Enjoy!
Creamy Mango Popsicles
Ingredients
10 oz frozen mangos
1 can full-fat coconut milk
2 tbsp coconut sugar
Directions
Blend all ingredients until completely smooth.
Pour into popsicle molds.
Freeze overnight.
Run mold under warm water to easily remove popsicles.
Enjoy!
Really, the options are endless and I don't want to overwhelm you! But with these basics, you can get an  idea of how it works and what flavors you would like. Then you can personalize them to your exact taste! 🙂
Stay cool, my friends!
Other Healthy, Sweet Treats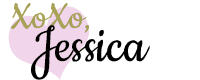 This post may contain affiliate links to help our readers find the best products.