Let me preface this by saying that I am not a doctor in any way, shape or form nor am I giving any sort of medical advice. I am just talking about my own experience with clean eating while pregnant for one pregnancy and not eating clean while pregnant during another pregnancy.
My sons are less than 2 years apart, 22 months to be exact. I had my first son in January of 2015 and was pregnant with my second in February of 2016. That's just over a year between pregnancies!
With my first, I did not eat clean at all! I ate everything in site and it showed! I gained a total of 40lbs and was miserable. I was swollen by month 5 and was already struggling to walk. That made it really hard to get back in to shape after baby.
However, I did it! Then I got pregnant again lol.
With my second, I knew I had already worked to hard to get my body back just to let it go. So I worked really hard on clean eating during pregnancy.
Let me tell you, I'm so happy I did! I didn't have any swelling until I was 37 weeks along and had much more energy. I really just felt better all around and gained a total of 33lbs, which was healthy for my weight.
So, in this post, I will compare my two pregnancies- the unhealthy one vs the healthy one. I just want you to see the huge difference clean eating while pregnant makes!
Importance of Clean Eating While Pregnant
Eating clean and healthy while pregnant is important for both you and baby.
It helps you maintain a healthy weight and also helps baby be at a healthy weight. It also ensures that both you and baby are getting the nutrients you need.
As for mom, you will feel much better if you eat clean during your pregnancy. You will have more energy, you will sleep better, you will have less issues (like swelling and fatigue) and you will lose the weight faster after the pregnancy.
Eating Clean During Pregnancy VS Unhealthy Pregnancy
It's really easy to fall in to the trap of "I'm eating for two" or "well let me take advantage now that I'm going to gain weight anyway." Don't fall for it, you'll regret it at some point- trust me, I've been there and ended up with postpartum depression.
On average, pregnant women only need an extra 300 calories a day. However, if you use the mindset that you're eating for two, you can easily go from eating 1,500 calories/day to eating 3,000 calories/day. Now just imagine what that will do to your body.
Let me show you my two pregnancies side by side:
4 months (16 weeks) Pregnant
A lot of people told me I looked great on the left (unhealthy pregnancy) and I appreciate that. However, I was totally unhealthy and that belly was basically all bloat and discomfort.
At 16 weeks, I shouldn't have gained much weight yet. However, I had already gained about 7 lbs at this point in my first pregnancy. I was already feeling pretty crappy and had no energy. Since I didn't have any kids yet, I would literally nap whenever I was not at work.
On the right, with my second pregnancy where I ate clean, I had only gained 2lbs, was not bloated at all. I felt great. I had a ton of energy and was keeping up with my toddler with 0 naps.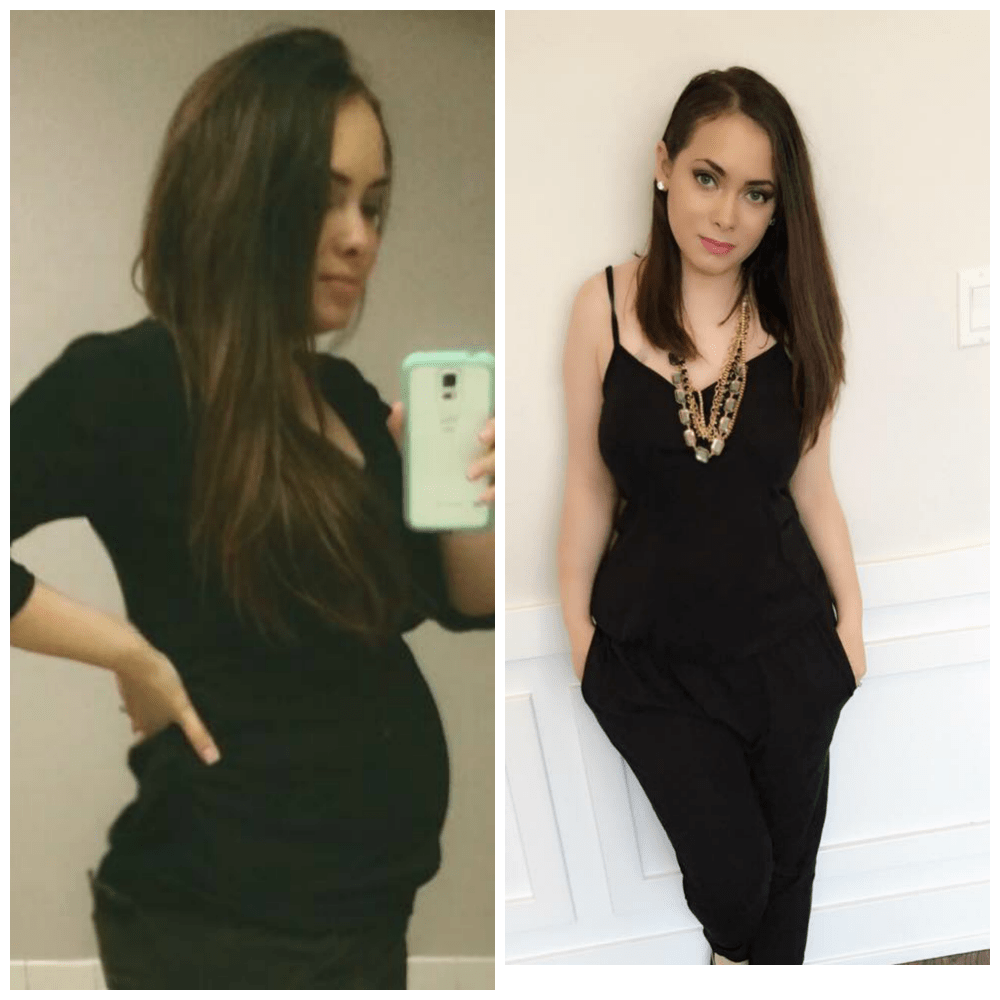 5 Months (20 weeks) Pregnant
I am 20 weeks pregnant in both of these pictures, but look at the difference in my face and hands. Yup, I was already super swollen at 5 months with my first because I was eating like crap.
My hands were swollen, my face was swollen and my feet were swollen! I was miserable and I hadn't even hit the third trimester yet!
The second trimester is supposed to be the best part of pregnancy, but it can be awful if you're not taking care of yourself.
At this point in my first pregnancy I had already gained 18lbs. At 20 weeks with my second pregnancy I was at 9lbs… huge difference! Oh, and of course, I didn't have any swelling yet and still felt amazing.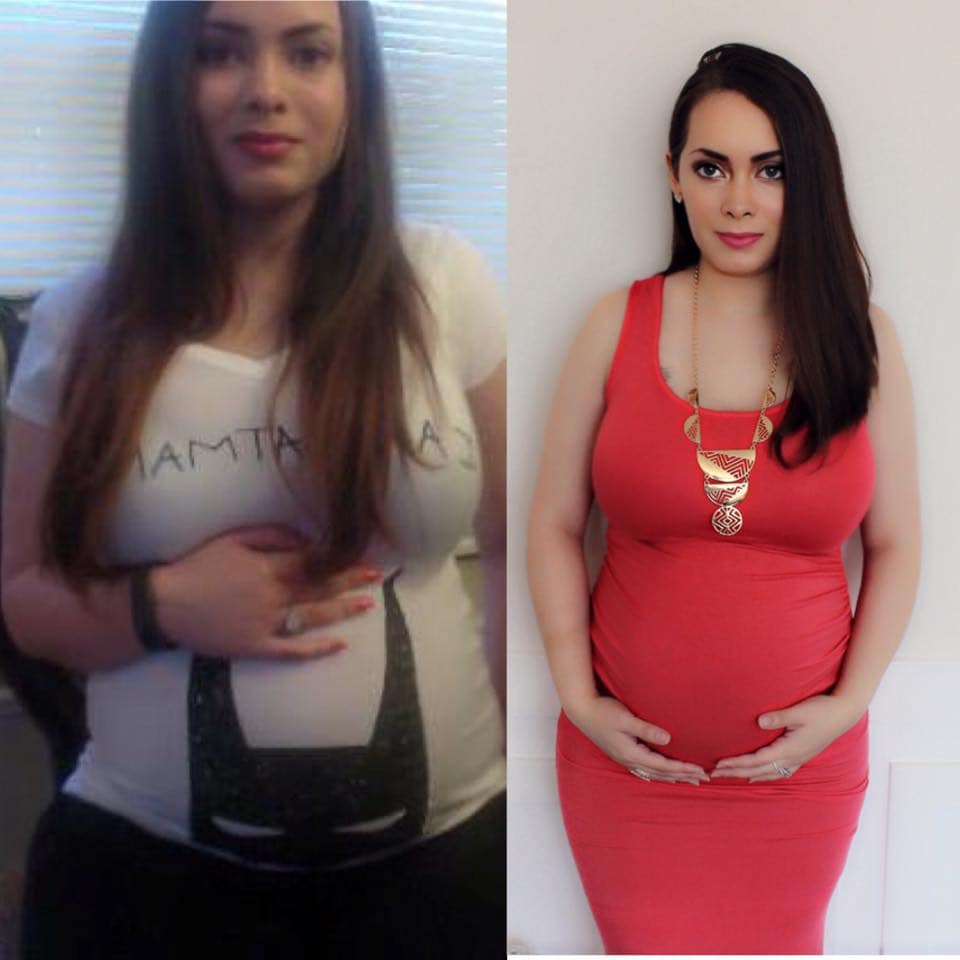 6 Months (25 weeks) Pregnant
I'll just say that at this point in pregnancy #1 I felt like complete shit. I was over being pregnant and had already sworn off any future pregnancies. Everyone was talking about how my fingers and toes looked like little sausages and asking me if I was sure I wasn't having twins -_-.
I put myself on bedrest just 2 weeks after this picture and ended up quitting my job because I couldn't even function. I'm not joking when I say I was miserable.
At 25 weeks with pregnancy #2, I was perfectly fine. Still getting around easily, still working, still keeping up with my toddler and still keeping up with all other daily activities.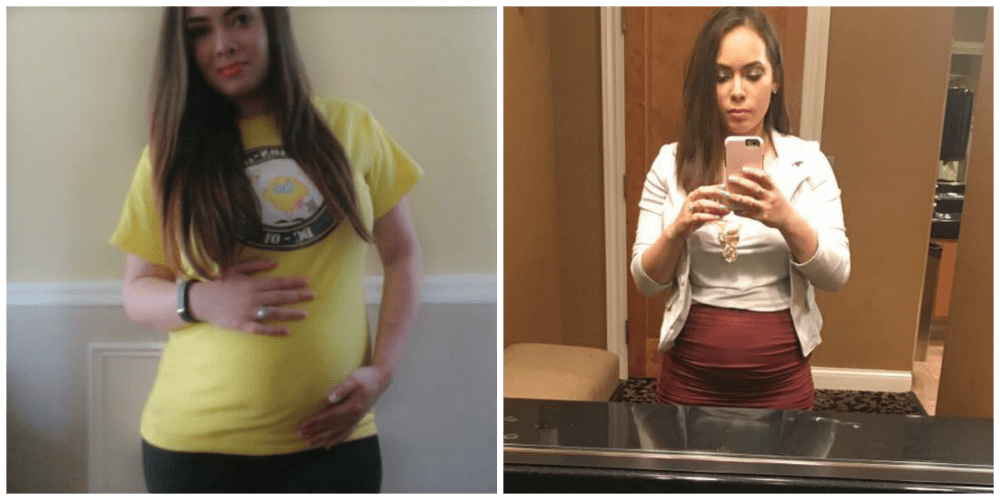 8 Months (35 weeks) Pregnant
I think my face in these pictures say it all. You can really tell the difference here.
This was towards the end of my pregnancies and I still wasn't swollen for pregnancy #2. However, pregnancy #1 I couldn't even fit any of my shoes and my rings would get stuck whenever I tried to wear them. I was exhausted and not happy at all.
With #2, still going and chasing around my toddler going through his terrible 2's. Everyone thought I was crazy but I felt great!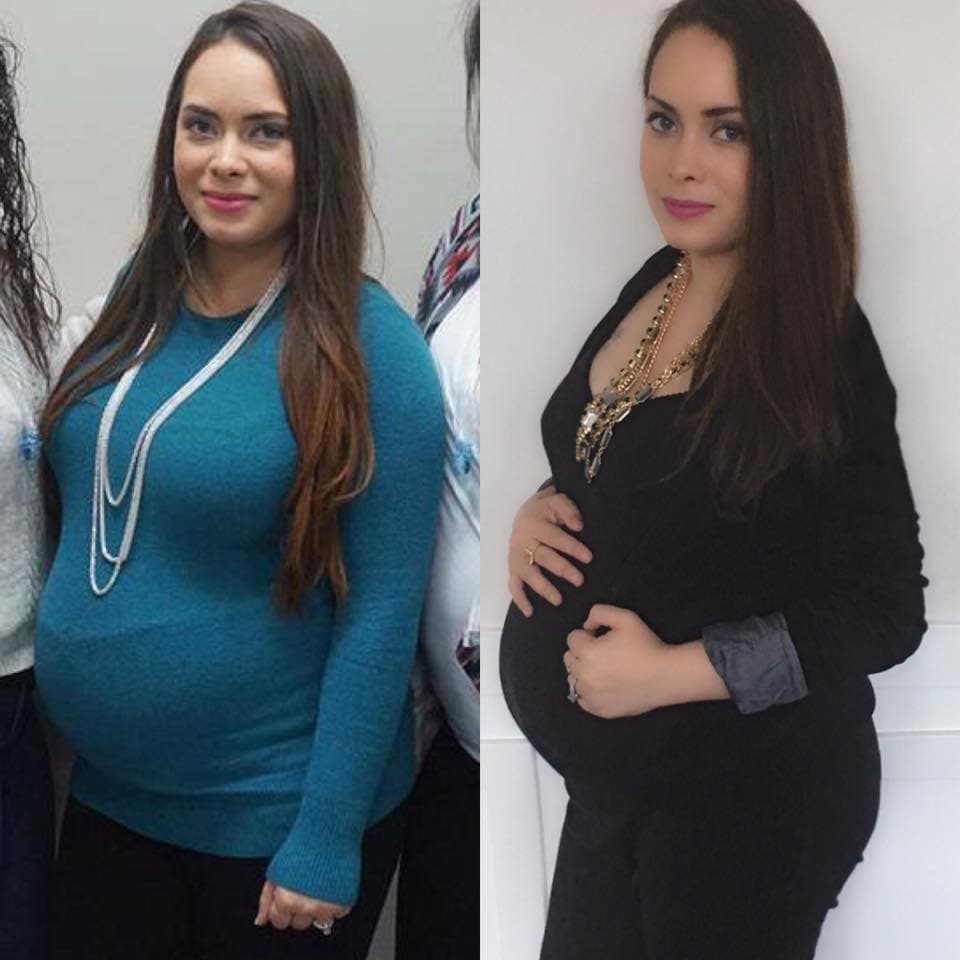 All of that to say that clean eating while pregnant was the only difference in my two pregnancies. I was even carrying a boy both times. But that one thing made all of the difference!
Tips for Having a Healthy Pregnancy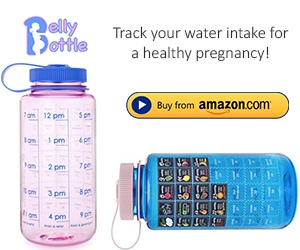 Belly Bottle Pregnancy Water Intake Tracker with Weekly Stickers 
Drink your water, lots of it!
It's so important to stay hydrated while pregnant! I'm not going to lie, I got dehydrated several times and it was pure torture.
If you're dehydrated while pregnant you can get braxton hicks contractions, stomach pains, dizziness, headaches, swelling– and the list goes on. It's awful. So you want to make sure you're drinking enough water daily.
This awesome belly bottle is made especially for pregnant women. There's no way you can mess up your water intake if you are following this. It tells you how much water you should drink by a specific time. If you look at the bottle and haven't drank that much- chug it, girlfriend!
BPA FREE Stackable Meal Prep Food Storage Containers with Lids
Meal prep, meal prep, meal prep!
Seriously, it helps so much. If you prepare your clean meals, you will have a much easier time sticking to clean eating.
If it's already made, it'll be easier to fight off any temptation or cravings of the moment.
These meal prep containers are amazing for meal prep. You can have all of your meals for the week prepped, stacked and separated in your fridge & lunchbox to make your life easier!
If you struggle with meal prepping & planning, take a look at this clean eating meal plan for beginners.
Make Homemade Protein Snacks
Snacks made with protein powder will keep you full while helping with cravings. I like using a IdealFit protein powder because it actually tastes good!
This protein powder is amazing and tastes delicious. It's also very filling whether you use it for a shake or to bake your snacks. Plus, it's only 80 calories with just 1g carbs!
Of course, like anything, clear it with your doctor first.
With this protein powder you can make things like chocolate cake, banana bread and pancakes- Yum!!
&
&
Prenatal and Postnatal Multivitamin Gummy
Always take your prenatal vitamin!
Of course, I can't leave without saying this- a prenatal vitamin is a must.
You need to make sure you and baby are getting every single nutrient you need.
I hated the horse pills, but I found these prenatal gummies and love them. This is the most complete prenatal gummy I have found and I wish I had it during my first pregnancy.
FYI: It is much cheaper online than at the pharmacy.
&
&
Healthy Pregnancy Meal Plan
I used this meal plan twice, when I was postpartum and getting back in to shape and again when I was pregnant with baby #2. However, I used a different calorie bracket each time.
When I was getting back in to shape I used bracket 1, when I was pregnant I used bracket 2. I used bracket 2 because that was the amount of calories my doctor told me would be appropriate for me and my baby.
Make sure you discuss how many calories you should be consuming throughout your pregnancy with your doctor and if this meal plan is right for you.
This is me 2 months postpartum and 7 months postpartum after my second (clean eating, no exercise) pregnancy.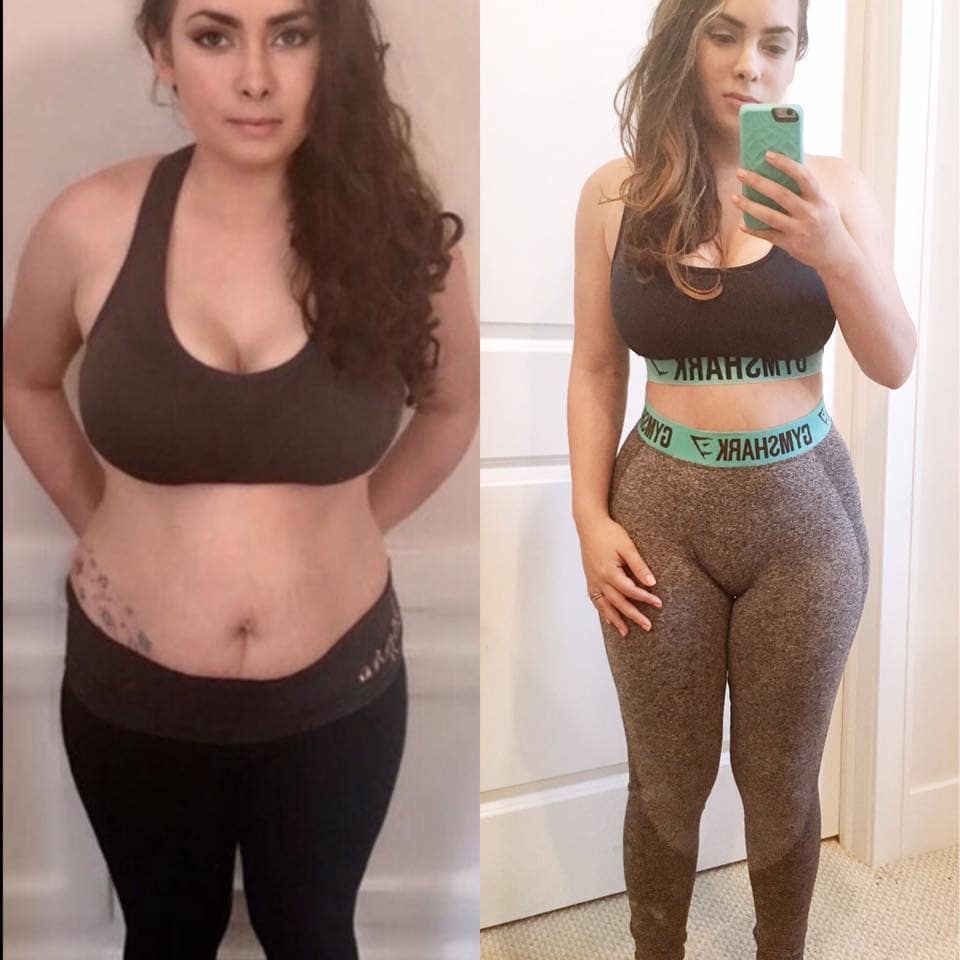 Hope this helps!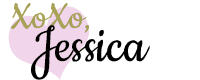 This post may contain affiliate links to help our readers find the best products.