My son is now six years old, and people still talk about his winter onederland first birthday party!
It was so beautiful and so much fun, I don't think we will ever forget it. If you're thinking about a winter onederland theme, I say go for it. If you click the link above, I make it really easy for you to plan and decorate for this winter theme.
In this post, though, we're going to focus on winter wonderland cakes.
Winter Onederland Cake Ideas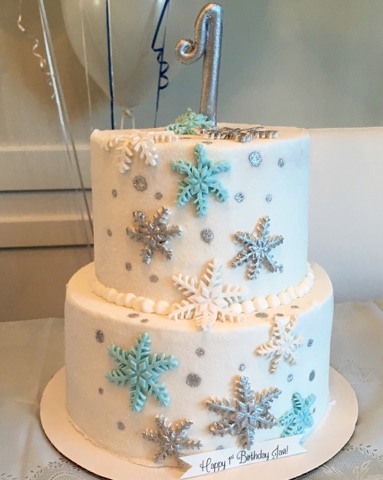 Whether you go with chocolate cake, vanilla cake, yellow cake, confetti cake, whatever, it doesn't really matter because this theme looks good with anything.
Most commonly, winter wonderlands have lots of snowflakes and/ or icicles to give it that whimsical winter feeling. Therefore, a winter onederland birthday cake usually has snowflakes on it.
Also, these cakes are usually white to look like snow or ice. But you can always (and usually should) add a color or two like gold and pink or blue and silver. Whatever your little boy or little girl wants, you can make any color scheme work here.
Winter Onederland Birthday Cake
If you want to make your own cake for the big day, I recommend getting a cake decorating kit that comes with everything you need from the baking pans for a multi layered cake to the piping bags and everything else you will need at the best price.
Then, you can add a cake topper and some white, clear or silver snowflakes that match your theme exactly. Here are a ton of options to choose from for a winter onederland cake topper and for snowflakes:
Cake Topper

Cake Topper

Cake Topper

Cake Topper

Cake Topper

Cake Topper

Cake Snowflakes

Cake Snowflakes

Cake Snowflakes

Cake Snowflakes

Although some are cupcake toppers, you can still use them on a layered cake and they look great. I do this all the time instead of making edible decorations because it's easier. But for the actual topper, you will want a winter wonderland cake topper because they are bigger.
Winter Onederland Smash Cake
If you want a smash cake for first birthday pictures, they are super easy to make yourself. You can literally just use any box cake recipe and easily ice it with an icing piping bag. You can't add too much to a smash cake for safety reasons, so this is all you really need.
Smash Cake Pans

Smash Cake Decorating Kit

If you want to add a dessert table, you can add lots of white treats like powder donuts, white chocolate covered pretzels, really anything covered in white chocolate, etc. We also added a hot cocoa bar with our crockpot and you can find our hot chocolate bar recipe here – it was a hit!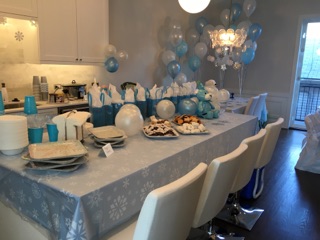 For more ideas and winter onederland party decorations, click here for the ultimate winter onederland party blog post.

First birthdays are so special and although they may not remember it, the pictures will last forever- so make it as beautiful and whimsical as your heart desires!

Happy 1st birthday to your little one!

*Disclosure: Please note the use of affiliate links in this blog post to help me keep the blog alive.

This post may contain affiliate links to help our readers find the best products.