Is Celery Keto Friendly? Vegetables on a Low Carb Diet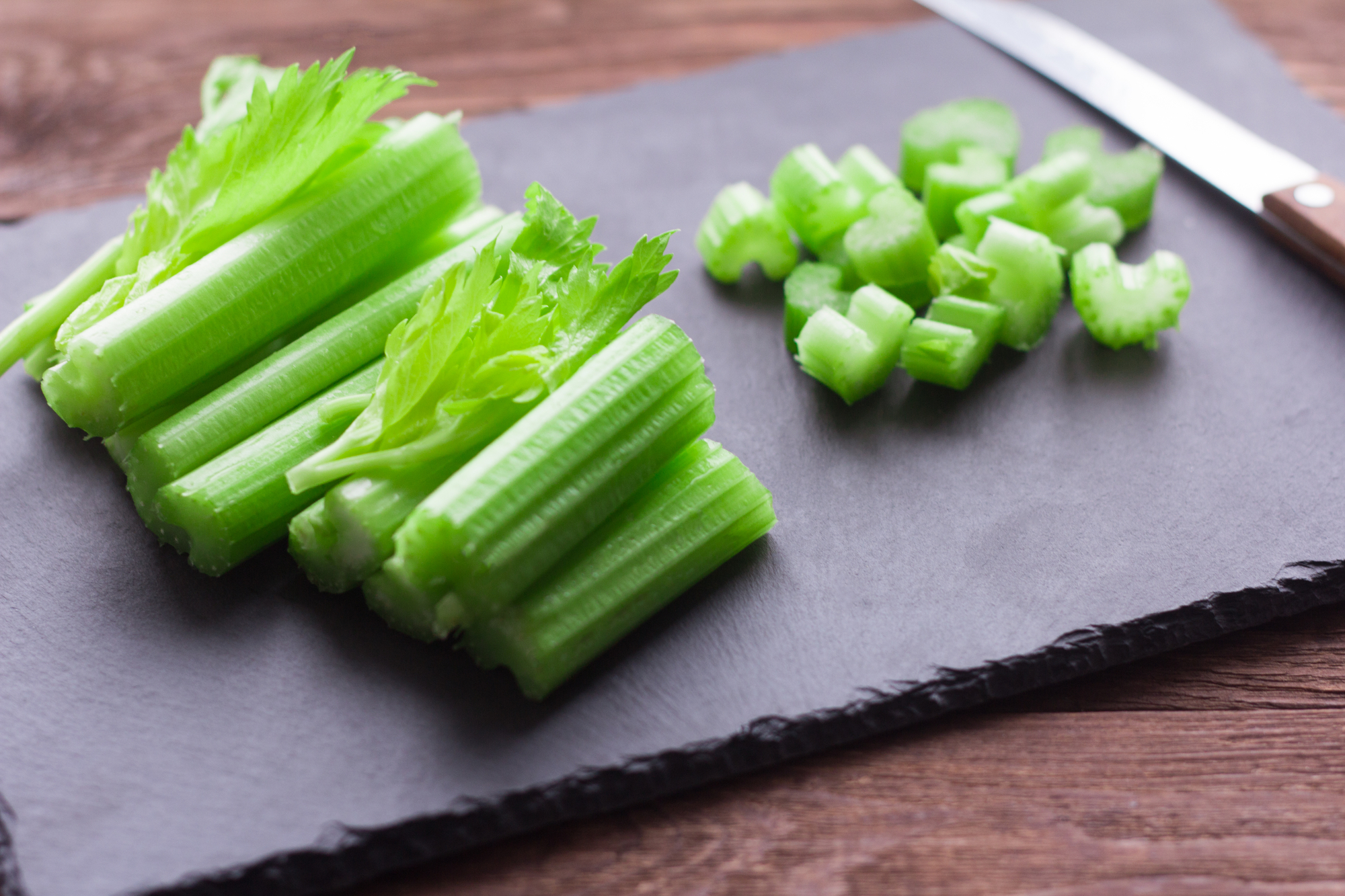 Celery is one of the most popular low-carb vegetables and can be incorporated into many dishes, making it an excellent choice for those on a ketogenic diet.
You can even drink fresh celery juice and still remain in ketosis!
I wont go in to celery juicing in this post, but I created the ultimate guide to celery juicing while on keto here.
But how much celery can you eat while still staying in ketosis? Let's take a look at what the research says about celery and other veggies on the keto diet.
Overview of the Keto Diet
The keto diet is a type of low-carbohydrate diet that has become increasingly popular in recent years.
The main goal of the keto diet is to get the body into a state of ketosis, which means that it is using fat for energy rather than carbohydrates. To achieve this, you adhere to a low-carbohydrate, high-fat diet.
The recommended amount of carbs on a keto diet is typically between 5% and 10%, with the majority of carbs coming from non-starchy vegetables.
This means that when considering which vegetables to include on a ketogenic diet, you should look for those that are higher in fiber and lower in carbohydrates.
Benefits of Eating Vegetables on a Low Carb Diet
Adding vegetables to your low-carb diet can provide numerous health benefits. Vegetables are rich in vitamins, minerals, and antioxidants, which can help improve overall health and reduce the risk of many diseases including heart disease. Vegetables are really a great addition to any diet.
Studies have also shown that eating a diet high in vegetables and leafy greens may help with weight loss as they tend to be low in calories and can keep you feeling full for longer.
Eating more vegetables can also provide beneficial fiber, which is important for digestive health and helps to reduce levels of inflammation in the body.
Is Celery Keto Friendly and How Much Can You Eat While Staying in Ketosis
Yes, celery is considered to be keto friendly.
Celery is a non-starchy vegetable and contains only 1.3 grams of net carbs per one cup serving. This is because it has 2.9 grams of total carbs minus 1.6 grams of fiber.
While on the ketogenic diet, you can eat up to 2-3 cups of celery per day while staying in a state of ketosis. Eating more than this may cause your body to produce too many carbohydrates which can take you out of ketosis.
When including celery in your diet, make sure that it's part of an overall balanced meal plan that includes plenty of healthy fats as well as other vegetables with low carbohydrate content like broccoli and spinach.
Additionally, watch out for high carb toppings like croutons or cheese when eating a salad made with celery!
On top of having a low carb content, celery also has a high water content which helps it stay low in calories.
Celery Nutrition Facts
Calories: 18 kcal
Total Fat: 0.2 g
Saturated fat: 0.1 g
Polyunsaturated fat: 0.1 g
Monounsaturated fat: 0 g
Cholesterol: 0 mg
Sodium : 34 mg
Potassium : 181 mg
Carbohydrates : 2.9g
Dietary fiber 1.6g
Protein :0.7g
The serving size for the nutritional facts given above is one cup. One cup is equal to around 28-29 grams of celery.
Benefits of Celery
Celery is not only a keto friendly food, but it also has many health benefits. Rich in vitamins and minerals, such as vitamin K, folate, potassium, magnesium and calcium, eating celery can help support bone health and reduce inflammation with lots of anti-inflammatory compounds. It is also an excellent source of dietary fiber which helps aid digestion and can help you feel fuller for longer.
Another added benefit is that celery is also a great source of vitamin C, with one cup providing 8.6 milligrams (mg) of the nutrient.
Including celery in your diet can also help to boost heart health, improve blood pressure, reduce cholesterol levels and even promote weight loss by keeping you feeling full between meals.
Best Vegetables on a Keto Diet
There are many keto-friendly vegetables, but here is a list of the ones that have the lowest g net carbs.
Celery
Broccoli
Spinach
Cauliflower
Kale
Asparagus
Brussels sprouts
Green beans
Bell peppers
Mushrooms
Cucumber
Zucchini
These keto vegetables are all low carb and can be eaten freely without ruining your carb intake. Try to focus on eating a variety of vegetables in order to maximize their nutrient content and enjoy the health benefits they have to offer!
Click here for the best zucchini noodles low carb recipes!
In addition, you may want to opt for organic produce whenever possible as it is free of pesticides which can cause oxidative damage and disrupt normal metabolic processes.
Tips for Making Delicious Dishes with Celery on a Keto Diet
One of the most popular dishes to make with celery on a keto diet is a creamy celery soup. To make this healthy recipe, you will need to start by sautéing chopped onions and celery in butter or olive oil until softened. You can then add chicken broth and simmer for about 20 minutes. Once the vegetables are cooked through, blend or puree the soup until creamy and add heavy cream if desired. This comforting dish is a great way to enjoy celery on a keto diet!

Another easy way to enjoy celery on a ketogenic diet is by making "ants on a log" which is simply celery stalks spread with nut butter and topped with raisins or dried cranberries. This is a fun and healthy snack that is low-carb and keto-friendly!

You can also incorporate celery into an egg scramble or casserole dish for a quick, healthy breakfast.

In conclusion, celery is an excellent low-carb vegetable that can be incorporated into a variety of dishes on the ketogenic diet. It is packed with essential vitamins and minerals and has many health benefits to offer.

If you are looking for more ways to enjoy this veggie while on a low carb diet, head over to my post that is the ultimate guide to celery juicing while on keto!

You will find plenty of delicious recipes as well as tips and tricks for making your own homemade juices at home.

With these tools in hand, you'll have everything you need to make tasty dishes with celery while sticking with your healthy lifestyle goals!

** Please remember this does not substitute professional medical advice.

This post may contain affiliate links to help our readers find the best products.