Whether you go to the gym right after work or straight from your house, knowing exactly how to pack a gym bag will always make your trip to the gym stress free!
When you have all of the right stuff in your bag (and the right bag!) you will not have to worry about having a bad workout or awful hour.
I like to keep my gym bag already packed so that I can just pick up and go whenever I need to. If I had to pack a gym bag before going to the gym- I just wouldn't go.
The Best Women's Gym Bags
You can use just any gym bag, but I find that having the right gym bag makes your life so much easier. And easy is best when it comes to getting to the gym, because if it feels like a pain in the ass you wont go. So you want a gym bag that is good at keeping you organized and makes it easy to find your stuff.

Apera Performance Duffel Bag
Best After Work Gym Bag
If you're going to the gym right after work, you're going to need a bigger gym bag to fit your outfit changes plus everything else. Especially if you want to carry your work stuff (laptop, books, etc) with you as well.
The Apera Performance Duffel Bag is perfect for that purpose. It's big enough to fit two outfits, two pairs of shoes, all of your gym essentials, and even has slots for your electronics.
It's also water resistant so you don't have to worry about any of your work or gym stuff getting wet.
Furthermore, this gym bag is super sturdy, so even if it's filled to capacity every day it will last for years and years and years.
&
Best From Home Gym Bag
If you're going to the gym straight from your house and do not need as much stuff, the Apera Studio Tote is perfect.
The studio tote is big enough to fit all of your gym stuff, but small enough to feel casual and carry around easily.
It has a ton of pockets to keep you organized, is water-resistant and anti-microbial so your bag wont smell, has two shoe pockets (I use one for water and one for shoes), and can even hold a laptop if you also want to use it for travel or business.
**This is the gym bag I have pictured and packed below.
&
Gym Bag Essentials for Women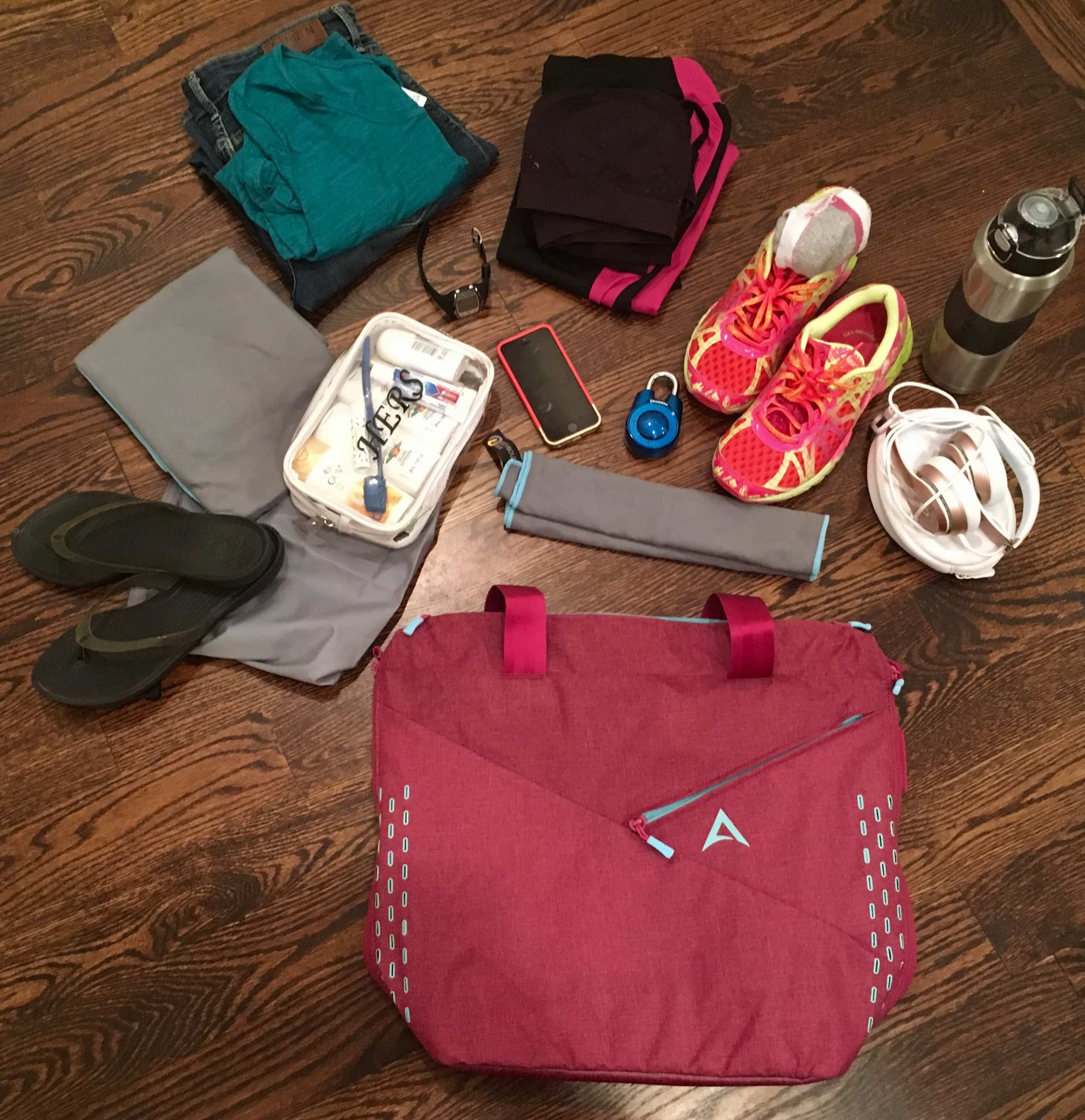 Locker Room Lock
First things first, you need a good lock to keep your gym bag and everything in it safe. You do not want to leave your stuff in a locker without a lock and then come back to all of your belongings missing.
This lock is made of hardened steel, so no one is going to get through to get your stuff.
It also has bright colors around the border so it's easy to spot your locker. This makes the numbers super easy to read, even if you have awful vision like me.

BlenderBottle ProStak System 
Shaker Bottle with Protein Powder Storage
You know you should be drinking or eating protein within 30 minutes of your workout, the problem is it's not always that easy to get your protein in when you still have to shower and drive back home.
That's why you should just take your protein to the gym with you.
This blender bottle has a little compartment at the bottom of the shaker that holds your protein! It also has another compartment that can hold any supplements you may be taking in the form of pills.
It's super convenient and easy to just throw in your gym bag to make sure you get your protein in after your workout.
&
18 Ounce Vacuum Insulated Stainless Steel Bottle
Insulated Water Bottle
A stainless steel, insulated water bottle is a must when you are at the gym.
It keeps your water cold the entire time you are working out so you don't have to worry about drinking hot water (yuck!).
It's also super durable, so if you drop it on a weight machine you don't have to worry about it breaking and spilling all over the gym floor. Yes, that happens- trust me.
Plus, you don't have to worry about the damaging chemicals in plastic and blah blah blah 😉
&
Women's Premium 19-piece Necessities Travel Kit
Shower Kit
If you shower at the gym, the most convenient way to pack all of your shower necessities is to just buy a travel toiletry kit and keep it in your gym bag.
This way you don't have to worry about always packing your shower gel, shampoo, lotion, etc. It's all already there and is a convenient, compact size.
When you run out you can either buy another one, or refill your bottles with the stuff you already have at home. But don't carry full sized products– it will make your bag way too heavy and uncomfortable.
&
Fast Drying Microfiber Towel Set for Gym
Your Own Towels
Gym towels are always cheap, scratchy towels that don't absorb a thing. Plus, they've been used to wipe a ton of other peoples sweat and we don't really know how well they get washed. So you should definitely take your own towels!
This set of quick dry, anti-bacterial towels comes with one full sized towel that you can use for your shower and a smaller towel that is perfect to use while working out. They're both super absorbent and soft.
To top it off, though, they're super light and compact. I'm not even kidding, I was shocked when they arrived and I saw how compact they were. They both fit in a small carrying bag that they come with, and you can just throw that in your gym bag. I've NEVER seen a full sized towel this compact yet still so absorbent.
&
Crocs Women's Flip Flop, Silver
Rubber Flip Flops for Showers
If you are showering at the gym, you need a pair of flip flops to shower in. You don't want to shower barefoot at the gym because that's how a lot of people get athletes foot.
A pair of rubber flip flops will last you a long time and can handle constantly getting wet. If you just use a pair from Old Navy, they're going to mess up soon and will need to be thrown out because they don't handle the constant moisture well.
I like to use Crocs flip flops because they're comfortable and last forever.
&
Bluetooth Headphones, Wireless 
Wireless Headphones
I'm pretty sure 97% of people listen to music while working out. If you're one of them, you'll want to do it comfortably and without wires slamming against your sweaty chest or tangling in to your arms while you run or lift weights.
Therefore, you'll need to pack a pair of wireless headphones for the sake of entertainment and motivation during your workout.
These headphones are awesome for the gym and are very high quality for an amazing price. They're also super comfortable so you wont be annoyed during your workout.
&
Fitness Tracker/Watch
If you want an accurate read on how many calories you are burning while you workout, you'll want to wear a fitness tracker with a heart rate monitor while you exercise.
The Polar FT60 is the best fitness tracker I have tried.
The chest strap is extremely comfortable and you don't even notice it. This, of course, is what makes the calories burned number so accurate. It also tells you if you are in the fat burning zone or cardio zone and at the end of your workout it tells you what percentage of your calories burned were fat.
It's just an all around amazing fitness tracker.
**By the way, the treadmill and elliptical numbers are extremely inaccurate.
&
Women's Workout Leggings With Pocket 
Clothing
Of course, it goes without saying, that you will need to pack any clothes you plan to change in to.
For workout clothing I just pack a great pair of workout leggings, a sports bra and a tank top.
If you are looking for affordable leggings to exercise in, these yoga pants are great.
They look good, they're super comfortable, don't make you overheat and even have a pocket for your phone.
&
Best Gym Bag Deodorizer
Air Purifying Bags, Deodorizer and Odor Eliminator
If you're not using an anti-microbial gym bag like the ones above, you will want something to deodorize your gym bag so that it doesn't smell musty. Remember, your gym bag is storing your sweaty clothes, shoes and towels!
An air purifying bag is the easiest way to maintain fresh, dry and odor free, shoes, gym bags, and sporting equipment. It prevents mold, mildew and bacteria from forming by absorbing excess moisture.
They are made of extremely porous bamboo charcoal, which will continually eliminate odors and absorb moisture to keep your bag fresh and dry
For a great price, they can be reused for up to two years.
I hope this guide on how to pack a gym bag was helpful!
&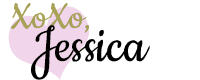 This post may contain affiliate links to help our readers find the best products.