My youngest baby just turned one and we wanted an epic celebration to go with the occasion. So a Game of Thrones birthday party it was!
Since, realistically, he doesn't care one way or the other… we really wanted to have fun with it. Although some people made comments about him not understanding any of it… my oldest didn't understand his Winter ONEderland theme either. So, it's all the same if you ask me!
Anyway, I'm pretty confident we nailed this Game of Thrones birthday party.
I'll link to the specific Game of Thrones party supplies I used below the pictures.
Game of Thrones Birthday Party
It was important to us that people would get the feel of the party from the moment they walked in. So when people arrived, they were immediately greeted with a raven hanging from our front door and a "hold the door" floor mat.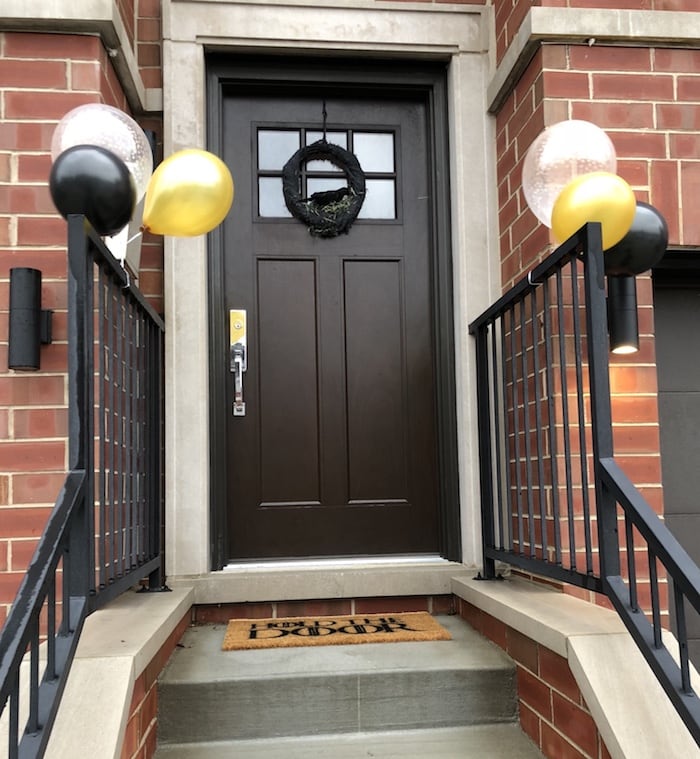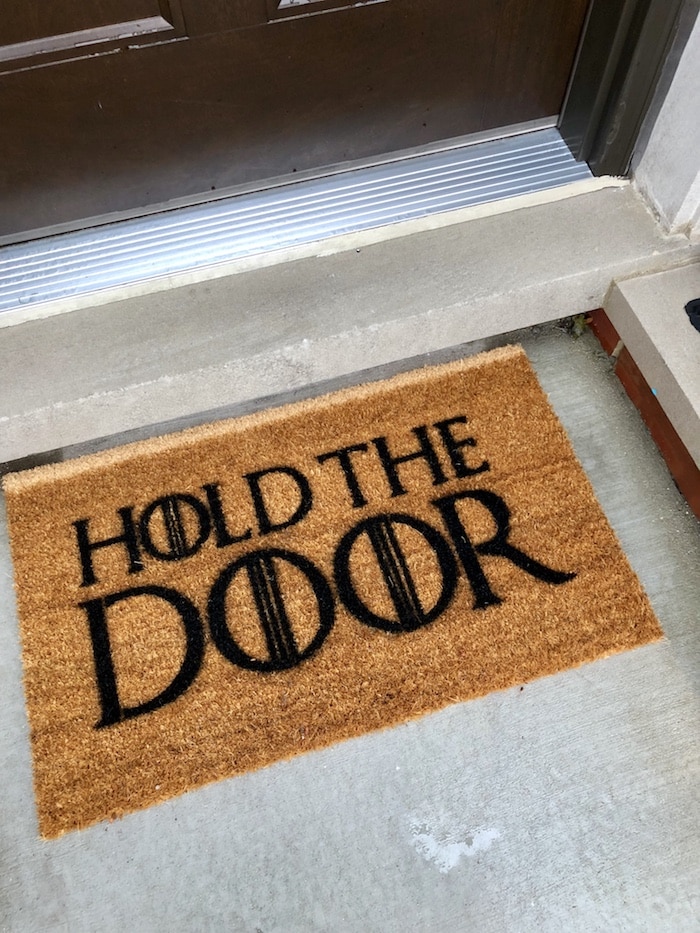 When they opened the door, there was a special tribute to Hodor waiting for them.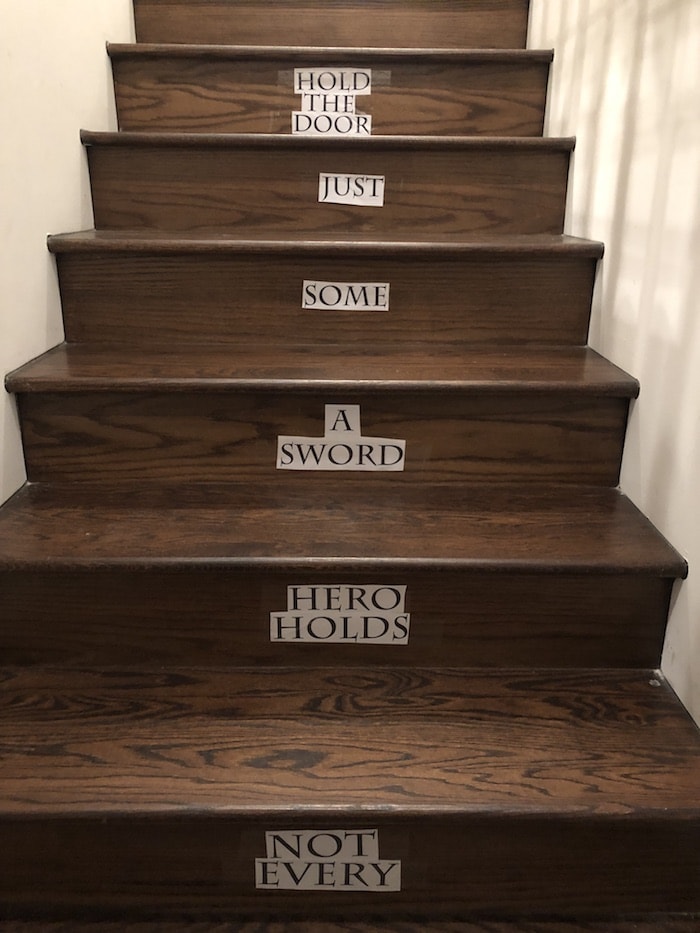 Once they walked in to our home, the first thing they would see was our Iron Bank. I used a stone wall backdrop to cover my fireplace and chocolate gold coins were the goodies instead of goodie bags.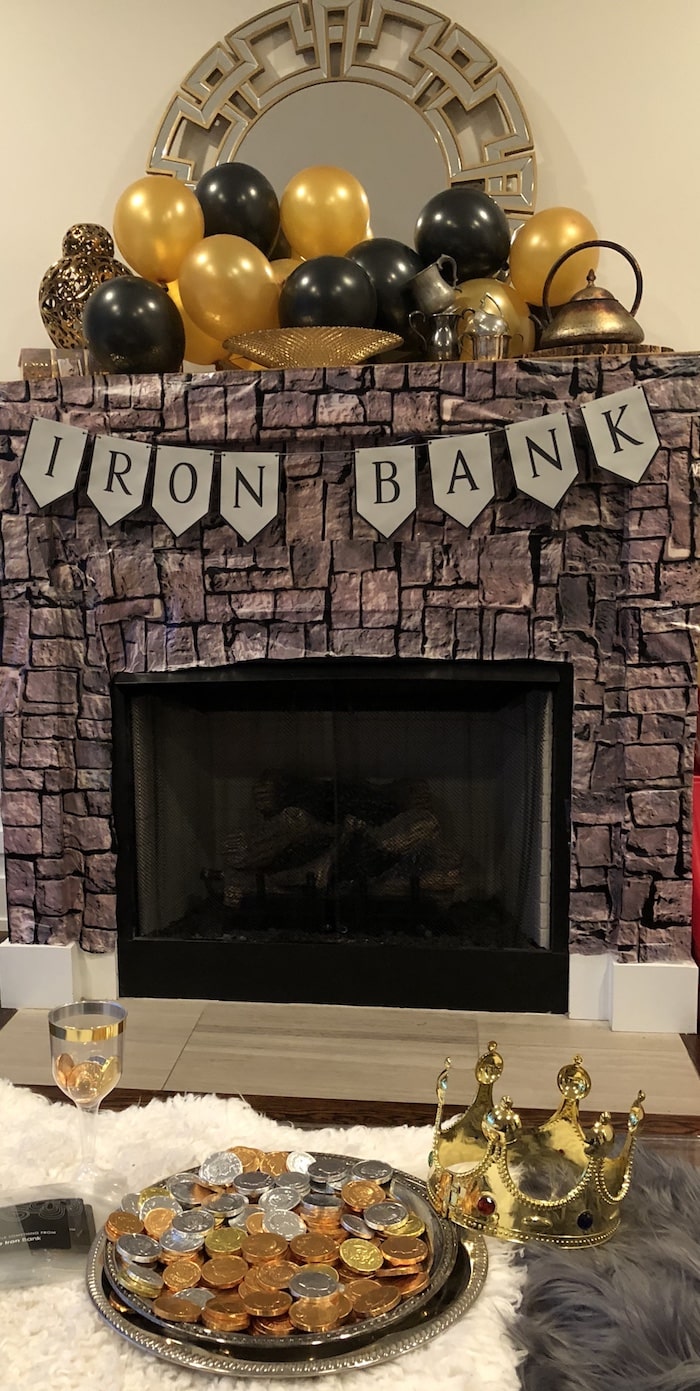 Solid Milk Chocolate  Gold Coins

Stone Wall Backdrop

And right next to the Iron Bank was my favorite part of all, the house sigils.
I also added a "Winter is Coming" banner above them, which my best friend made with her Cricut. I used the same stone backdrop as I did with the fireplace and I bunched my curtains up with these cute and regal looking curtain ties.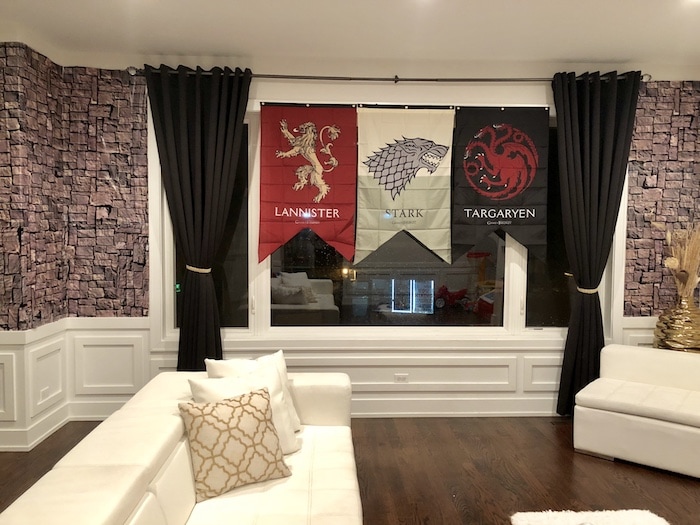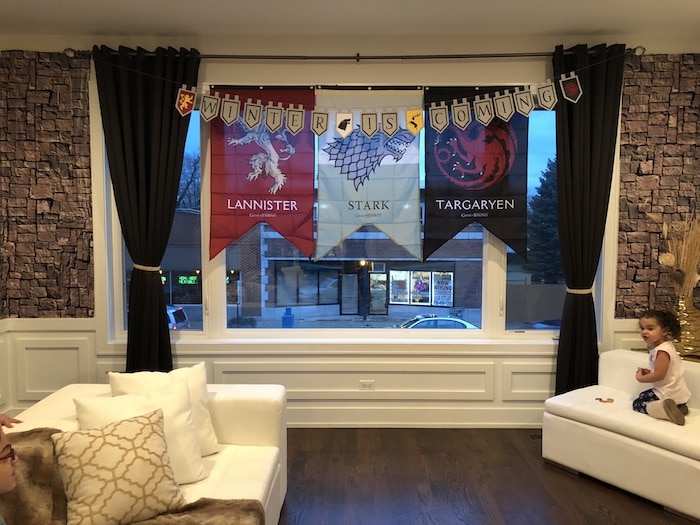 Game of Thrones Stark Banner

Game of Thrones Targaryen Banner

Game of Thrones Lannister Banner 

Stone Wall Backdrop

Fine Hand Tied Curtain Clip

Then, when guests walked in to the dining area, there was more stone coverings and gold sequin table cloths on some tables. Other tables had black plastic tablecloths with gold sequin table runners.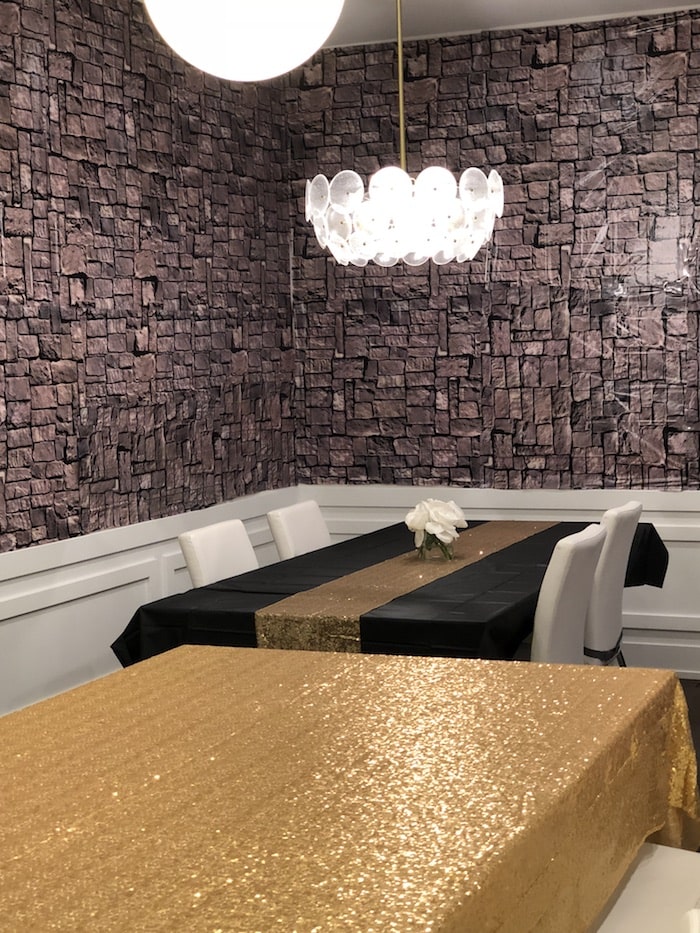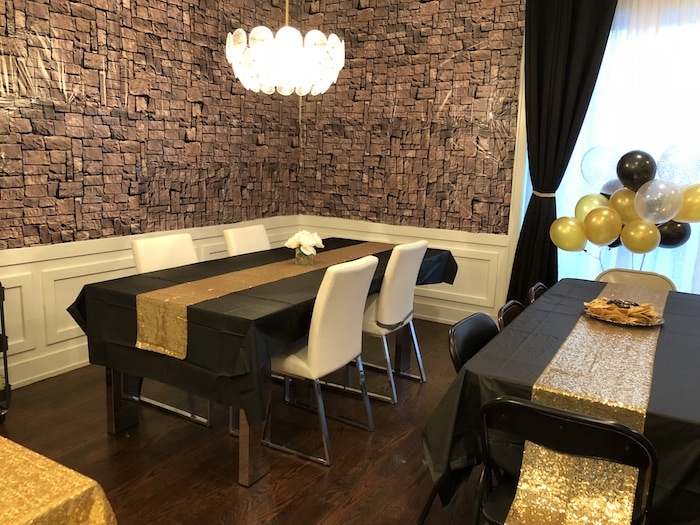 Sequin Tablecloth -Gold

Sequin Table Runners Gold

Gold Confetti, gold & black balloons

Black Disposable Tablecloths

Stone Wall Backdrop

I also used plastic gold place settings, plastic wine glasses with a gold rim and winter is coming confetti. We served Game of Thrones wine as well.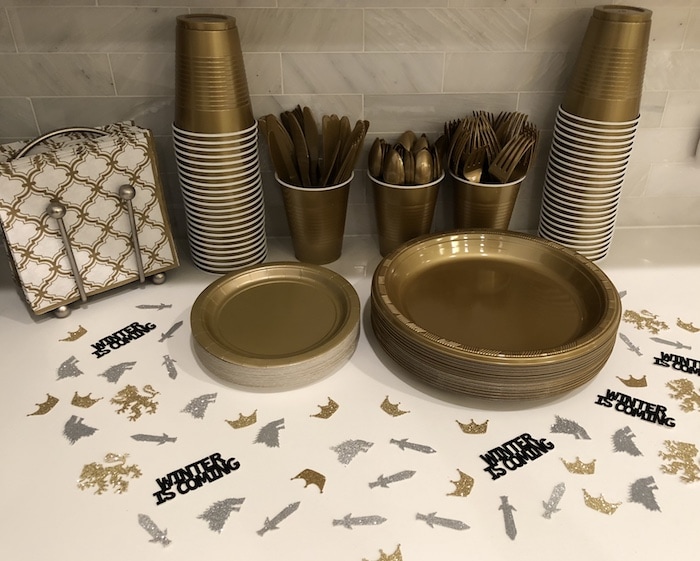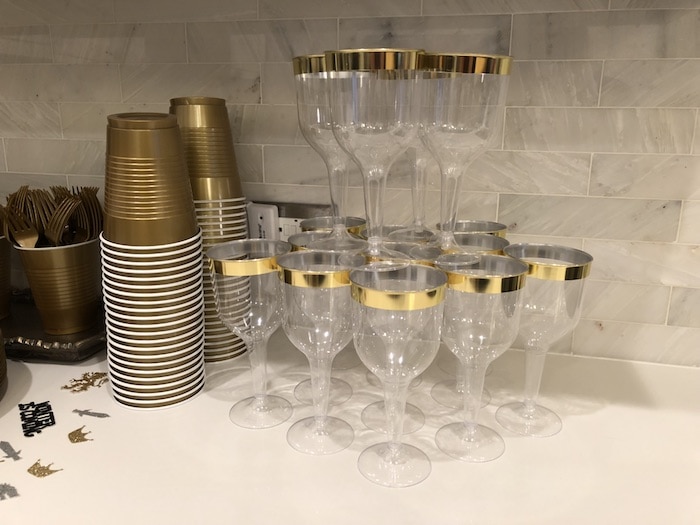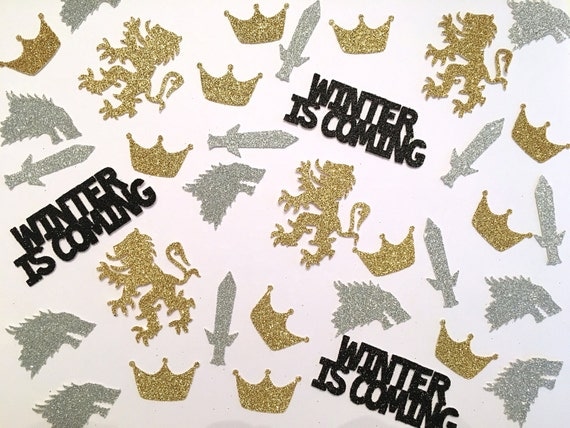 Winter is Coming Confetti

Gold Plastic Cutlery Set

 Plastic Plate, 10-Inch, Gold

Plastic Elegant Wine Cups

 Plastic Cups, 16-Ounce, Gold

Game of Thrones Birthday Cake
Our cake was a red velvet dragon scale cake that my best friend also made. She made the Khaleesi cake topper with her cricut and I have no idea how she made the actual cake!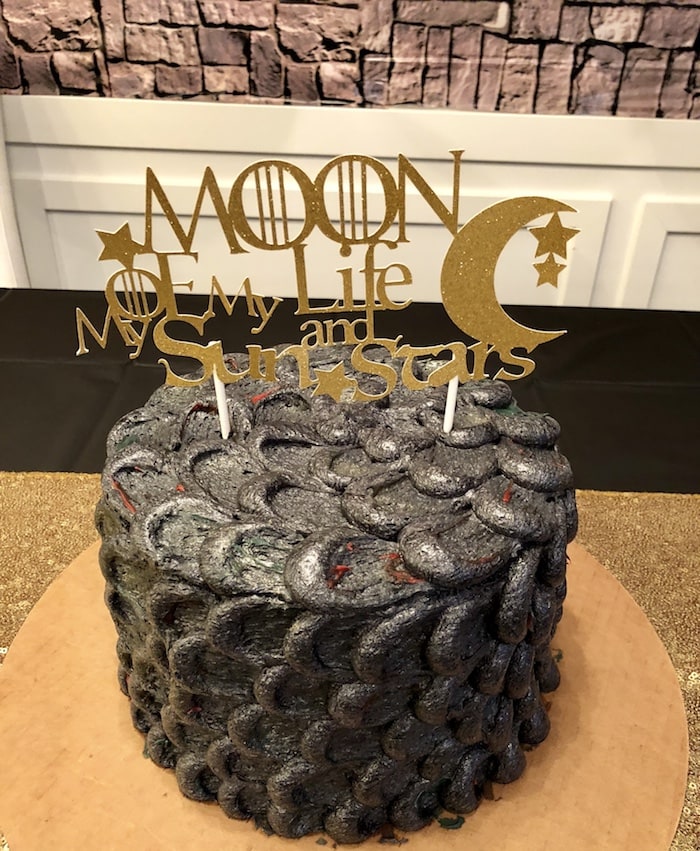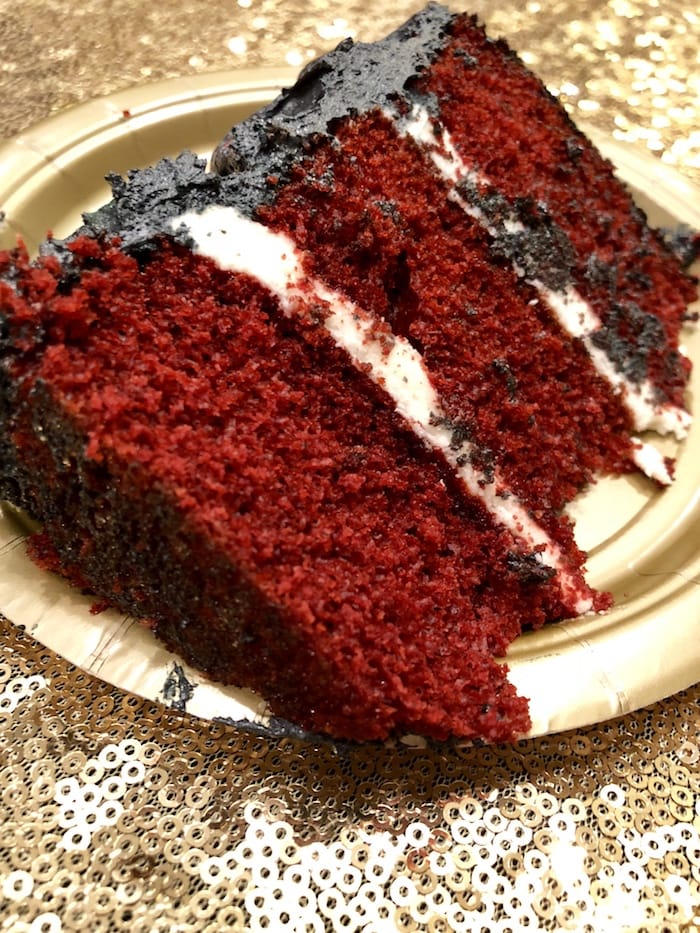 Game of Thrones Themed Food
The best way to top a Game of Thrones party is to have Game of Thrones themed food! What you see here is Sam's favorite pork pie, Sansa's special lemon cakes and Tyrion's favorite corn fritters. You can get these recipes here.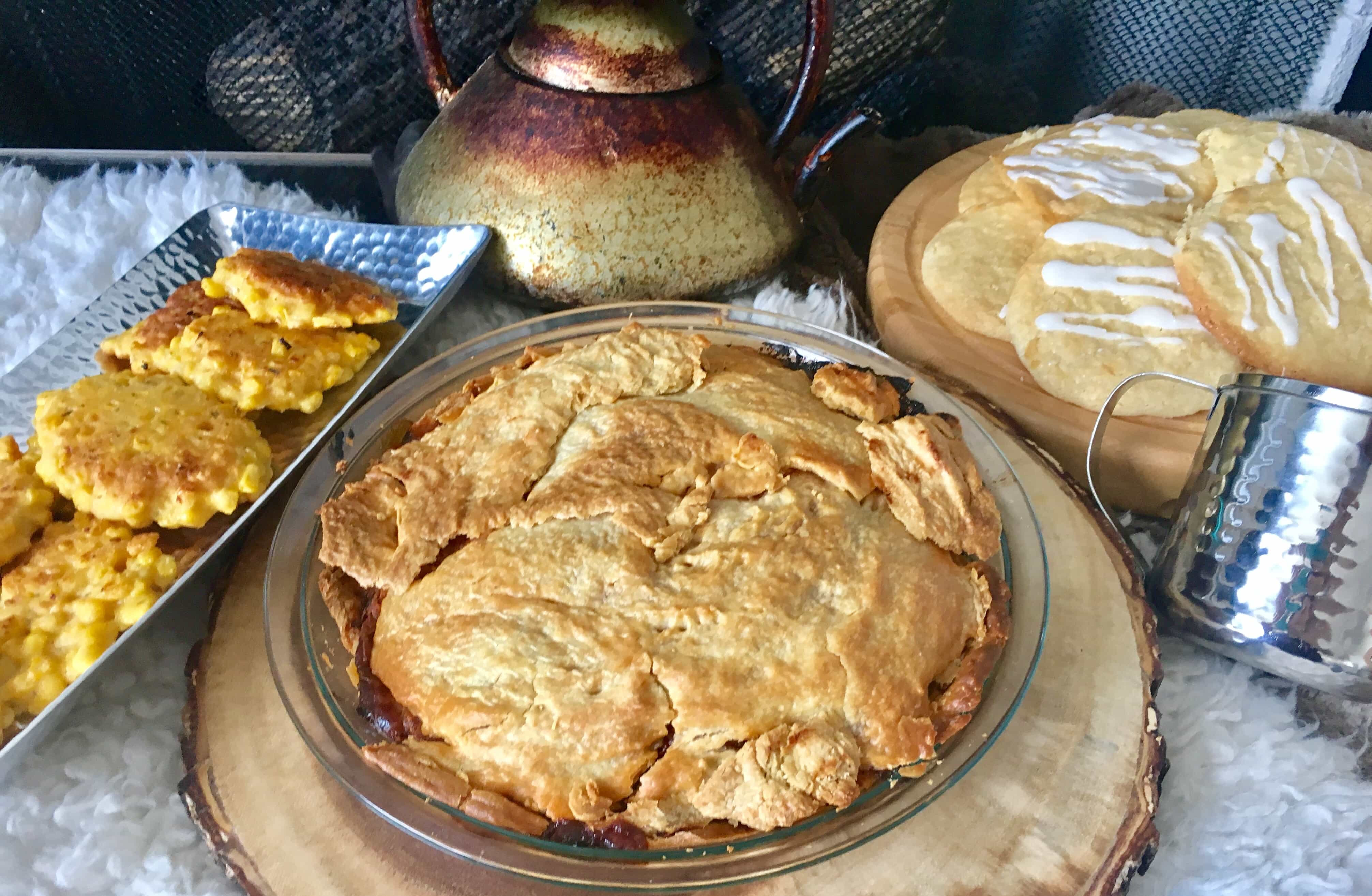 Game of Thrones Clothing
My boys are still little ones, so I wanted them to be comfortable and wasn't going to go all cosplay on them. That being said, I did find some cute tshirts for them!
The birthday boy had a "Future Ruler of the 7 Kingdoms" shirt.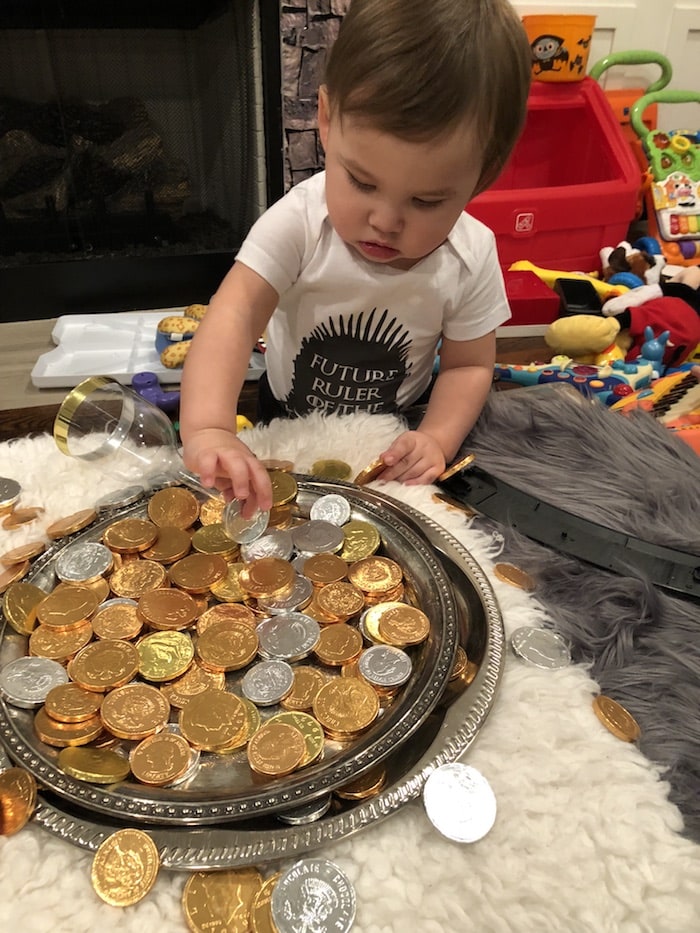 My 2 year old wore a "sorry ladies, I'm in the nights watch" tshirt.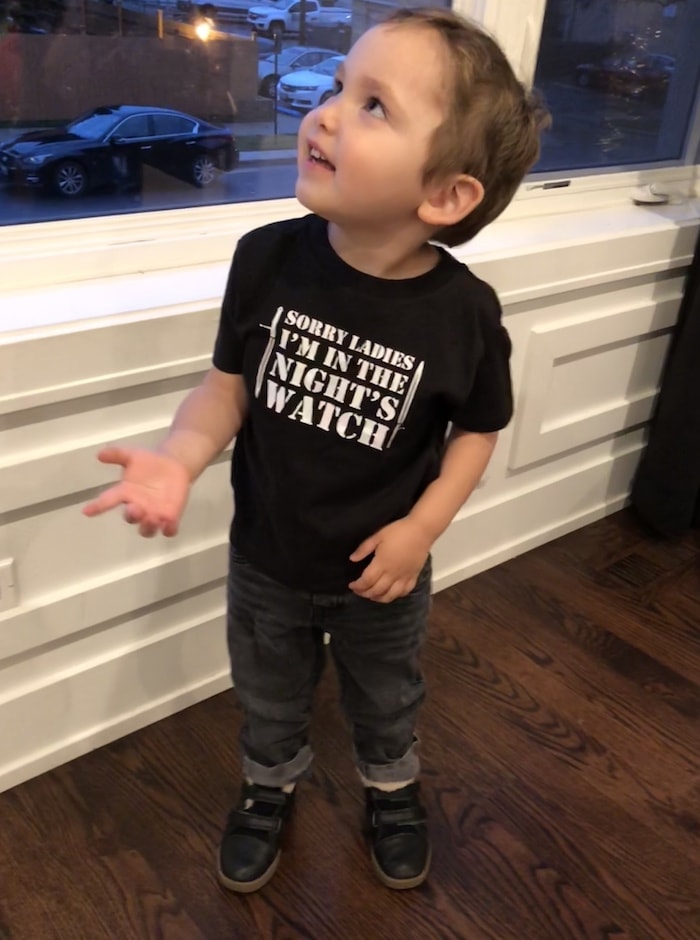 I wore a mother of dragons shirt and my husband wore a winter is coming t-shirt.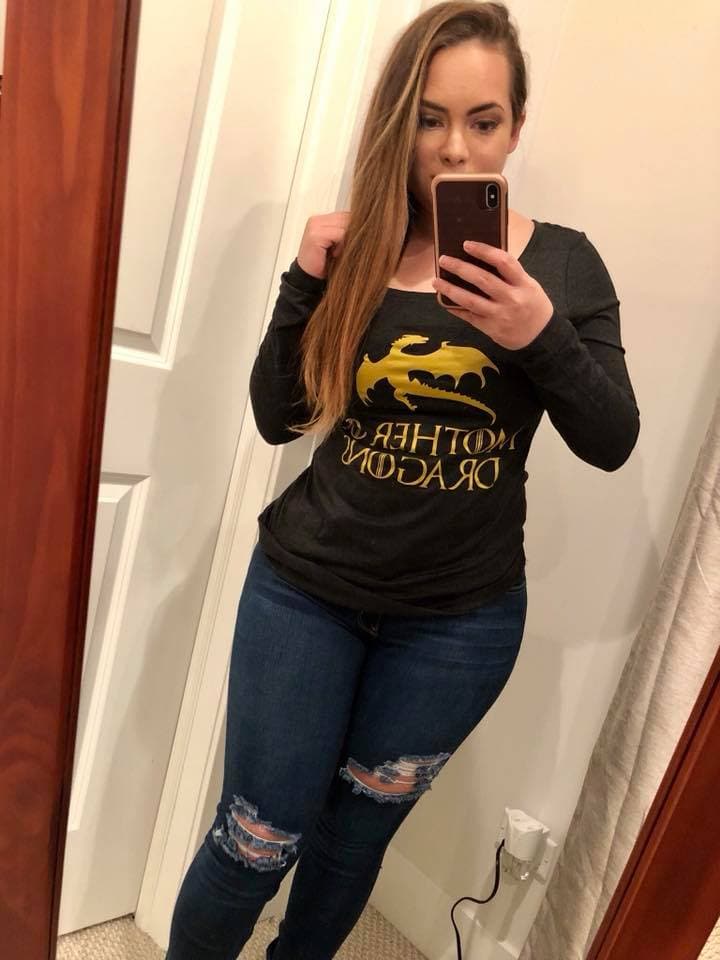 Game Of Thrones Toddler "Sorry Ladies" T-Shirt

Mother Of Dragons GOT Women's  Top

Game of Thrones Men's House Stark T-Shirt

Game of Thrones Music
And, of course, no Game of Thrones party is complete without GOT music! So we played the soundtrack on repeat 🙂

This post may contain affiliate links to help our readers find the best products.