This post may contain affiliate links to help our readers find the best products.
Top 21 Day Fix Tips 
[no_toc]
1. Buy easy to prep food for busy days.
By that I mean things like rotisserie chicken, tuna, sushi, pre-chopped lettuce, and Kind bars. These are all things that are 21 Day Fix approved and you can just grab and go. I even pre cut my rotisserie chicken so it's easy to grab when I'm in a rush.
2. Meal plan and prep!
I plan and prep my meals every Sunday. Write down every single meal you are going to eat so that you get in the right amount of containers and aren't struggling to fill that veggie container at 11PM.
3. Make sure you have meal prep containers
This will keep you organized and you can always prep your meals in advance! If you do this, there will be no self sabotage on days you do not have time to cook.   Premium Meal Prep Containers
These are the absolute best meal prep containers I have found at a great price, and I've tried many!
These have lasted the longest (over a year now) with daily use and constantly being thrown in the dishwasher. All of the other ones I owned cracked after a 3-4 months (annoying!).
They also have separate compartments so your food doesn't have to touch.
Seriously, these will make your life so much easier. They will also keep your fridge looking neat instead of a hot mess.
&
&
4. Track everything!
Seeing improvement is encouraging, whether it's completing the entire workout, drinking more water, or burning more calories – you need to know where you are improving and where you struggle. This is how I track all of my fitness related stuff.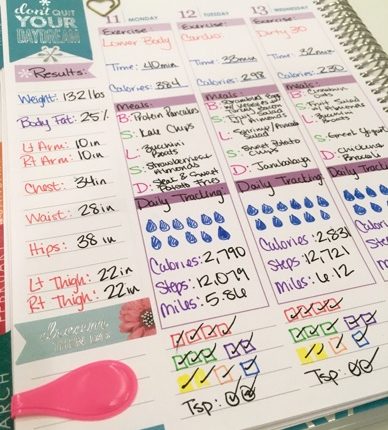 5. Always take healthy snacks with you incase you get hungry on the go.
The last thing you want is to be out and about, starving. That is when you are most likely to cave in to fast food and hurt everything you've worked so hard for.
The Go Stak is awesome for throwing healthy snacks like almonds and protein powder in your purse or diaper bag.
 GoStak
&
6. Never skip a workout.
I know there are days that you are exhausted and don't want to do it, but just push through it and get it done! If you skip one workout, you just might fall off the wagon and not get back on. Trust me, you will never complete a workout and regret it. You will always be proud of yourself when you push through, though.
7. Take joy in the little-big things.
It's not all about the scale! Take joy in things like improved balance and flexibility. These are all signs that your body is getting stronger and changing. It's proof that you're busting your ass and getting results. Be proud!!
8. Make sure you are drinking all of your water
74oz Water Bottle – 10% Off with code ELT10

Drinking at least half of your weight in water ensures that you do not hold on to extra water weight.
It also aids in weight loss and helps reduce things like stretch marks and cellulite!
This bad boy here holds 74oz of water and keeps it cold throughout the day! Bonus: You can get 10% off with the code ELT10 at checkout!
Drink one of these filled with water by the end of the day and that is 9 cups of water! If you drink it by mid day you can drink another few cups before bed time. If you do this, you are guaranteed to always get your water in!
Set an alarm for 2PM so you make sure you are done with it by then. And when you go to bed, make sure you are done with your second one.
Carrying it around all day and not having to actually go grab water also makes it easier to get all of your water in. Just do it, ladies!
&
&
9. Complete the 30 minutes!
Please don't stop! Don't give up! Modify and take extra breaks if you need to. Drink some water. Stretch it out. Then shake it out and keep going! I promise you, you can do it and you will be so proud when you get through it!
10. Post a motivating picture in your workout space.
Every time you feel like giving up you will be reminded of why you shouldn't. It's something so simple but so motivating! I even print pictures and put them in my planner so that I see them daily.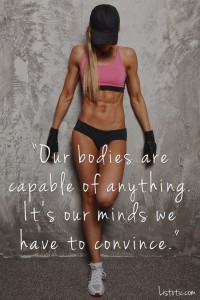 11. Eat all of your containers.
You need the right amount of food to keep your body going. If you do not eat enough your body will think you are starving and will hold on to fat, this is called starvation mode and it is the reason a lot of people do not see results. They are simply not eating enough.
Of course, if you are absolutely full and just cannot do it- don't. Don't force yourself to eat more than you possibly can, we don't want you throwing it up. But if you do have the space, try to eat all of your containers to fuel your body properly.