Today is day 31 of my third Whole 30. As I sit here and sip on my first cup of joe in 30 days (thank you sweet Jesus, how missed you), I wanted to reflect on the past 30 days.
Taking control
Have you ever felt like a lot of your life is out of control? Your health, weight, finances, relationships, etc… It's funny how taking control of just one of these things slowly trickles into the other.
For example, take control of what you put into your mouth and you are suddenly more confident to take control of your finances. Take control of one thing in your life right now and watch it snowball. It's really amazing.
What is Whole 30?
Whole 30 is a way of eating to basically give your body and mind a reset.
You totally cut out dairy, grains, sugar, legumes, carrageenan, sulfites, or MSG. You give your body 30 days to detox and your mind to change the way it thinks about food. If you'd like to read more about Whole 30, check out this post.
What I learned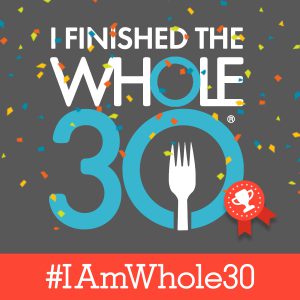 This was my third Whole 30 and the best one I've experienced.
I suffered from a lot of the detox symptoms I wrote about here, and struggled to feel like it was worth it in my first two. I also did NOT slowly reintegrate the various food groups, instead I dove head first into a Chick fil A value meal and paid dearly for it later.
This time there were hardly no detox symptoms (sure do wish I knew why) and it just felt easy. I purchased a 30 day meal plan and that really seemed to make a big difference. I didn't have to worry myself with meal planning and it took a big load off my shoulders.
Blogging about my journey also helped me tremendously. It held me accountable and helped me sort through the mental aspect. I strongly encourage you to announce your Whole 30 in some way to help hold you accountable.
My kids are older this time around and they were big supporters. It's true what they say about day 28. Your mind tells you 28 days is "good enough". But just when I was about to cave for a glorious hot cup of coffee, my daughter swooped in and told me to FINISH STRONG. Oh how I love her and her powerful words. She was right. I was so close.
So that's what I did. I finished strong!
I've also created some really good habits that I hope to keep.
Habits that Help with the Whole 30 Program
I started making my grocery list on Thursday nights (because who wants to do that on a Friday night?).
Up until last week I didn't have to create a meal plan. But last week I created my meal plan and my grocery list. I laid it out very similar to how it was in the purchased meal plan.
I do my shopping early on Saturday mornings to avoid the crowds and allow myself the time to read all the labels.
On Sunday mornings I meal prep all of my breakfasts and lunches for the week and 1 to 2 dinners. This routine has made all the difference and it's one I hope to keep.
Now What?
Now, I plan on reintroducing foods the right way and not all at once! I also want to try to maintain this way of eating, for the most part. It makes me feel good and that's what it's all about.
I'm sure you've already guessed what my first reintroduction was. Sugar!
I only need a teeny bit for my coffee and that's all I plan on having in my day.
Help with Whole 30 Program Meal Planning
I have discovered a very helpful website and used it this week for my meal planning and grocery list. It's called Real Plans and it is amazingly, totally customizable. You customize it to be exactly what you need, how many meals per week, foods you like, don't like, import your favorite recipes, the list goes on and on.
And all the while, it is making a categorized grocery list!
There is even an app that syncs with the website, so you can take your list on the go.
Weight Loss on the Whole 30 Program
Oh and I almost forgot! Most of you are probably wondering how much weight I lost. Yes, I wanted to lose weight, but that wasn't the main focus as I look back.
But losing 10 pounds ain't to shabby either!
About the Author
Hey there, I'm Shelly, a lifestyle blogger.  Most days you can find me blogging when I'm not at my full-time job as a toxicologist.  The things I am most passionate about are my family, learning and growing as a person, travelling, and blogging.  I want to live a life of intention and hopefully, inspire others to do the same.

When I'm not busy working on my blog (or at work) you can usually find me spending time with my husband and 2 daughters.  We love to hang out with our greyhound and 2 cats.  We also love to go glamping (glamour camping aka camping in style).  I also love to cook healthy recipes and find ways to maintain an active lifestyle.

This post may contain affiliate links to help our readers find the best products.