I know you're here because you're wondering what really happens at Temptation Resort Cancun, and I know exactly what questions you're asking… and I'm going to answer all of them ;).
I wrote a pretty long review that I recommend reading: Is Temptation Cancun Resort the All Inclusive for You?
However, I didn't cover the more explicit details there. But, I will here! Between these two reviews, you will know everything you need to know in order to decide if this is the vacation you want to book.
What Happens at Temptation Resort Cancun?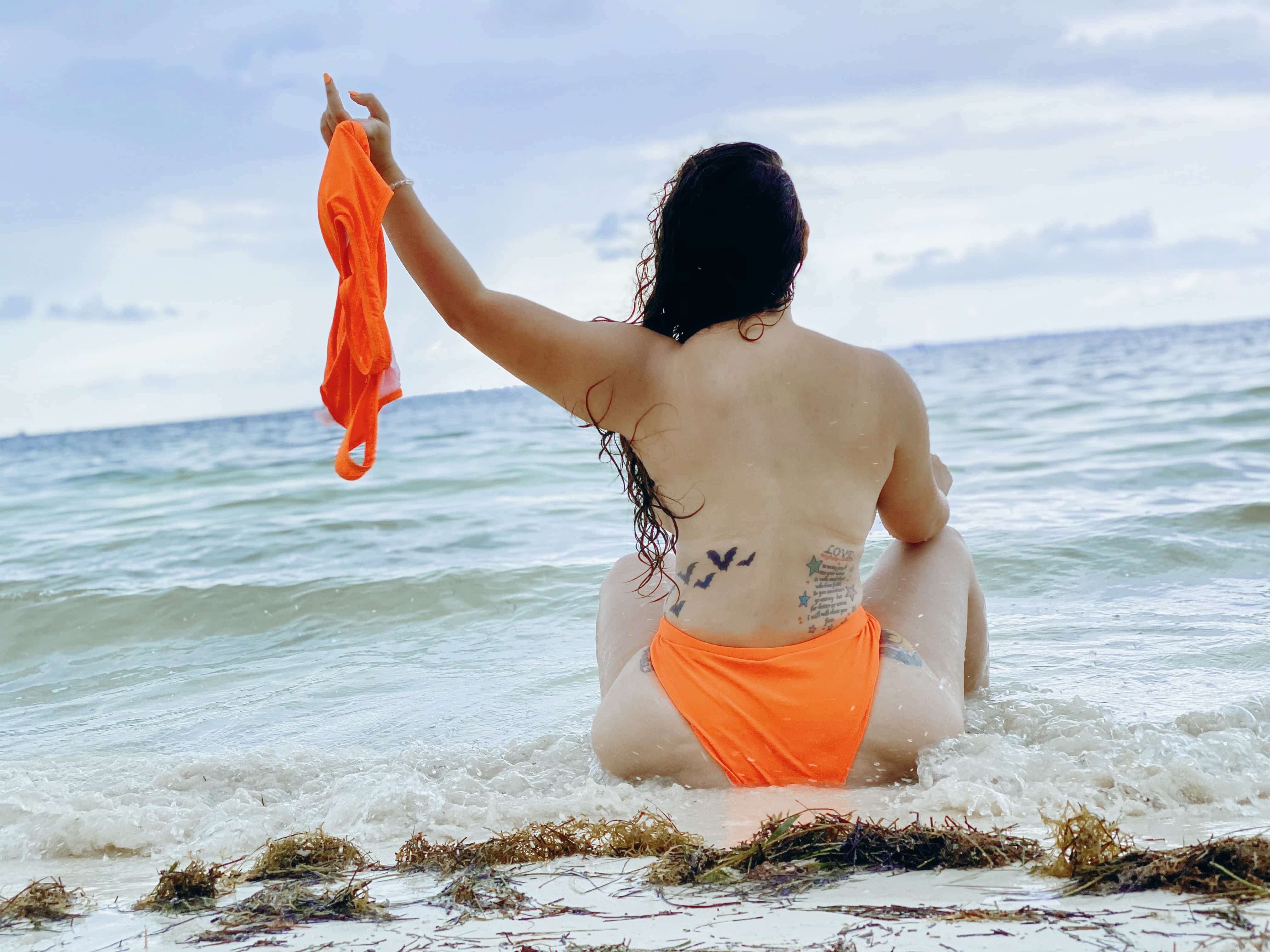 Temptation is the perfect all inclusive resort for the free-spirited traveler. If you just want to have fun and aren't worried about relaxing, you will have a great time here. It is basically a never ending spring break for adults. A literal adult playground.
By the way, even though it is mostly a party resort, there is a quiet pool you can relax at if you are hungover or need a break from all of the partying. That pool is usually pretty empty, if not completely empty. The quiet pool also has a bar and a hot tub. It is also pretty big, definitely big enough to swim in.
Is Temptation Resort Cancun a Swingers Resort?
This is the main question everyone has, yet no one really addresses it.
The answer is: it depends.
There are definitely swingers there, but not everyone there is a swinger. This can be true at many resorts, but yes, it's a bit more obvious at Temptation.
Basically, if you want to go there and enjoy the lifestyle- you absolutely can. But if you're not a swinger, you will still have a ton of fun and no one will push you or try to convince you to do anything you are uncomfortable with.
The conversations are had openly and people may approach you and hit on you, but they are very respectful when you tell them you are not interested in that. As a matter of fact, I also noticed that most people approach the male partners, not the women (very respectfully) if they're going to bring it up.
I noticed this because I've been there twice- once with my partner and once with my best friend. When I went with my best friend, for context he is a gay male and people knew we were not partners, not one person mentioned anything to me. As a matter of fact, I left that trip thinking the swinger claims were a huge exaggeration.
However, when I went with my partner, no one approached me directly but they did approach him about us (other males, never women). We both agreed that no one ever made us feel uncomfortable and no one was pushy. It was actually interesting to learn about it all and we were never offended or disrespected.
And, honestly, the people who are their for that lifestyle seem to have their own secret code. They seem to know who is there for that based on them wearing pineapples or having pineapples or something like that on their doors. I can't really speak to the details because I don't know, but if you are interested in the lifestyle then you probably already know. But, please don't take my word on that because I am not 100% sure what the code is or if it changes or exactly how that works lol.
The point is, yes, there are swingers there but if you are not one you will not be bothered. And if you are there for that, you will not be disappointed. It is a win/ win either way!
Also, FYI, they do have a resort that is much more focused on that kind of lifestyle, it is called Desire and is also in Cancun.
Is it a nudist resort?
I wouldn't call it that at all.
It is a topless-optional resort, but bottoms must be kept on at all times.
Also, there are topless-optional areas. People aren't just eating at the restaurants topless.
Also, not everyone is topless. In my experience, about 70% of the women there go topless. You will never feel forced to go topless if you are not comfortable.
Also, keep in mind, there are very strict rules about not taking pictures in areas where other people may come out in your photo. If they see anyone taking photos of other people they will come up to you and ask to see + make sure you delete them or you will be removed from the resort. I did see this happen once.
What happens at Temptation Resort Cancun definitely stays at Temptation Resort Cancun!
So, if you decide to go topless, you can do so comfortably and not worry about pictures being taken.
Does Temptations Have a Dress Code?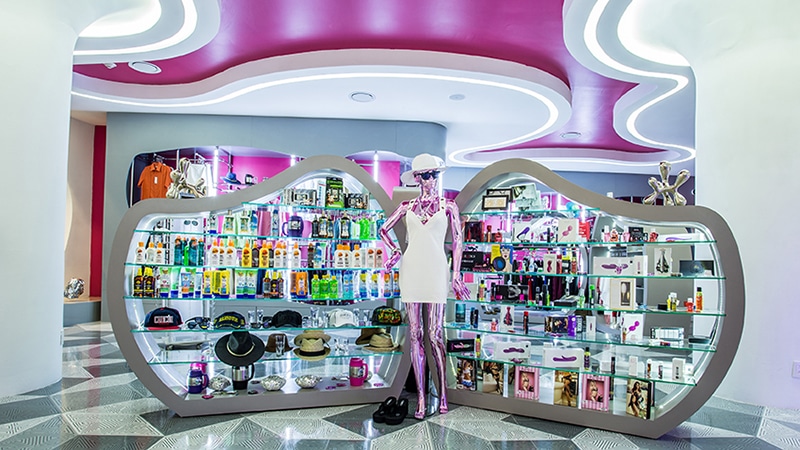 There is no dress code at Temptation.
You will see people wearing anything and everything or hardly anything at all. You can really just be true to your style and dress as sexy as you'd like- or the opposite. Whatever you are comfortable with.
It's a great place to play with styles you probably wouldn't feel comfortable wearing out in your home town.
They do have theme nights, you can see their themes here, but you don't have to dress for them if you don't want to. Also, if you don't have anything to take for a specific theme night, their gift shop has clothing for every single theme. And their clothing is nice!
The Parties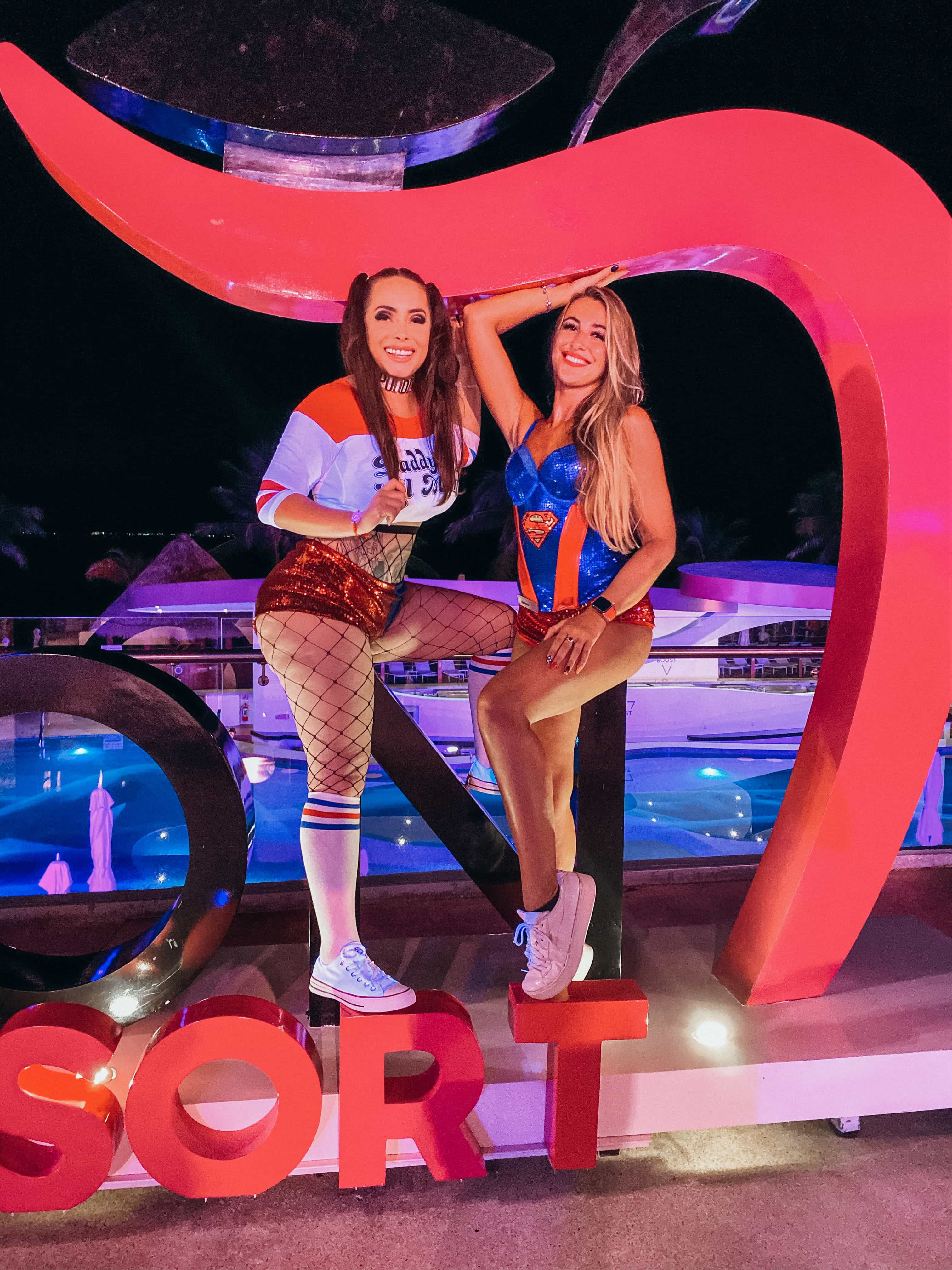 There are parties from sun up to sun down. From the moment you walk in to the main building, you can feel the party vibe. It's amazing and so much fun.
Again, you can go to the quiet pool or the quiet side of the beach if you need a break.
But, there are parties throughout the day at the party pool and in the beach area. From foam parties to holiday parties to circus and sexy pirate parties- there is ALWAYS something going on!
The night parties are held at their outdoor club called Bash and the day parties are either at the sexy pool, the beach or both!
Both! From what I noticed, I would say it was 50/50. There are lots of couples but also lots of big groups of singles. There are also solo travelers.
What is the average age to stay at Temptation Resort?
The average age range of Temptation guests is 30-45 years, the minimum age to stay at any Temptation resort is 21.
Every time I have been there, I've seen all ages and everyone was having a blast! From the 21 year olds to the 60+ crowd. Everyone was welcomed, everyone was having fun and everyone was comfortable.
Is alcohol included at Temptation Resort Cancun?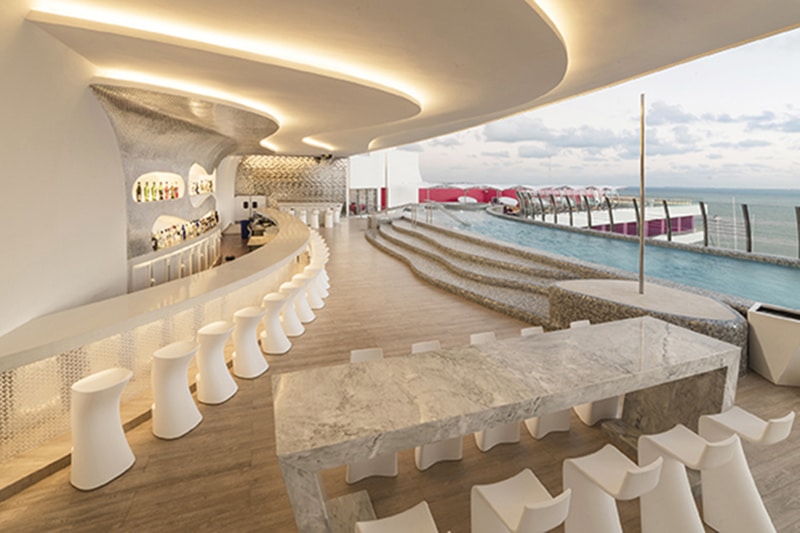 Of course, all drinks are included and food is included as well. They even include shots, which are not included at most all inclusive resorts. 
They have the most delicious drinks ever and they are all sexy themed. You'll figure those out once you get there.
If you don't want to leave the pool, you can have a drink at the swim-up bar at the main pool or the quiet pool. There are also bars right off the beach. There is pretty much a bar everywhere you go and the staff members make sure you always have a drink if you want one.
There is also dining available all day, so you can keep your stomach full while you drink or to help cure a hangover. They have 24-hour room service, plus their snack bars are open 24/7. And their food is delicious! Check out my other review for details on the food: Temptation Cancun Resort Reviews. (Sea Flirt is one of my favorite restaurants here)
If you're goal is to get wasted and just have a ball, Temptation is the perfect choice.
The Rooms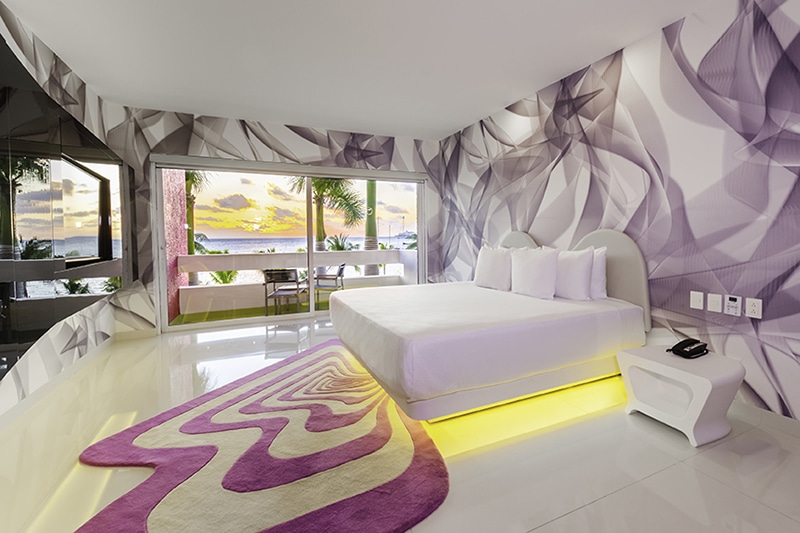 The hotel is beautiful and was recently remodeled by a world-renowned designer, so it is very modern and up to date.
Their blissful bed and pillows are extremely comfortable and I say that as someone who is very picky with mattresses, pillows and bedding.
Most rooms have a king size bed, however, you can get a room with double beds if you are traveling with friends and not as a couple.
Every room that has a balcony has a big and spacious balcony.
They definitely have unique accommodations with a more contemporary take, not like any other hotel you have been to. Their rooms go with the party vibe of the hotel based on the colors and design- but they are still very comfortable.
They have a full bathroom, but they have a spectacular rain shower- no tubs. If you want a room with a tub, make sure you specifically look for one with a hot tub when making your reservation.
If you can afford to splurge, checkout the bash tower ocean view rooms and the temptation oceanfront master suites.
The breathtaking views of the Caribbean sea from your balcony is the best thing after a wild night.
These rooms also have an amplified living area that gives you lots of space to get dressed in.
I hope this review helped answer your question: What happens at Temptation Resort Cancun? All in all, they take partying to a whole new level and you are guaranteed to have a good time whether you go with friends, by yourself or with a partner.
Whether it is your first time or 50th time, make sure you take advantage of their promos and discounts!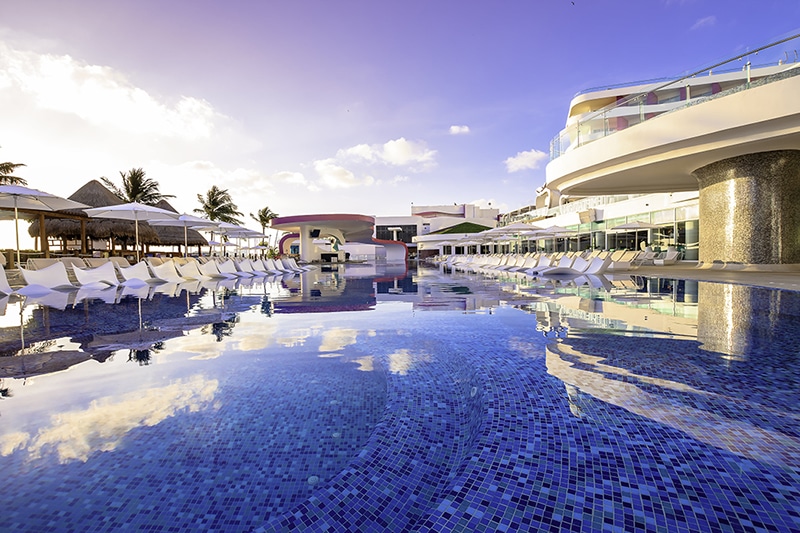 Enjoy your Temptation Resort experience!!
Pin it For Later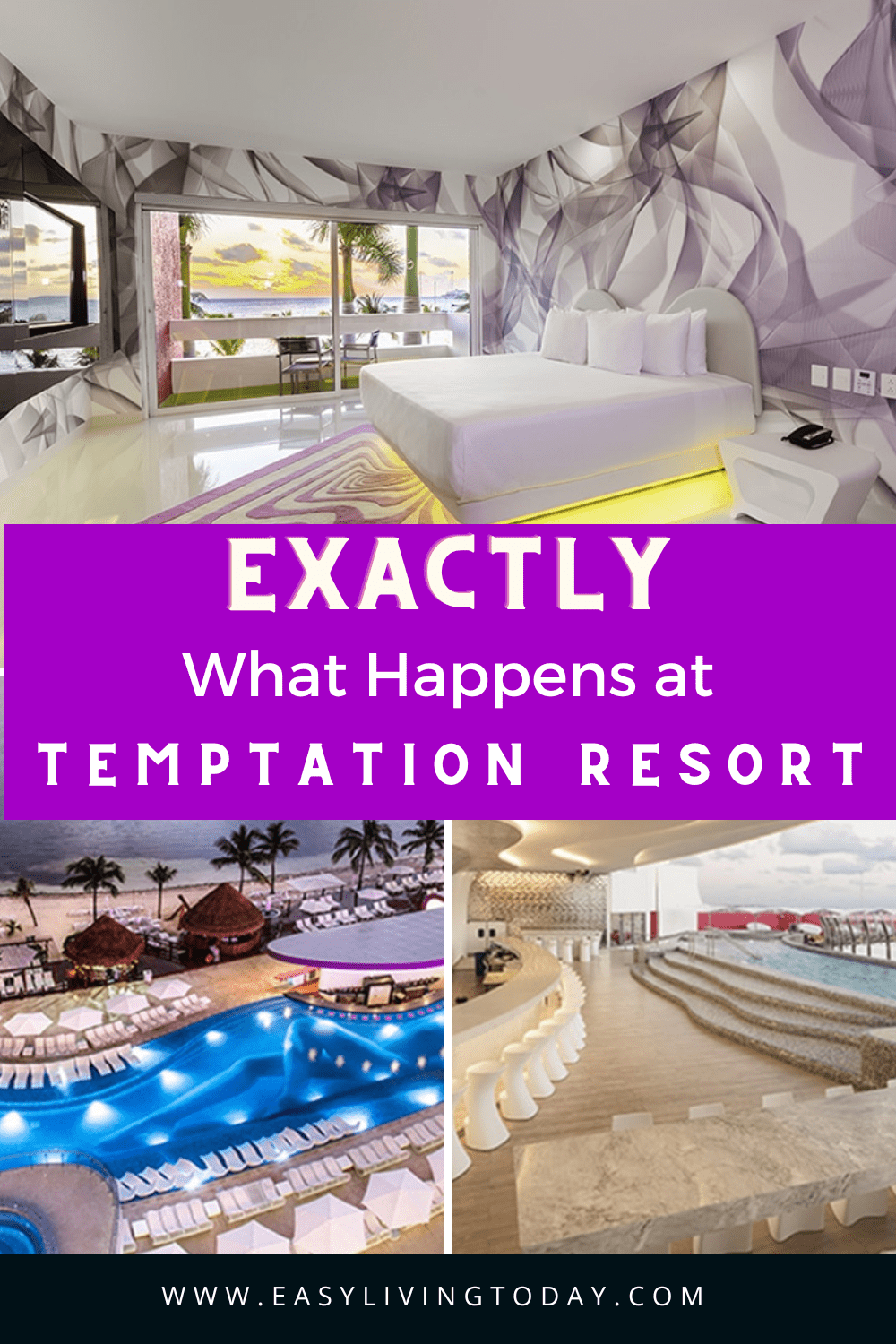 This post may contain affiliate links to help our readers find the best products.