The Best Wireless Running Earbuds for Small Ears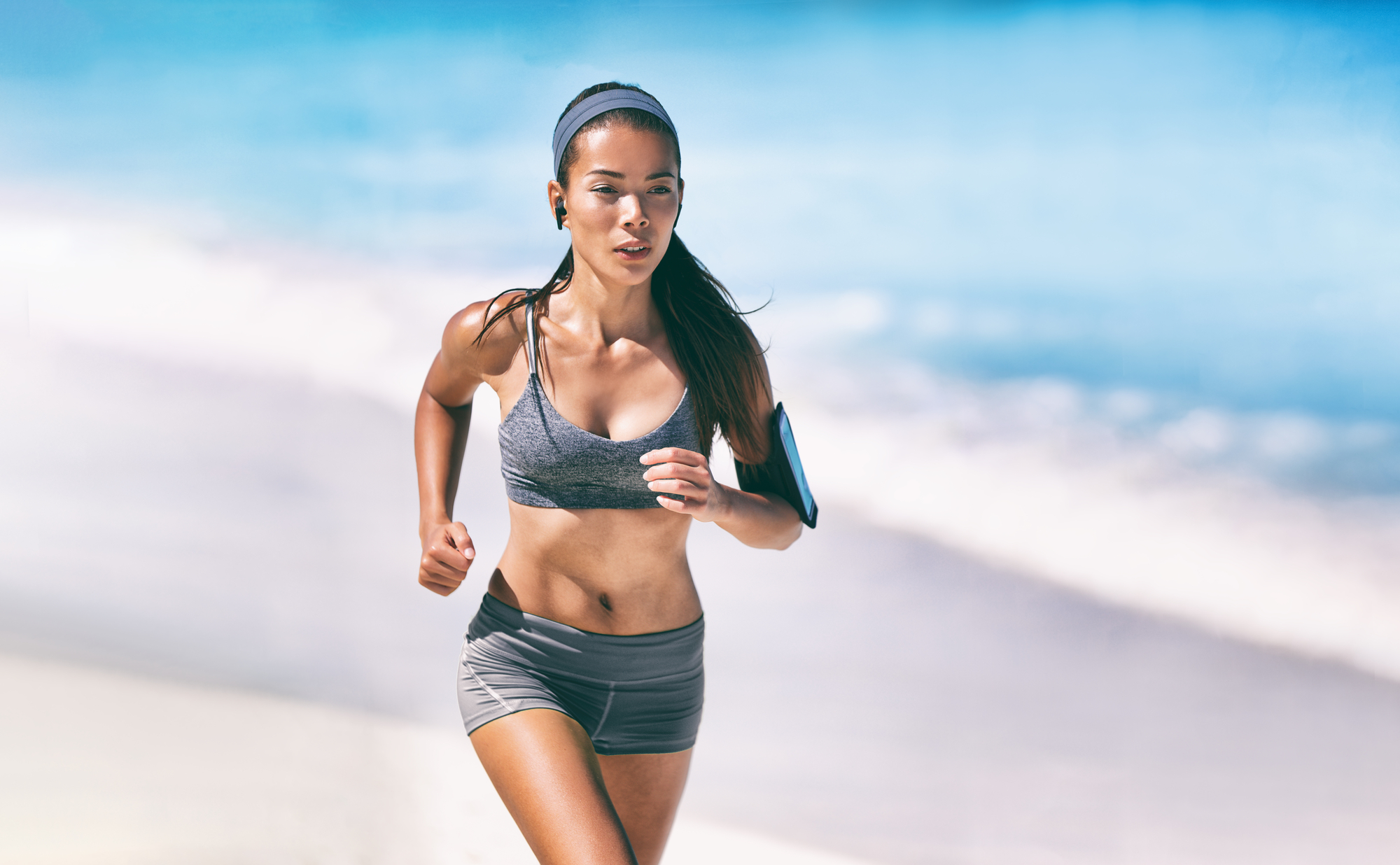 I have notoriously small ears, to the point that people always point out how little my ears are. So, needless to say, finding a comfortable pair of earbuds that also stay on while running has been hard.
I don't like to wear over ear headphones all the time because they just feel big and heavy, so I prefer earbuds. But AirPods and that kind of earbud always hurt me and fall out.
After testing out many earbuds for running, here are the best ones.
Best Wireless Earbuds for Small Ears
Beats Fit Pro – True Wireless Noise Cancelling Earbuds

Beats Fit Pro
If you don't mind investing in a great pair of headphones, the Beats Fit Pro are the best running headphones. They are specifically made for exercise.
They are very high quality and last a long time (I had a pair for six years and only got a new paid because I lost my old ones).
Of course, the sound is amazing and they come in 10 different, beautiful colors.
They come with different earbud sizes that fit small ears perfectly. They come with three different sizes that you can interchange: small, medium and large. One is guaranteed to be a comfortable fit for you.
They also have a small ear hooks (wing tips) that keeps them in place with a secure fit… without being big and bulky.
The Beats Fit Pro also have active noise cancelation that works really well. When I'm at the gym, running on a treadmill, I literally cannot hear anything outside of my headphones. This is great for travel and work as well.
They have a built in mic so you can use it to answer calls as well.
You charge the case and the charging case charges the headphones whenever they are in there. Just charging them for five minutes has given me enough charge to last an hour. If you have a full charge they can get you 6 hours of listening time. So, if you tend to forget to charge your headphones this is a great buy.
They are also sweat and water resistant, which is great if you sweat a lot.
These are definitely the best earbuds, in my opinion, and worth the cost.
Beats Studio Buds – True Wireless Noise Cancelling Earbuds

Beats Studio Buds
If you want to invest in a great pair of headphones, but would rather spend a little less- Beats also makes a pair of earbuds called the Beats Studio Buds.
These also come with the great, premium sound that Beats is known for.
You can control your sound with two distinct listening modes: Active Noise Cancelling (ANC) and Transparency mode.
The Beats Studio Buds get up to 8 hours of listening time on a single charge (up to 24 hours combined with pocket-sized charging case).
And they also come with the three soft ear tip sizes for a stable and comfortable fit while ensuring an optimum acoustic seal.
The main difference is that they do not have the wingtips and they come with a different case.
If you're someone who would have liked the Apple Airpods Pro, but they just didn't fit- these are a great alternative. Remember, Apple now owns Beats so they are very similar.
The Best Budget Friendly Wireless Headphones – Under $50


Tempo 30 Wireless Earbuds
Tempo 30 Wireless Earbuds for Small Ears
If you want something more budget friendly but still high quality, these Tempo 30 true wireless earbuds are a great option!
They are basically a dupe of the Beats Studio Buds and have a very similar design.
These are the best running earbuds at a lower price point.
They include 6 sizes of ear-tips with these small earbuds, so the Tempo 30's can fit even the smallest ear canal comfortably.
The audio quality is great and they are also fully water resistant and sweat proof, so you can run in the rain or snow with them without worrying.
You can get up to 8 hours of battery life on a full charge.
They also come with a mic so you can take voice calls without having to search for your phone.
TAGRY Bluetooth Headphones True Wireless Earbuds

TAGRY Bluetooth Headphones
These are the best headphones for smaller ears for under $30!
They are waterproof in-ear headphones with a mic so you can take phone calls.
They are very lightweight so you will never feel like there is something heavy hanging from your ears.
They do not have active noise cancellation, but they do have good sound quality.
CASCHO Wireless Earbuds Bluetooth Headphones

CASCHO Wireless Earbuds
These CASCHO Wireless Earbuds are great if you want an option that has full ear hooks. The ear hooks keep them in place really well and provide a good fit for small ears.
They have an impressive battery life of 10 hours on a single charge and also have a waterproof rating of IPX7.
Whether or not you like ear hooks is dependent on personal preference, but it is definitely worth trying them if you never have.
They have a very lightweight design and basically have everything you need in a pair of running headphones – water resistance, built-in microphone and a the right fit for smaller ears.
Which are the best earbuds for running with small ears?
It's going to depend on your budget and preference!
I look at headphones as an investment because they can last a really long time (if you get high quality ones) and they really do contribute to your workout.
I love a good pair of noise cancelling headphones that fit so comfortably you can't even tell anything is there. But you have to decide which ones will work best for you!
I didn't want to overwhelm you all with options, so I narrowed it down to the truly best options out there. Any option on this post is a great option!
Pin It for Later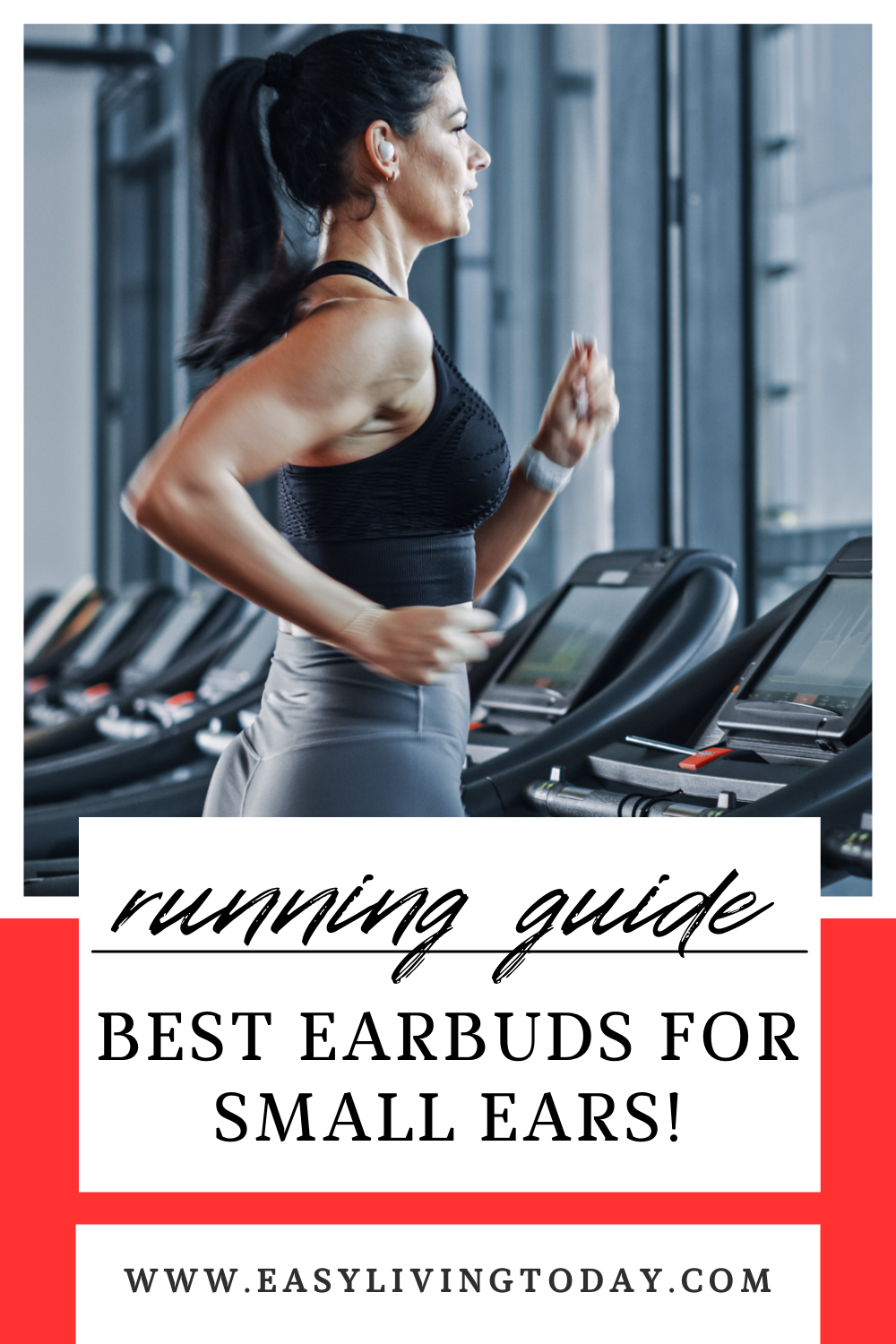 This post may contain affiliate links to help our readers find the best products.