The Best Small Weight Benches for a Home Gym
Weight benches come in all kinds of shapes and sizes, with all sorts of features.
When purchasing a weight bench for your home gym, you need to consider two things:
Your space. What's the size? Do you have limited space or tons of space? Are there any weird angles?
Your workout routine. What exactly do you need your bench for and what do you need it to be able to do? Will you just be doing chest presses? Or will you need lots of different positions and different angles? Will you be using it with heavy weights or light resistance bands?
Once you know the answers to those two things, you can find the workout bench that is best for your situation and space.
Here are my recommendations for a small workout bench for home:
The Best Weight Benches for Small Spaces
If you have a really small space you want to fit a weight bench in without it feeling cluttered, your best bet is to get a foldable workout bench that can easily be stored in a closet or something. The key is to find a bench that is easy to fold and high quality enough that you do not have to worry about it falling apart because you are constantly folding it.
Also, if you have a small space it is better to have a weight bench that works well with resistance bands because they're easy to store and don't take up much space.
Of course, the smaller the bench the lower the body weight capacity- so you want to keep an eye on that too.
In this scenario, these are my two top recommendations:
Foldable & Adjustable Weight Bench

Workout Bench for Home, Incline/Decline Bench

Both of these benches are very similar, it really comes down to design preference. However, they both come with resistance bands and the workout bench for an extremely reasonable price.
They can both be folded completely and are light enough to easily move, yet high quality enough that they will last you.
Both benches have a weight capacity of over 600lbs, which is amazing for a small bench.
They are both very versatile with 7 back angles, 4 seat positions, and 3 feet height for comprehensive training of all muscle groups.
If you want something without the resistance bands, here are some other great weight training benches for small spaces:
Fitness Reality Exercise Bench

s Stowable Bench

Heavy Duty Versatile Bench

The Best Adjustable Benches for Home Gyms
Adjustable weight benches are great for versatility in your workout routine. You can do anything from shoulder presses to ab workouts.
If you're going to use your bench for several exercise, it's best to get a bench with adjustable settings and adjustable positions.
If your space is very small, I recommend the adjustable benches above. However, if you have more space, here are some other great options that are a bit bigger and more heavy:
FLYBIRD Weight Bench

FLYBIRD Utility Weight Bench

FLYBIRD Workout Bench

Multi-Functional Adjustable Weight Bench for Total Body Workout

Full Body Strength Training Bench

All of these have a weight limit of over 800lbs and amazing customer reviews from people who weigh above 250lbs. With heavy weight, it is important to have a heavy-duty steel frame, that's why these are so highly rated.
They also all have steady decline positions and can be used as a flat surface as well.
Honestly, any one of these benches would be a great addition to any gym space.
The Best Flat Benches
Flat benches allow you to stand, sit or lie in the right position to perform a ton of different exercises.
If you're a beginner, a flat bench is a great option.
Flat benches are great for dumbbell bench presses, chest presses, triceps dips and more.
Of course, they are also great space savers!
Even though flat workout benches seem basic, it is still important to get a high quality one. You want it to have the maximum weight capacity and load capacity that you need. You also want it to be sturdy so you can complete your exercises without any wobbling.
Here are the top picks for home gym flat benches:
Flat Utility Workout Bench Station

FLYBIRD Flat Bench

Basic Flat Weight Workout Exercise Bench

Workout Decks
Workout decks are another great option if you have a bit of space. They are actually one of my favorites because you can use them for both cardio / aerobic exercises and for strength training. They are amazing for total body workouts.
They are equipped with 16 configurations in an all in 1 with weight bench. They have a stepping platform, plyometric box, resistance tubes, and more.
Workout Platform

Workout Platform

Fitness Deck

Aerobic Deck

Pin it for Later: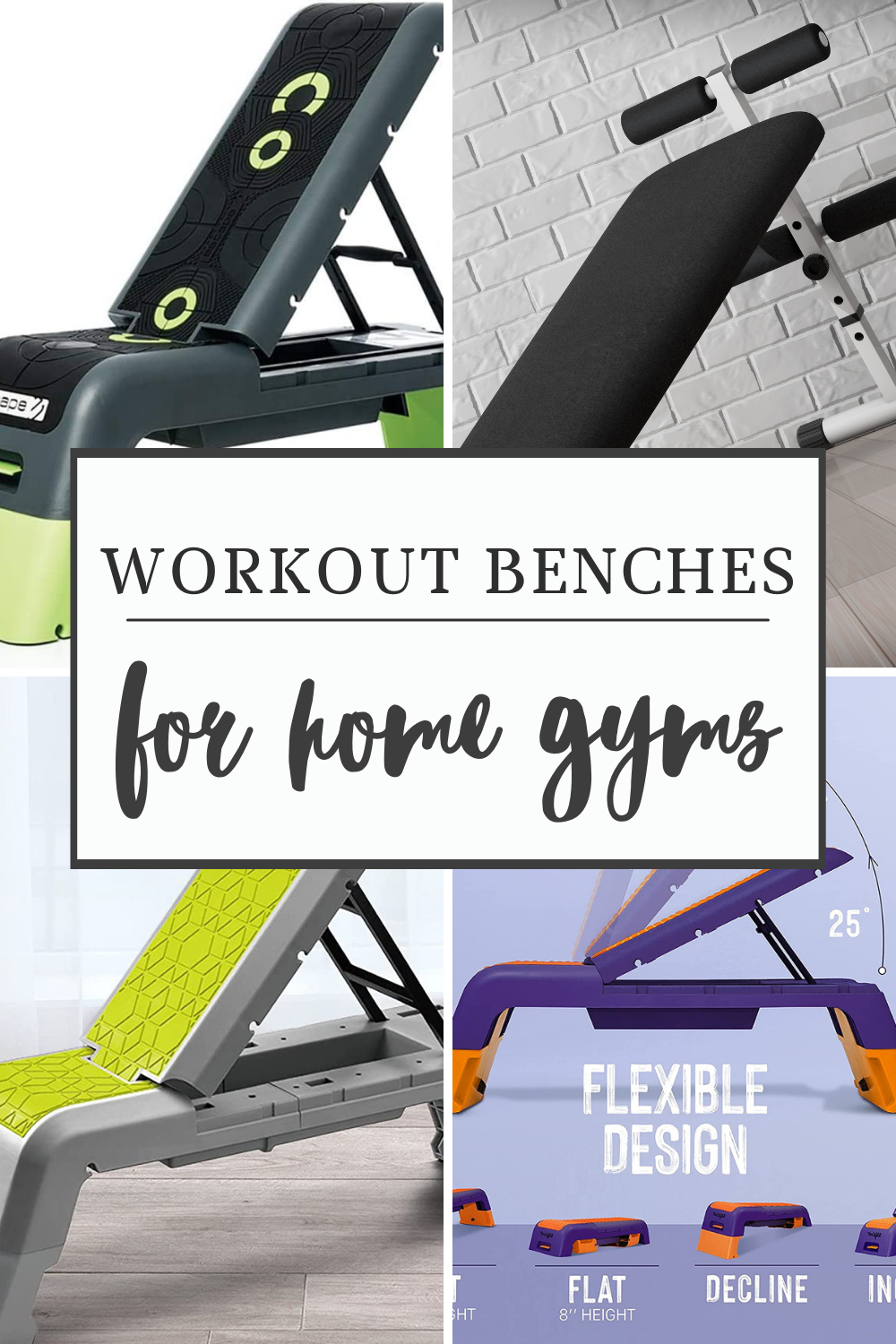 This post may contain affiliate links to help our readers find the best products.