Nutri Ninja Nutri Bowl DUO with Auto-iQ Boost 
If you've been into clean eating and/or fitness, you've more than likely heard of the Ninja brand. Well, they just recently came out with a new product- the Nutri Ninja Nutri Bowl Duo.
It combines Ninja's powerful Nutrient & Vitamin Extraction— breaking down fruits and vegetables to unlock their full potential– with the all-new Nutrient Fusion that brings fresh ingredients together for flavorful, nutritious meals, snacks, and desserts.
Below you can find a full, detailed review including sample videos and where you can find the best prices.
&

Pros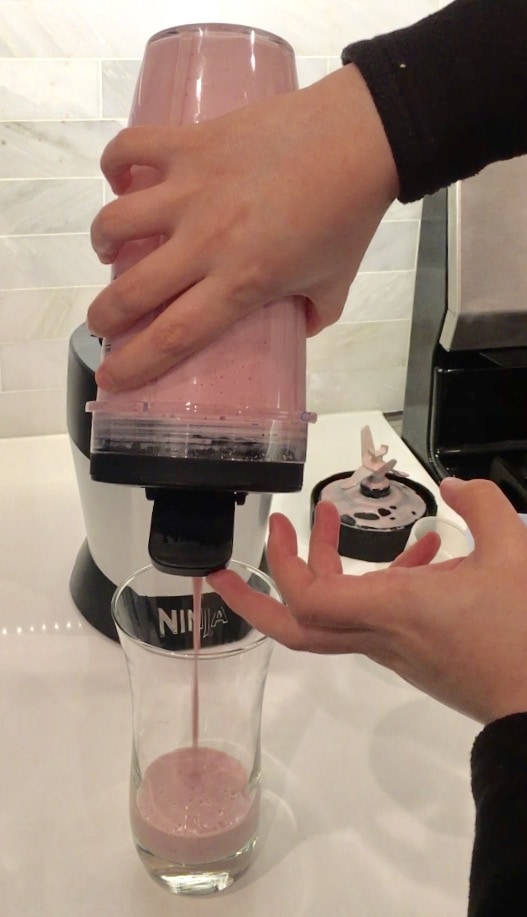 A must for clean eating: Ok, you know clean eating is my thing- and this is a must if you are eating clean. It will make your life so much easier. You can make healthy smoothies to sneak in some veggies and can make healthy treats AND dinner with the food processor. It helps you create a fusion of foods containing nutrients from fruits, vegetables, and other foods. You can even blend whole fruits and vegetables, including portions that are usually discarded but have a ton of vitamins and nutrients.
Blades are removable (Nutri Bowl): The best part about this is that you do not have to scrape at the bottom of the blender to get the stuff that got stuck around the blades. Just remove the blades and every single thing easily comes out.
One base: Having just one base for two different systems makes it so convenient and easy to store. You don't need a blender for your drinks and then an entirely different one for your food processing.
Works fast: This system is so powerful that most jobs are done in under a minute. I chopped veggies in 20 seconds. I make my smoothie in 55 seconds and ice cream in 2 minutes. It's super fast!
Cuts through anything and everything: You can literally throw whole fruits and veggies in here, and this thing will pulverize them. It freaks my toddler out though, so you might want to keep the little ones away.
Crushes ice & frozen food in seconds: Seriously, it turns to slush almost immediately. Perfect for making icee's or frozen drinks.
You just have to press a button: With the exception of pulsing, all you have to do is press the button that does what you want and it takes care of the rest for you.
No need to shake, stir or mix: The auto IQ system they use pauses and restarts the blending in a way that takes care of all of that for you. So you don't have to pause and mix everything up and start again. You can literally set it and walk away until it's done.
Can handle leafy greens, skins and seeds: A lot of blenders can't handle these. They leave a nasty consistency and stringy things in your liquid- this one blends them just like anything else.
Convenient blend & go cups: With the Nutri Ninja you just attach the cup that it comes with to the cap with blades and put it on the base. It blends your smoothie right in to a cup so you can just grab the cup and go when it's done- which is just about a minute or less.
Large enough for the average person: The bowl it comes with is pretty large for the average person, I have not needed anything larger than this. The cups are 16oz and you can also buy 24 oz cups, so those are good size servings (and even large servings).
Strong motor: With one base and two interchangeable vessels, the 1200-Watt Nutri Bowl Duo easily switches from powerful Nutrient & Vitamin Extractor to a versatile Nutrient Fusion Processor.
Suction cup feet: First of all, these suction cups actually work- not like others I have tried. You put the base where you want it and it will not move unless you want it to! It's great if you have kids that like to grab everything on the counter (or is that just my kid?!).
Cons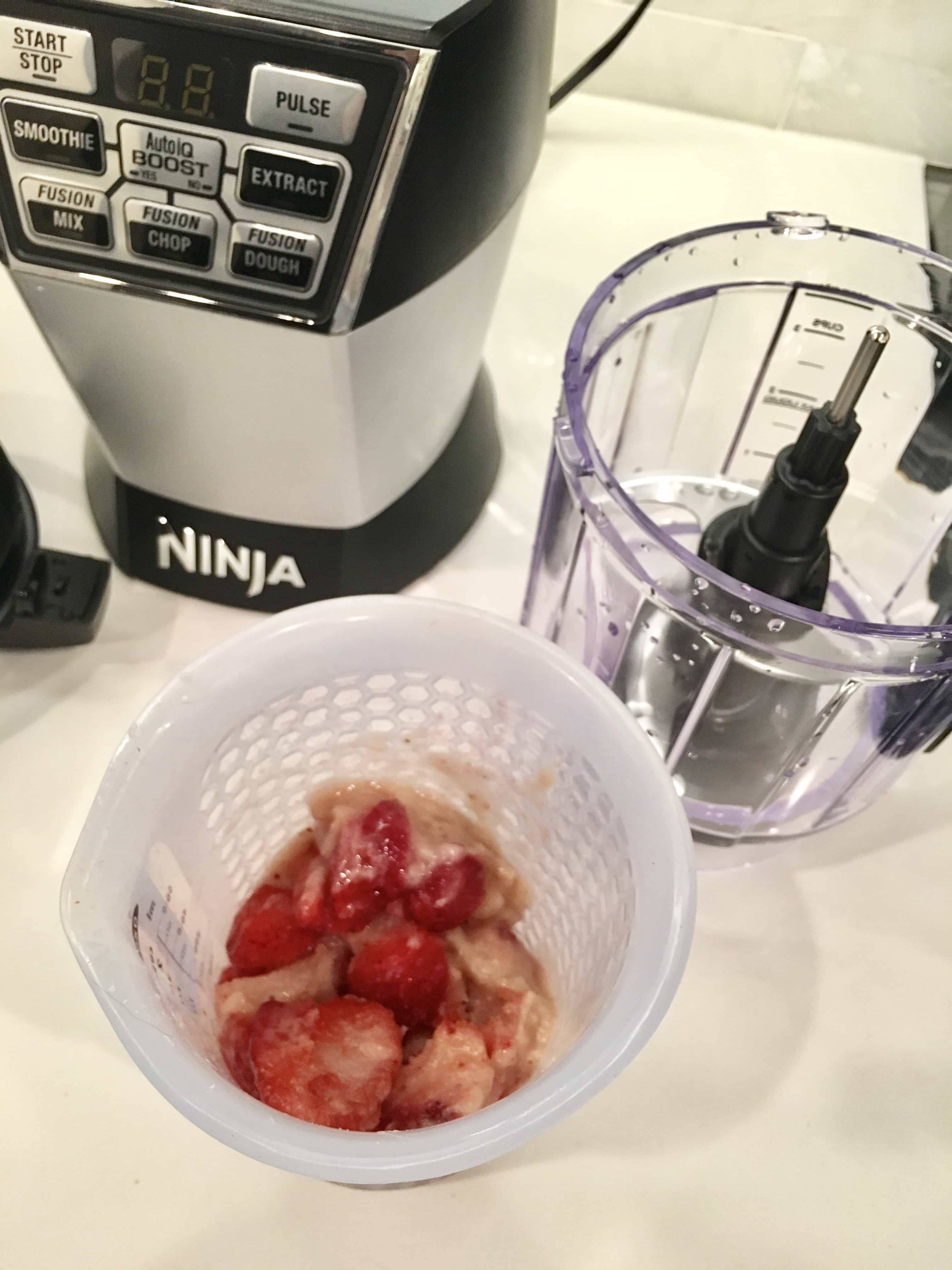 Removable blades are extremely sharp: This makes it a bit dangerous if you have little ones around or if you are washing by hand. But, just read my next section on how to clean it to minimize the danger. As I said above, the removable & sharp blades are also a pro- you just have to handle it correctly and carefully.
Loud: I am yet to find any sort of quiet blender, so this is pretty much a con for all of them- but they're just so loud. If you have little ones, this means you have to wait until they are awake to do any kind of blending or the noise may startle them. And we all know it's hard to get anything done once they're up!
Sample Videos
Nutri Ninja making a strawberry banana protein shake:
Nutri Bowl making strawberry banana nice cream aka natural and healthy ice cream!
How to Clean a Nutri Ninja Nutri Bowl Duo
Although you can take the pieces apart to wash them, I don't recommend doing so. As I mentioned in the cons, the blades are very sharp and washing them can be dangerous. I did actually cut myself doing this.
I recommend putting a drop of dish detergent in to the container you used, with the blade you used in as well, and then filling it 3/4 of the way with warm water. Then blend it for 20 seconds or so. Once you do that, you can just rinse it with water in the sink. This way you don't have to handle the blades too much.
Is the Nutri Ninja Nutri Bowl Duo Worth the Price?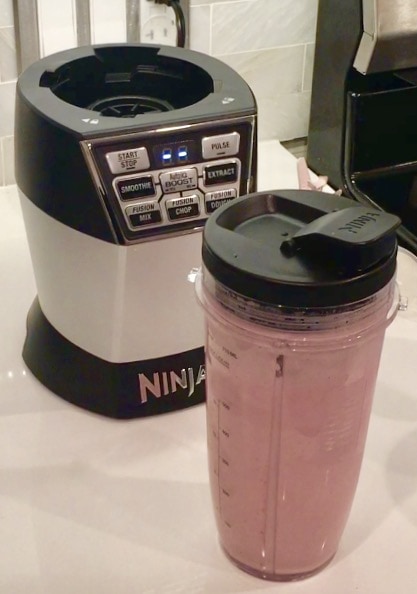 Absolutely! Just shop smart! Amazon usually has the cheapest prices, so make sure you check them out.
You are really getting a bang for your buck here because you're getting two appliances in one. To top it off, they work really really well.
With this, I don't need a blender, nutribullet or food processor– so I'm saving space and money. I sold my old blender and food processor in a garage sale group on Facebook and replaced them completely with this.
Additional Accessories
 48oz XL Nutri Ninja Jar for Bigger Blending Jobs
 24 oz. Stainless Steel Nutri Ninja with Sip & Seal Lid to Keep Drinks Cold for up to 4 hours
 Two 24 oz. Tritan Nutri Ninja Cups with two Sip & Seal Lids for Larger Drinks & Extra Cups on Hand
 12 tbsp Coffee & Spice Grinder 
&
More Nutri Ninja Nutri Bowl Duo Reviews
[scrapeazon asin="B01KA7VZA6″]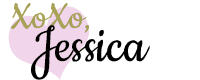 This post may contain affiliate links to help our readers find the best products.