This post was sponsored by iHerb.
As a mom, energy is extremely hard to come by and you don't want to start adding a bunch of crazy stuff to your body. But I came across a ton of all natural herbs for energy, by Nature's Way, while browsing iHerb the other day and am obsessed!
I've been trying them out for a few weeks now, because my energy has been extremely low. I always felt tired, wanted to take naps and had no energy to work… let alone workout. Since I have fitness goals and like to be active, it was extremely important for me to find natural ways to boost my energy levels so I could continue crushing my goals and living an active life with my kids.
So, of course, I hopped over to iHerb because I've always had positive experiences with them. If you remember, when I was on keto, I would get all of my keto supplies from them as well.
iHerb carries over 400 Nature's Way products that can be shipped to over 160 countries. Their customer service team also provides support in 10 languages!
These are 7 all natural energy pills that can help a ton. I listed them in order of the ones I found gave me the largest energy boost.
7 Best Natural Herbs for Energy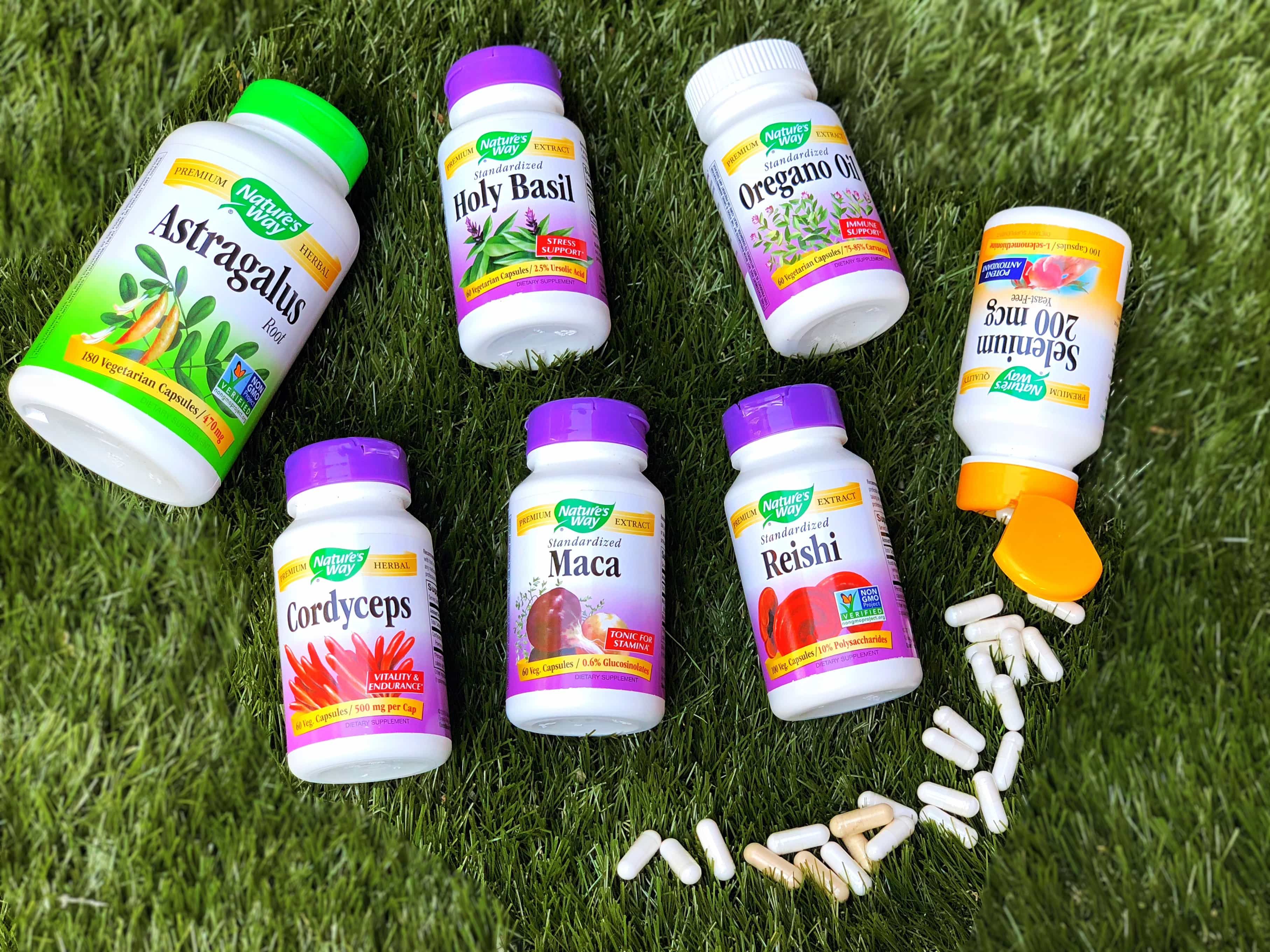 Cordyceps: Basically a magic mushroom energy enhancer that has been used in traditional Chinese medicine since the 1700's. Whenever I take this, I feel an energy boost almost instantly. At the Chinese National Games in 1993, a team of women runners shattered nine world records and said they took cordyceps as part of their training program. Local healers also use cordyceps to combat illnesses, improve stamina, and increase longevity… all things that can also lead to more energy.
Reishi: Reishi are an edible type of mushroom considered one of the most potent superfoods… they are even known as the "king of mushrooms". Lots of scientific research supports the claim that Reishi mushroom can increase your energy, decrease fatigue and improve performance. According to a 2008 study, Reishi can stimulate t-cells in athletes training in high altitudes.
Maca: Maca root has been used to boost energy for several thousand years. Maca is a popular supplement among bodybuilders and athletes. It has been claimed to help you gain muscle, increase strength and boost energy. Also, some animal studies indicate that it enhances endurance performance. People also take maca for female hormone imbalance, menstrual problems, symptoms of menopause and improving fertility.


Holy Basil: Holy Basil belongs to a special class of herbs known as adaptogens, which have unique effects that work to bring the body and mind into greater balance, depending on what is needed. . One of the key components that adaptogenic herbs offer is their ability to lower and stabilize cortisol levels. Healthy individuals have stable cortisol levels that naturally spike in the morning and then level off and stay consistently low during the day before tapering at night.  This allows us to wake up with energy in the morning and maintain that energy until night time when we should naturally be  getting ready for sleep.Stable cortisol levels result in improved mental clarity and memory… leading to more energy. With stable cortisol levels, you feel as though you are less agitated and anxious and therefore able to perform better and have higher quality of life.
Astragalus: Astragalus is also an adaptogen. So, if someone is stressed out and anxious they will likely find Astragalus benefits to be centering and calming whereas if they are depleted and fatigued, the plant will tend to have more uplifting, rejuvenating and energizing properties. As such, Astragalus has been shown to help the body deal with stress more effectively and has been used for this purpose for thousands of years. Most notice that it has a subtle energizing effect without being stimulating. It's more of an increase in organic vitality and aliveness that increases the more often you take the herb.
Oregano oil: Oil of oregano also has extremely high levels of antioxidants which help protect the body from chronic conditions. It boosts the immune system, aids in digestion (good digestion=higher energy as more nutrients are absorbed), and helps rid the body of parasites (another potentially hidden cause of chronic fatigue).
Selenium: Selenium is an essential trace mineral and antioxidant that is vital to good health and physical and mental energy. While it should be found in many foods, the amount of selenium in common sources has decreased in recent decades. Although there could be many causes for ongoing fatigue, selenium deficiency can also be the culprit.
Xoxo,

Jessica

This post may contain affiliate links to help our readers find the best products.