Detailed Metamucil 14 Day Psyllium Fiber Cleanse Review
Let me tell you about the time I decided to do the "Metamucil 14 Day Psyllium Fiber Cleanse." It was a time when my daily routine was as irregular as a two-year-old's sleep schedule.
My stomach and I were having a bit of a disagreement. So, I thought, why not bring in a mediator? Enter Metamucil, the friendly counselor ready to help my stomach and me work through our differences and bring some peace to our tumultuous relationship.
As I embarked on this fiber-filled journey, I was hopeful, intrigued, and just a bit terrified (because let's be real, when you're talking about a cleanse, there's always room for some funny business). So I wanted to bring you a Metamucil 14 day cleanse review from an actual human.
For more cleanse ideas, check out my other post: "Best Juicing Recipes for a Complete Cleanse"
My Relationship with My Stomach
My relationship with my stomach, well, it's been a bit of a rollercoaster. There are days when we are in perfect harmony, singing the same tune like a perfectly conducted orchestra. I'd eat my favorite meals, and my stomach would happily accept them. We'd enjoy the food, feel satisfied, and carry on with our day.
But then, there were those other days. The days where it felt like my stomach was the rebellious teenager, slamming doors and refusing to cooperate. I'd have a simple meal, and it would throw a tantrum, leading to discomfort and interruptions to my day. Those were the days when our relationship was strained, to say the least. I realized that my stomach and I needed some help to find our balance again.
I do not have irritable bowel syndrome, but I still felt like I needed to take control of my health, starting with my digestive system. I needed a reset, a fresh start. And that's when I decided to go on the "Metamucil 14 Day Psyllium Fiber Cleanse." Because if I'm honest, I can't stick to anything strict for a long time.
So off I went, hoping that this would be the key to bringing some harmony back into my life.
I got my cleanse here because they have the best price I have found (plus no delivery fee).
Metamucil 14 Day Psyllium Fiber Cleanse

The 14-Days Cleanse Journey
The Metamucil 14 Day Psyllium Fiber Cleanse is a psyllium husk fiber supplement program designed to reboot your digestive system.
The main ingredient is natural psyllium fiber (which can cause allergic reactions to plant-based psyllium fiber), which is a form of soluble fiber derived from the husks of psyllium seeds. This dietary fiber acts as a 'friendly sweep', gently cleaning your system, promoting regularity, and helping to eliminate waste. It does not have any artificial sweeteners but still has an orange flavor. It does have citric acid in the ingredients.
The cleanse lasts for 14 days and the program is structured in a gradual way to help your body adjust. It starts with just one serving per day for the first four days, then two servings per day for the next four days, and finally, three servings per day for the last six days.
Each serving involves mixing a rounded teaspoon of the supplement with 8 oz of cool liquid, drinking it promptly or it'll turn to gel, and then enjoying the benefits it brings.
It's important to note that new users may experience minor changes in bowel habits or bloating, but this is just your body adjusting to the increased fiber intake. This program is a commitment, but one that can potentially bring about a significant improvement in your digestive health and overall well-being. Just be sure to follow the program directions, especially for the initial cleanse program.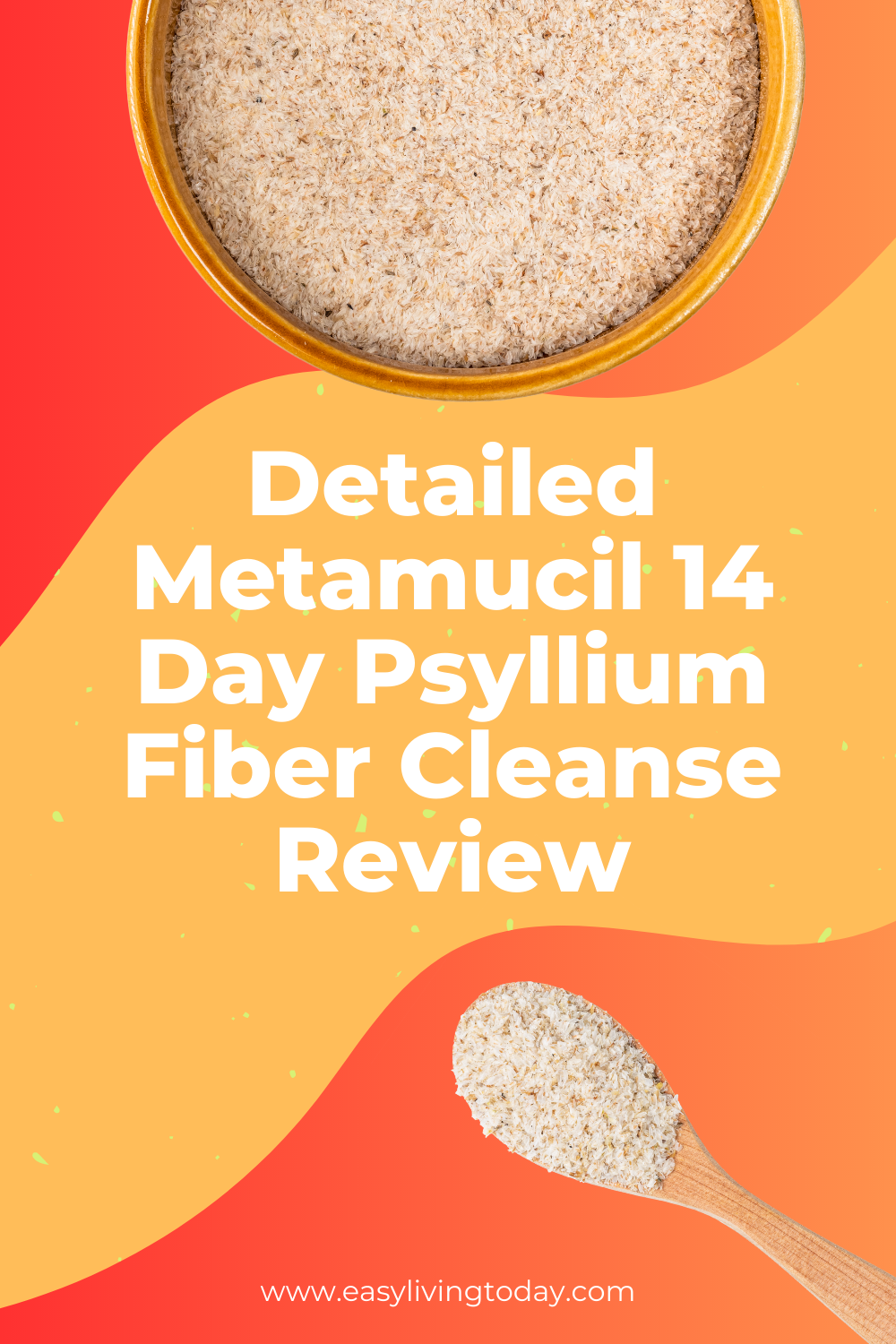 Metamucil 14 Day Cleanse Review
First 4 Days – 1x – The Gentle Start
Initial Impressions
On my first day of the cleanse, I was a bit apprehensive about how my body would react to the increase in fiber. But, I've used metamucil products before so I felt comfortable trying it. The Metamucil supplement was pretty simple to mix, and I was pleasantly surprised by its taste. It was slightly sweet and not at all unpleasant, I was able to drink the full glass without a problem. After downing my first glass, I waited for any sudden change, but everything seemed normal.
Over the next few days, I noticed a slight increase in my bowel movements and slight abdominal pain, but nothing drastic, just a bit more regular than usual. There was a minor feeling of bloating, but nothing that caused discomfort or hindered my daily activities. I did drink every drip and always left an empty glass.
The dedication to taking the supplement as directed and drinking plenty of water was crucial during this stage and probably the hardest part. Overall, my initial impressions were fairly positive, and I was excited to see how the next stages of the cleanse would unfold.
Changes Noticed
During the initial four days, subtle but noticeable changes started to manifest. I began to feel lighter and more energized. My stomach felt less bloated, and there was an overall sense of well-being that I hadn't experienced before.
The increased regularity in my bowel movements was a welcome change, and it felt as if my body was gradually ridding itself of unnecessary waste, much like a natural detox.
I also felt less hungry between meals, which was an unexpected but pleasant surprise. Despite the slight apprehension at the start, these first few days have been quite encouraging and I'm eager to move on to the next phase and see the power of metamucil.
Next 4 Days – 2x – The Progressive Increase
Adjusting to Increased Intake
As I transitioned to the next phase of the program, taking the Metamucil supplement twice a day, I felt a bit anxious. I wondered if the increase would cause any discomfort or heightened bloating.
However, as the days passed, I was pleasantly surprised to find that my body had adapted to the increased intake quite well. In fact, the benefits I had begun to experience in the initial phase seemed to amplify.
The feelings of lightness and energy continued to surge, and I found myself feeling more active and productive throughout the day. I also noticed that my cravings had subsided further, and I was making healthier meal choices without feeling deprived or restricted.
The regularity of my bowel movements also continued to improve, making me feel even more cleansed and rejuvenated.
Physical and Mental Changes Observed
During these four days, I experienced noticeable physical and mental changes. Physically, my body felt lighter and more i experienced some weight loss (3lbs), and my energy levels were at an all-time high. I found myself hopping through daily tasks that once felt arduous. The increased regularity in my bowel movements made me feel internally clean and more comfortable.
Mentally, I was in a better place too. My mind seemed clearer, more focused, and I felt happier in general. This subtle shift in my mental state was a welcome surprise and made me realize how closely our gut health is linked to our mental well-being.
The minor bloating that I had initially experienced had entirely receded, and I felt at ease with my body. As I reflected on this phase, I was amazed at how smoothly my body had adjusted to the increased intake of Metamucil.
Final 6 Days – 3x – The Intense Cleanse
Handling Triple Dosage
Stepping into the final six days, the program amped up, and so did my routine. I was now taking Metamucil three times a day. Initially, the idea of a triple dosage was a tad intimidating, but given the positive changes I had already experienced, I kept going.
The immediate difference I noticed was a further increase in my regularity. I was feeling more flushed out and clean than ever before. This feeling of lightness was truly liberating. My body seemed to be embracing the changes effortlessly, and the easy adaptation was a pleasant surprise.
Despite the increased dosage, I didn't experience any discomfort or bloating as long as I was drinking enough liquid throughout the day. Instead, I felt a gentle, natural rhythm to my body and its processes. This reaffirmed my belief in the body's adaptability and the gentle nature of Metamucil's fiber supplement.
Adding to the physical changes, the mental clarity and elevated mood persisted, proving to be a constant companion during this journey. The final phase was indeed intense, but it was also enlightening, reinforcing the importance of fiber intake for overall health and well-being.
Final Changes and Realizations
Reflecting on the final days, I was astounded by the positive transformation I felt within. The increased regularity, the lack of bloating, and the overall sensation of lightness were unlike anything I had experienced before. The triple dosage of Metamucil, instead of being overwhelming, seemed to sync perfectly with my body's rhythm. It was as if my body had been craving this very change.
The mental benefits were equally remarkable. I noticed I was more focused and mentally agile, which I hadn't anticipated at the beginning of the program. This newfound clarity, coupled with an elevated mood, made each day during the cleanse a joyous journey.
Looking back, I see that this metamucil 14-day cleanse was more than just a physical transformation. It made me realize the importance of fiber in my diet, and how it can significantly impact both physical and mental health.
Side Effects and How I Managed Them
Changes in Bowel Habits
As I ventured into this metamucil cleanse, I was aware that changes in my bowel habits were likely to occur. Initially, there were minor adjustments, but nothing that caused any particular concern.
The changes seemed natural, a testament to my body adjusting to a higher fiber intake. I did experience a modicum of bloating at first, but this subsided as my body acclimatized to the Metamucil supplement.
The alterations in my bowel habits were not disruptive, rather they seemed like a gentle reminder from my body that it was undergoing positive changes, and that it was benefitting from the cleanse.
I found the process to be extremely manageable.
Final Thoughts and Verdict
Benefits of Metamucil
Post-cleanse, my body felt revitalized in ways I had never known before. The feeling of lightness was palpable and the freedom from any digestive discomfort was like a breath of fresh air. My mind seemed sharper, more focused, and I found myself brimming with positivity.
I wholeheartedly recommend this cleanse to anyone looking to enhance their digestive health and overall well-being. Remember, every body is different and it may take a little time to adjust, but the results are absolutely worth it. If you're looking to eliminate waste & promote regularity, it's worth trying.
Happy cleansing!
*FYI, this dietary supplement has not been reviewed by the federal drug administration
This post may contain affiliate links to help our readers find the best products.