Eggnog just goes with the holidays, and I'd even guess that it's one of the biggest holiday cheats. I mean… how can you say no to eggnog at a party?
Well, you don't have to! You can just bring your own homemade Keto Eggnog. This recipe is under 12g net carbs per serving, whether you add alcohol or not. It also has 34g of fat and 6.5g protein!
The secret here is to use a 0 carb liquid Stevia and Bacardi Superior rum, which also has 0 carbs.
Amazing Keto Eggnog Recipe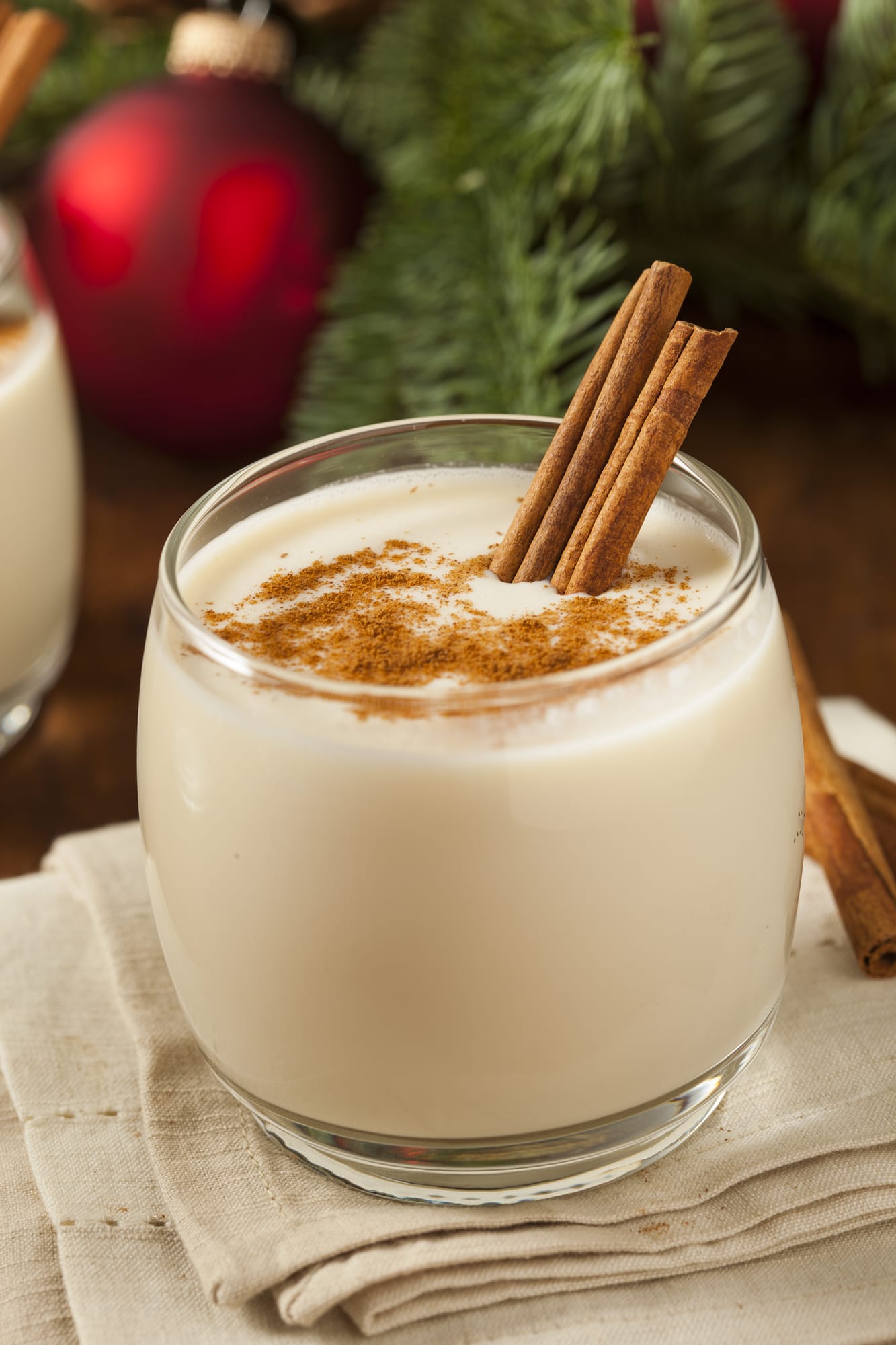 Keto Eggnog Ingredients
2 1/2 cups milk

4 whole cinnamon sticks

1/8 teaspoon ground cloves

1/2 teaspoon vanilla extract

7 egg yolks

1 tsp 0 carb liquid stevia

2 cups heavy cream

2 teaspoons vanilla extract

1/8 teaspoon ground nutmeg
** For an alcoholic version, you can add Bacardi Superior, which has 0 carbs (but adds 96 calories). If rum isn't your thing, here is a list of the amount of carbs in other liquors.
Keto Eggnog Directions
Put the milk, cinnamon sticks, cloves, and 1/2 tsp vanilla into a large saucepan. Put it over the lowest heat setting on your stove for 5 minutes.

In a separate bowl, whisk together the egg yolks and stevia.

Turn the heat under the milk up to medium-high heat. Remove the cinnamon sticks. Stir the milk constantly until it just starts to boil then immediately turn off the heat.

Slowly whisk in about 1/4 of the hot milk into the egg/stevia mixture. Then pour all of the egg/sugar mixture back into the saucepan and whisk it all together. Put it over medium heat, whisking constantly, for 3 minutes. It will thicken a bit.

Pour the hot eggnog into a large bowl or beverage container and let cool at room temperature for 1 hour.

After 1 hour, stir in the heavy cream, 2 teaspoons vanilla, and nutmeg. Store in the fridge and allow to cool for at least 4 hours before serving.

Keto Eggnog Nutrients
Nutrition Facts
Servings: 6
Amount per serving
Calories
390
% Daily Value*
Total Fat 34.1g
44%
Saturated Fat 21.8g
109%
Cholesterol 360mg
120%
Sodium 85mg
4%
Total Carbohydrate 12.6g
5%
Dietary Fiber 0.8g
3%
Total Sugars 10.3g
Protein 6.5g
Vitamin D 22mcg
109%
Calcium 269mg
21%
Iron 1mg
4%
Potassium 90mg
2%
Xoxo,

Jessica

This post may contain affiliate links to help our readers find the best products.