How to Order the Best Hot Keto Starbucks Drinks
If you're on the ketogenic diet, your coffee habit is one of the easiest things to maintain next to a bacon habit. Once you know how to order, you have so many options. So, if Starbucks is your favorite coffee shop, here is a list of hot keto Starbucks drinks you can order with less than 5 g net carbs.
If you prefer iced coffee, you can also order any of these low carb drinks on ice.
I am going to list the keto-friendly drinks from the lowest grams of carbs to the highest to make it easier on you.
How to Work with the Starbucks Menu
If you're not already a frequent Starbucks customer, ordering can feel intimidating. Especially for keto dieters. The good news is: once you understand how it works and figure out your favorite keto-friendly options, it's super easy from there. You basically just want to avoid any added sugar.
It's actually really simple:
First, you decide if you want coffee or tea. For coffee, you get to choose between hot coffee, cold brew coffee, espresso or iced coffee.
Then you'll pick a sugar-free syrup or sweetener. However, which ones they have available depends on your local Starbucks. You can just ask them which sugar-free option or low carb syrups and artificial sweeteners they have available to replace the ones they normally use.
You can also replace whole milk with unsweetened almond milk, coconut milk or even heavy whipping cream.
Whatever you do, just skip the whipped cream and regular milk. Also, be sure to use a keto-friendly sweetener. These simple alternatives will keep your carb count much lower.
When beginning, though, it's easier to just have a list and try different things out until you figure out your personal favorite starbucks drinks. So, here's a list!
Best Keto Drinks at Starbucks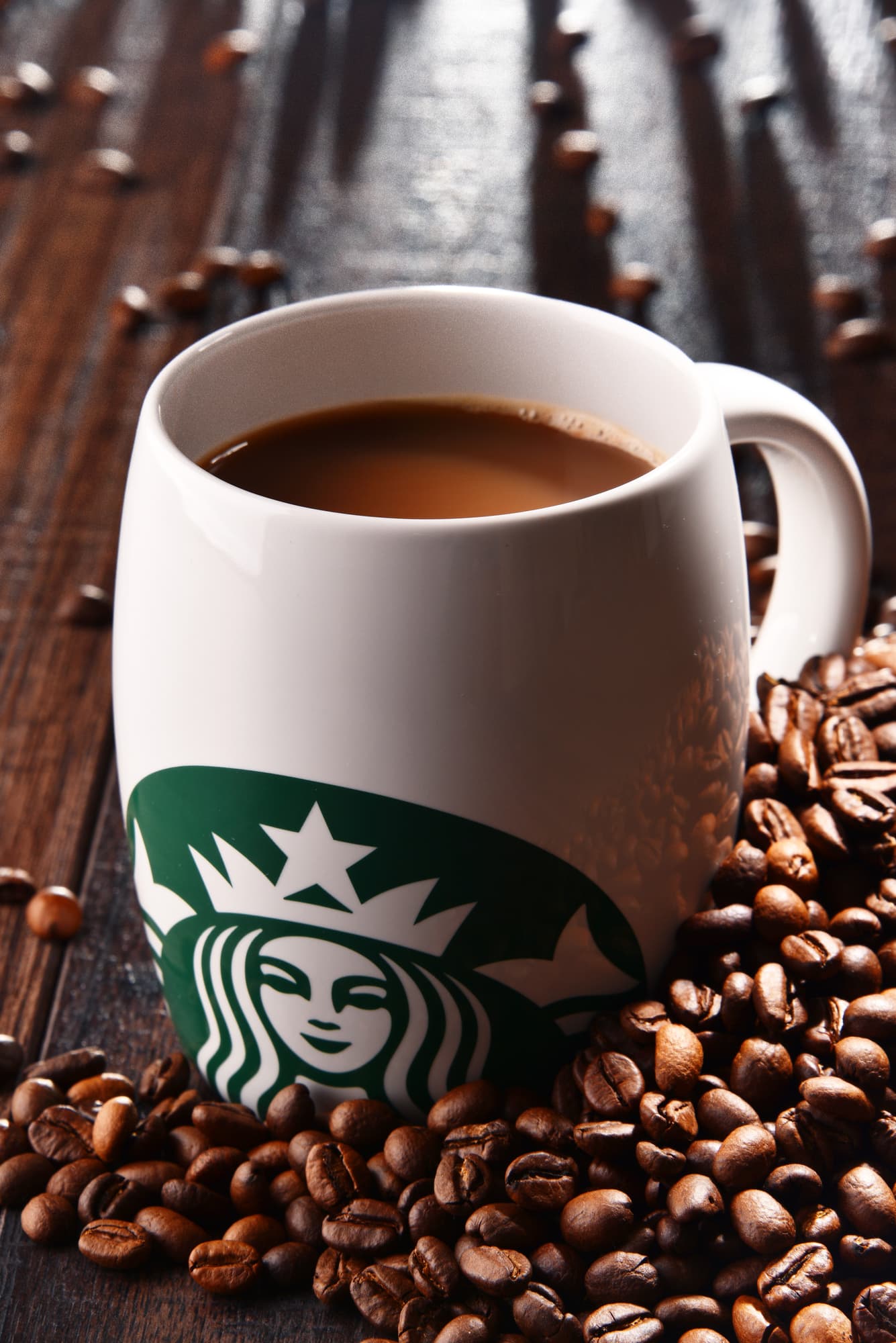 Plain black coffee (0g net carbs): If your only concern is carbs and caffeine, then black coffee has zero carbs. It's an acquired taste, but you do get used to it. Just ask for brewed coffee in your preferred roast (dark roast, blonde roast or Pike Place roast) and you're good to go. You can also buy a pack of Starbucks beans and make your own black coffee at home on the days you have time. Trust me, your taste buds will adjust if you give it some time.
Espresso Macchiato (1g net carbs): This drink has some espresso shots with a bit of steamed milk. To make it low carb, order a Doppio Espresso Macchiato with heavy cream instead of 2% milk. You can sweeten it with a keto friendly option or you can take your own sweetener with you.
Keto White Drink (1.5g net carbs): This is also called a Flat White. It's made with 2 shots of espresso and milk. To make it low carb, ask for it made with half water and half heavy cream. Then you can sweeten it with any keto friendly option.
Caffe Americano (2g net carbs): This has espresso shots and added water, hot water or cold water. Order a hot americano for a hot keto starbucks drink. Again, you can add any low carb, keto-friendly sweetener if you'd like.
Caffee Misto (2g net carbs): This one is half coffee and half steamed milk. Order a Caffee Misto with heavy cream, half heavy cream and half water.
Cappuccino (2g net carbs): You can order a keto version of a cappuccino, which is why it is listed here, but it will not really look or taste like a cappuccino unless you substitute breve for 2% milk, but this will add more carbs to your order. This version of the drink is technically called a cafe breve, but it is not listed on the official Starbucks menu. An alternative milk option will not create a good foam so you may want to skip it if that's what you're looking for.
Espresso (2g net carbs): Espresso is basically just concentrated coffee. Just order a Doppio Espresso as-is.
Caffee Latte (2.5g net carbs): Order a grande Cafe Latte with 3/4 water and 1/4 heavy cream to lower the carbs. Again, sweeten with your favorite keto friendly sweetener.
Caramel Macchiato (4g net carbs): Just ask for an espresso macchiato. Do not ask for almond milk or heavy cream with this one if you want a good foam.To lower the carbs ask for 3 pumps of sugar-free vanilla syrup and a light caramel drizzle.
Blonde Vanilla Latte (5g net carbs): Order a Grande Blonde Vanilla Latte with almond milk or heavy cream. Substitute the vanilla syrup for 2 pumps of sugar free vanilla syrup and you'll have one of the best keto coffee drinks at starbucks!
To make any drink creamier, you can ask for a splash of heavy cream.
And just like that, you have the best keto starbucks drinks to help you stay on top of your weight loss goals.
Low carb starbucks drinks are easy to order once you get the hang of it and learn which alternatives you prefer. You can also got with hot tea instead of hot coffee.
Pin it & Save for Later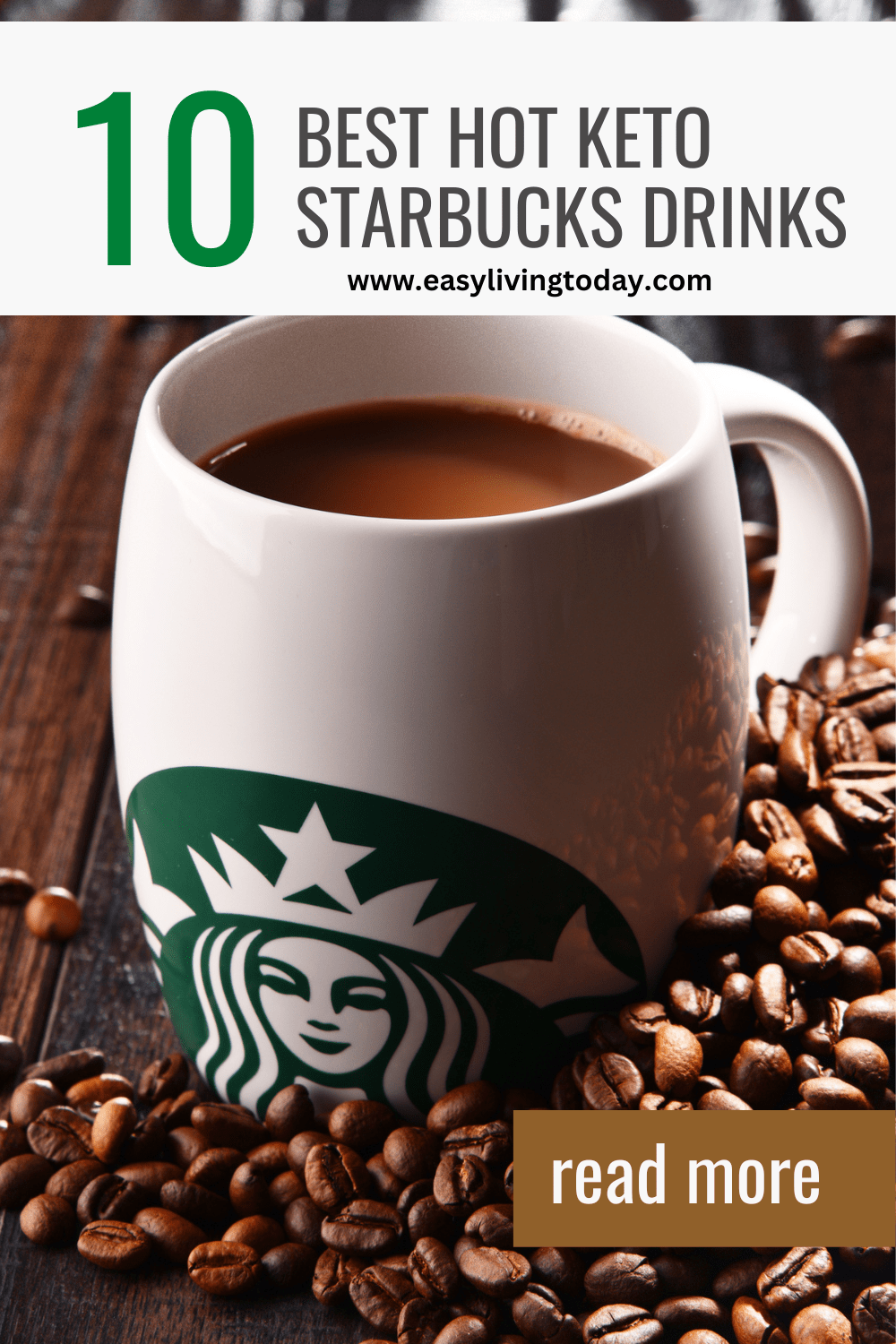 This post may contain affiliate links to help our readers find the best products.