Let's be honest, staying on track when starting a fitness journey is HARD! You get easily distracted and overwhelmed… which leads to wanting to give up.
What it comes down to is:
Knowing what you're going to eat so you don't have to figure something out last minute, which then leads to falling off plan.
Having the right foods readily available.
Having an exercise plan so you're not just standing around wondering what to do.
Making sure you're drinking enough water.
Keeping track of your results so you know if and when something is not working and you need to make a change or re-focus.
Free Health and Fitness Printables
To help with all of these important aspects, I've created a bundle of health and fitness printables to help you stay on track throughout your journey.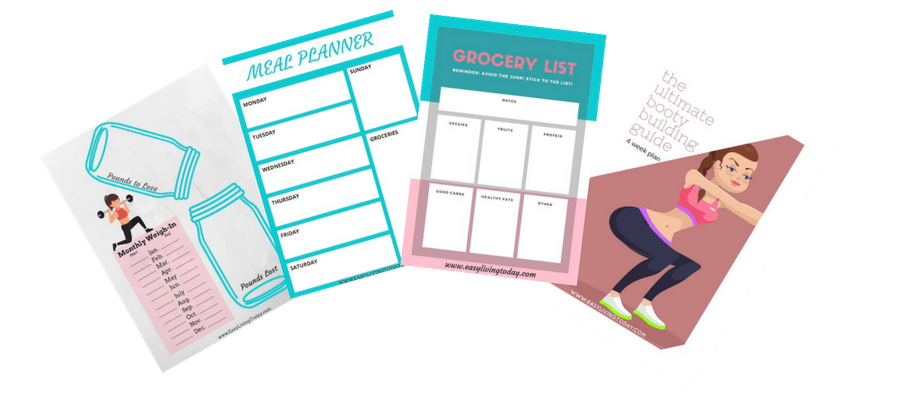 What's in the bundle
Weight loss tracker to keep track of your weight loss goals in a fun and cute way.
Meal planner to plan your healthy meals in advance and know exactly what you will be eating so you don't fall off the wagon and end up at McDonalds.
Grocery list to make sure you are hitting all of your nutrients and not buying the crap you don't need.
Booty building guide with 4 weeks worth of exercises.
Water intake tracker (not pictured) to make sure you are drinking enough water, daily.
How to Use the Health and Fitness Printables
How you use them is totally up to you. You can keep printing them and just write on them with a pen or marker.
What I do, though, is laminate them with an inexpensive laminator and write on them with sharpies. The sharpies are easily erased with alcohol so you can keep using the same printable week after week instead of constantly printing them.
Get Your Free Health and Fitness Printables
This post may contain affiliate links to help our readers find the best products.