This post was sponsored by iHerb.
Is there a fitness lover in your life that you're not sure what to get this Christmas? No worries! I have the top 9 fitness gifts under $25 that anyone in to fitness will love, whether they are beginners or advanced!
Also, you can find all of these gifts in one place without ever leaving your house! I like to do all of my healthy shopping at iHerb, which brings the best overall value in natural products all over the world.
iHerb offers a Triple Guarantee to ensure customers are 100% Satisfied:
Value Guarantee – iHerb guarantees that you will receive the best overall value in the world for over 30,000 brand name natural products.
Quality Guarantee: As a California based superstore, iHerb guarantees that all products are authentic brands sold in the U.S. market. iHerb is committed to providing quality assurance for their products and ship directly from climate controlled warehouses.
Delivery Guarantee: They guarantee delivery of your order with no excuses! They provide free or discounted shipping to over 150 countries around the world.
Customers can get a discount off their iHerb order and New Customers can get an additional $10 off their minimum $40 order until 12/24 /18 by clicking here.
Top 9 Fitness Gifts Under $25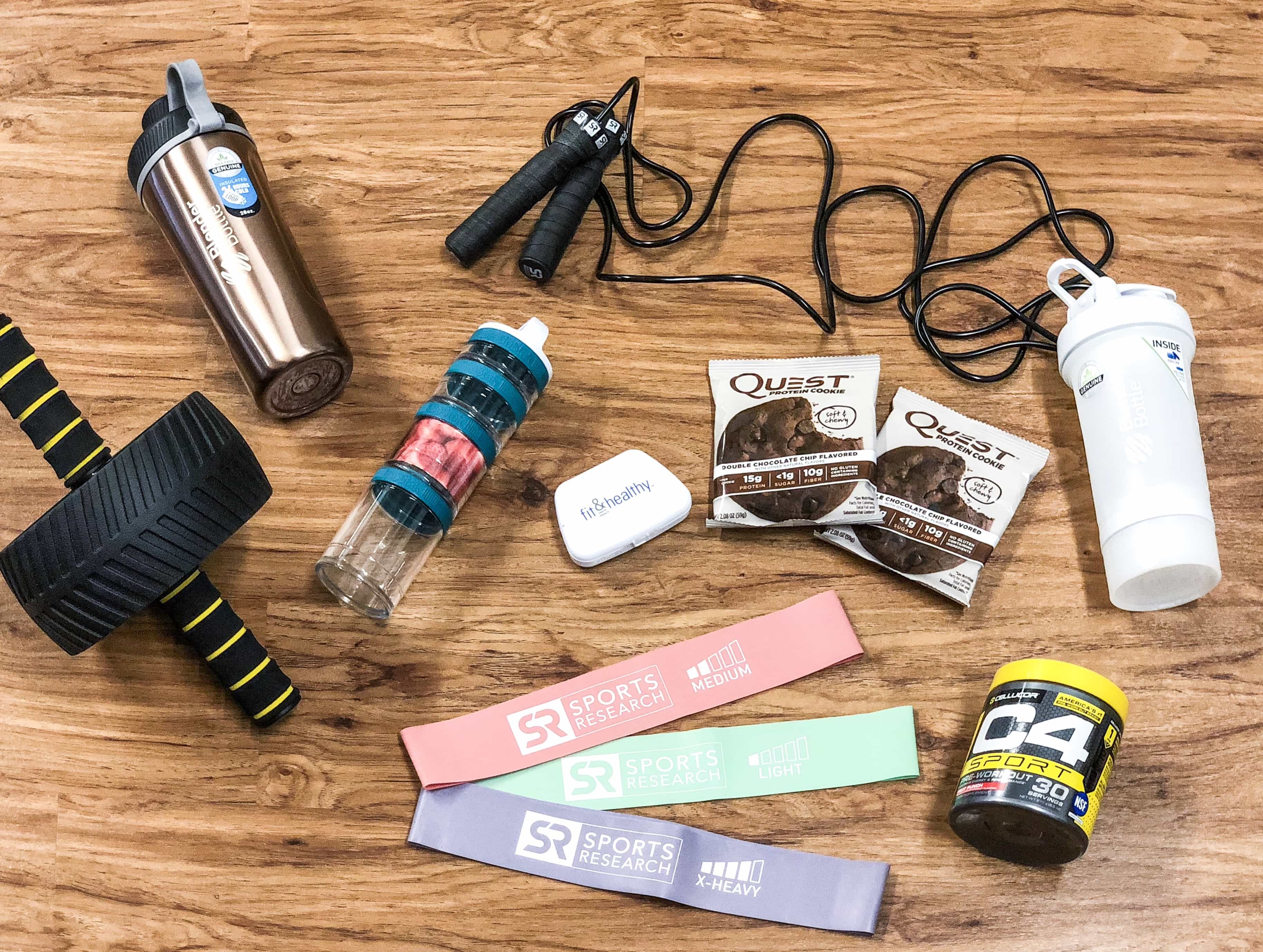 C4 Pre-workout: Life is exhausting for most people, and the top excuse people have for skipping workouts is that they are too tired to hit the gym. C4 pre-workout gives you the energy you need to get up and crush the weights or cardio, no matter how tired you were before you drank it. Every fitness fanatic falls in love with a good pre-workout and C4 is amazing. If you have someone on your list who wants to workout more often but is always tired (ahem, moms), this is the perfect gift for them! You can also add the Blender Bottle I talk about next to the package!
Insulated Blender Bottle: One thing a fit person can never have enough of is a good shaker bottle! Blender Bottle's are definitely the best out there. To boot, now they make an insulated stainless steel Blender Bottle that will keep your supplements cold while you work out! If you're not geeking out over this, trust me when I tell you any fitness lover will! Normally your supplements (pre-workout, BCAA's, protein, etc) will get warm and nasty while you complete your workout. However, this bottle will not only blend the powder for you but it will also keep the drink cold for hours.
BlenderBottle, ProStak: As previously mentioned, you can never have too many shakers! You go through more shakers than gym clothes, to be honest. This ProStak Blender Bottle is definitely one everyone needs in their collection because the bottom of the shaker can hold your supplements! This means you don't have to carry around containers of supplements in your gym bag. Since it holds three, it's perfect for your pre-workout that you take 20 minutes before working out, your BCAA's that you drink while working out and then your protein that you drink after working out.
GoStak, Portable Stackable Containers: People who workout a lot are also hungry a lot. It's important to carry around healthy snacks that you can eat when hunger strikes. The GoStak portable container can hold many different snacks and is super easy to throw in a purse, gym bag or diaper bag. You can even carry both your snacks and supplements in here. This is a great addition to a shaker!

Quest Nutrition, Protein Cookie: Being fit doesn't have to mean completely giving up sweets. These protein cookies by Quest are delicious and are perfect for anyone on your list who loves sweets but also loves staying fit. These cookies pack 15g of protein!
Sports Research, Mini Loop Bands: If you have someone on your list that prefers to workout at home or can't make it to the gym as much as they'd like- these next three gift ideas are for them. Mini Loop Bands provide an amazing workout without having to carry around weights. This set comes with five different resistance levels (from light to extra heavy) and even a carrying/storage case. They are tiny so they are easy to store but they will also leave you super sore. Everyone should have these bands in their home for at home workouts.


Performance Ab Wheel + Knee Pad: The ab wheel provides a killer ab workout and is perfect for anyone who wants to work on their core. It works just as well as many of the complicated ab machines at the gym, but it's much smaller and can be used at home.

Performance Jump Rope: Jumping rope is an excellent form of cardio. If you know someone who is looking to burn fat but doesn't have the time for the gym or the space for a cardio machine, a jump rope is perfect for them. Jumping rope burns more than 10 calories a minute, meaning just 20 minutes of jumping rope can burn 200 calories!
Vitaminder, Vitamin Pocket Pack: Many people who are in to fitness take vitamins. From a multi-vitamin to fish oil, there are so many options. A vitamin pocket pack makes it easy to remember what you need to take every day and also makes it easy to just throw it in your purse without having to carry around a bunch of bottles!
I hope this was helpful!

Xoxo,

Jessica

This post may contain affiliate links to help our readers find the best products.