Can Diet Pills Affect Your Period? Weight Loss & Periods
Losing weight can be a challenge for many people, and some may turn to diet pills as a way to speed up the process. But there are potential risks involved with taking these supplements, including how they might affect your menstrual cycle.
Some diet pills can alter the hormones in your body, which can have an impact on your period. In particular, appetite suppressants and fat-burners can affect levels of estrogen in your system. This is because these pills often contain stimulants which may cause a decrease in estrogen levels.
In addition to altering hormone levels, certain ingredients in diet pills may also interfere with vitamin and mineral absorption from food. This means that if you are taking a supplement, you may not be getting all the essential nutrients necessary for regular periods and overall health.
If what you want is to lose weight without exercise, you can read my article on how to do that without taking diet pills.
How Diet Pills Work
Fat burners are a type of diet pill that are designed to help people lose body weight. Another popular kind of diet pill is an appetite suppressant.
These pills typically contain ingredients like caffeine, green tea, and capsaicin (a compound found in chili peppers), which can work to boost your metabolism and burn more calories.
These diet pills may also contain natural diuretics like dandelion root or guarana seed extract, which can help reduce water retention and make you look slimmer.
Other fat-burning ingredients include herbal extracts such as garcinia cambogia or forskolin, which may help reduce appetite and increase the rate at which your body burns calories.
Additionally, some manufacturers add thermogenic compounds like L-carnitine or yohimbine to their products, which can increase body heat production and kickstart the metabolism.
Finally, many fat burner supplements will include amino acids such as L-tyrosine or L-phenylalanine in order to support the body's own ability to break down fat molecules for energy.
Ultimately, while it is possible for diet pills containing these stimulants to potentially produce results, it is important to remember that they should not be used as a replacement for healthy lifestyle practices such as regular exercise and eating a well-balanced diet.
Exactly How Diet Pills Can Affect Your Period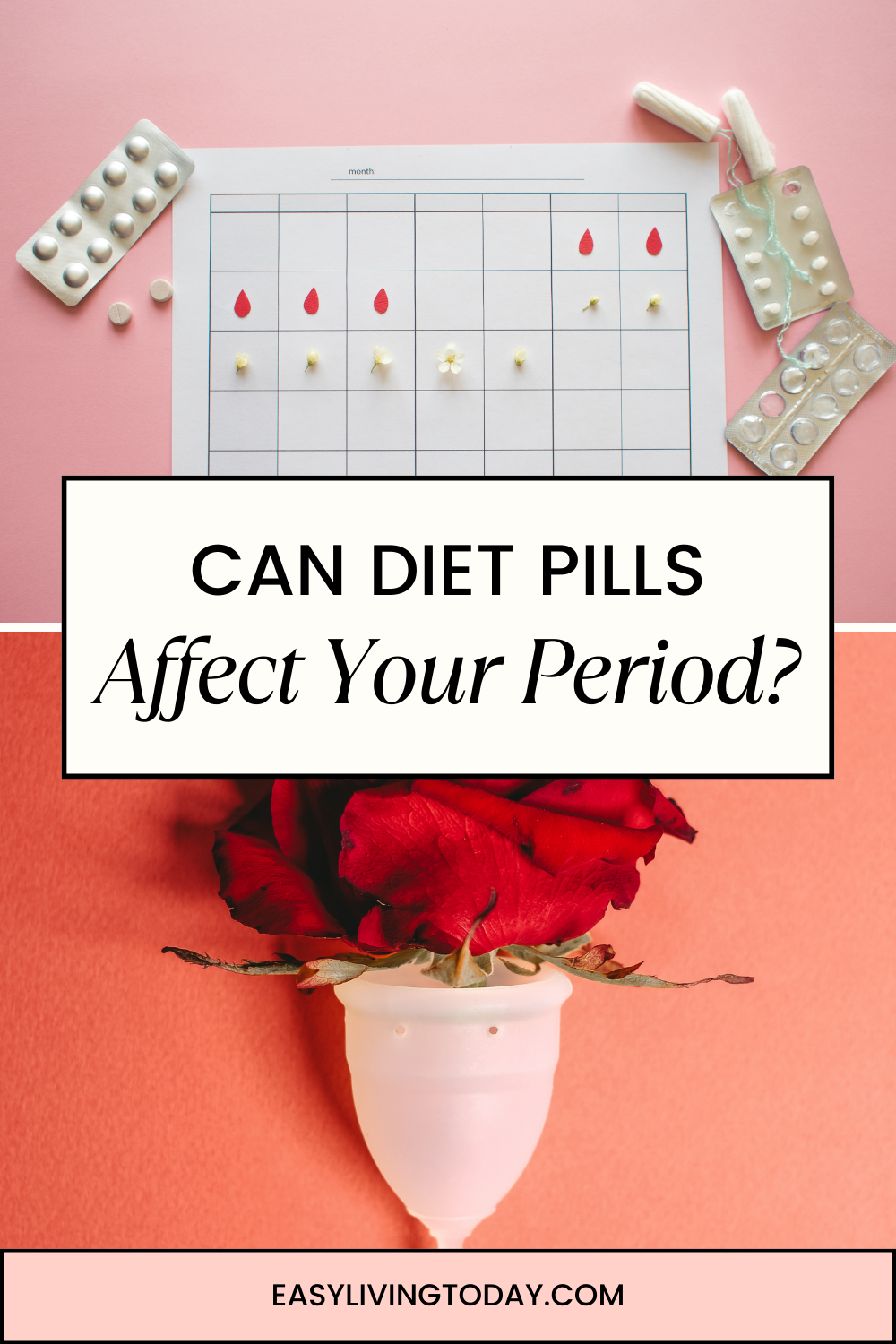 Yes, diet pills can have a significant effect on your period and completely throw off a normally regular cycle.
When you take diet pills, stimulants such as caffeine and ephedra may cause a decrease in estrogen levels. This decrease could lead to irregular or skipped periods.
In addition, certain dietary supplements may also contain diuretics which can increase urine output and reduce water retention in the body. This could further throw off your hormonal balance and cause irregular periods or spotting between periods.
Diet pills may also lead to a state of dehydration due to increased water loss from diuretics or caffeine consumption. Dehydration has been linked to an imbalance of hormones like estrogen and progesterone that control your menstrual cycle.
Lower estrogen levels can result in a decrease in fertility and longer menstrual cycles or even missed periods or a very late period.
When it comes to diet pills and their impact on menstrual cycles, it's important to remember that there is no one-size-fits-all solution. Everyone's body reacts differently depending on the ingredients in the supplement or pill, as well as other individual factors such as body mass index, health history and/or a medical condition or several health conditions.
Also, if you do experience rapid weight loss when taking weight loss pills, losing so much weight so quickly can also throw off your period. Even if it's not a lot of weight, sudden weight loss in general can throw off your period. Many people speak to their doctor regarding birth control pills as a way to try to regulate their period.
Another thing that can cause an irregular menstrual cycle is excessive exercise and the sudden change in the level of activity you do daily. That is actually a very common reason for missed periods.
Keep in mind that your first period after any missed period can be a very heavy period with lots of blood clots- and generally much different from your normal period.
Exploring the Connection Between Diet Pills and Hormones
The hormones in our bodies are essential to regulating our reproductive and metabolic systems. When we start having hormonal imbalances, we can experience a wide range of symptoms, such as weight gain, skin conditions, digestive issues, and infertility because your ovulation stops.
Diet pills may be an attractive option for people who are looking to lose weight quickly or gain control over their hormones – but the truth is that diet pills can have the opposite effect.
In addition to affecting your menstrual cycle, diets pills could also affect other hormonal balance in your body such as testosterone production and thyroid levels which impact mood swings, acne breakouts and energy levels.
As a result of this imbalance in hormones people may find themselves struggling to lose weight or even gaining excess weight despite their best efforts to follow a healthy diet or exercise plan.
Effects of Certain Ingredients on Vitamin & Mineral Absorption
Many diet pills contain high amounts of vitamins and minerals, which claim to help people lose weight and regulate their hormones.
However, some ingredients found in these supplements may actually interfere with the body's natural ability to absorb essential vitamins and minerals from food.
This can lead to nutritional deficiencies in key nutrients that support hormonal balance.
Some of the ingredients known to interfere with nutrient absorption include caffeine, guarana, ephedra, hoodia, and green tea extract.
Overall, it is important for individuals looking to use diet pills for weight loss to be aware of how they might affect hormones and nutrient absorption as this could have a major impact on their health in the long-term.
We recommend speaking with your healthcare provider before starting any type of weight loss supplement; this will ensure you are taking something that is safe for you as an individual.
Tips for Healthy Weight Loss Without Diet Pills
1. The best way to lose weight is to start by eating a balanced diet full of whole fruits and vegetables, lean proteins, healthy fats, and complex carbohydrates. Also, make sure to get adequate amounts of fiber from sources such as legumes, nuts, and seeds. You don't necessarily need to focus on the amount of calories if you are making sure you are eating healthier food.
–> Read my free Ultimate Guide to Clean Eating for help with this.
2. Incorporate physical activity into your daily routine to burn more calories and boost metabolism. Try activities such as walking or jogging for 30 minutes a day, 5 days a week. Depending on what you like, there are many different ways to fit exercise in to your daily routine. You can swim, dance, run, lift weights, etc.
3. Reduce your intake of processed foods and added sugars, as these can lead to weight gain over time. You can even try a low-carb diet or the ketogenic diet.
4. Aim to have 3 smaller meals throughout the day with 2-3 snacks in between them. This will keep you feeling fuller throughout the day without overeating at any one mealtime.
5. Drink plenty of water throughout the day to help keep you hydrated and curb cravings for unhealthy snacks.
6. Get adequate amounts of sleep each night (7-8 hours). Not getting enough rest can increase hunger hormones and lead to overeating later on in the day.
7. Keep track of what you are eating by writing it down in a fitness planner so you can monitor macro and calorie intake more easily.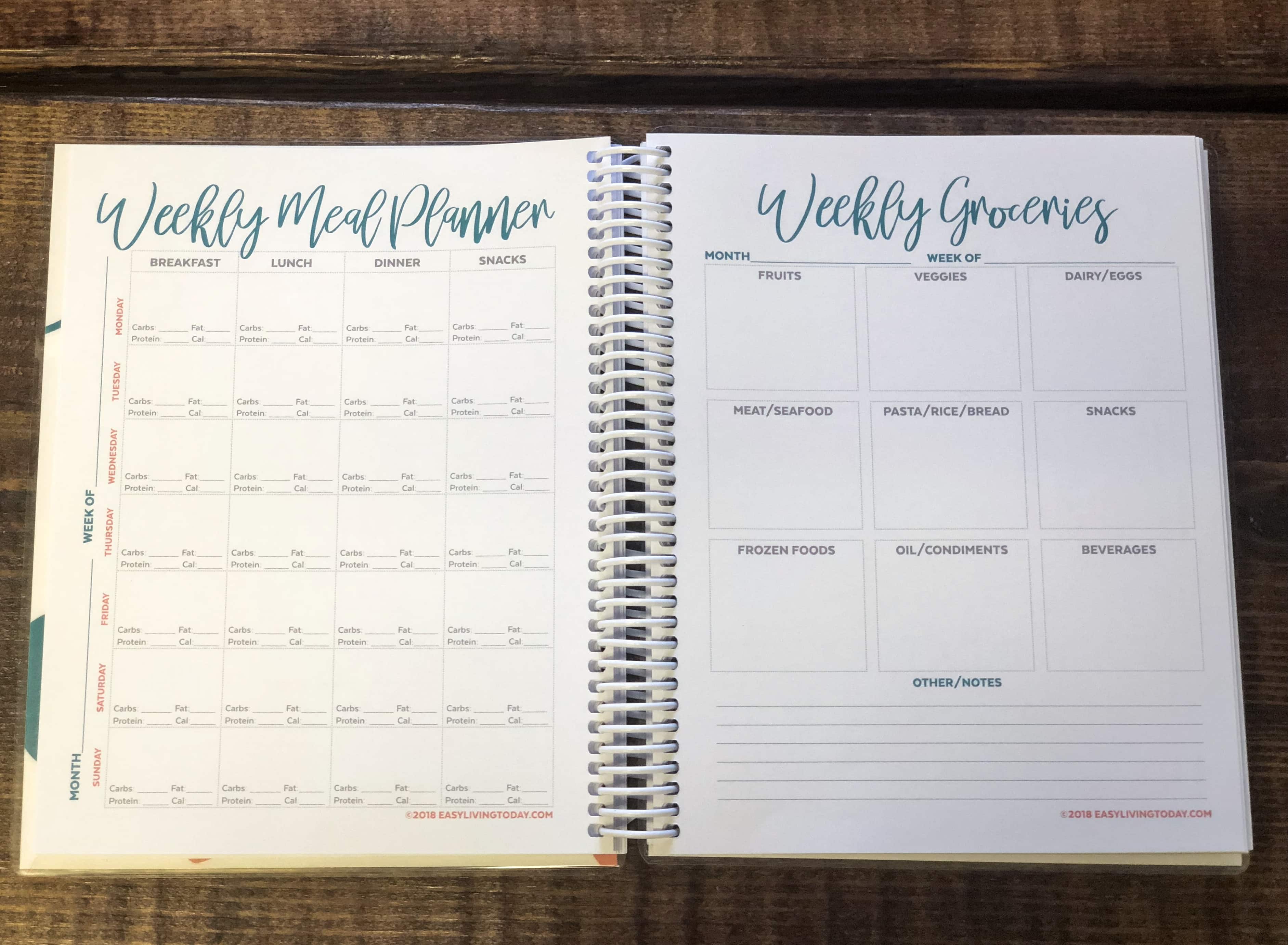 8. Focus on mindful eating – pay attention to what you are consuming and savor each bite instead of rushing through your meal or snacking while distractedly watching television or scrolling through social media sites on your phone.

By incorporating these tips into your lifestyle, you can achieve healthy weight loss without resorting to diet supplements or an extreme diet. Sustainable lifestyle changes may take longer, but the results also last longer.

It's important to remember that any type of supplement should only be taken under the supervision of a physician and with caution – especially since many of them are not regulated by the Federal Drug Administration and can cause some serious side effects.

That being said, a healthy lifestyle should always be your first line of defense when trying to lose weight – with or without taking supplements.

By incorporating smart eating habits into your daily routine such as reducing processed foods and added sugars, drinking plenty of water throughout the day, getting adequate amounts of sleep each night, tracking what you eat in a journal, and practicing mindful eating techniques can help you achieve sustainable weight loss over time without resorting to potentially harmful diet pills.

Always consult with your doctor before beginning any new type of supplement regimen so they can monitor for side effects like irregular periods or anxiety and headaches if necessary. With proper care and caution taken from start to finish, you can reach all your goals safely!

This post may contain affiliate links to help our readers find the best products.