Want a cardio machine that gets results, doesn't take up a ton of space, motivates you and never gets boring? Then this is for you!
I've been using the Bowflex Max Trainer M7 for one month now and I'm in love with it!
Keep reading to find out why and to see my results so far.
Bowflex Max Trainer M7 Review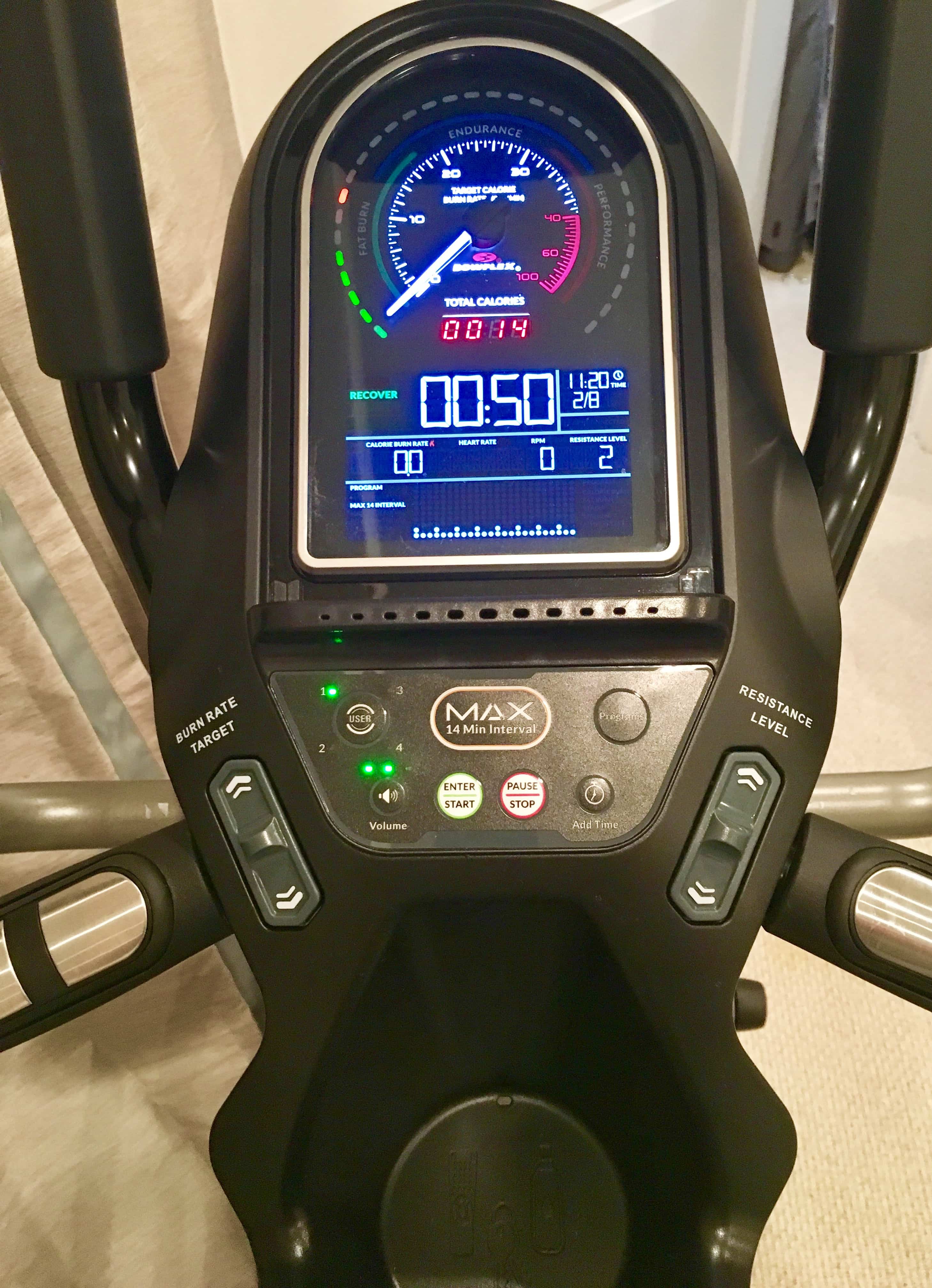 The Bowflex Max Trainer is like a mix of an elliptical and a stair master bundled in to one super machine… if that sounds like an intense workout, that's because it is! But it hurts sooo good ya'll.
Because of this mix, you're able to burn more calories in less time… every moms dream.
What you are likely familiar with is the 14 minute interval program that is installed in the Max Trainer. This program is a High Intensity Interval Training program and intense it is!
The 14 minutes are split between 8 sprints and 8 recovery periods.
It's a full body workout when you put the arm handles to use and it really torches calories.
You can also chose to focus on your lower body by leaning in more. If you also want to work your arms, different handlebars will work different muscle groups.
I've burned from 200-300 calories in 14 minutes on this thing depending on how intense I was going and which level I selected. Of course, how many calories everyone burns is going to vary as we are all different.
You can also use it more like a regular elliptical if you don't want to do the 14 minute program on any given day. There are options to do a steady pace program, stairs, a calorie goal program that focuses on burning a certain amount of calories, a fat burn program and there is a manual option so you can do whatever you want.
Also, if you don't have 14 minutes, there is also a Max 7 Minute Interval Program. If you want something longer than 14 minutes, there is a Max 21 Minute Interval Program as well.
One of my favorite things about this machine, though, is the display. I have had several cardio machines and not one has had a display that is so motivating that I do not want to keep my phone over it.
The display on the Bowflex Max Trainer is amazing. I can't even find the words to describe it, so here's a video:
Bowflex Max Trainer Design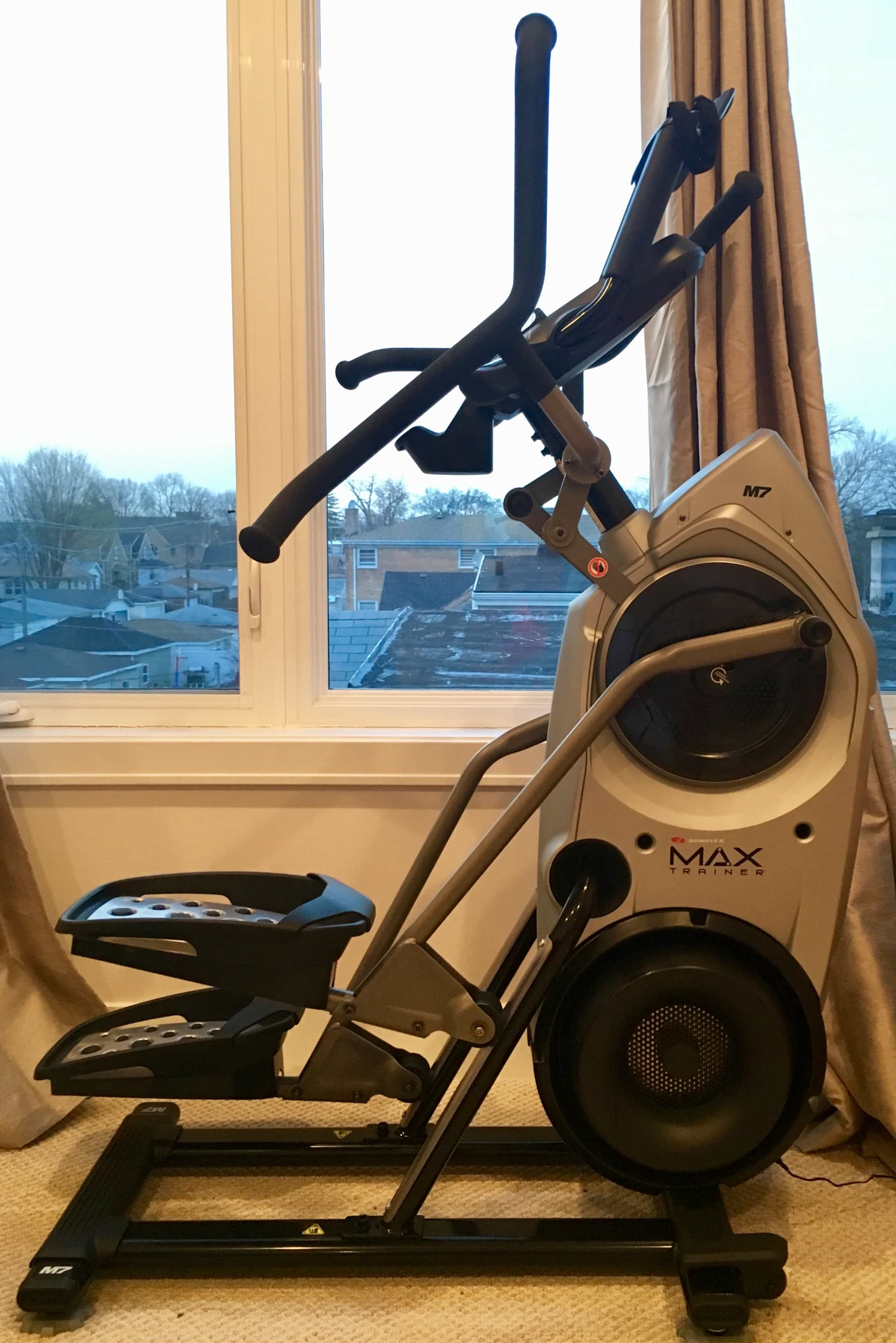 Beautiful, backlit display
Several options/handlebars for arms, which work different muscle groups
Amazing, large sport performance pedals
Very compact compared to ellipticals and stair masters
Drink compartment
Media shelf for phone or tablet
Weight capacity of 300lbs
Easy to move with rollers at the bottom
Bluetooth ready so it syncs with the app and even My Fitness Pal
Dimensions: 49″ L x 30.5″ W x 65.5″ H

Is the Bowflex Max Trainer Good for Beginners?
The Bowflex Max Trainer M7 comes with 20 resistance levels, so there is something for everyone. It can work for beginners and pro's alike, as long as you select the resistance level that works for your body.
As you get stronger, you can increase the level. So it will always work for you.
Remember, don't force yourself to complete the 14 minutes if you can't. Just start with a few minutes at a time until you build up to the 14 minutes. Once you've mastered that then you can start trying different levels.
You can also start off using it on the manual mode if you don't feel comfortable with the Max 14 Minute Interval program right away.
Bowflex Max Trainer Video
This was my first workout at 2 months postpartum, on the Bowflex Max Trainer. I made it about 5 minutes, which was actually pretty good considering how intense this workout is!
Anyway, I wanted to show you how the Max Trainer works and what the movement is like. You can also see the display at about 2:18.
Bowflex Max Trainer Results
These are my results after using the Bowflex Max Trainer M7 for one full month (and eating clean, of course).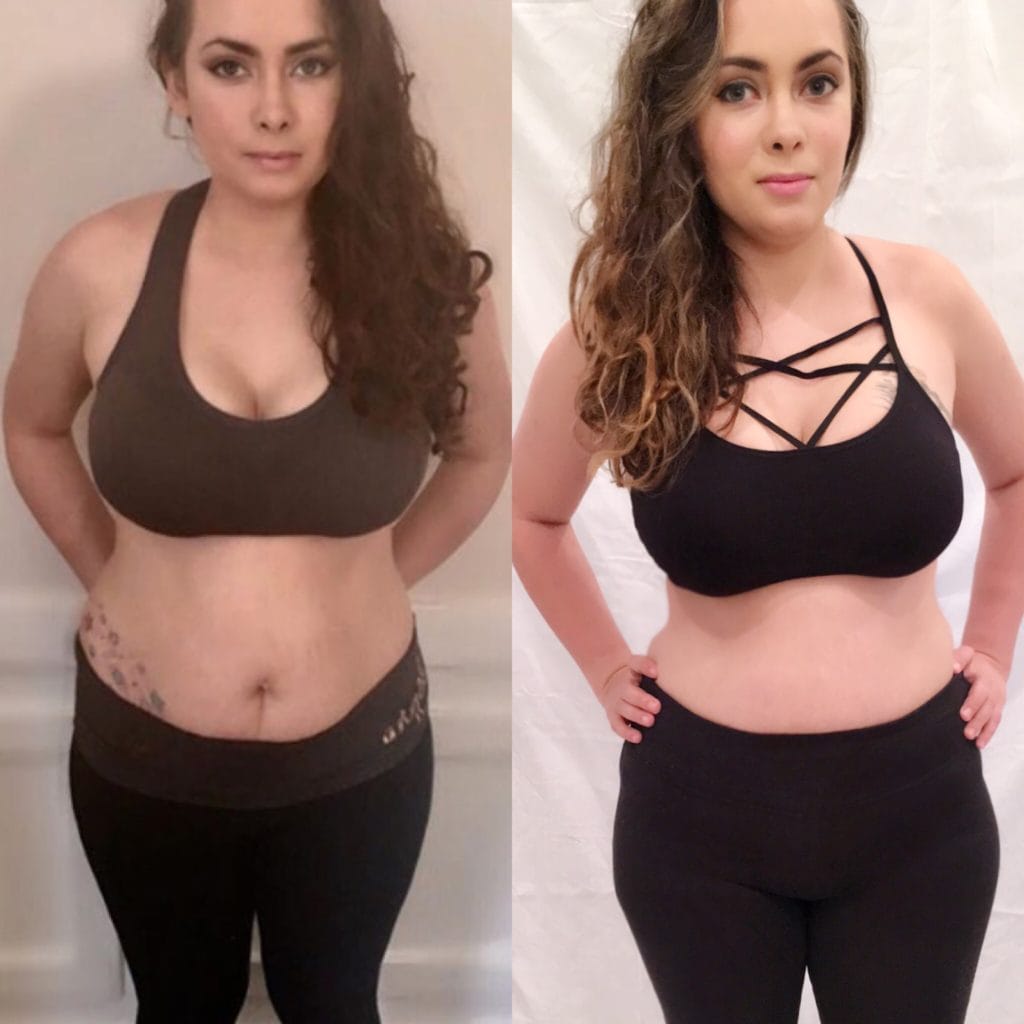 Bowflex Max Trainer Cost & Comparison
The one I have is the M7, but there are also two other options.
M3: $999
M5: $1599
M7: $2199
On the Bowflex website there is a comparison of all three models, so you can decide which one will work best for you.
The price ranges are basically the same as other quality cardio machines, but the Max Trainer is a better option in my opinion.
Overall Thoughts on the Bowflex Max Trainer
If you haven't noticed already, I'm really in love with this machine.
It's compact and fits right in a corner of my bedroom, it looks amazing and modern, the display is super motivating, the exercise programs are great and abundant, the workouts are intense and my results have been great so far.
Another thing to note is that I have not gotten bored with it at all, which keeps me going. It's definitely much more fun than a regular elliptical or treadmill.
Just remember that consistency is key. It's one thing to buy a cardio machine, it's another to use it. If you want to see results you have to use the machine at least three times a day. You also have to eat right because you can't out-exercise a bad diet.
If you come in to it knowing that and putting in the work, I truly believe you'll love the Max Trainer! If you get one, let me know what you think!
Disclaimer: This product was given to me in exchange for my honest opinion. All opinions are 100% my own.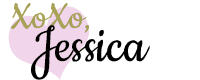 This post may contain affiliate links to help our readers find the best products.