Traveling with kids is never easy, especially as a single mom! My kids, ages 5 and 7, had an extremely rough year after my car accident. So, I wanted to take them on a trip to celebrate those hard times (mostly) being over. During their Spring Break, we decided to take a trip from Chicago to RIU Palace Punta Cana in the Dominican Republic.
From Chicago, it was a 4 hour and 30 minute flight. The shuttle from the airport to the resort was only a 25 minute ride.
RIU Palace Punta Cana with Kids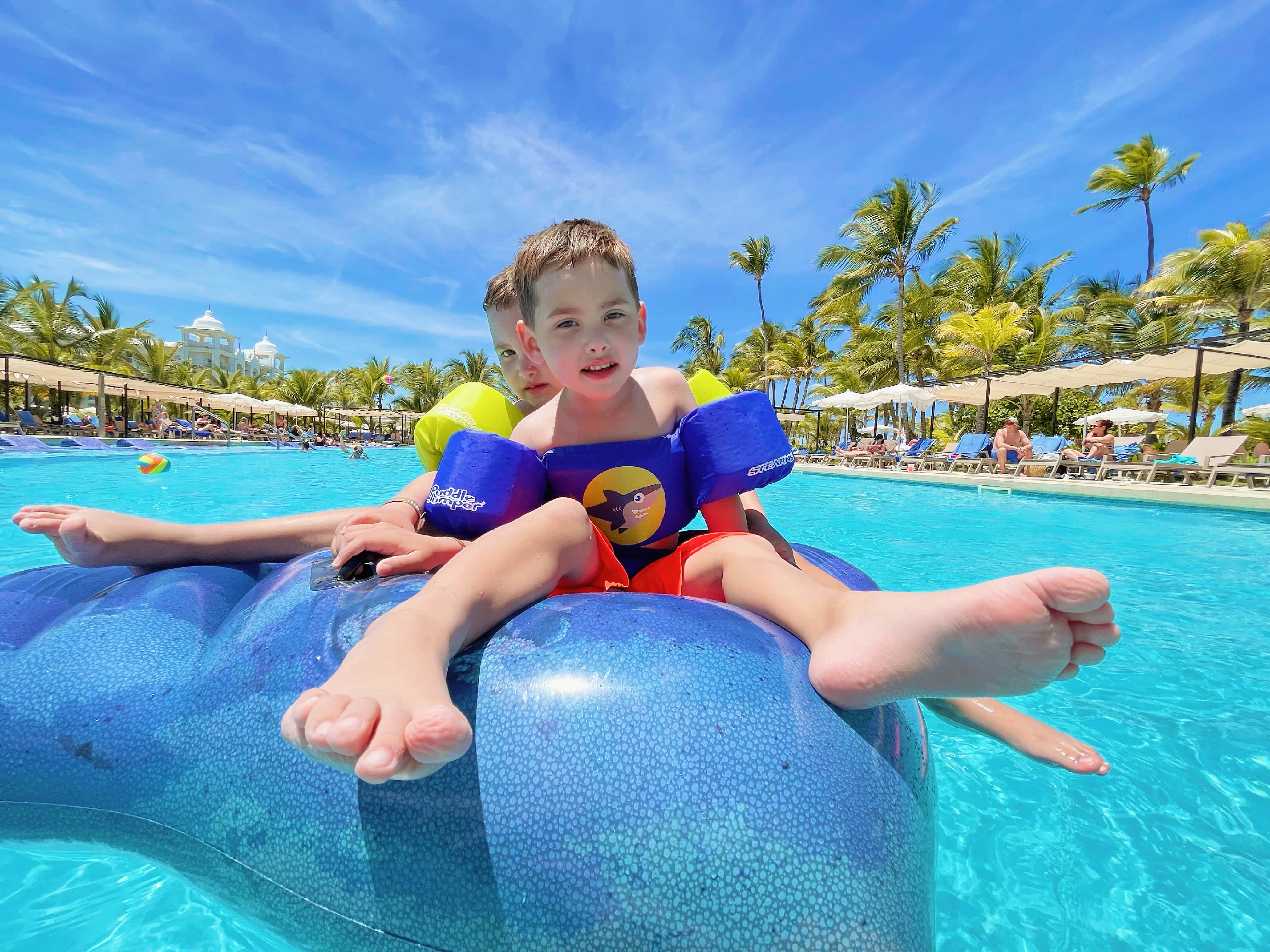 What to do at RIU Palace Punta Cana with kids
Of course, it's going to depend on what your kids prefer to do. My kids wanted to be in the family pool 80% of the time, and we loved it there so that was where we spent most of our trip. However, they also had a splash pool with slides for younger kids. I would say the splash pad was best for kids up to three years old. RIU Palace Punta Cana also has a party pool with a bar for adults, they have a volleyball pool, the splash pad and then the family pool we spent most of our time at. This pool overlooks the ocean, which is beautiful. There is also a buffet and grill nearby with bathrooms as well.
*  If your kids are also pool kids, make sure to take a floating device for them! The pool is about 4/5 feet all around.
My kids didn't really want to leave the pool, so we would wake up and get breakfast from the buffet, go to the pool, run and get lunch from the grill or lunch buffet and use the bathroom, go back to the pool and then leave the pool and go to the room, shower and get dressed, then head to dinner.
The beach is very clean and looks gorgeous. We only spent one day there because my kids kept wanting to go back to the pool, but it was beautiful and the air was so fresh. We didn't have any issues with mosquitos either and didn't need to use any bug guard while we were there.
They also have a lot of activities for kids as part of their RIUland. Again, my kids preferred to be in the pool all day, but there were a lot of kids doing crafts and games with the RIUland crew. They would also come to the family pool and have games for kids, like musical chair, with prizes.
RIU Palace Punta Cana with Kids – Food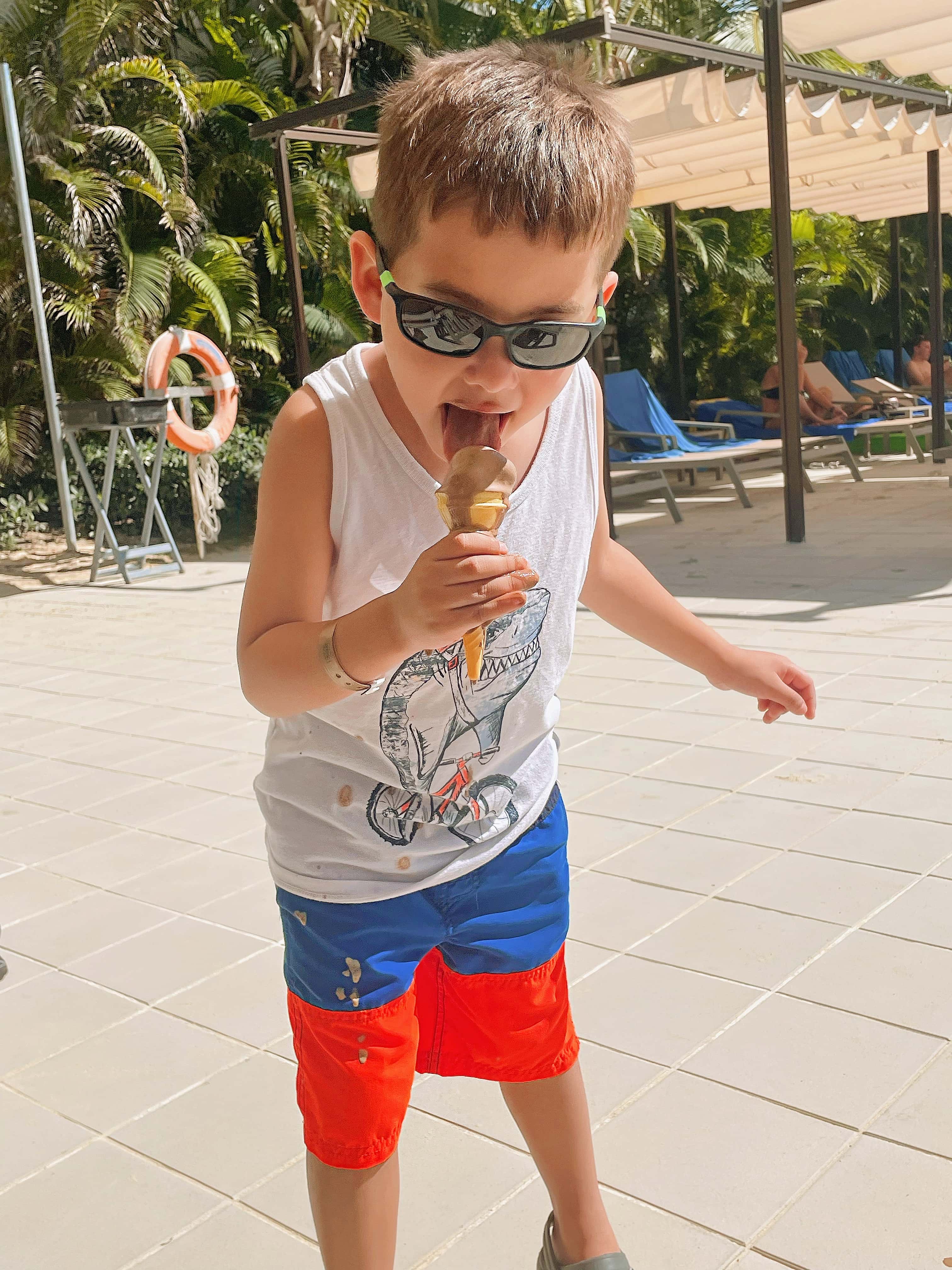 I have picky eaters, but luckily there was a selection for everyone. For breakfast, at the buffet, they had everything from pancakes to cereal to mangu and platanos. It was great because my kids could eat what they like, but I still also got to eat Dominican food- which is delicious!! I loved the mangu and yuca for breakfast.
For lunch, they had anything from fries, pizza, hot dogs, burgers and chicken tenders to rice, salads, sushi, etc. The selection is great because there really is something for everyone.
We also ordered room service a few times, when the boys didn't want to wake up, and we got fresh fruit, milk, eggs, cereal, etc.
For dinner, we chose to go to the buffet because they have a very wide selection where as the themed restaurants are a set menu. Since my kids happen to be picky eaters, it was easiest to just go to the buffet.
RIU Palace Punta Cana with Kids – Entertainment
For entertainment after the pool was closed, they had shows around 7:30PM for kids. Then around 8/8:30PM they had live music more for adults. My kids were usually exhausted from all of the swimming and sun by then so they would be asleep by 8:30PM anyway.

All in all, it was an amazing trip with the kids and I would highly recommend it. It was great to have everything close by and to have options for everyone. If you're going to Punta Cana, I would highly recommend checking out one of the RIU resorts!

Xoxo,

Jessica

This post may contain affiliate links to help our readers find the best products.