As moms, we rarely put ourselves first. As a matter of fact, planning a girls trip is something we probably only dream about.
The thing is, a girls trip may be just the sanity saver you and your partner need! And… even your kids.
As we burn out, our attitudes change and our happiness fades. We begin to miss having time to ourselves, hanging out with our friends and even eating a meal alone. Well, a girls trip can give you all of that so that you come back home refreshed and ready to tackle the world.
I recently went on my first girls trip ever, and now plan to do them more often. We decided to stay at the stunning Haven Resorts & Spas in Riviera Cancun. All of the incredible reviews they have on TripAdvisor basically sealed the deal for us.
We left Chicago as three exhausted and overwhelmed moms and we returned as three energized moms ready to run the world.
Here is what we learned and my tips for planning a girls trip with other moms:
Top 10 Tips for Planning a Girls Trip for Moms
Pick a hotel with an amazing spa, like Haven. We all had our spa day together and couldn't stop raving about how good we felt and how well they released all of the tension in our necks and shoulders. I mean, we felt brand new. At Haven, we decided to do the hydro therapy and Reiki massage. Amazing for your energy and stress relief.

Let down your guard for a few days and enjoy the food and drinks with your girls, it's not going to set you so far back that you can't recover. Really take a minute to enjoy the culture your in. We loveddddd the pozole, conchas and chilaquiles at Haven. Oh, and of course the Takis they stocked our room with every day!

Rest. Don't feel bad about sleeping early, waking up late or taking naps during the day. Remember, once you're back home, you probably wont get to do any of that again for a while. We got an oceanfront room and would nap with the balcony doors open, while listening to the ocean. It's the most relaxed and at peace I have ever felt.

Close your eyes and meditate on the beach. It's so peaceful and does wonders for your mood.
I always recommend going to an all inclusive, like Haven, for a girls trip. The goal is to relax and have fun with your girls- and there's no better way to do that than with all inclusive drinks, breakfast, lunch and dinner. Honestly, having dinner with my best friends every night felt like it really made up for lost time.
Enjoy breakfast in bed. I mean, look at this- how can you not? The view from our room at Haven was too beautiful not to do it, we called it Haven on earth.

Be kind to the people who work there. They will look after you and give you tips. If you stay at Haven, we had an amazing experience with both Ricardo and Jordy. They took great care of us while we were there.
If you want to workout while there, definitely go to the gym the first day you are there so you can check the schedule. If you want to do a class, you'll want to know the times in advance so you can plan around it.
Also, think about keeping in touch with your family. I liked Haven because they had wifi throughout the entire hotel and I was able to Facetime my kids no matter where we were. My kids loved seeing how stunning our room was, the beach and even the night show.
Make sure you soak it all in while you're there. Time flies and you want to appreciate every moment. Breathe in the fresh air, enjoy the sand on your feet, let the wind blow in your hair, savor the food, focus on your friends and not on your phone and enjoy the warmth of the ocean.

So those are my top 10 tips for planning a girls trip for moms, let me know if you have any others!
Also…
Remember, you deserve this! Only you can give your kids a mom that is happy and enjoys life… so take the time to do something for you without feeling guilty.
When you come back home, you will miss the kids and be ready to shower them in love. You will feel recharged in a way you haven't felt in a while and you will be a better spouse and parent for it.
My plan is to do this at least twice a year, maybe one will be a solo trip where I can just reflect and have some alone time. Who knows?! Whatever you decide, though, you deserve it.
You deserve wellness. You deserve some time away. You deserve to recharge. You deserve to eat in peace. You deserve a weekend just for YOU.
Do it and enjoy it without guilt!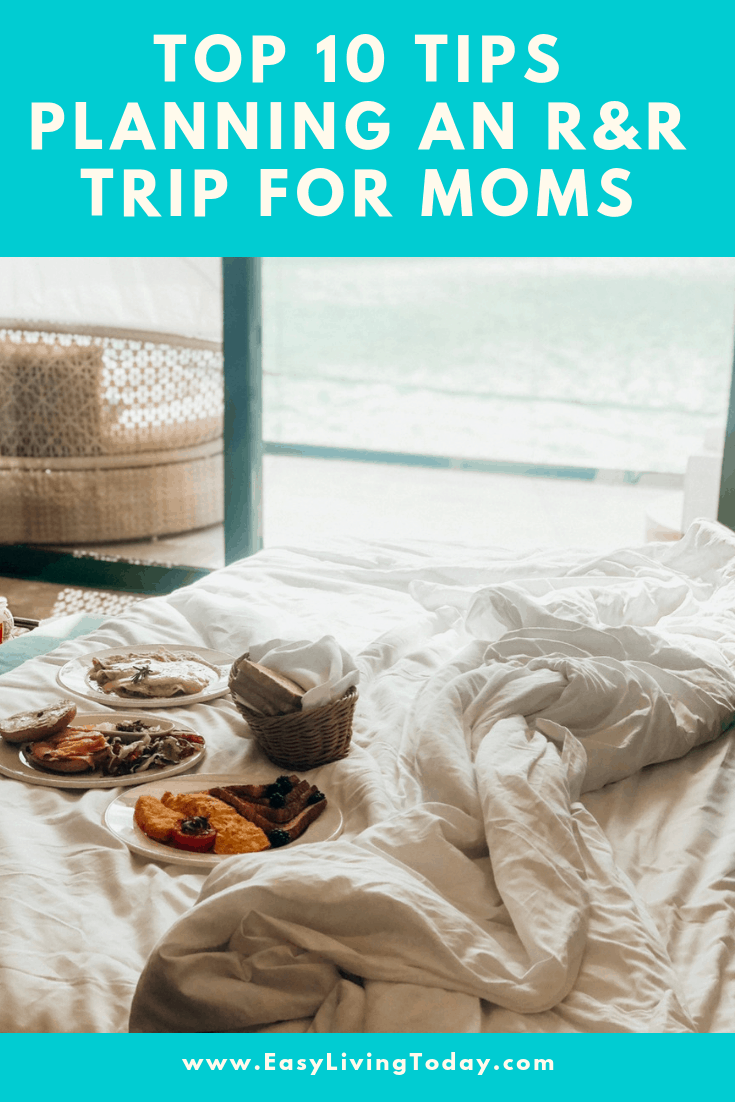 Xoxo,

Jessica

This post may contain affiliate links to help our readers find the best products.