Not too long ago, I decided that I no longer wanted to have a dish drying rack on my counter top. All it did was get piled with dishes and turned in to a makeshift cabinet when we were too lazy to put the dishes away.
The issue was, our dishwasher would never fully dry our dishes and it wasn't that great at cleaning every spot either. So we would have to put dishes on the drying rack afterwards and even wash some of them by hand anyway.
So… off to research new dishwashers I went.
Here is what I found: the new Bosch 800 Series dishwasher.
The Most Convenient Way to Wash Dishes
This dishwasher has a flexible third rack, which is ideal for parents of young kids. The third rack is where you can place nipples, sippy cup lids and even the tall stuff like spatulas and thongs.
It also has adjustable racks so you can fit it all, every time. With 3 different height levels and up to 9 possible rack positions, you can customize each load for your needs.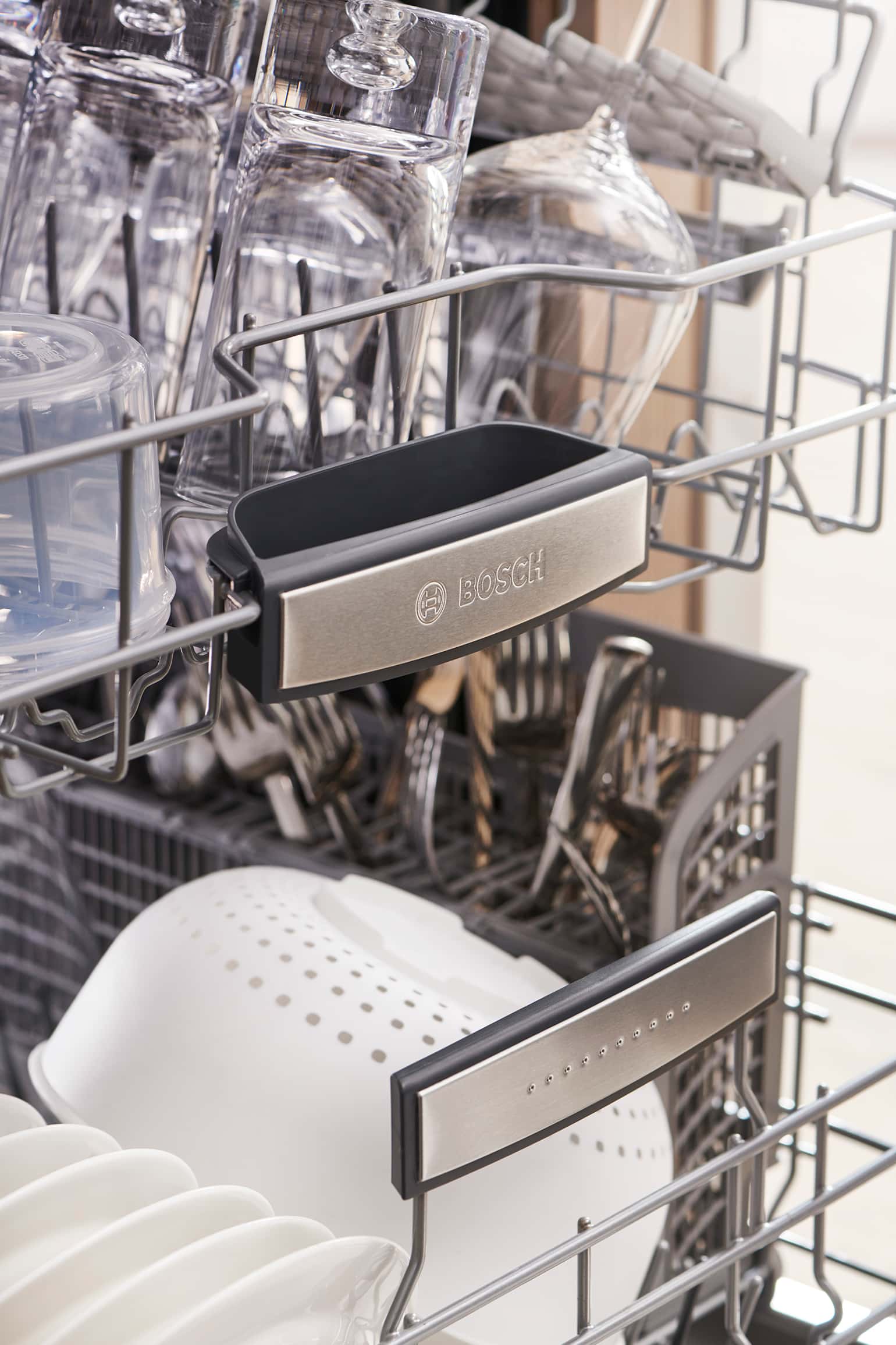 The best part, though, is that it is super quiet. Bosch dishwashers are so quiet, you have to check the exterior Infolight® to know they're on.

This one also has a 4-part leak prevention system that uses sensors to detect and stop leaks, and can even turn on by itself. That means your floor never gets wet! My last dishwasher used to always get water on my floor and warped my hardwood because we didn't catch on until it was too late (there was a rug that didn't allow us to notice this)!

Actually… here's the best part: the Bosch 800 Series dishwasher delivers a sparkling clean and dry with advanced PrecisionWash technology and patented CrystalDry technology. So you can now get rid of your dish drying rack because you wont have to re-dry your dishes!

With PrecisionWash, intelligent sensors continually scan and check the progress of dishes throughout the cycle, and powerful spray arms target every item of every load, for the ultimate clean.

The CrystalDry technology transforms moisture into heat up to 176F for the ultimate dry, even for plastics. Also, the Sanitize Option reduces 99.9% of bacteria on your dishes- perfect for homes with little ones!

A good dishwasher is absolutely the most convenient way to wash your dishes!

Xoxo,

Jessica

This post may contain affiliate links to help our readers find the best products.