Peaches and Cream Overnight Oats
If you haven't tried overnight oats yet, this peaches and cream overnight oats recipe is a perfect and simple overnight oats recipe to try. If you have tried overnight oats, you'll want to add this recipe to your collection!
This is a simple breakfast recipe everyone will love, it doesn't get much simpler than throwing a few ingredients in a jar and letting it sit in the fridge overnight. By the time you wake up in the morning, your overnight oats will be nice and ready for you!
You can either eat them cold or warm them up for a few seconds. I like to warm them up just a little- delicious!
Even my 18 month old loves them and licks the spoon when they're done! And you know how picky toddlers can be.
Plus this is a much healthier version than the sugar filled quaker peaches and cream oatmeal packets you buy at the store! (These were my favorite as a kid but they have tons of sugar so I don't want my son or myself eating them!)
Best Way to Make Overnight Oats:
 Ball Mason 16-Ounce Mason Jars
If you've been looking at overnight oats, you've probably noticed they're usually made in mason jars. This is for good reason!
When you put your overnight oats in a mason jar, they taste fresher longer. You can leave them in a mason jar for up to 4 days before they start to get mushy.
This means you can prep four days worth of breakfast in just 5 minutes. You can even switch up the flavors by switching up the fruits in each mason jar.
Pint sized mason jars are the perfect size for one single serving of overnight oats, so make sure those are the ones you get.
Oh, and they look damn cute in your fridge too!
&
&
Best Overnight Oats Recipe:
Ingredients for Peaches and Cream Overnight Oats:
&
Directions 

for Peaches and Cream Overnight Oats
:
Put in a pint jar or other small container with a lid.
Mix together.
Store in the refrigerator overnight with the lid on.
The next morning stir and add a sprinkle of cinnamon.
I warm mine up in the microwave for a bit before eating, but that's optional. Taste it first and see if you like it cold or would prefer it warm.
Enjoy!
21 Day Fix Containers:
Serving Size: 1
1 yellow, 1 purple, 1 red
For more recipes like this one and a full weight loss meal plan, get my e-book

here: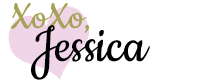 This post may contain affiliate links to help our readers find the best products.