When I was 7 months pregnant with my first son, I quit my full time job in hopes of becoming a work at home mom. I envisioned days of sitting on my computer while my baby played peacefully right next to me and then I'd put away my computer and spend the rest of the day with him…
Nope. That's not how it went. And when I decided to add another baby to the mix? Forget about it! I had tiny fingers all over my keyboard, deleting my work, and a literal butt sitting on my head screaming for who knows what… 24/7.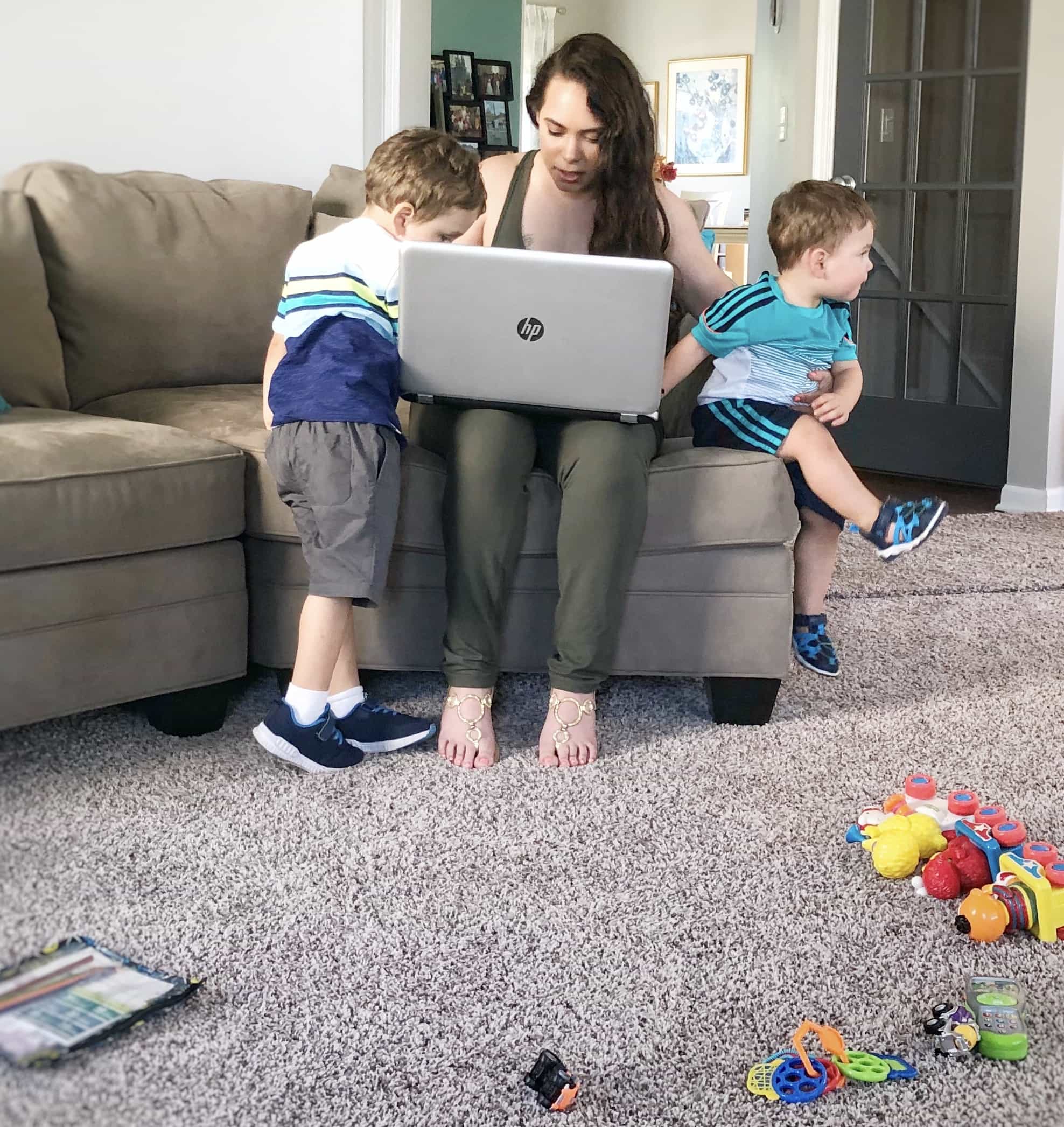 My days were spent stressed out trying to figure out how I could possibly get more than an hour of work in while still taking care of my kids. I wasn't just living a working moms life, but also a stay at home moms life. Ya'll, that is just too much for one person to handle while keeping their sanity in tact.
I finally decided it was time to find some help. Since daycare for my two toddlers was going to cost me an arm and a leg, I went on Care.com and started my search for a nanny. The only problem I had was that it was still out of my price range. Luckily, I found something called a nanny share on the Care.com website, where you share the nanny with another family and also share the combined cost for both families*. that not the greatest ?!
Ya'll having child care is a GAME CHANGER (for both your sanity and career)!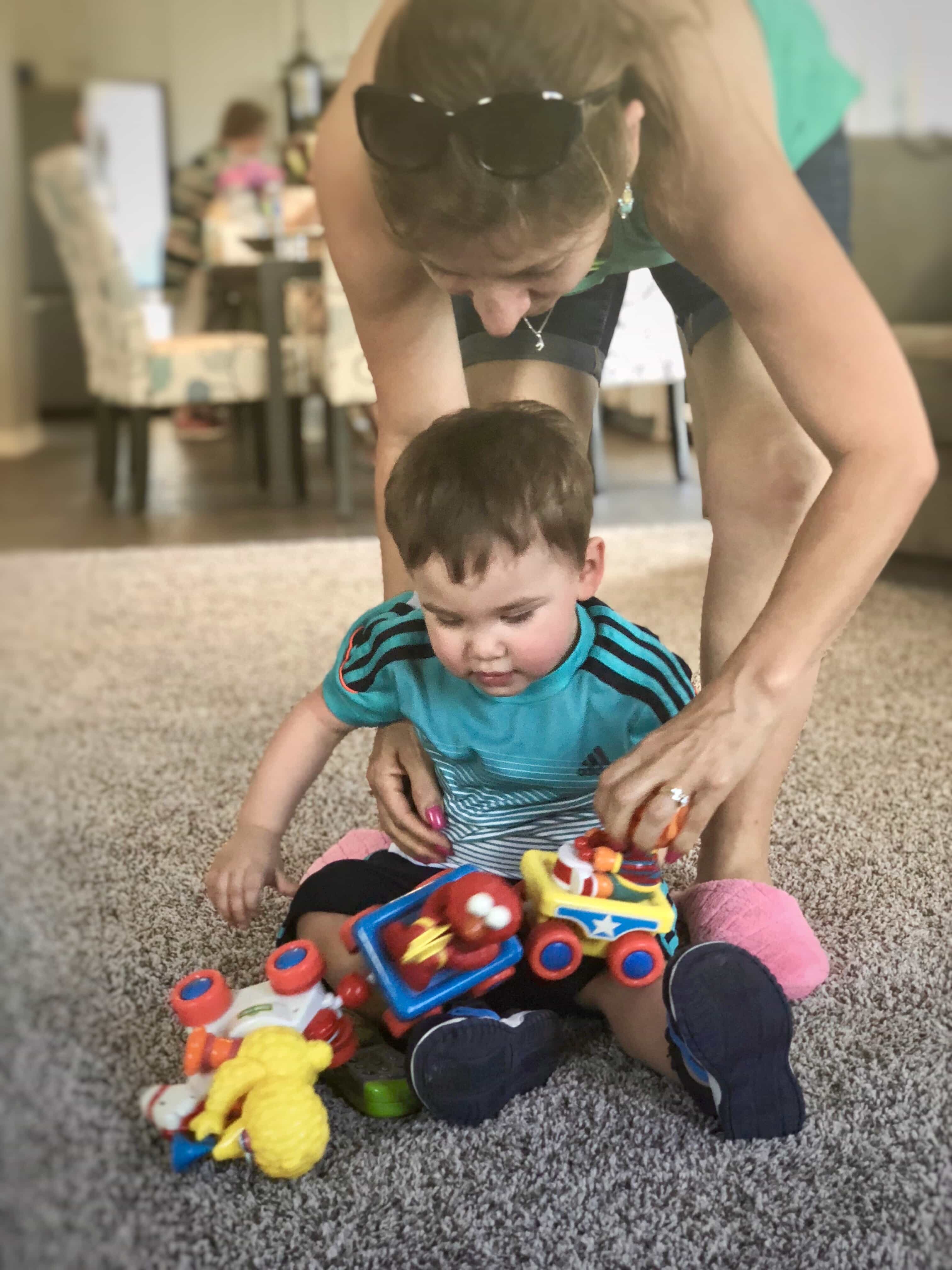 And even if you decide that the other family will host the kids and nanny at their home, they can still be super close by.
So, let's talk a little more about nanny shares.
Benefits of a Nanny Share:
Let's be honest, daycare costs are high and it can put a strain on your budget. and costs less than hiring your own nanny. You get to split the cost with another family, saving you a good amount of money. If you don't have anyone to share a nanny with, Care.com will soon be able to help you search for a family AND a nanny.
You can keep a closer eye on your kids since they are in your own home. If you have a home security system or a nanny cam, you can even keep an eye on your kids while you work. If you work from home, you will always be just a few feet away.

Your kids still get to socialize with other kids, but in a more intimate environment.
Kids will still get the individualized attention and care of a nanny instead of being in a classroom with 15 other kids.
Nanny shares can be more flexible – with two families involved, it can be easier to find coverage if your nanny is sick, on holidays, etc.
If you host the nanny share in your home, you don't have to commute to a daycare. You can also chose to have the nanny in the other home and share with a family that lives close by. Or you can split how many days the nanny is at your house and how many days the nanny is at the other home.
You don't have to worry about long pre-school breaks like summer and winter break or half days.
You get to decide who your nanny is and make sure they are a good fit for your family.
You can still control what your child is learning or doing. If you want them to go to a specific class (for example, dance or swim), you can have the nanny take them. If you want them to enjoy the warm weather at the park or pool, you can have the nanny take them.

With the rising costs of daycare, long waiting lists, many pre-schools only offering half day options and the fact that we want to be able to afford experiences, like vacations, for our kids- I truly believe a nanny share is the way to go these days.

If you are currently looking for child care or know you will need to soon, I highly recommend keeping an eye out for the nanny share tool that Care.com is working on. It will allow you to find both a family to share with and a nanny that meets your needs. I'm sure you will be pleasantly surprised with all of the wonderful, and more affordable, options! To get a sneak peek and find informative tools on nanny share, visit this page.

Disclosure: This post was sponsored by Care.com, however, all thoughts and opinions are 100% my own.

Xoxo,

Jessica

This post may contain affiliate links to help our readers find the best products.