This post may contain affiliate links to help our readers find the best products.
This is the perfect low carb, kid friendly, recipe to indulge in when you have cravings!
Related: Amazing Low Carb Cinnamon Sugar Bagel Bites
Low Carb Keto Cinnamon Rolls Recipe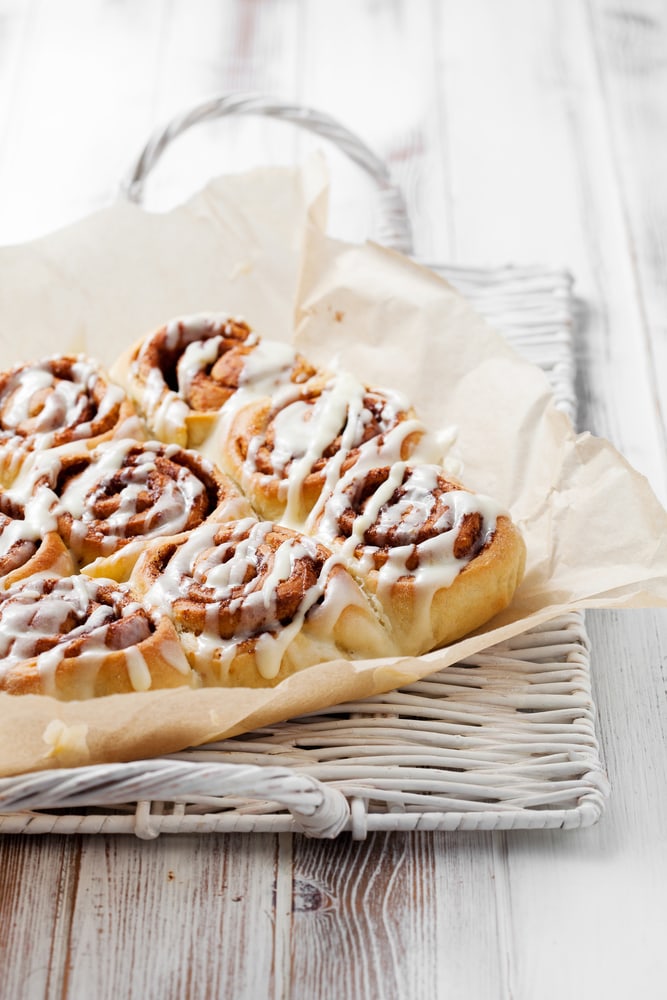 Low Carb Keto Cinnamon Rolls Ingredients
Servings: 10
DOUGH
FILLING
1/2 cup softened butter
1/4 cup brown sugar substitute
3 tablespoons ground cinnamon
ICING
Low Carb Keto Cinnamon Rolls Directions
DOUGH
Heat your oven to 350°F and line a 8 x 11 inch baking dish with parchment paper.

Microwave the mozzarella and cream cheese for one minute, remove and stir, then microwave for another 45 seconds or until the cheeses are completely melted.

Combine almond flour, granular erythritol, coconut flour, xanthan gum, baking powder, and salt in a large bowl.

Next, add in the apple cider vinegar, vanilla, eggs, and melted cheese. Mix the ingredients together for at least 5 minutes or until completely combined, scraping the sides of the bowl as you go until a dough forms. This is best done with an

electric mixer

, whether handheld or a stand.

Create a large bottom layer of plastic wrap by connecting several sheets together until it is at least 24-inches long x 20-inches wide.

Place the dough in the center of the plastic wrap.

Make the top layer of plastic wrap in the same way and size (24 x 20 inches) and place on top of the dough.

Roll out the dough between the two layers of plastic wrap until it is a 20 x 16 inch oval. Stretch out the plastic wrap if needed so that it doesn't get caught under the dough.

Remove the top layer of the plastic wrap and move onto the filling.
FILLING
In a medium bowl, mix together the butter, brown sugar substitute, and ground cinnamon.

Spread out the cinnamon mixture evenly onto the top of the dough.

Using the bottom layer of plastic wrap, roll the dough up lengthwise, starting at the long side of the dough oval.

Cut the dough into 10 cinnamon rolls. The dough will be sticky so use a string if you have it.

Place the cinnamon rolls in the lined baking dish and bake for 25-30 minutes or until the tops and sides of the rolls turn golden brown.
ICING
In a small saucepan heated over low-medium heat, cook the butter for about 5 minutes or until it has browned and developed a nutty aroma. Be careful not to burn the butter.

Turn off the heat and whisk in the confectioner erythritol, vanilla, and 2 tablespoons of almond milk. Add a little more milk until you have reached your desired consistency.

Allow your cinnamon rolls to cool slightly before topping them with the icing.

Use a spoon or spatula to spread the icing over cinnamon buns.
NUTRITION FACTS
Amount Per Serving 1 Roll
Calories 360
Fat 30g
Saturated Fat 10g
Net Carbs: 11g
Protein 12g
PIN IT FOR LATER: