Jujube Be Prepared Review
So far, the Jujube Be Prepared has been a favorite diaper bag of mine!
It looks great and fits a TON of stuff.
Both the inside and outside are super easy to wipe clean. The inside has anti-microbial protected linings, which is extra awesome.
The interior is light, so things are not getting lost in a big, black hole. It also has a ton of pockets inside so it's easy to stay organized.
The strap is padded with memory foam and really comfortable, so I never feel like it's too heavy.
It will NOT fit under a stroller though.
Also, it's not exactly an everyday bag to take out for quick errands. I use the Be Prepared for overnights or big outings that require a lot of stuff.
If you have more than one baby in cloth diapers (especially 2 under 2) this is seriously the go-to diaper bag.
Different Jujube Be Prepared Designs
Ju-Ju-Be Be Prepared Diaper Bag
One of the beauties of Jujube bags is that they come in a ton of different designs. There is sure to be a design everyone loves.
I personally love the legacy collection, and went with the Queen of the Nile design for my Be Prepared bag. That is the one you will see in all of my pictures in this post.
However, there are a ton of other designs that you can see below.
Oh, the other great thing is that if you decide to sell it when you're done using it, they have a high resale value.
&
&

Are Jujube BFF Diaper Bags Worth the Cost?
Yes, Jujube Be Prepared Diaper Bags are absolutely worth the cost.
You will not need to replace them and can use them with multiple kids because they seem to last forever.
I am now going on baby #2 and still using my Jujube bags. They have absolutely 0 damage and get used a ton.
They are also machine washable, so super easy to clean and never look gross or stained.
I can also see myself using them when I no longer need a diaper bag because they're just gorgeous. The Be Prepared will definitely turn in to my overnight bag and/or carry on bag!
Remember, your diaper bag replaces your purse for a few years so you want to chose one that you love. The way I look at it, I would have spent this on a purse that I would have probably used less often so this was my "purse splurge."
How to Get A Discount On the Jujube Be Prepared
 Amazon Baby RegistryRegister Now
If you are expecting, make sure you register on Amazon.com. Then add the Jujube Be Prepared to your registry.
A few weeks before your due date, 8 weeks to be exact, you will get 15% off of anything you purchase from your registry, giving you about a $27 discount on this bag!
Plus, if you sign up for a free trial of Amazon Prime you will get free 2 day shipping!
This is the best deal I have been able to find on this bag.
If you find a better deal please let me know in the comments.
&
&
What's Inside my Jujube Be Prepared Diaper Bag
Before I show you how I pack the bag, let me show you what I always carry in my diaper bags.
I always carry an OuchPouch, which has Boogie Wipes, Infant Tylenol, gas drops, teething tablets, and a Nose Frida Snot Sucker.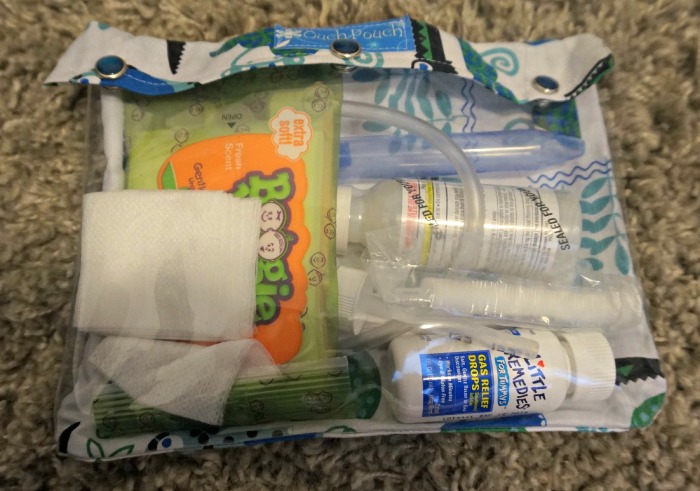 I also always carry an Aden & Anais muslin blanket because my boy loves how soft they are.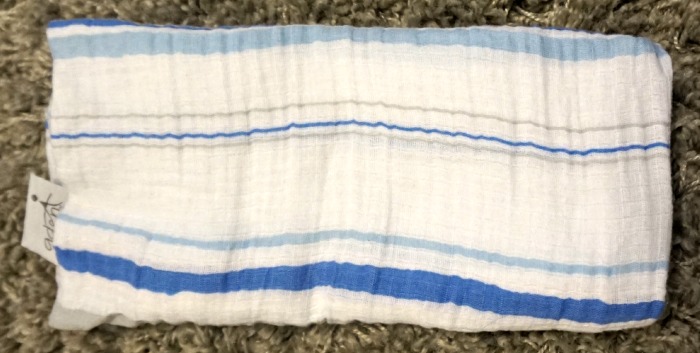 For myself, I carry my wallet, phone, keys, sunglasses, and wet wipes.
For the baby I always carry a toy, teething ring, Comotomo bottle, formula dispenser, pacifier wipes, first aid kit, change of clothes, burp rag, bib, lotion, wet bag (I carry this even when using disposables because it's great for dirty clothes, bibs, and burp rags), at least four diapers and wipes.
This picture is what I pack with cloth diapers: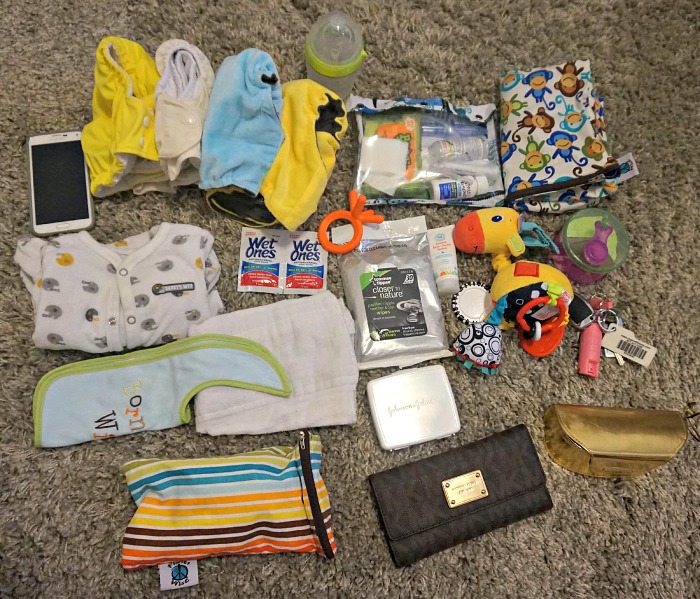 I travel with my cloth wipes pre-moistened in this wipe pouch: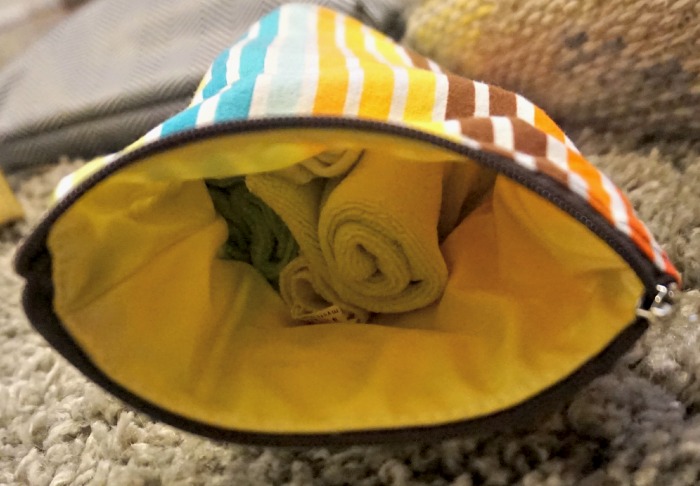 This is what goes in my bag when I travel with disposable diapers, for convenience: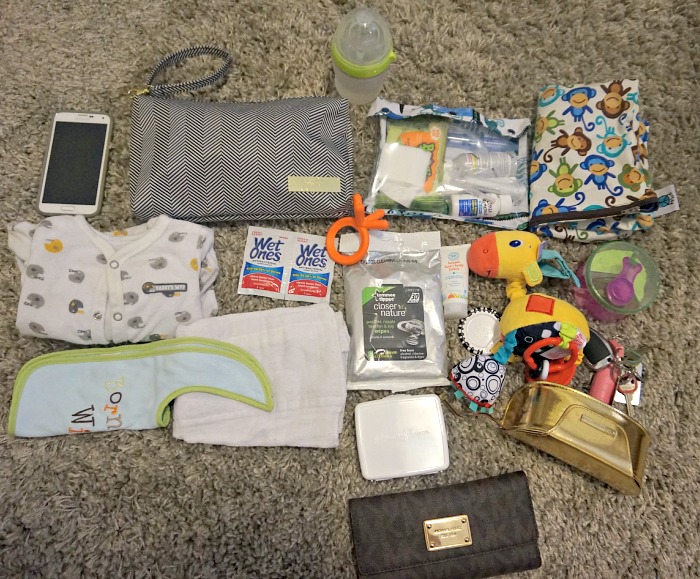 My disposable diapers, wipes, and diaper rash creams are always kept in a Jujube Be Quick bag so I don't have to carry the entire diaper bag with me when going to the bathroom: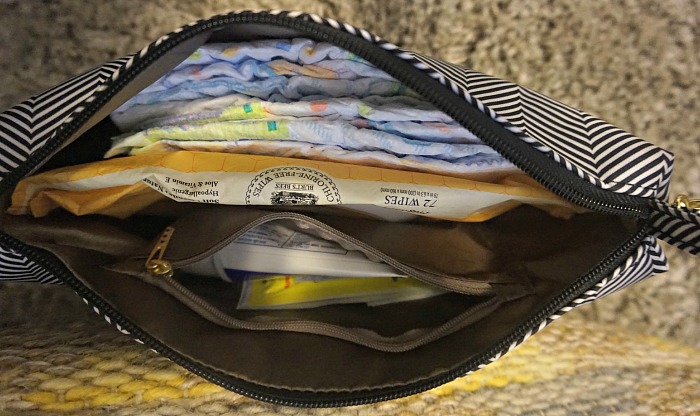 Jujube Be Prepared Layout & Design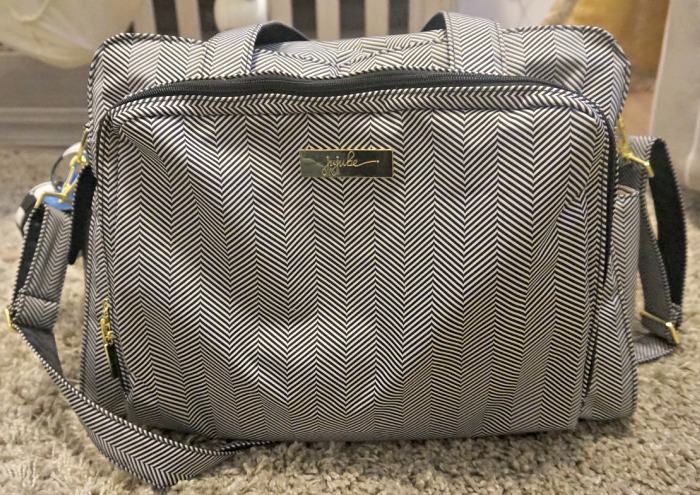 This bag is humongous, in the best way possible!
Seriously, if you have one kid and cannot fit all of you're stuff in here- you're overpacking *says the obsessive over-packer.*
I really don't think it gets much bigger than this as far as diaper bags go.
Aside from being nice and big, it's gorgeous!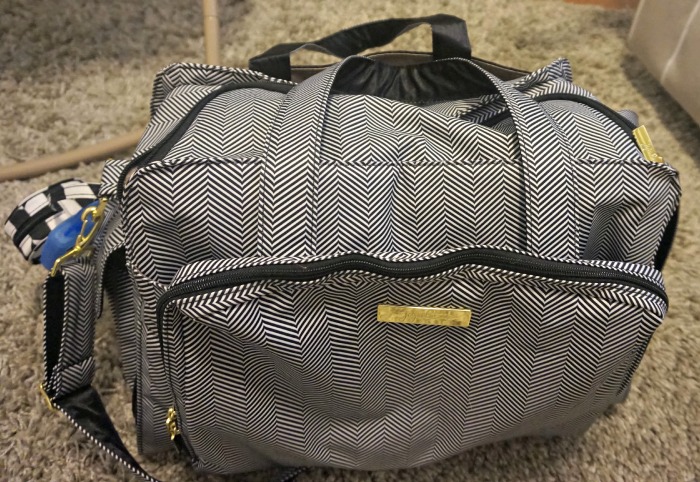 The top of the bag has a nice large zipper that opens very wide so you can see everything inside. The zipper is also easy to handle and you can open it with one hand.
The bag has a huge changing pad that is bigger than the one that comes with the BFF. It even seems to have more padding.
There is also an extra space behind the "mommy pocket" that has a magnetic closure (I use this for any papers, books, tablets, planners, etc, that I may be carrying that day).
The mommy pocket is also huge and really does the name mommy pocket some justice. It definitely takes away the need for a purse.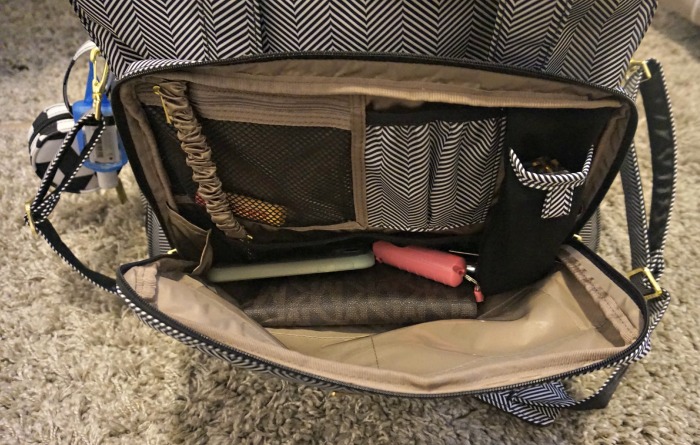 In this picture of the mommy pocket, I have my big wallet in there, my keys, my phone, my sunglasses, and chapstick. I can really fill this bad boy up if I want to.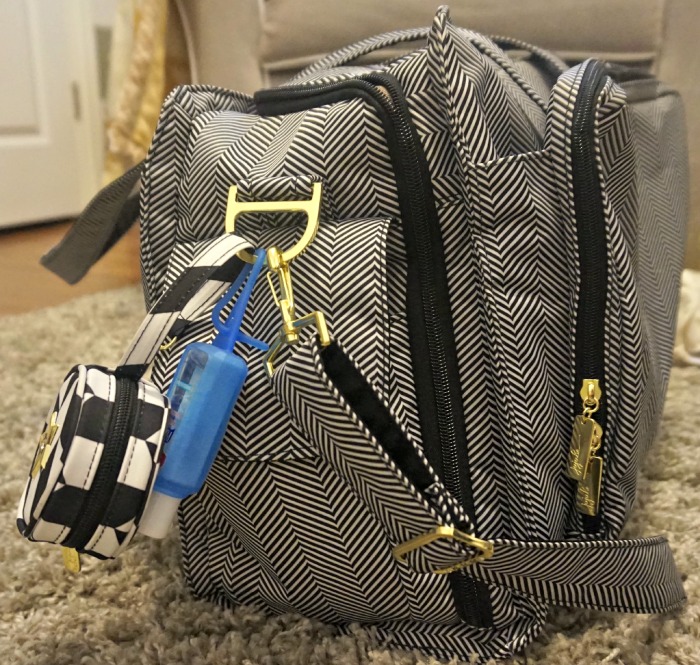 The bag also has the usual bottle pockets on each side. BUT, they are huge. If you're a Dr Brown fan, you can fit two bottles in each pocket!
I use Comotomo bottles, so I just put one in each pocket. They are insulated completely since they have the flap that closes over the bottle.
I also clip my pacipod with two pacifiers inside and my hand sanitizer on to the side.
Here is a picture of the other side that has nothing clipped on: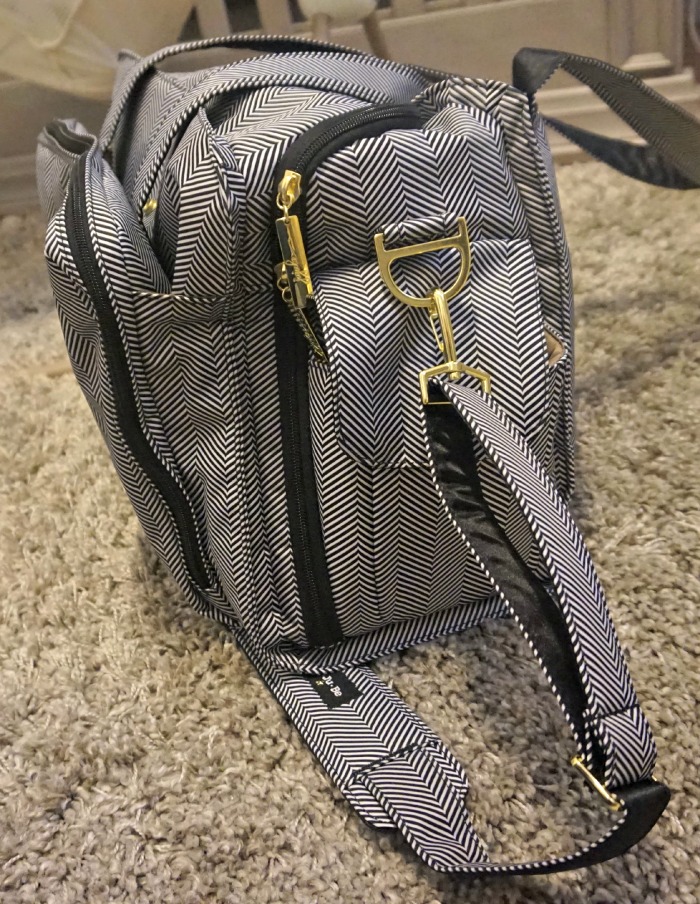 Jujube Be Prepared Packed with Cloth Diapers
Look at all of that space!!
Everything in my picture above is in this diaper bag, seriously! And there's still a ton of room left. That is very rare with cloth diapers.
I have 4 AIO's in here plus cloth wipes, and of course everything else I mentioned in the beginning of the post, PLUS soap, lotion, and a brush.
Jujube Be Prepared Packed with Disposable Diapers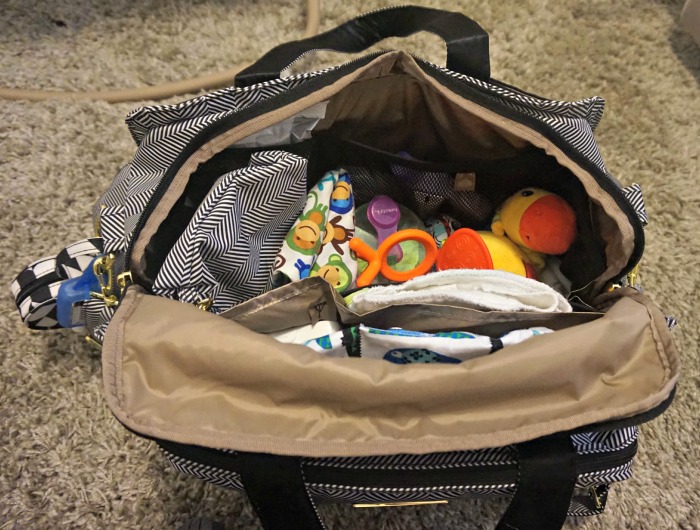 More Diaper Bag Reviews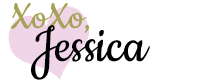 This post may contain affiliate links to help our readers find the best products.