Although there is no one type of bathing suits mom's can wear, I have found that most of us like a similar style of bathing suit: covers and supports the tummy area and gives a breast lift while still making us feel hot and confident.
I have mastered this look, if I do say so myself. As a matter of fact, one of the questions I hear most every summer is "where did you get that bathing suit?!" So today I'm going to share my secret with you all and link you to all of my favorite sexy mom bathing suits that are also very affordable.
They are all under $30 and can be at your front door in two days or less for last minute events- a win is a win!
These have all held up for me over at least three years, so I'm definitely satisfied with them! Honestly, I've never had issues with any of them, I just got tired of them after a few years and since they're cheap they are easy to replace.
Since my body is constantly changing because I'm on a fitness journey, I don't feel as bad having to give up a $20 bathing suit as I would if it were an $80 bathing suit. My only word of caution is that you may want to size up, especially if you have a larger chest.
The Hottest Mom Bathing Suits for Under $30
Sexy mom bathing suits are pretty easy to find these days, but this is going to be your ultimate guide and a one stop shop!
Please note that these all come in multiple color options, so if you like a style but not the color- just click on it to see several other colors or designs. 
Criteria for the Best Swimsuits
Here is how I decided which were the best bathing suits to feature:
Modest swimsuit
Tummy coverage
Does not move around / stays in place
Cute styles
Flattering swimsuits for different body types
Great coverage
High quality material
The Most Popular Mom Bathing Suit: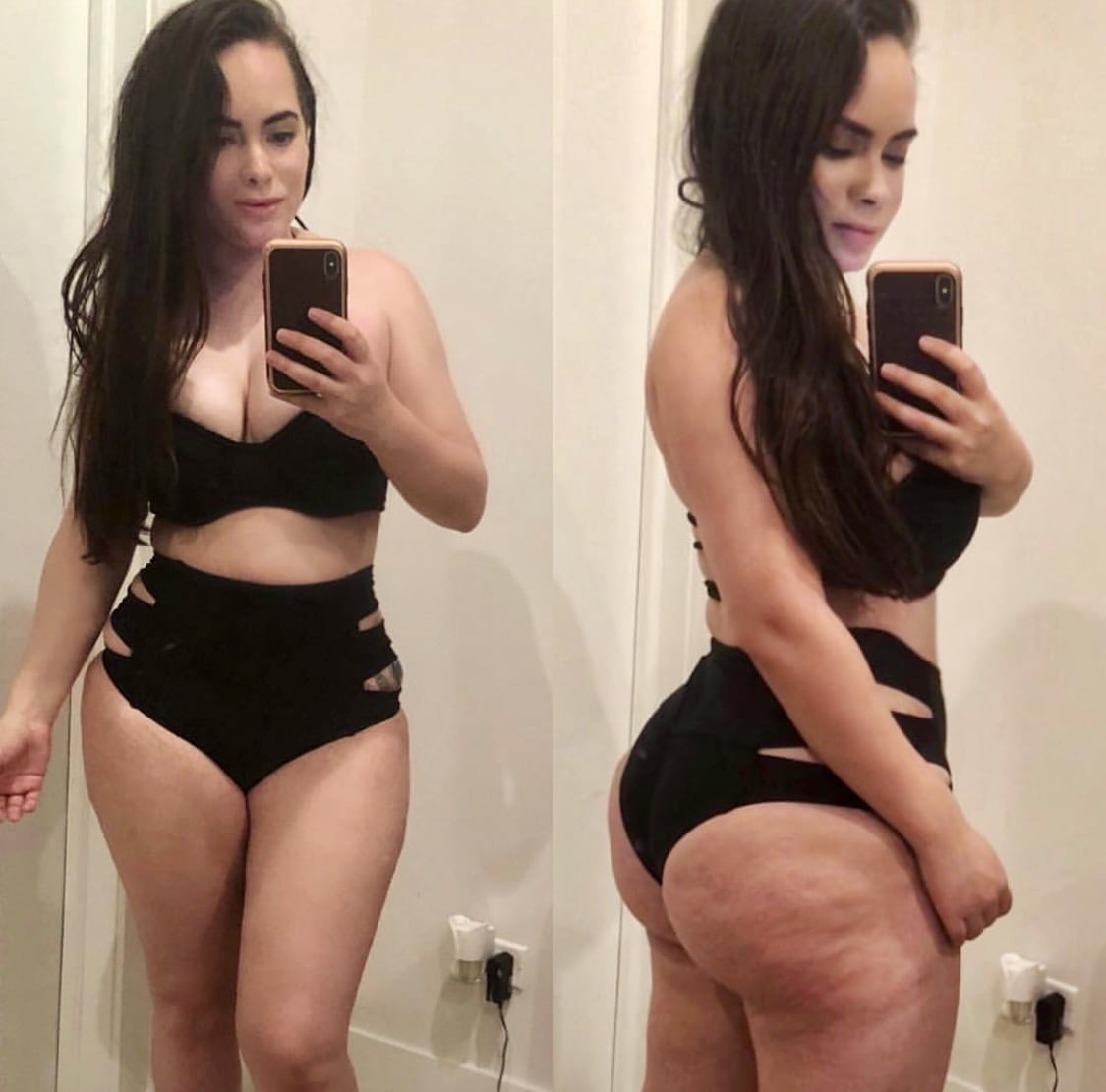 This bathing suit is by far the one I get the most questions on, both in person and online. So, I'm going to start off with this infamous suit and then move on to all others!
For this one, I bought the two pieces separately, but it's still under $30. I do recommend sizing up.
High-waisted bottoms make bathing suits feel full coverage without giving an old lady look. They still show a little skin but also cover the areas most of us are worried about. I also love that it has thick adjustable straps. These straps also adjust the amount of coverage on the chest, which I love!
Notched Bikini Top 

High Waist Bikini Bottom 

P.S: All of these bathing suits have free shipping if you have Amazon Prime.
Hot Mom Bikinis:
For the bikinis, I went with high waisted bottoms on all of them because I feel like that's what most women are looking for when they call it a mom bathing suit. Plus, high-rise bottoms give extra support even if they are not specifically tummy-control swimsuits.
Ruffle High Waist Swimsuit
Wrap Bikini Set
Multiple Solid Colors
Full Coverage two-piece swimsuit
Bold Colors Ribbed Bikini
Classic Black
tankini top
sexy mom bathing suits
bikini and swimsuit cover-ups
Vintage Two Piece Swimsuits

Retro 50s Floral Bikini 

 Plus Size Strappy Bikini Set 

Retro Flounce Bikini 

Vintage Bathing Suit Bikini

Sexy Criss Cross Bandage Bikini Set

 Off Shoulder Ruffled Flounce Bikini 

Ruched Bikini Set 

Hot Mom One Piece Bathing Suits:
Monokini Swimsuit

Retro One Piece Backless Swimsuit 

Tummy Control Slimming Monokini 

Lush Cut Out  Swimsuit 

Surplice Neckline Monokini Swimsuit

Sexy Mom Bathing Suits: Bikini Bottoms Only
Please remember these all come in different colors and in different sizes, just click on them to see a lot of options including polka dots!
tummy control panel bikini bottom
perfect amount of coverage bottom
Sexy high waist bikini bottom
Sun protection swim shorts
Swim Dress Options for Moms:
tummy control swim dress
skater girl swim dress
Slimming swim dress Full coverage
High Neck Swimsuit Tummy Control
Postpartum Swimwear
If you are still postpartum and need something to accommodate a postpartum body, here are some swimsuits that have extra coverage and support.
One Piece Tummy Control Swimwear
Postpartum Monokini
Vintage Mesh Swimsuit
Affordable Cover Ups for your Hot Mom Swimsuit!
Breathable Coverup
Long Sleeve Shirt Coverup
Short Sleeve Coverup
Full Coverage Long Dress Coverup
And those, my friends, are the hottest mom bathing suits for under $30! You will feel sexy in any of these and the good news is you have a ton of options this swimsuit season.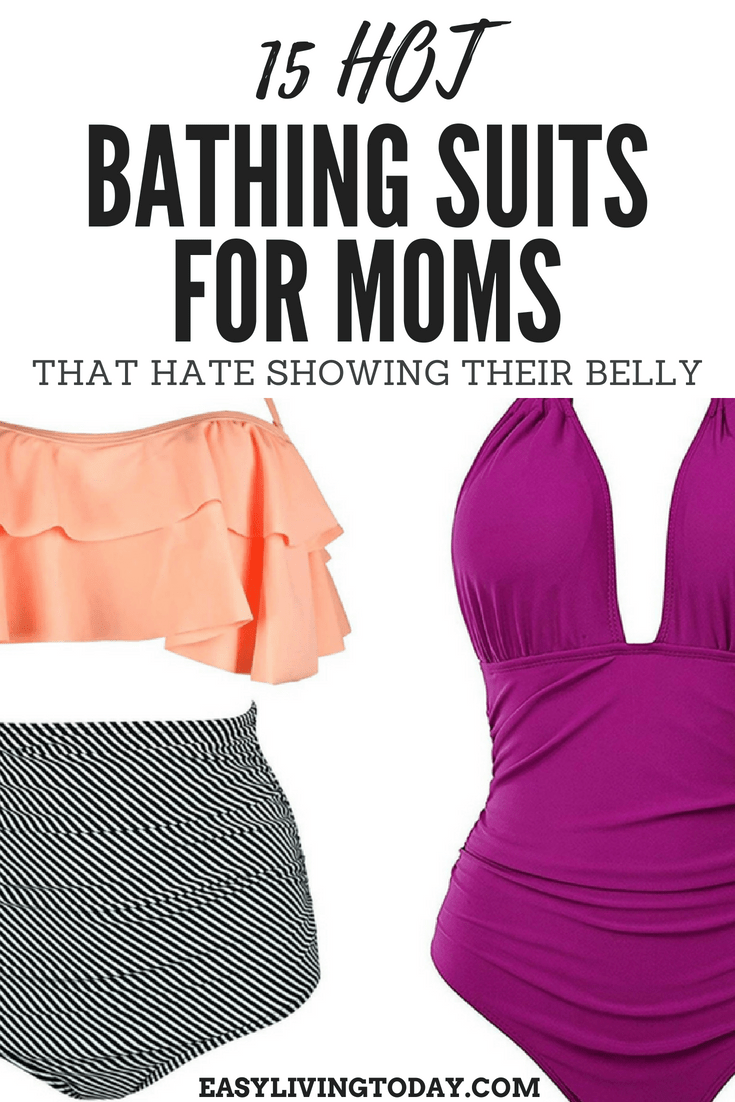 Xoxo,

Jessica

This post may contain affiliate links to help our readers find the best products.