Packing your hospital bag for c section is easy as long as you know what you need.
As a matter of fact, I always recommend everyone pack a hospital bag for c section because there is no way to know if you're going to end up needing one or not. I didn't think I would my first time and then I had to send my husband running around to get me stuff, when I would have much rather had him at the hospital with me.
I've been there twice, so I know what is really necessary and what is not. So I'm writing this in hopes that I can help you prepare for your hospital stay!
Average Hospital Stay After C Section
The hospital stay after a c-section is definitely a long one. If you're c-section wasn't planned and came unexpectedly, you will be staying in the hospital the entire time you are in labor PLUS the next 2-3 nights.
My first c-section was unexpected and I was in the hospital for 24 hours before I went in to the OR for my c-section. Then I was there an extra 3 nights. That meant a total of 4 nights for me.
This c-section is planned & scheduled, so I will only be at the hospital for a total of 3 nights since scheduled c-sections are usually scheduled between 7AM-9AM. Since a scheduled c-section is early in the morning, your first night counts as night 1 of 3 instead of the next night. I hope this makes sense because I'm having a hard time explaining it!
Anyway, point being, an average hospital stay after c-section can be from 3-4 nights. If you are having other issues or complications, it can be longer.
What You Don't Need to Pack
Going through labor & delivery, caring for a newborn, learning to breastfeed, exhaustion and recovering from a c-section are overwhelming enough. Don't add on to all of the overwhelm by having a ton of clutter in your hospital room or luggage. 
The hospital provides a ton of what you need, so I suggest not overpacking by taking things the hospital is charging you for anyway.
Here is what my hospital provided, you will want to check with your hospital to see what they provide (I'm sure it's similar if not exactly the same).
What Hospital Provides for Baby
Pampers that fit your newborn
Wipes
Vaseline for newborn poop & umbilical cord care
Receiving blankets that make amazing burp cloths
Halo swaddle blankets
White baby shirts
Formula if needed
Pacifiers if needed
Sleep gowns for baby
Hats
Mittens
What Hospital Provides for Parents
Breast pump if needed
Pillows for you and dad
Blankets for you and dad
Towels for bathing
Amazing mesh panties for mom
Thick pads
Medication
Girdle/binder
Food
Mom's Hospital Bag for C Section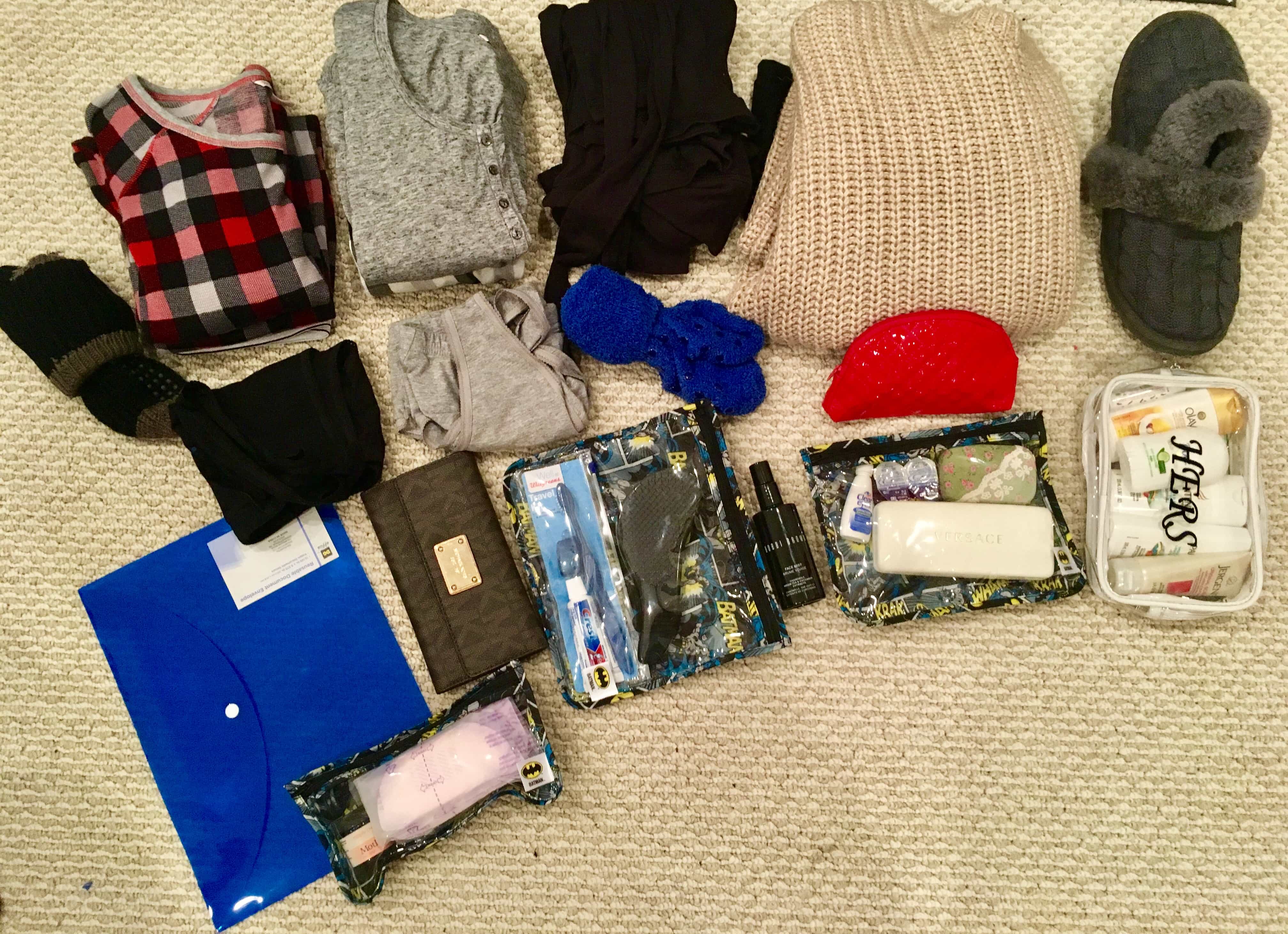 Your bag is going to be the biggest because you'll need the most stuff, assuming you don't want to stay in a hospital gown for 4 days.
That being said, let's start with clothing you will need.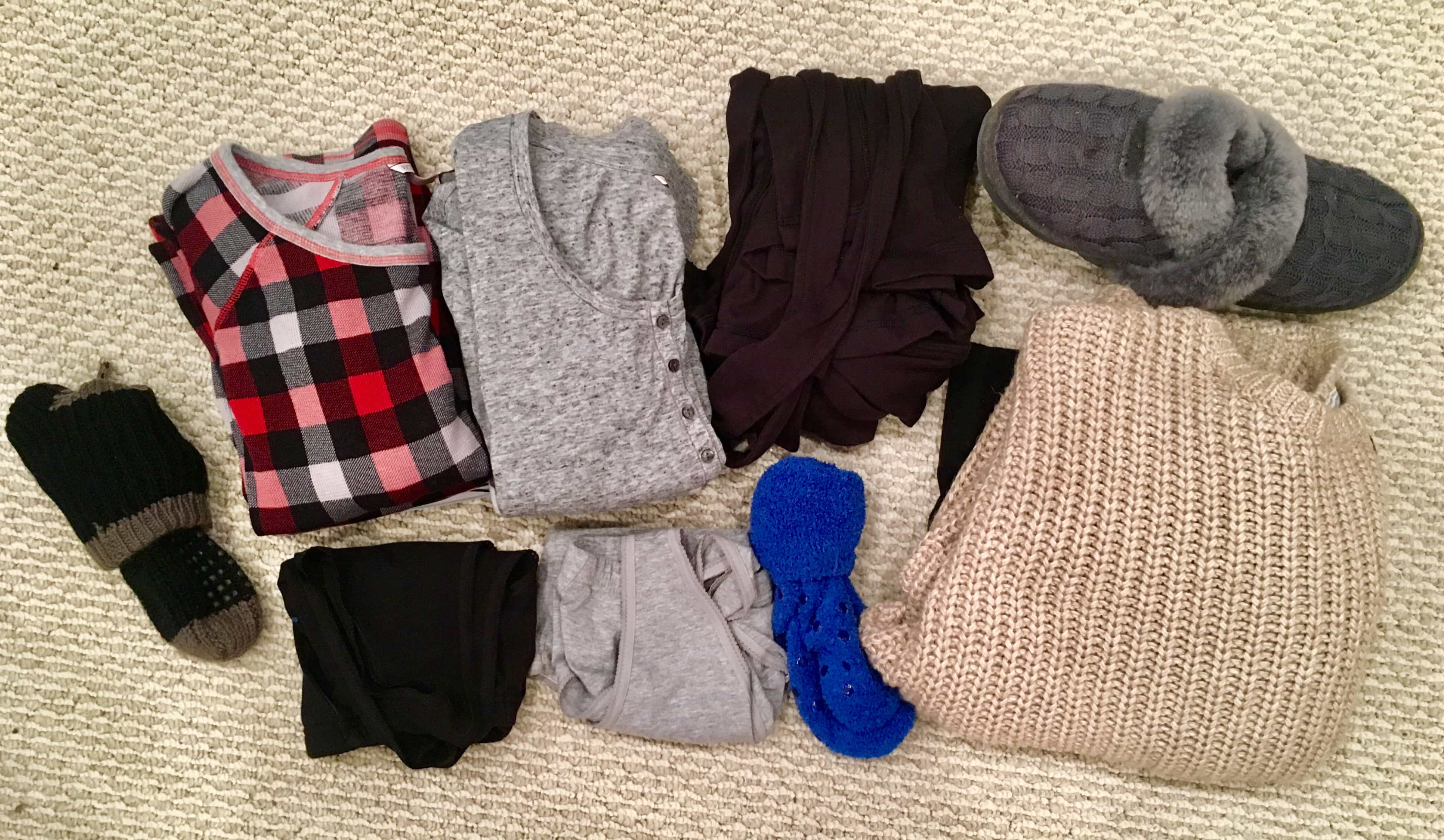 Del Rossa Women's Fleece Pajamas, Long Button Down Pj Set
2 Dark Pajamas With Buttons
The first night you'll want to stay in your hospital gown because they'll be checking you so much, but the next 2-3 days & nights you'll live in your pajamas.
You'll want dark pajamas incase you bleed through.
If you are planning to breastfeed you'll want one with buttons so you can easily unbutton past your breast. It's cheaper than a nursing pajama and works just as well!
Hospitals are cold, so you'll also want a warm pajama. These are great because they're inexpensive but have all the features you want while being super warm and comfortable!
&
&
 Nursing Bra For Nursing And Maternity
2 Nursing Bras
Nursing bras are just SO comfortable whether you breast feed or not! They're great to wear under your pajamas and regular clothes.
Although nursing pajamas aren't necessary, you can't go wrong with nursing bras that are so comfortable and convenient for just about $10 each!
It's cheaper than a regular bra and comes with the benefit of making breastfeeding easier.
They also last a long time because I've been using mine since I had baby #1 almost 2 years ago and am still using them!
&
&
Comfortable Robe
After my first post c-section shower, I went right in to my robe.
Robes are super cozy, allow you to still get checked while covering you up, look and feel better than the hospital gown and keep you warm.
Once they stopped checking me as much, I wore my robe over my pajama to keep warm.
Robes are a great way to still allow easy access for breastfeeding and to cover up when you have guests.
I found this specific robe when I was pregnant with my son and all moms swore by it. Now I know why! It's still going 2 years later and is just like new.
&
&
Non Skid Hospital Socks – Fuzzy Slipper Socks 
Warm Non-Skid Socks
You'll be spending a lot of time recovering in the hospital bed, and hospitals are cold. You'll want something that will keep you warm while you're in bed!
You'll also want to be able to get out of bed to use the bathroom without slipping, so non-skid socks are necessary.
Your feet are going to be extremely swollen after the c-section, so shoes may not even fit you.
Slippers are optional, but these socks are a great slipper replacement and totally necessary to get you through your stay!
&
&
Going Home Outfit
Yes, you need one too! Nothing fancy, just something to get you from your hospital bed, through the hospital, to the car and to your house!
C-sections can be easily irritated by clothing, so you want pants that will not rub on the incision. Yoga pants are great for this because you can use them as high waisted pants (like maternity leggings but cheaper) and they will support your csection area without rubbing it.
I just throw a chunky sweater over the pants and wear a pair of Uggs. If you have a summer baby you can wear flip flops though. And, of course, a tank top instead of a sweater.
&
&
Now that we've covered clothing, let's talk all of the other necessities to put in your hospital bag for c section.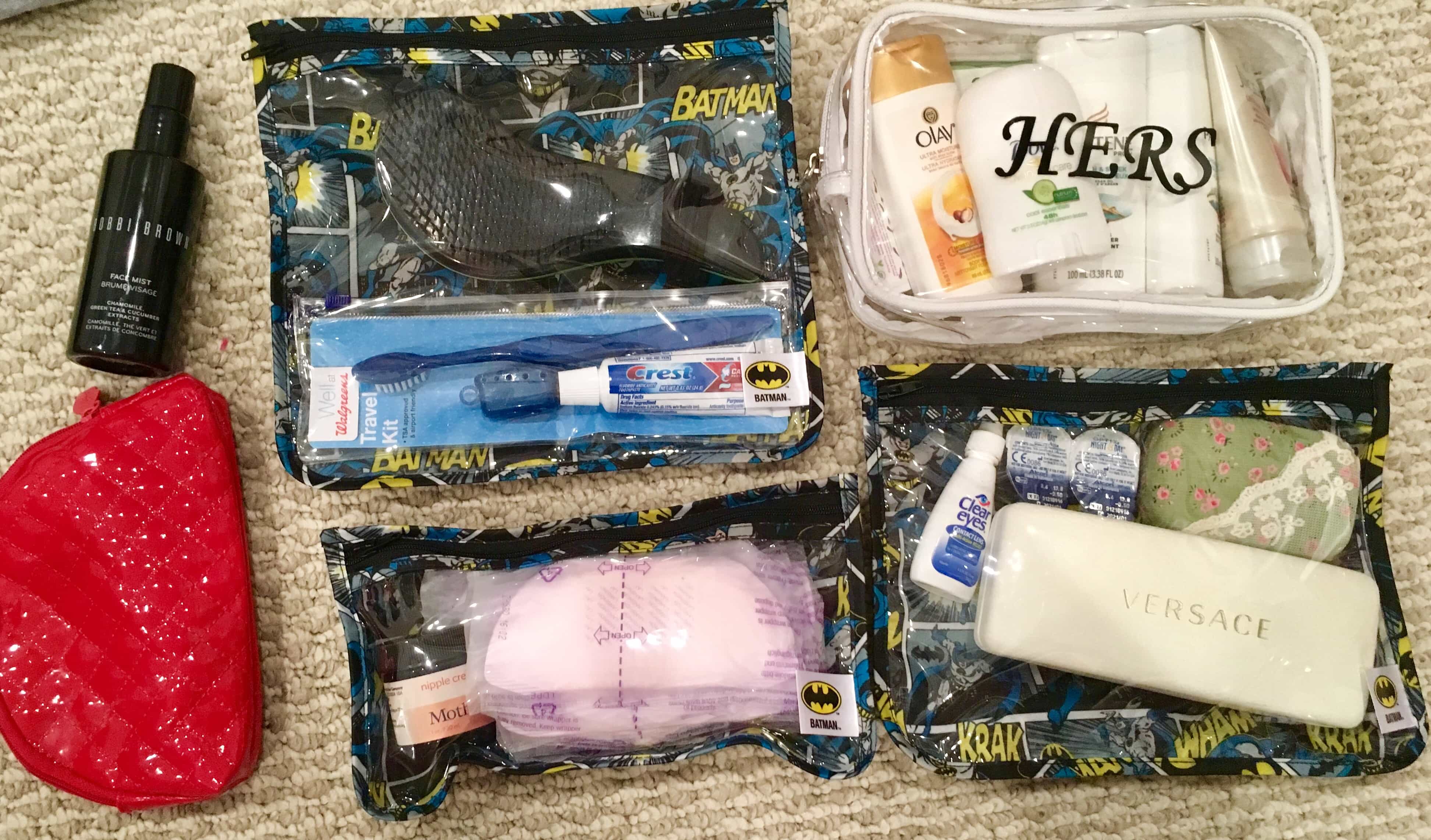 Handy Solutions Premium Women's Travel Kit
Toiletries
You are going to shower and brush your teeth at the hospital for 3+ days, so you have to be prepared for this!
You will need soap, shampoo/conditioner, a toothbrush, toothpaste, deodorant, face wipes lotion and chapstick.
The cheapest way to get all of this is by ordering a travel kit online. I tried going to the travel section at Walgreens and it was going to run me over $20 to get all of this when it was less than $10 online.
The only thing this travel kit doesn't come with are the face wipes & chapstick.
I recommend chapstick because hospital air is dry and will chap your lips. I recommend face wipes because it's easier to be able to clean your face in bed instead of having to get up and go to the washroom when you're in pain.
&
&
 Motherlove Nipple Cream Organic Salve for Sore Cracked Nipples
 Lansinoh Stay Dry Disposable Nursing Pads, 100 Count
&
Nipple Cream & Nursing Pads
Nipple cream is absolutely necessary because your nipples are going to hurt, bad. They will crack, bleed, dry out, etc. A good nipple cream will ease the pain whether you decide to breastfeed or not.
If you do breastfeed, your baby is going to ingest the nipple cream. Motherlove nipple cream is great because it's organic and natural, so you don't have to worry about what's going in to your baby's system.
The other thing is that hospitals charge you extra for nipple cream since it has to go through the pharmacy, so you're better off taking your own.
Nursing pads are hit or miss because you don't know if you'll be leaking yet. I was, so I'm glad I had them. It's safer to have them rather than not.
Glide Thru Detangler Hair Comb or Brush 
Detangling Hair Brush & Hair Ties
Don't ask me why this happens, but everyones hair is a hot mess after giving birth. You need a good detangling brush to get you through the days at the hospital and the days of being a mother!
I'm not even joking. My hair is always such a mess after a long day of chasing my toddler (or a long week of not brushing it).
I swear by this glide thru detangling brush because it detangles my curly hair in just a few minutes without damaging it.
&
&
Premium Poly Envelope with Velcro Closure
Document holder or folder
You're going to get a lot of important paperwork at the hospital, for both you and baby.
However, they're just going to throw it at you- it's up to you to keep it organized and safe.
I take one document holder for my paperwork and one for the baby's paperwork.
I mean, you're going to have paperwork for your baby's birth certificate, social security, hearing exams, etc- so please make sure you have somewhere to keep it because you're going to go crazy if you lose it.
Other Things You Will Need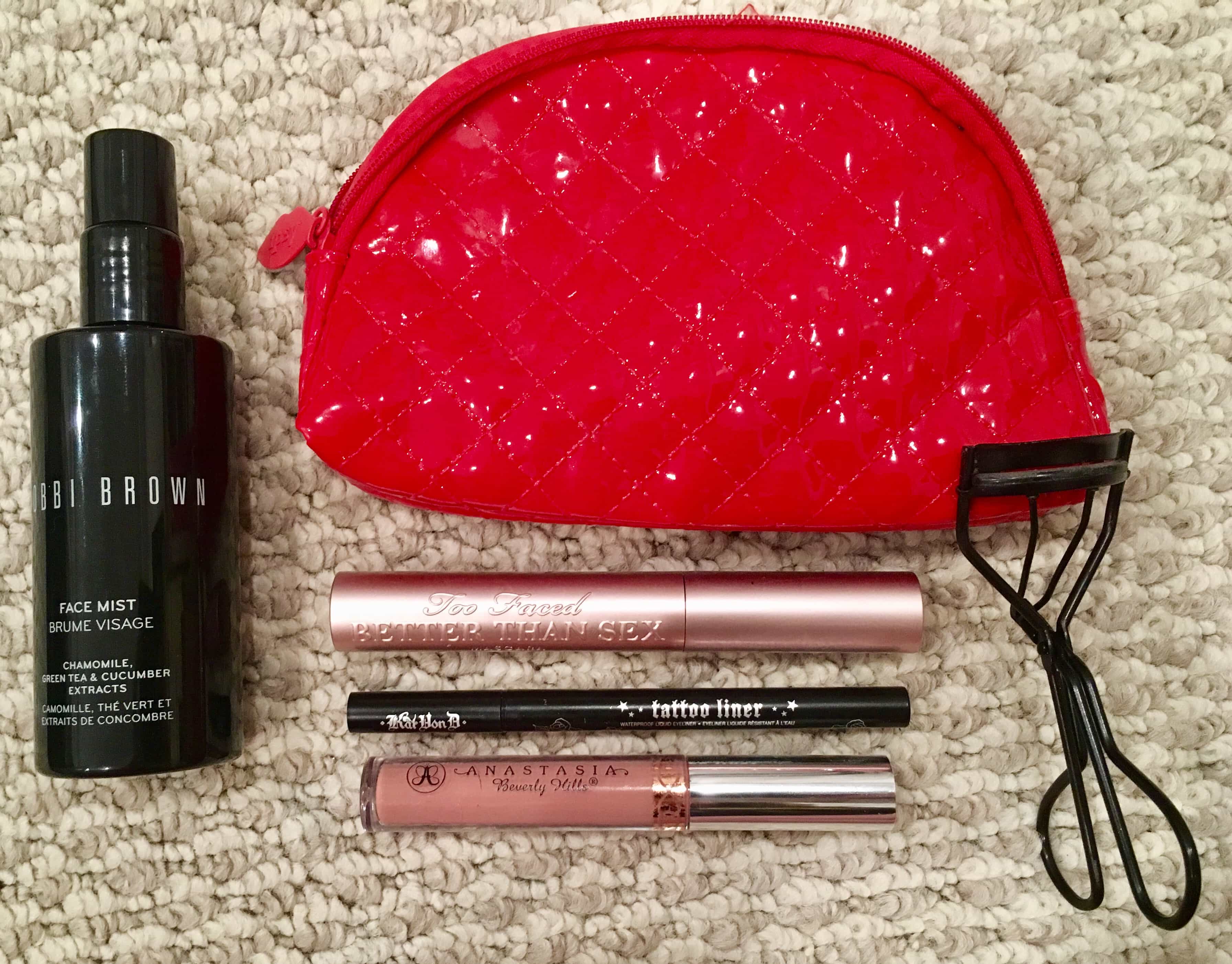 Wallet with ID & Insurance card
Glasses, contacts & eyedrops if you wear them
Makeup bag for pictures
Cell phone & charger
Camera & charger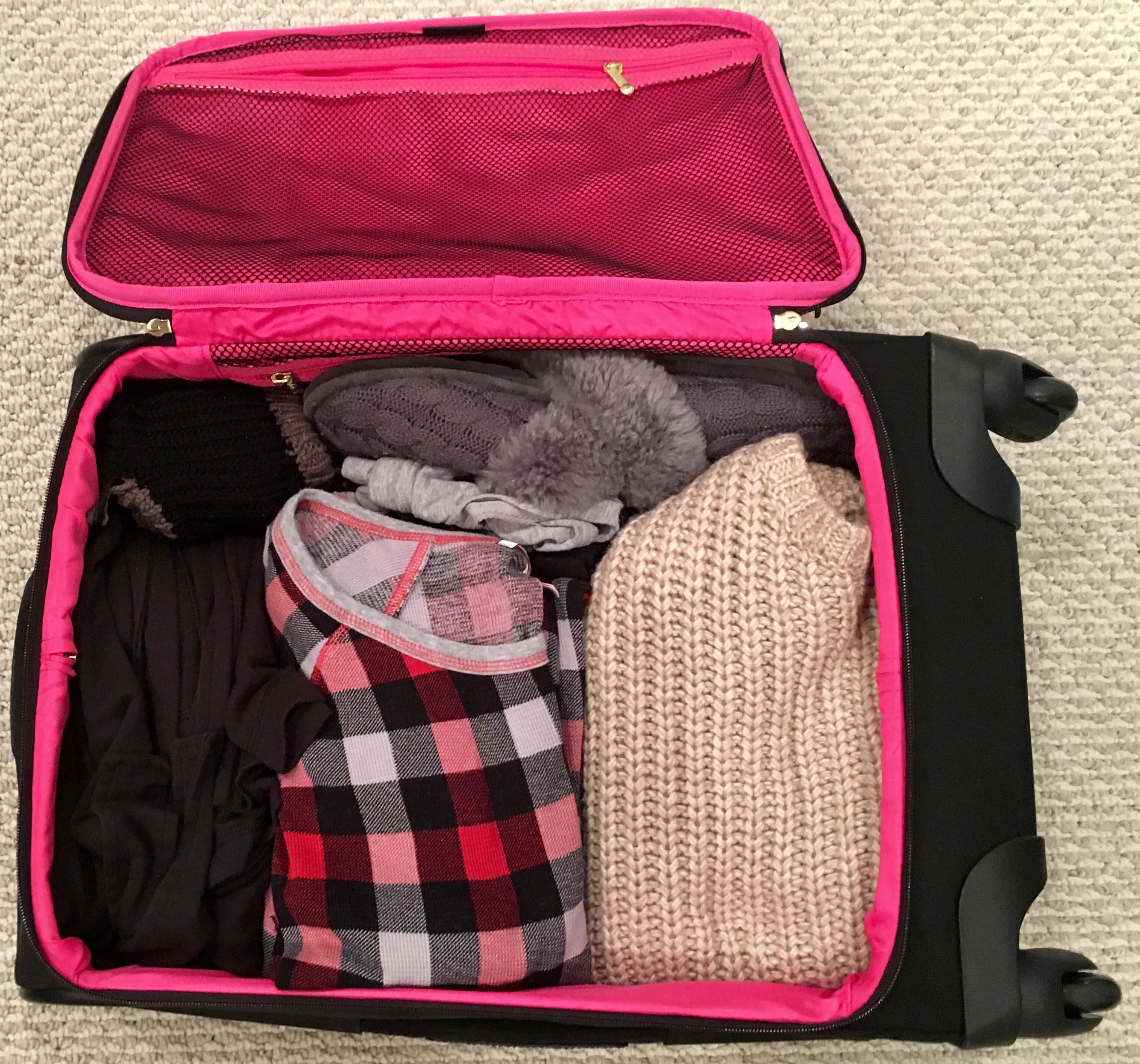 &
&
What to Pack for Baby Hospital Bag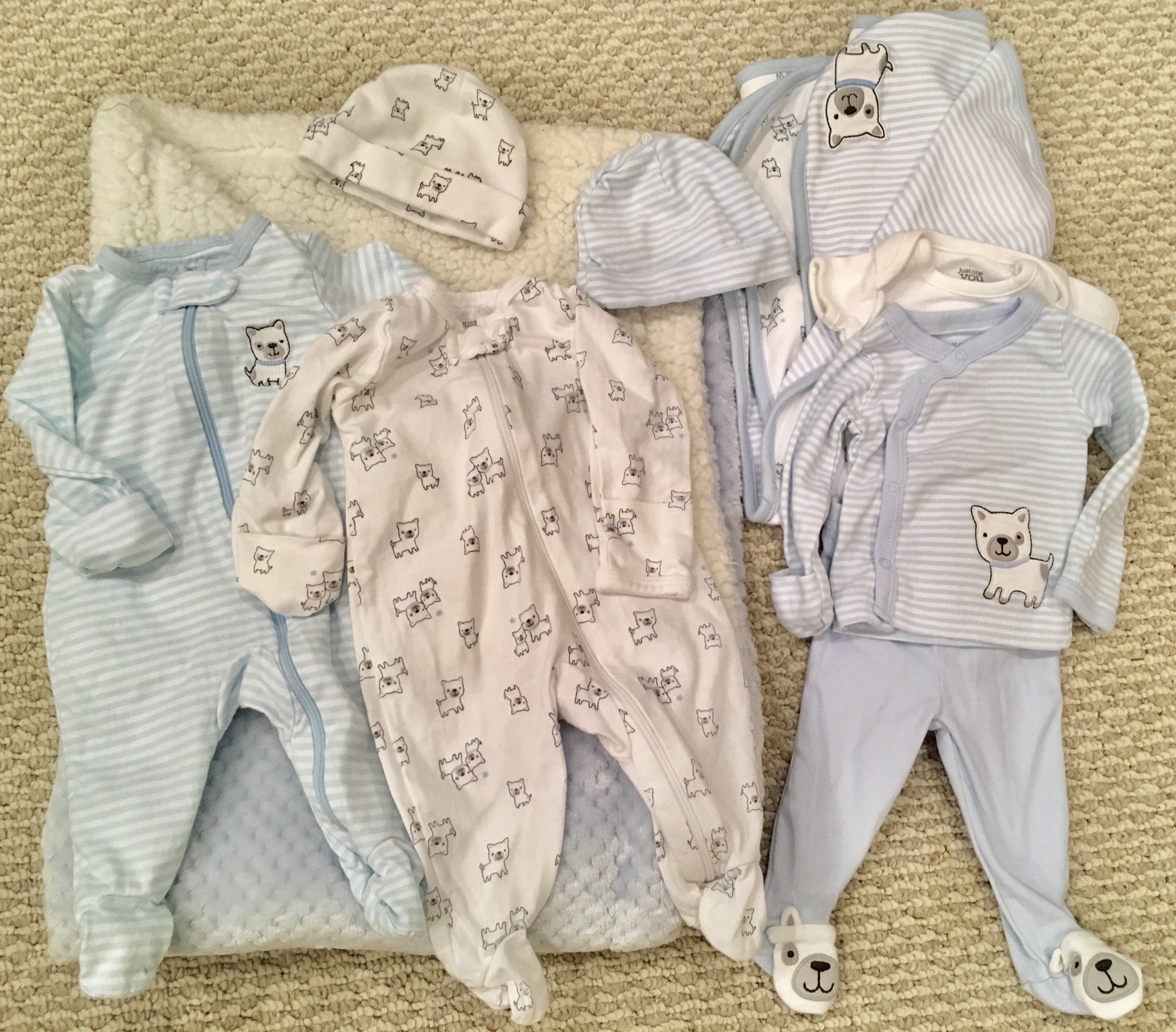 Hospitals make sure that baby's are pretty much covered, so you only have to take these things if you want to. I know people will be taking pictures so I definitely take cute outfits. I also know the hospital receiving blankets there aren't very soft, so I take a soft blanket to keep baby warm.
Here's my personal baby list:
Zippered onesies, because buttoning up a squiggly newborn is hard as hell
Going home outfit that's comfortable, warm and cute
Soft blanket to keep baby warm and cozy
Soft receiving blanket because I use the hospital ones as burp rags
Hats to match cute outfits
Socks to keep their tiny feet warm
Also, notice that the outfits I take have mittens attached to the arms because dealing with falling mittens isn't fun.
Again, these are all totally optional because you'll be covered without them. The one thing that isn't optional:
Hospital Bag for Husband
I'm just going to be brutally honest here and say that I don't pack my husbands hospital bag, he can do that himself. I will give him a little reminder that he should have pajamas, a toothbrush, deodorant and his phone + charger– but that's it. Everything else is up to him.
Organizing Your Hospital Bags
Now that we've settled what goes in your hospital bags, let's talk about organizing them!
You're packing a lot of stuff, so you want to make sure it's easy to find.

2 Piece Luggage Set
Small Suitcase & Bag for Baby Stuff
Again, you have a lot of stuff- so I recommend using a small carry on suitcase for your stuff. This will mean you can roll it instead of having to carry it, which you wont be able to do after a csection.
Remember, hubby is going to be carrying the baby in his/her carseat so your stuff is up to you.
I love this set because it also comes with a small bag that you can use for baby's stuff and just stick it on top of your suitcase and roll away! It's also expandable so you can make room for all the stuff you'll take from the hospital back home 😉
Hubby can use a backpack that he can carry on his back while carrying the car seat.
&
&
Travel Bags for Organization
You probably noticed these travel bags in my pictures, but I love them because I'm a nerd. If you're not, you can use regular travel bags 😉
Travel bags are great for organizing all of your stuff by category. I have one for toiletries, one for vision stuff, one for breast feeding stuff, etc.
Make sure you can see your stuff through it for easy access!
I then stick all of these in to another bag that I can easily remove from my suitcase, I'll talk about it below.
&
&

Life in Play Diaper Bag Alternative 
ToteSavvy
My top go-to for organization is the ToteSavvy. You can use this for literally anything even though it's meant to be a diaper bag insert for regular purses/totes.
I decided to use it for my hospital bag because it fits everything aside from my clothes. That means I can throw it in my suitcase on top of my clothes and easily take it out whenever I need something, instead of having to dig through the suitcase or make a mess.
There are a ton of pictures below on how I used it to organize my hospital bag, so make sure you check them out.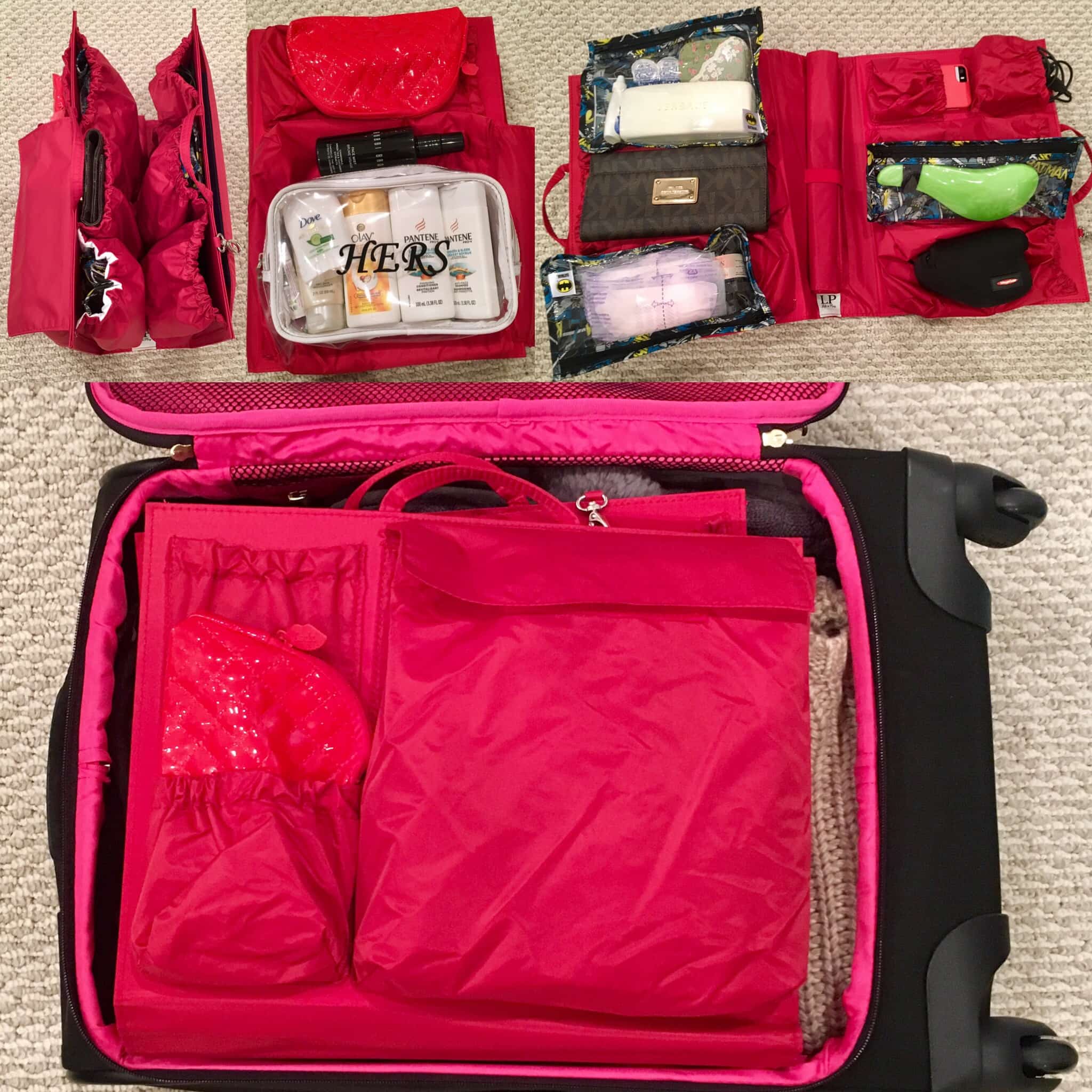 Detailed Pictures
Travel Bag Organization

ToteSavvy Organization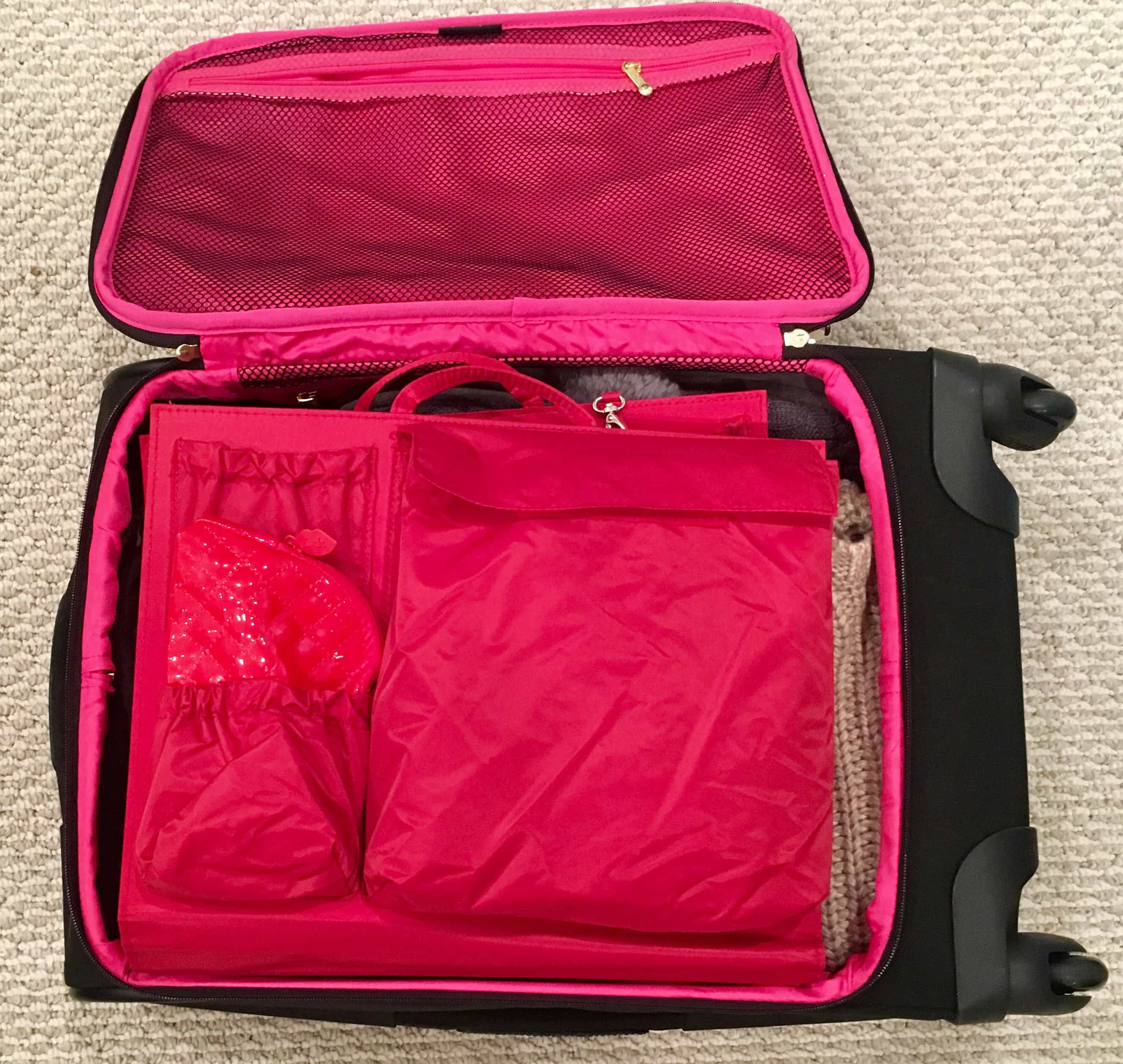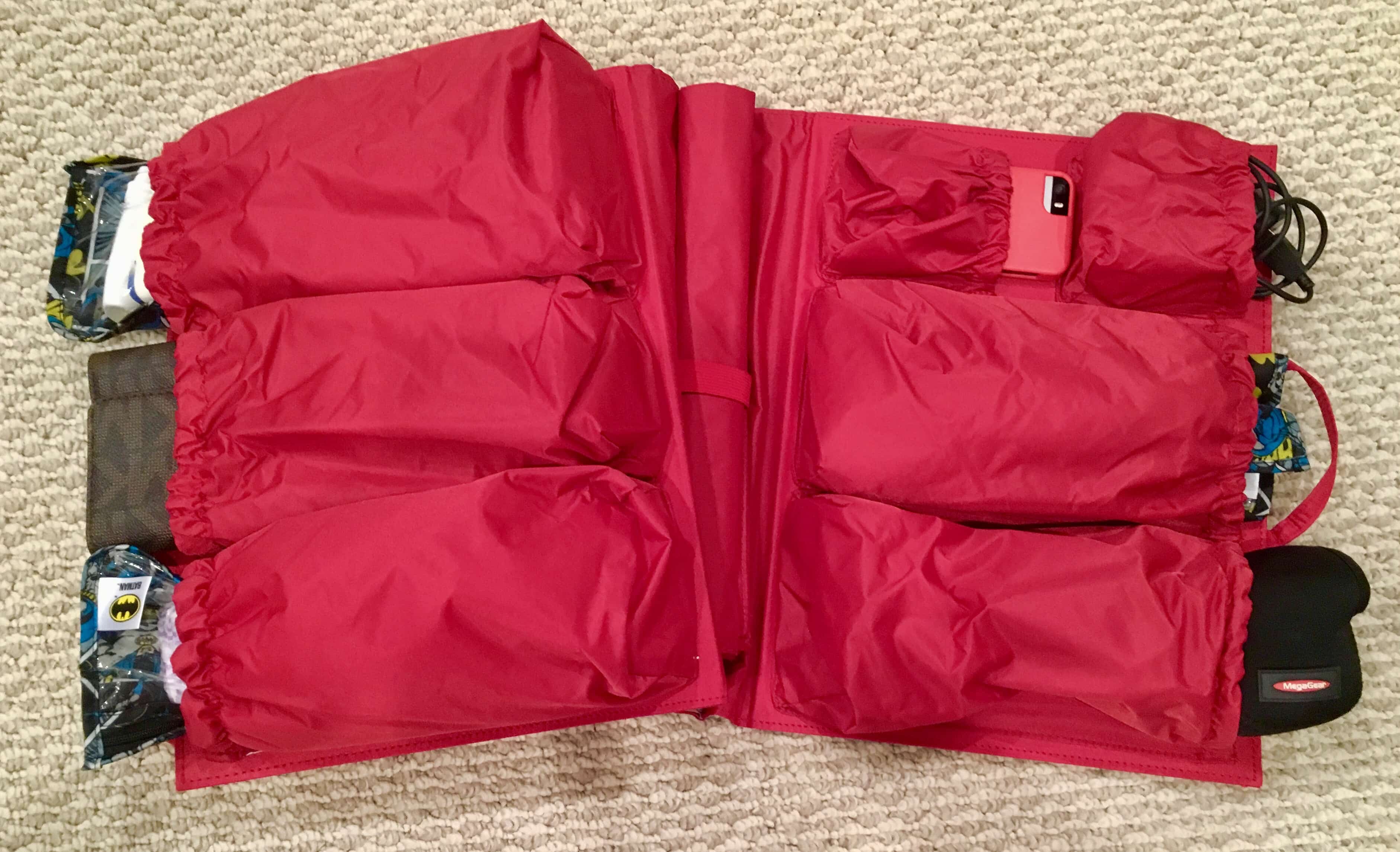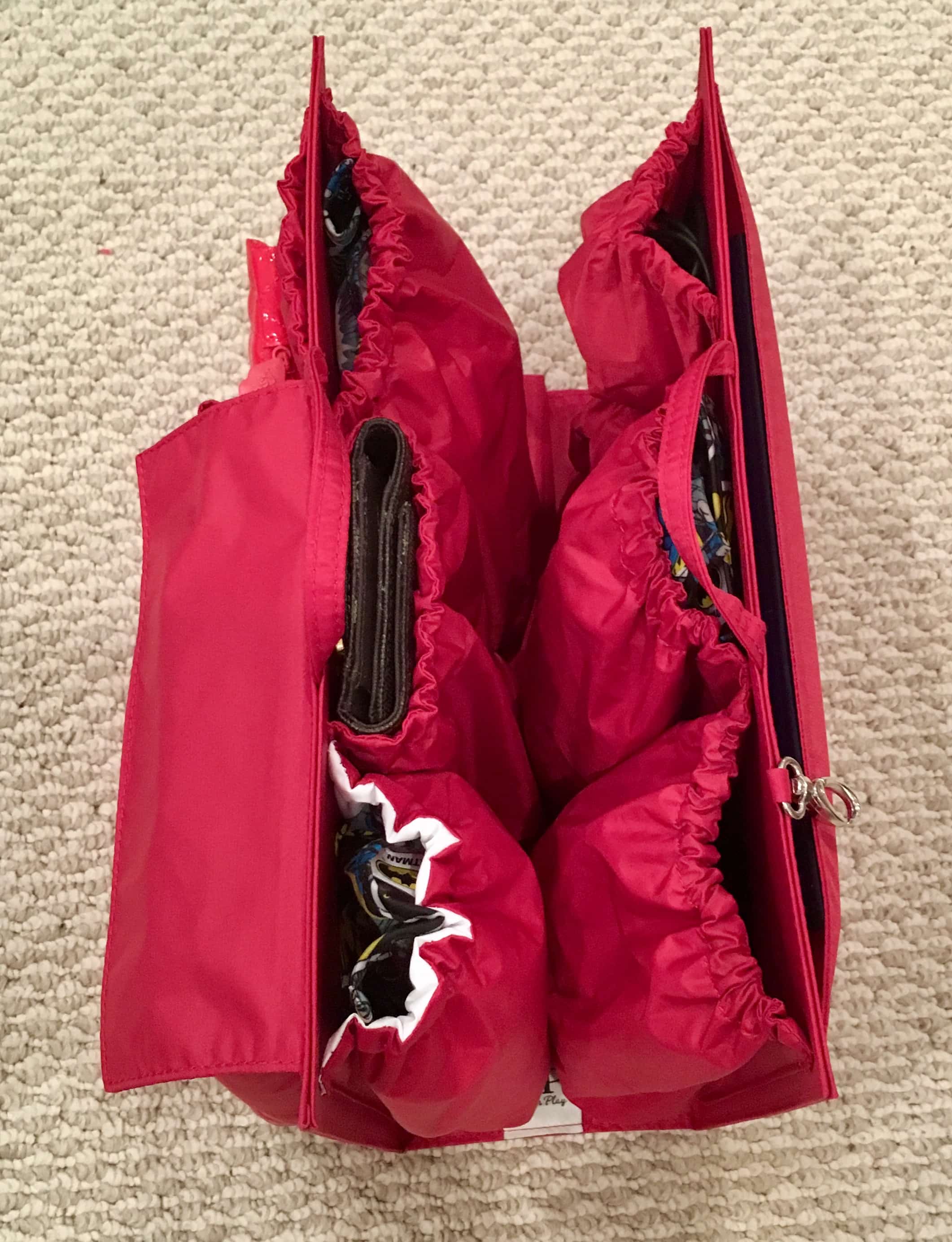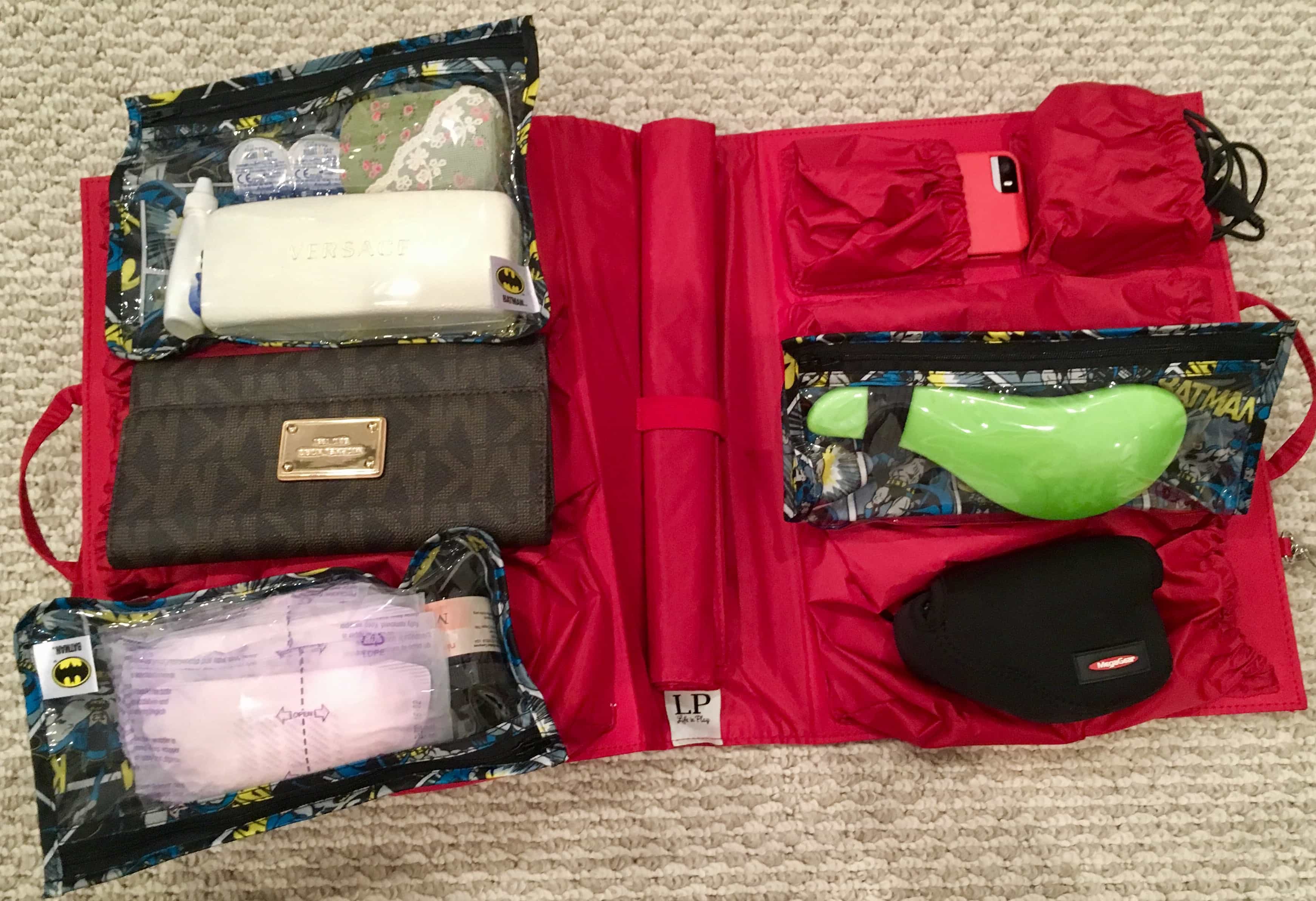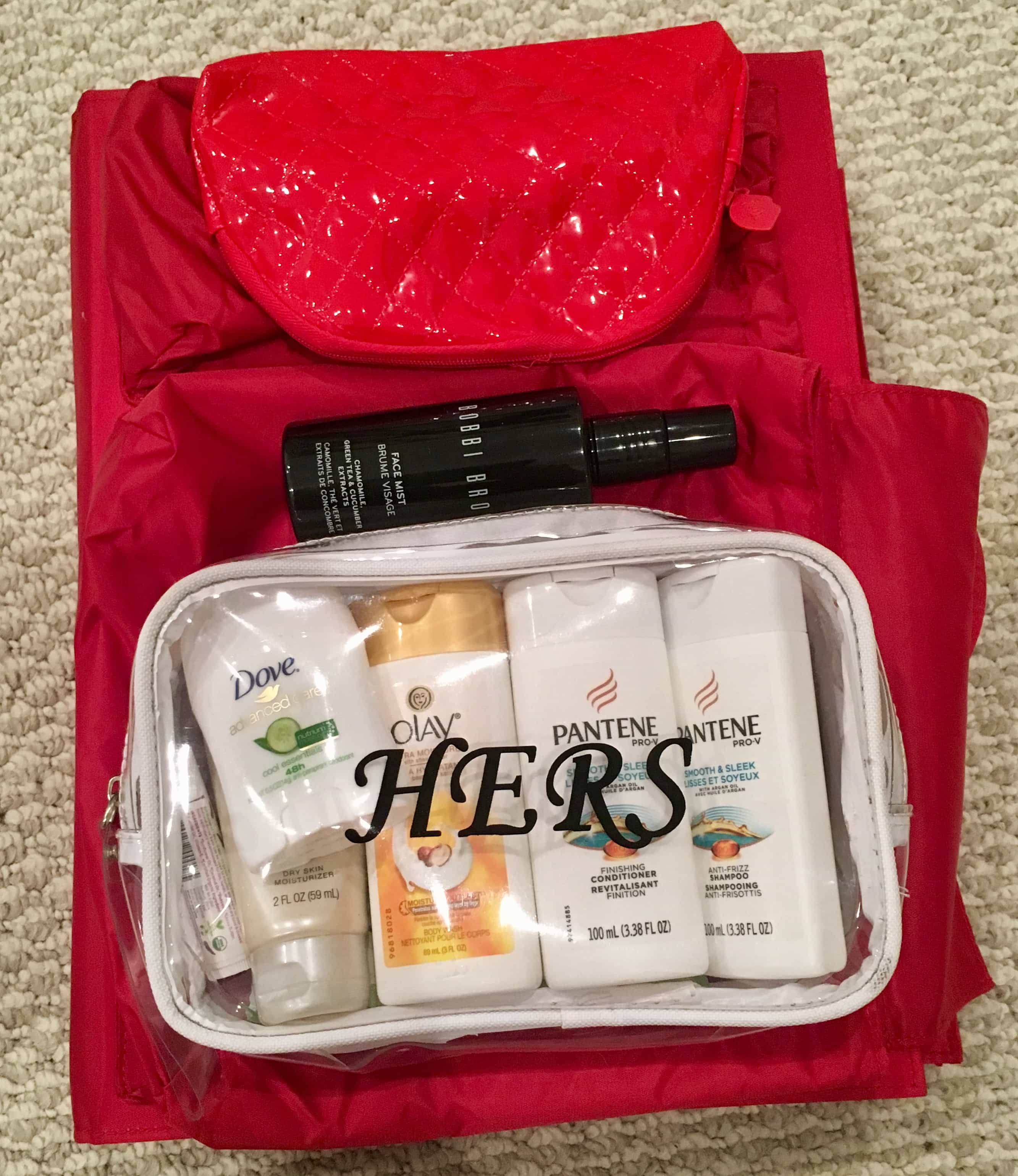 Baby Bag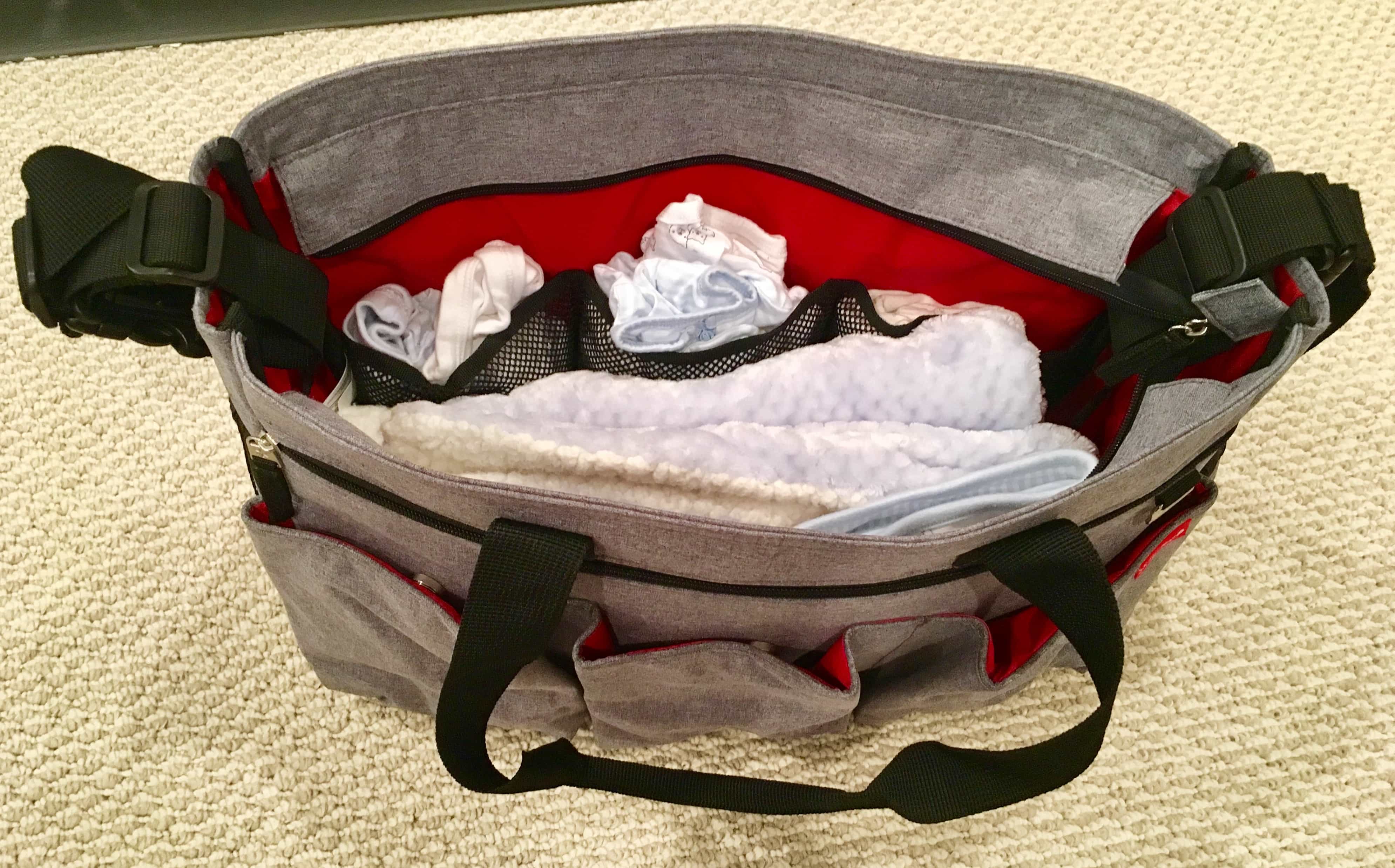 Keeping Your Bags Ready
Make sure you leave a note with the things you need to add on top of your suitcase, because you WILL forget in the middle of all the contraction pain!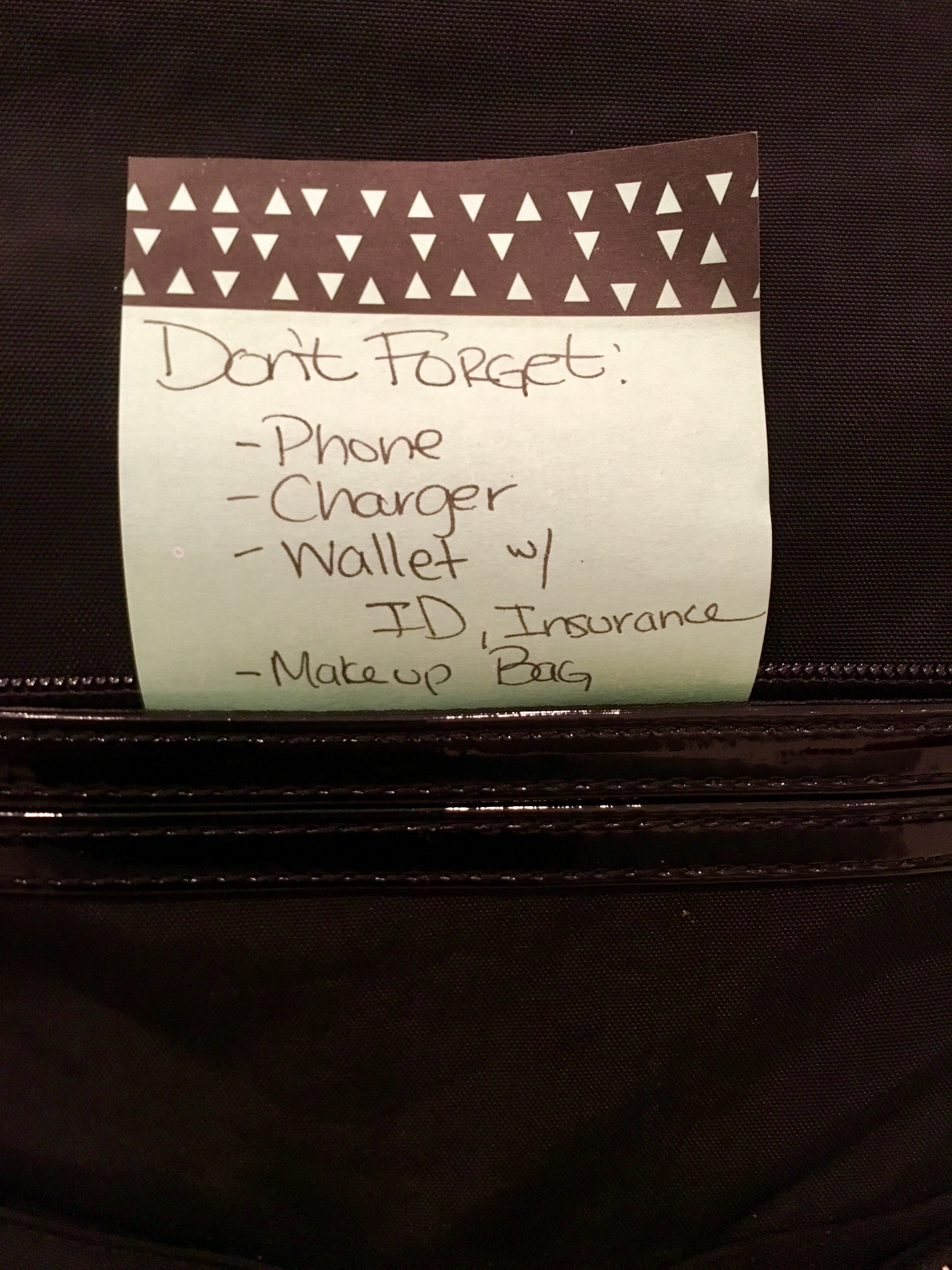 Then leave it all by the stairs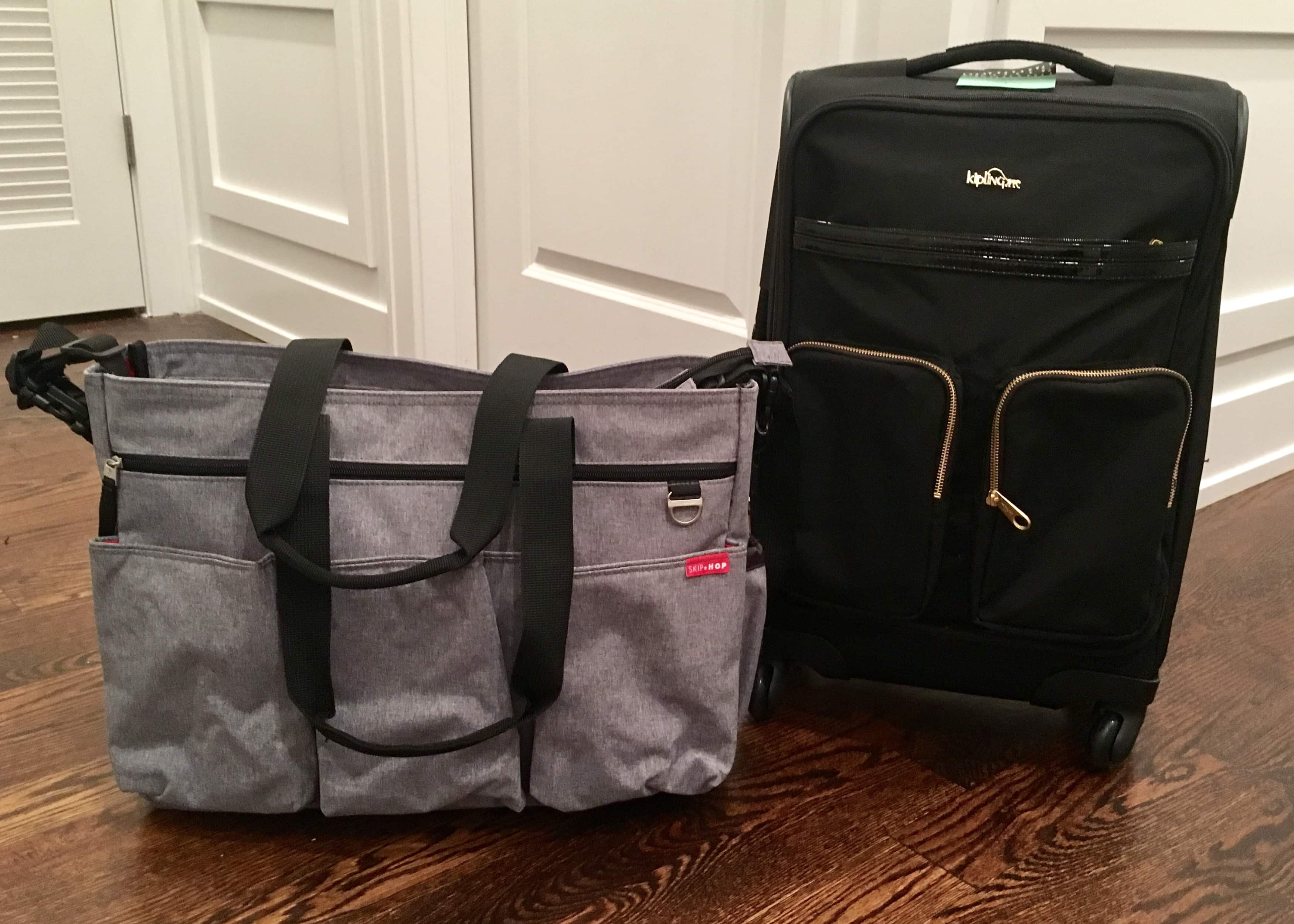 And you are good to go, my friend!

&

&

This post may contain affiliate links to help our readers find the best products.