Want to enjoy the heat with a sweet, frozen treat but feel guilty every time you do? Well these healthy strawberry vanilla, homemade yogurt bites are guilt free! The simple recipe is packed with protein and antioxidants, so you can feel good about eating them!
They taste especially good during strawberry season when strawberries are only 99 cents a pack!
Not strawberry season or just don't like strawberries? You can also try it with different fruits! Scroll to the end for more homemade yogurt bites ideas that can be made year round or just to switch things up.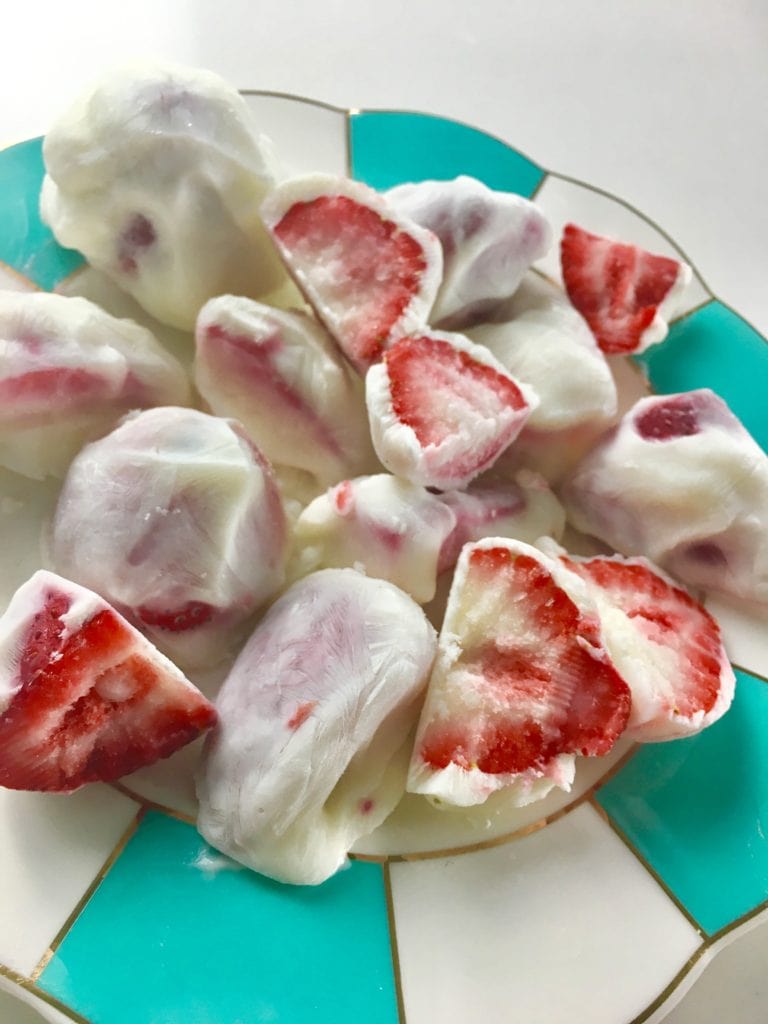 Strawberry Vanilla, Homemade Yogurt Bites Video
Easy Strawberry Vanilla Yogurt Bites Recipe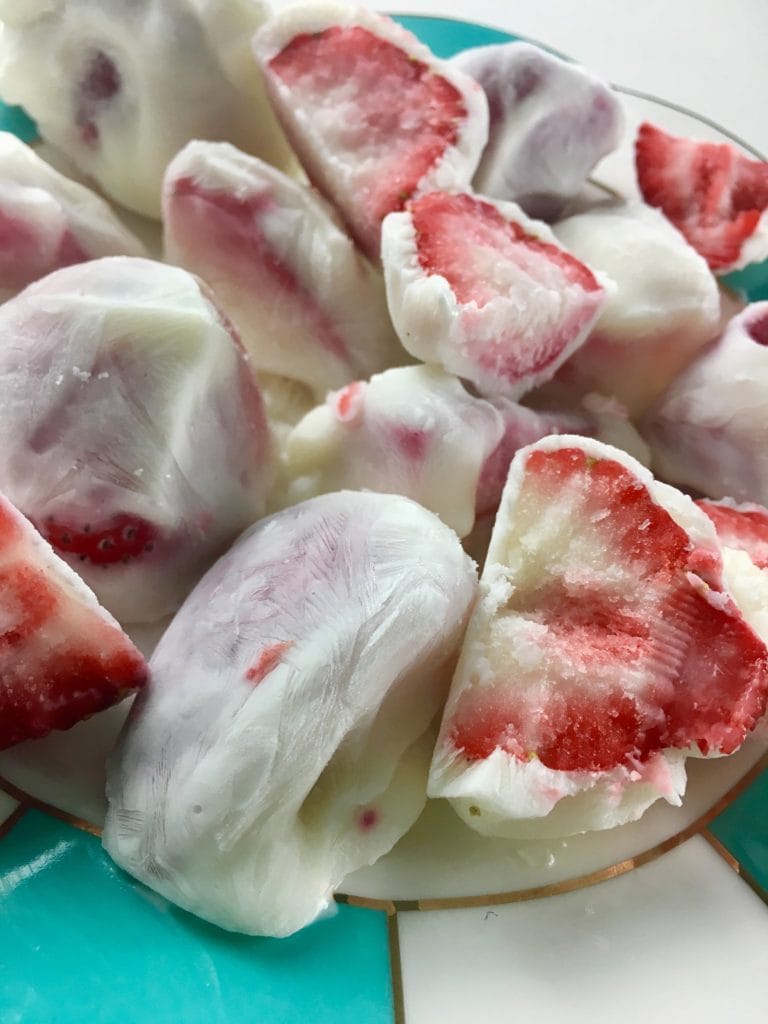 Strawberry Vanilla Bites Ingredients:
Vanilla Greek Yogurt
Strawberries
Strawberry Vanilla Bites Directions:
Cut the tops off of the strawberries
Cut strawberries to your preferred size (the smaller they are, the easier they are to eat)
Roll strawberries in vanilla yogurt and place them on a silicone baking mat so they do not stick
Freeze for 2 hours
Enjoy!
Tips: Make sure you enjoy the taste of the greek yogurt you purchase before making these. Not all yogurt is made the same! Also make sure your fruit is ripe and tasty, not sour.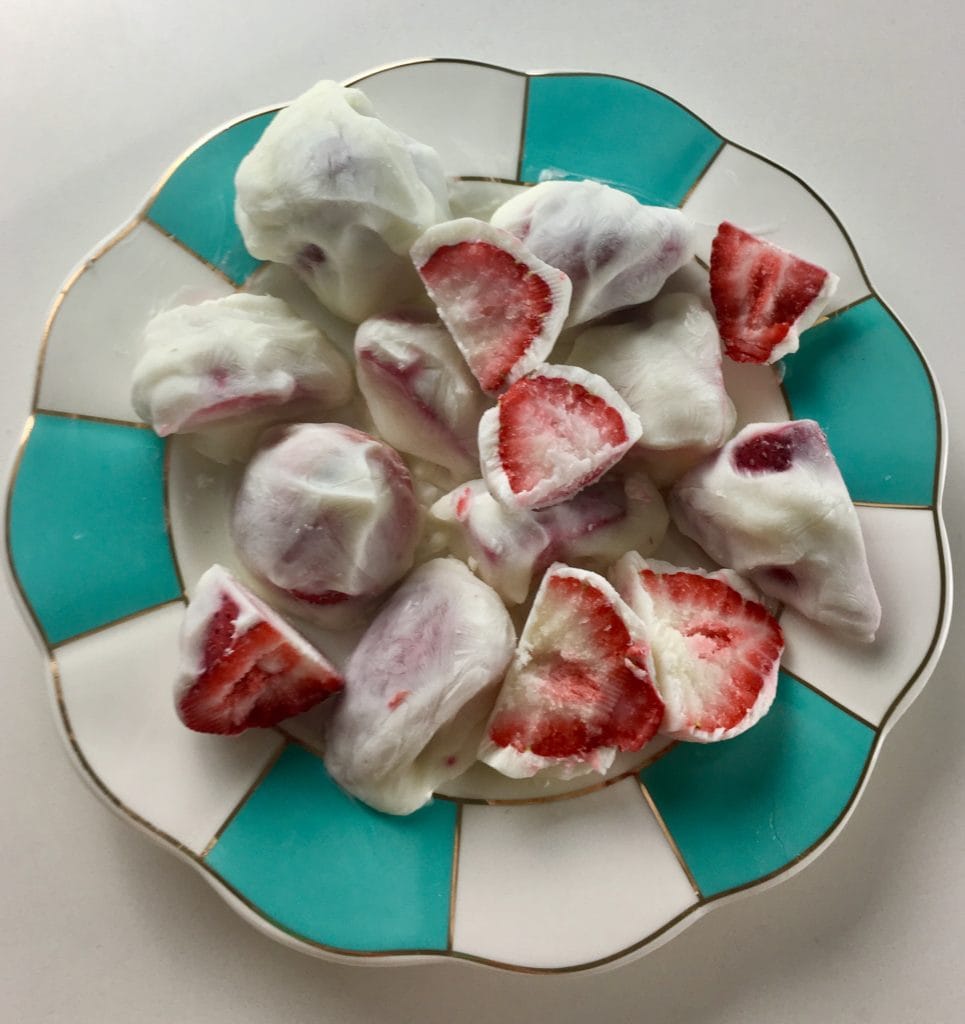 Other Homemade Yogurt Bites Ideas
I know, you want to turn everything in to a frozen yogurt bite now! Here are some other great tasting ideas that you can try year round:
Blueberries and vanilla greek yogurt
Peaches, plain yogurt mixed with honey
Clementine oranges with vanilla greek yogurt
Raspberries with vanilla greek yogurt
Apples, plain yogurt mixed with cinnamon and honey
Bananas, vanilla yogurt topped with dark chocolate chips
21 Day Fix Container Count
1 red, 1 purple – measure beforehand to make sure you do not go over or under!
Any other frozen yogurt bite ideas?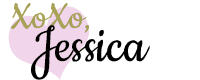 This post may contain affiliate links to help our readers find the best products.