I've been obsessed with Chipotle for years and actually used to think they were a healthy option ??‍♀️ When I started learning about nutrition and realized that what I was getting definitely was not a great option, I had to make my own.
The key here is replacing regular rice with cauliflower rice and replacing sour cream with plain Greek yogurt (I swear it tastes the same).
The best part? It is only 456 calories and only has 15g net carbs! Yes- keto approved!
Super Easy & Healthy Chicken Burrito Bowl Recipe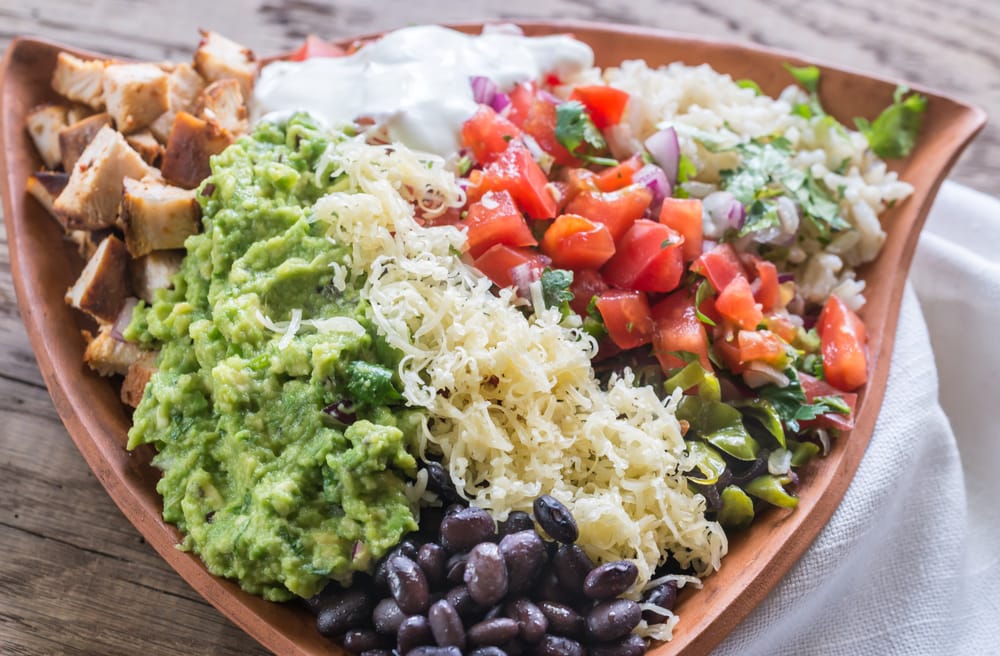 Healthy Chicken Burrito Bowl Ingredients
Chicken:
1/4 medium red onion coarsely chopped
1 cloves garlic
1/2 tablespoon adobo sauce from a small can of Chipotle peppers
1/2 tablespoon ancho chile powder
1/2 tablespoon olive oil or rice bran oil, plus more for the cooking surface
1/2 teaspoon cumin
1/2 teaspoon dried oregano
Salt and freshly ground black pepper
1 pound boneless, skinless chicken
Cilantro Lime Cauliflower Rice:
2 lb. cauliflower cut into chunks (or about 4 cups cauliflower rice)
1 teaspoon olive oil
2 tablespoons lime juice
1/2 cup finely chopped cilantro
1 teaspoon sea salt
Beans:
1 teaspoon olive oil
1 15oz. can pinto beans or black beans drained and rinsed
1 teaspoon lime juice
Dash of cayenne optional
Pinch of sea salt
Additional toppings:
1/2 cup guacamole
1/2 cup salsa or pico de gallo
1/2 cup shredded pepper jack optional
Handful of cilantro leaves
Lime wedges
Plain greek yogurt (sour cream replacement)
Healthy Chicken Burrito Bowl Directions
Make Chicken Marinade:
To the bowl of a food processor or blender, add red onion, garlic, adobo sauce, ancho chile powder, olive oil, cumin, dried oregano, 1 teaspoon salt, and 1/2 teaspoon pepper.
Blend until smooth. Pour into a measuring cup and add water to reach 1 cup.
Make Chicken:
Place the chicken in a large freezer-safe plastic bag. Pour in marinade, close the bag, and mash until chicken is evenly coated. Place the plastic bag in a dish and refrigerate at least 30 minutes to overnight.

Heat 2 tablespoons oil in a large skillet until shimmering. Add chicken to the pan and cook, turning occasionally, until cooked through.

Remove to a cutting board and tent with foil for 10 minutes while you prep everything else. Chop into small pieces. Season to taste with salt.
Make Cauliflower Rice:
In a food processor, add grater attachment. Working in batches, add cauliflower and process until all cauliflower is riced. In extra large skillet, add olive oil over medium-high heat. Add caulirice & sauté for 5-7 minutes, stirring often, or until tender and softened. Add to a large mixing bowl, then stir in lime juice, cilantro and salt. Set aside.
Make Beans:
Wipe out same pan used for the cauliflower rice. Add olive oil over medium high heat. Add beans, lime, cayenne and salt. Sauté for 5-7 minutes. Add to a mixing bowl and set aside.
Assemble the Bowls:
Divide cauliflower rice, beans and chicken evenly between four bowls. Then, top evenly with guacamole, salsa/pico de gallo, pepper jack, cilantro and season to taste. Add lime wedges and serve immediately
Nutrition Facts
Nutrition Facts
Servings: 4
Amount per serving
Calories
456
% Daily Value*
Total Fat 18.7g
24%
Saturated Fat 5g
25%
Cholesterol 105mg
35%
Sodium 1023mg
44%
Total Carbohydrate 22.8g
8%
Dietary Fiber 7.8g
28%
Total Sugars 11g
Protein 52g
Vitamin D 0mcg
0%
Calcium 261mg
20%
Iron 3mg
15%
Potassium 1140mg
24%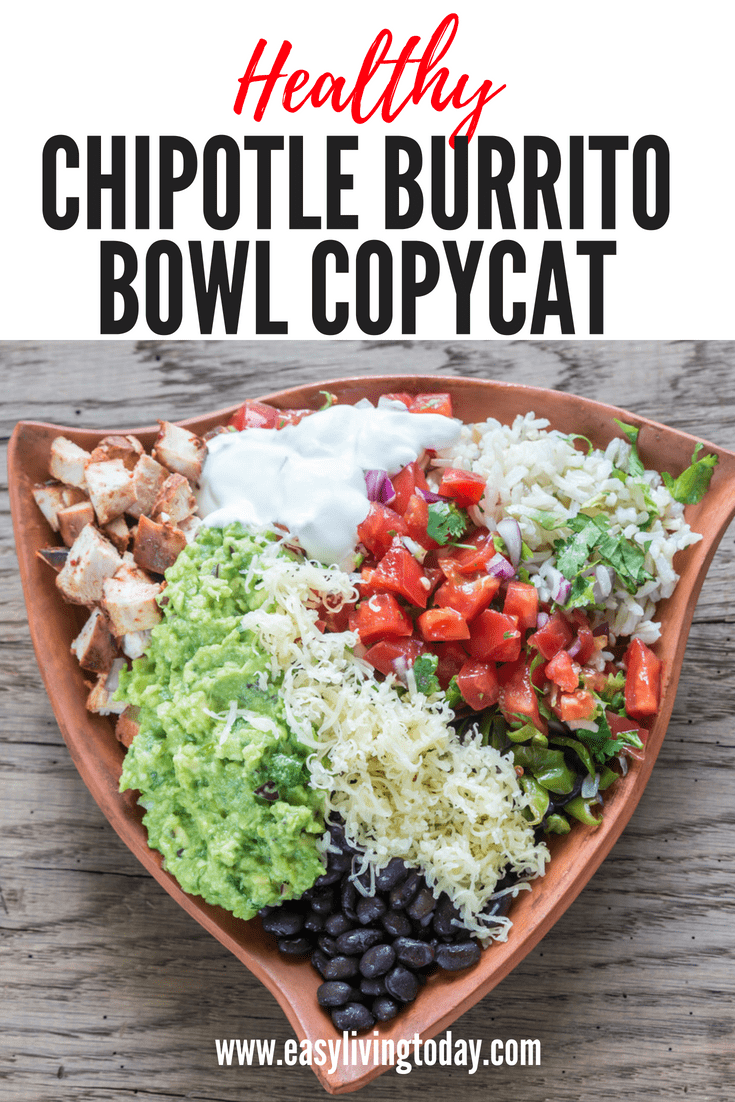 This post may contain affiliate links to help our readers find the best products.