My husband and I just LOVE cheese fries. The problem is, cheese fries at a restaurant can run you upwards of 1300 calories! Yikes. These cheese fries will only run you about 260 calories per serving and will get you 10g of protein plus 3g of fiber (depends on how exact you follow the recipe and what potatoes you use)! Also, you can actually reheat these and they will still be delicious!
Here you will not have to deep fry anything because you will be baking instead, which is SO much better for you! If you want comfort food without the ridiculous calories, this recipe is for you!
And please excuse my pictures, I am not a photographer by any means… especially when I'm photographing the food I'm waiting to eat! I promise you they are still delicious and picky eater (my husband) approved, though! 😉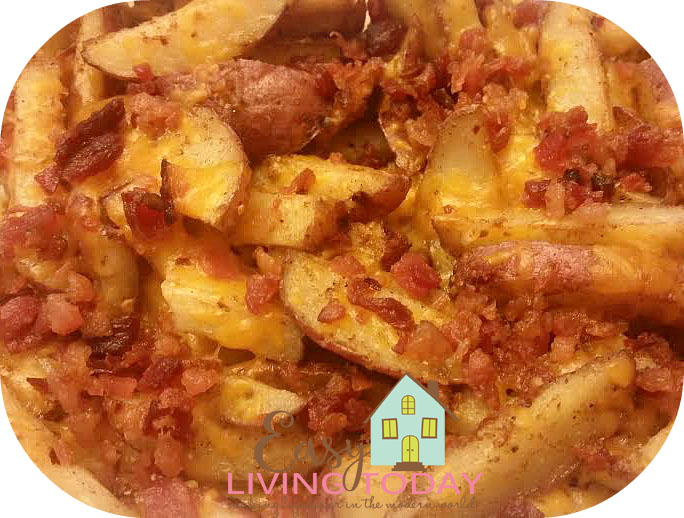 Ingredients for 2 servings:
2 medium potatoes (2/3 lb total), yukon gold, red, or russet, washed and dried (skin on)

2 tsp olive oil

1 tsp smoked paprika

1/4 tsp chili powder

1/4 tsp onion powder

1/4 tsp garlic powder

1/8 tsp cumin

coarse salt and fresh cracked pepper

1 slice center cut bacon, cooked & finely chopped. You can also use pre-made bacon bits. 

1/3 cup sharp shredded cheddar cheese
Directions:
Preheat the oven to 400°.
You can either line a baking sheet with lightly greased foil or use one of these (this is what I do) without any oil. 
Cut each potato in to whatever size fries you prefer. You can do thicker wedges or thinner fries.
In a large bowl, combine the cut potatoes and oil then toss. Then add all of the seasoning. Toss to coat.
Place the potatoes in a single layer on the baking sheet you prepared earlier. Bake uncovered for 25 minutes, turning once half way through (depending on thickness this may require more or less time).  
Remove from oven, place fries into two small oven safe dishes (or one large dish for sharing), top with cheddar cheese and bacon bits and return to oven for  about 2 minutes, or until the cheese melts.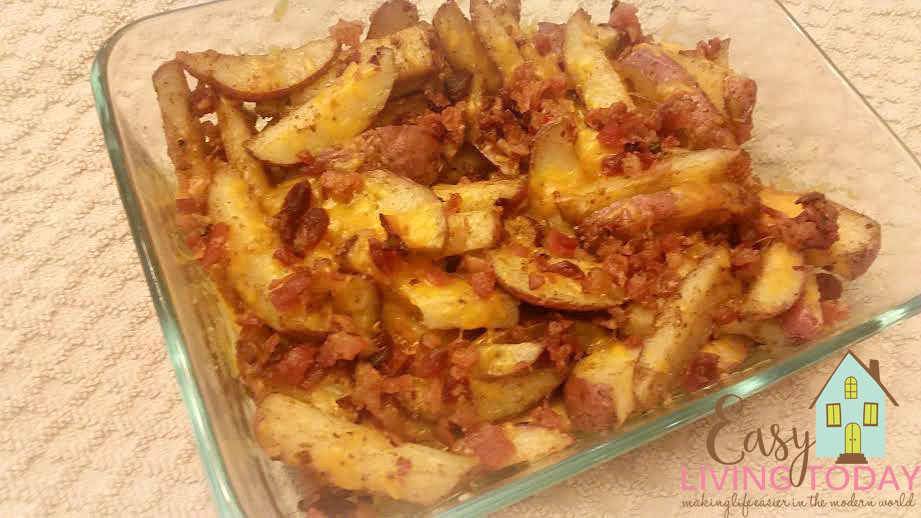 Enjoy!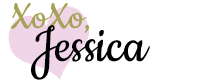 This post may contain affiliate links to help our readers find the best products.