Who wants to go to the store when you can order clothes right from the comfort of your own bed while watching Netflix?!
It's so much easier to find all of the good deals online, and since I'm obsessed with sweat suits, I decided to try the Femme Luxe Finery sweat suits. The ones I tried range from $12-19, so here ya go.
Femme Luxe Finery Review for Curvy Women
My Measurements
For reference, I am 5'2, 150 pounds and my measurements are 34DD-29-44. Because these clothes come from the UK, I decided to order the M/L sizes.
If you prefer to watch me try the outfits on video, you can watch that below. Just scroll to the very end.
The Outfits
The M/L sizes fit perfectly, so if you are my size- that is the way to go.
All of the sweat suits I ordered are from their loungewear collection, which you can find here: https://femmeluxefinery.co.uk/collections/lounge-wear-sets
The $13 set: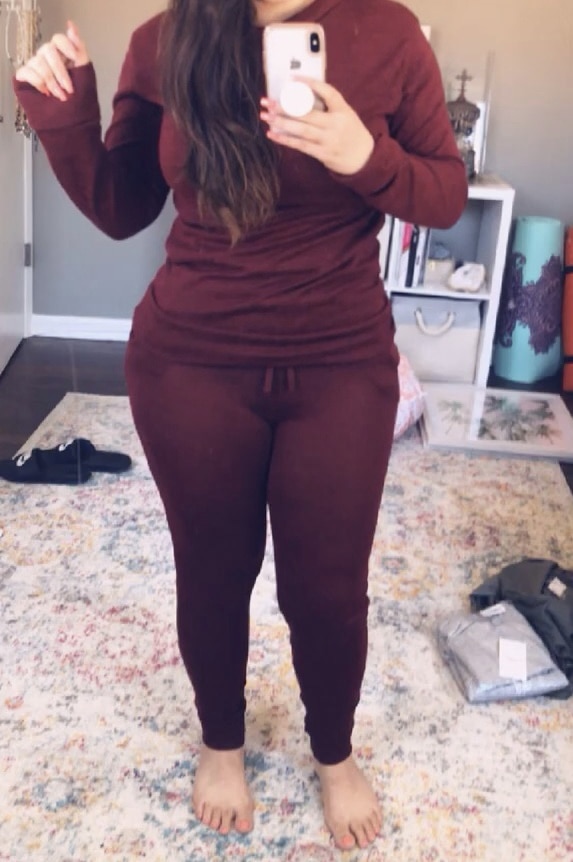 I loved the look of the wine color, so I decided to get this set for the fall. This one was a bit see-through, but it's cute. I'm going to end up keeping it as a set to wear around the house or as a pajama. At $13, it's actually cheaper than most pajamas so I don't feel bad about it at all.
Even though it's see through, it's still really comfortable and cozy. So, for me, it's the perfect outfit for lounging around the house but still looking cute.
As a matter of fact, one of my goals has been to revamp my closet with only cute clothes to wear around the house so I'm not constantly going for the outfits that make me look like a retired Disney villain. Aka old, stained tshirts and sweatpants that are three sizes too big.
So, anyway, that's what this outfit is going to be for me. It was $12.99 to be exact.
The $19 Sweat Suits
I ordered the same sweat suit in three different colors because it was so cute. This set was $18.99, to be exact.
My favorite are the black and grey sets, but they are all cute.
The material on this set is much thicker than the $13 one and is not see through at all. I can see myself wearing this one out to run errands, etc. But I can also see it as something cozy to wear at home on a rainy day.
The M/L on this one fit perfect for my size and was really comfortable. I definitely prefer these sets over the previous set I showed you, but I'm also a huge fan of crop tops!
Let me know if you've tried them and what your thoughts were!
Don't forget to watch the video below to see how all four outfits look and fit all around.
Xoxo,
Jessica
Femme Luxe Finery Video Try On
Xoxo,

Jessica

This post may contain affiliate links to help our readers find the best products.