It's no secret that the quarantine was stressful and had many of us comfort eating. However, now that the quarantine is coming to an end in most states, we're all ready to get back to our routines and feel our best. To help speed up the process, this green detox smoothie recipe will help a ton.
I have been drinking this smoothie every morning for four weeks now and the changes have been amazing. More energy, clear skin, better mood, stronger nails, hair growth, reduction in inflammation, less bloating etc.
This smoothie helps pull out toxins, like heavy metals, of your organs where they accumulate. Heavy metal neurotoxins can inflame and irritate our central nervous system, causing multiple symptoms such as memory loss, brain fog, fatigue, and depression. Toxic heavy metals can also promote inflammation in the digestive tract, releasing poisons into our gut as well.
If you want a breakdown of why these specific ingredients are used, scroll past the recipe. Also remember that it's not enough to just drink this smoothie and then continuing to put junk right back in to your body the rest of the day. Make sure you are keeping a mostly healthy diet for the best results.
==> Related: Ultimate Beginners Guide to Clean Eating
Easy & Effective Green Detox Smoothie Recipe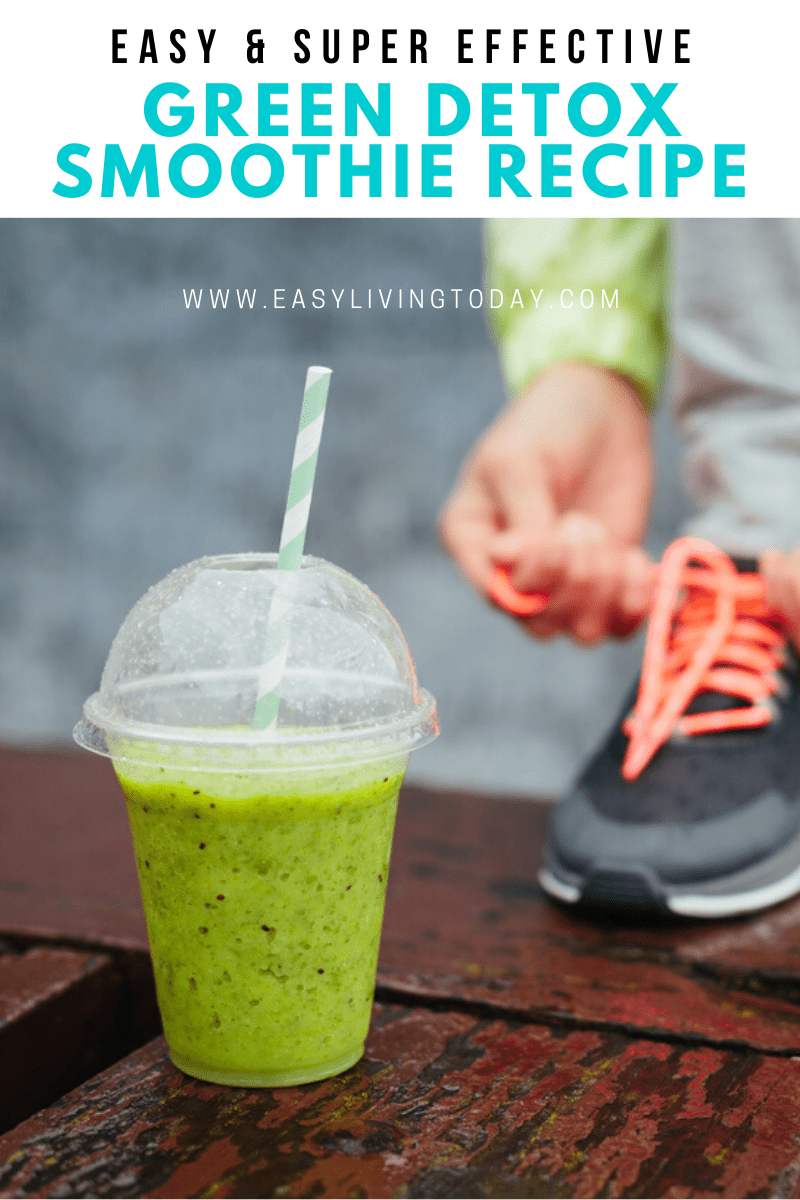 Detox Smoothie Ingredients
Detox Smoothie Directions
In a high speed blender (I've been using the Nutri Ninja for five years and still love it), blend all ingredients until smooth. If a thinner consistency is desired, add up to 1 cup of water. Enjoy!
Breakdown of Ingredients:
Spirulina: This edible blue-green algae draws out heavy metals from your brain, central nervous system, and liver, and soaks up heavy metals extracted by barley grass juice extract powder.

Barley grass juice extract: prepares the metals for complete absorption by the spirulina. This nutritive grass has the ability to draw heavy metals out of your spleen, intestinal tract, pancreas, thyroid, and reproductive system.

Collagen: Collagen is the most abundant protein in your body and a major component of connective tissues in tendons, ligaments, skin and muscles. Consuming collagen provides health benefits including joint health, youthful skin, healthy hair, protecting cartilage and bones, and workout recovery.

Cilantro: Goes deep into hard-to-reach places, extracting metals from yesteryear.

Wild blueberries: Draw heavy metals out of your brain tissue, healing and repairing any gaps created by oxidation when the heavy metals are removed. It is important to use wild blueberries, as they possess unique phytonutrients with special detoxifying capabilities. The potent antioxidants in wild blueberries help reverse any oxidative damage left behind by the heavy metal removal. You can also use wild blueberry powder if you can't access fresh or frozen wild blueberries. Note: while cultivated blueberries are nutritious, they lack the metal-drawing ability of the wild blueberries. Wild blueberries can be found in the freezer section of most supermarkets. If you can't access frozen wild blueberries, pure wild blueberry powder is a great option.

Xoxo,

Jessica

This post may contain affiliate links to help our readers find the best products.