I LOVE banana nut bread, so banana nut oatmeal helps satisfy that craving. It also makes the house smell amazing!!
I leave it in the crockpot overnight and it's waiting for me in the morning. Absolutely no reason to skip breakfast!
INGREDIENTS
1 cup steel cut oats (If you use old fashion rolled outs, it will come out watery. If that's all you have, you'll need to use less liquid- but I haven't experimented with that yet)
1 ripe banana – mashed
¼ cup chopped walnuts
2 cups skim milk (or almond milk)
1 cups water
2 tablespoons flax seed meal
2 teaspoons cinnamon
1 teaspoon vanilla
1 teaspoon nutmeg
½ teaspoon salt
banana slices- optional topping
INSTRUCTIONS
Place all ingredients in crockpot and stir until well combined.
Cook on low for 8 hours (perfect for leaving in the crockpot while you sleep).
After 8 hours, stir oatmeal with a fork to loosen the steel cut oats and make sure everything is nicely mixed.
Top with sliced bananas if you'd like.
Enjoy!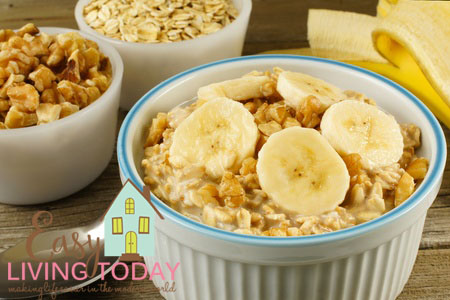 21 Day Fix:
Serving Size = Divide everything in to 4 equal parts and 1 part will be 1 serving
1 purple, 1/2 yellow, 1/2 orange
This post may contain affiliate links to help our readers find the best products.