Do you spend a lot of time outdoors? Watching your kids play sports? Working out? Walking or biking? If you find yourself wearing sunglasses often, these audio sunglasses may be for you!
Not only are they dark, with premium lenses, and do an amazing job of blocking the sun, but they also have the amazing, immersive sound that comes with all Bose products! What does that mean?
It means you can have top notch sound coming out of your sunglasses, that only you can hear (Frames feature technology that prevents sound from being heard by people nearby), via bluetooth! You can also answer and make calls with these sunglasses!
I, personally, love to use them at sporting events. Somewhere I want to be present, would be wearing sunglasses anyway and do not feel like having something constantly in my ear. They are also great for walking places and being able to listen to a podcast or music while walking.
Headphones tend to bother me because I have small ears, so these are perfect!
Bose Alto and Rondo Sunglasses Features

Differences in sunglass options:
All options are very much timeless, so you do not have to worry about them going out of style!
Bose Frames Alto Large
feature a classic angular shape, commanding lenses with a larger fit and immersive sound. Lens Width: 52mm/2in | Bridge Width: 18mm/0.7in | Full Frame Width: 148mm/5.8in | Bow Length: 162mm/6.4in
Bose Frames Alto Small
feature a classic angular shape, commanding lenses with a smaller fit, and immersive sound. Lens Width: 51mm/2in | Bridge Width: 16mm/0.6in | Full Frame Width: 142mm/5.6in | Bow Length: 155mm/6.1in.
Bose Frames Rondo
 feature rounded lenses for a distinct look with a smaller fit and immersive sound.. Lens Width: 49.5 mm | Bridge Width: 15.5 mm | Temple Length: 154 mm.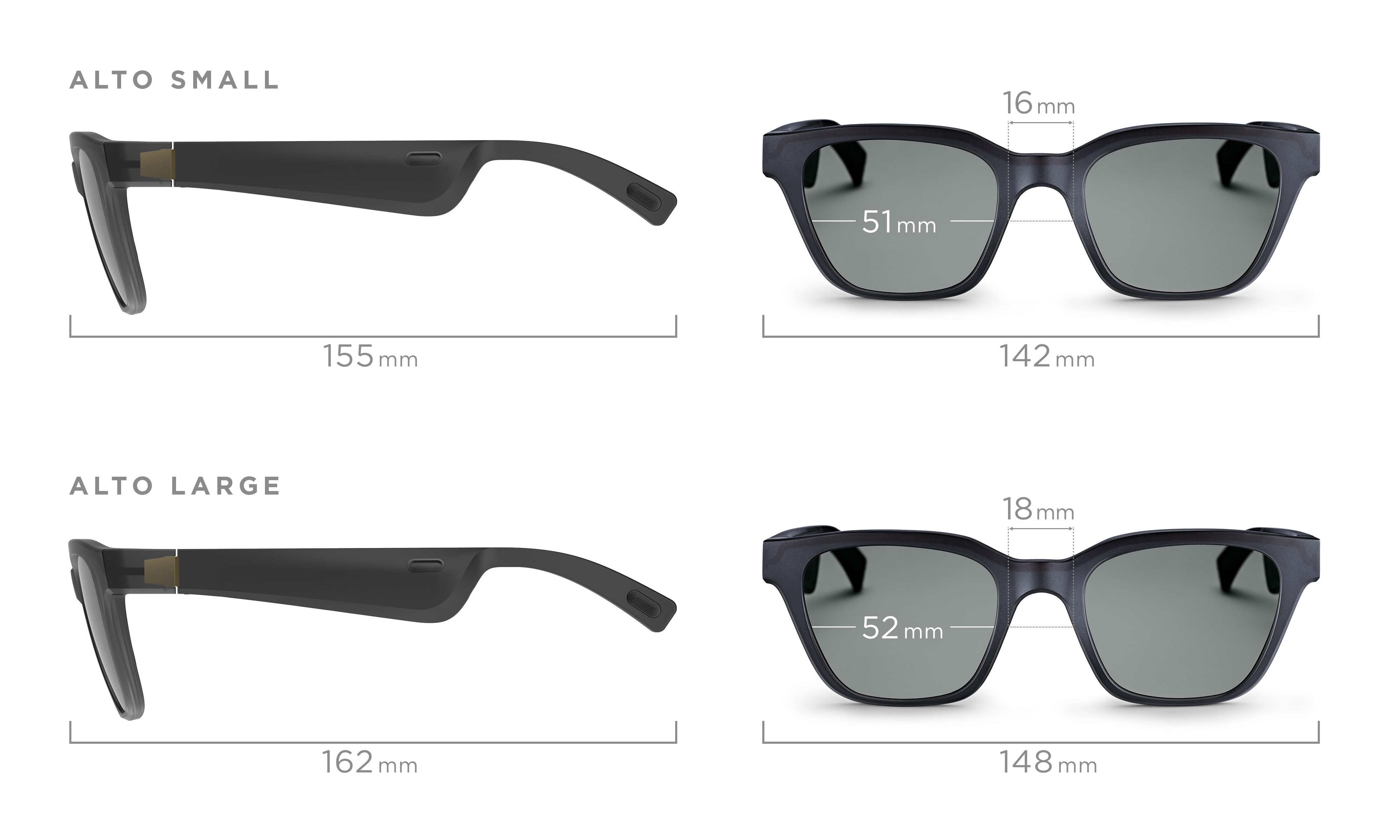 Bose Frames Features:
Nothing in or on your ears

A new way to listen. Stay connected to the world around you while discreetly listening to music with a revolutionary open-ear audio design.

Built-in microphone

Make and take clear phone calls, access Siri and your Google Assistant with the seamlessly integrated microphone.

Uniformly tinted

Bose Frames block up to 99% of UVA/UVB rays.

Shatter- and scratch-resistant lens

Designed to survive life on the go.

One-button control

Power on and off, accept and reject calls, play and pause music, and access Siri or Google Assistant.

One app, complete control

The Bose Connect app gives you easy access to everything your product has to offer. Get tips, unlock Bose AR, and personalize your settings so you can spend more time enjoying the music instead of setting it up. Available on iOS and Android.

Bose AR enabled*

A first-of-its-kind audio augmented reality platform that makes astonishing new audio experiences possible. Combining the power of wearable audio products, mobile devices, and integrated apps, Bose AR can augment your world with content for your ears instead of your eyes.

These make an amazing Christmas gift for anyone, including yourself!

Xoxo,

Jessica

This post may contain affiliate links to help our readers find the best products.