A few months ago I was looking through our expenses and realized that we spend $180 on cable alone, not even including internet! $180 on TV… that we hardly even watch! REALLY?! Nope, had to cut that fast. I got on the phone with Comcast and, of course, they have the worst customer service in eternity- which just upset me more. So off to figure out how to get rid of them I went. I had a contract with them, so canceling wasn't THAT easy. However, after doing the math I saw that I would still be saving even if I paid a cancelation fee.
There are just so many options out there that I couldn't believe we were still paying so much! You know how they got me? I signed up for automatic payments and stopped paying attention to how much they were taking out of my bank account each month. And while I was busy NOT paying attention, they were busy raising our rates. I will never sign up for automatic payments again, now I know that this is why they are so ridiculously thirsty to get you to sign up for this.
Anyway, we only watched a handful of shows on cable and the rest of the time we spent watching Netflix. So my original thought was to just cancel Comcast and keep Netflix. Except my husband almost had a heart attack when I said that. So I had to spend another month trying to figure this out. And believe me, I did not enjoy it.
I realized that we don't just pay for one streaming service, but we pay for TWO. And they both have the exact same content aside from Netflix shows like Orange Is The New Black. But one show wasn't worth keeping Netflix for me. The other service we subscribe to is Amazon Prime. Now, I had subscribed to Amazon Prime for the free 2 day shipping, not for the streaming service. But I decided that canceling Netflix and keeping Amazon Prime was our best bet because Amazon prime comes out cheaper.
Let me break it down:
Netflix: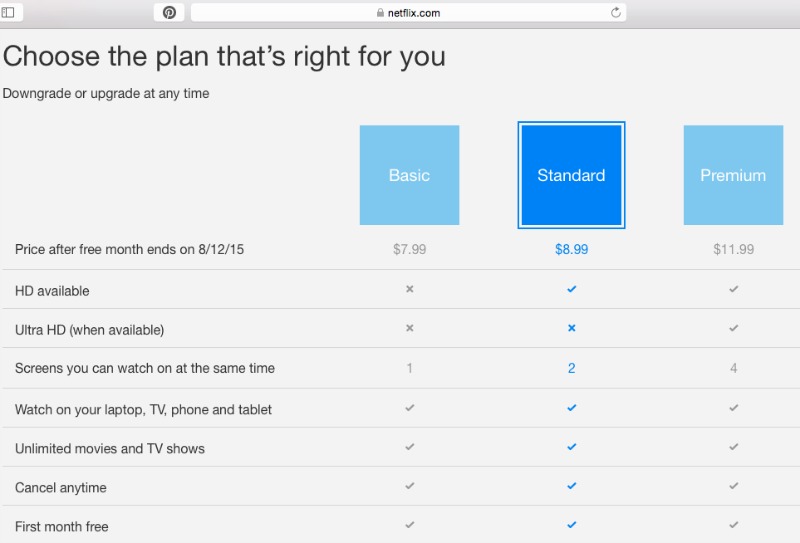 The cheapest option they offer is their basic service for $7.99/month. Here you can only stream on one TV at a time. If you want to stream on more than one TV at a time, you have to pay more. To be exact, $8.99 to stream on 2 TV's at a time and $11.99 to stream on 4 TV's at a time. But for the sake of this post, I'll just go with the cheapest option- $7.99.
So, at $7.99 a month you are paying $95.88 a year to stream TV shows and movies on one TV. That's all you get.
Amazon Prime:
Amazon Prime has a flat fee of $99 a year. If you're a student with a .edu email address, you get a discount and pay half of that.  So, it costs you $3.12 more than the basic Netflix service and is $8.88 cheaper than the standard service, which is what most people have.
Here is the key difference: you get way more benefits with Amazon Prime. You get mostly the same shows and movies that you would get with Netflix, but you also get to rent other movies and TV shows if you want to. You also get free 2 day shipping on your Amazon orders that qualify for Prime shipping (which is A LOT of them, if not most), you get a free subscription to Amazon Mom which has tons of deals on things like diapers, you also get Prime Music which lets you stream music for free, you can rent books for free through the Kindle Lending Library, and they have something called Prime Photos that I'm honestly not even sure what it is. Oh, and you can stream it on as many TV's as you want at the same time. Basically, you get way more for your money with Amazon Prime while pretty much getting access to the same shows and movies.
(You can try Amazon Prime for free for 30 days before committing here)
For us that was a no brainer. Cancel Netflix, keep Amazon Prime- done! The problem was that my husband still wanted access to his live TV shows and sports. Now, my initial reaction was to be like "well, get a few antennas and watch regular TV." I mean, all of my shows are on ABC and FOX anyway. But I decided to be less of a jerk and compromise. Especially because Game of Thrones is a necessity in this household and we would need HBO for that.
Don't forget that just by getting an antenna you will get channels like ABC, FOX, CW, NBC, CBS, PBS, MeTV, etc.
What I found was something called "Sling TV," which is basically an app that plays live TV from certain cable channels. For $20 a month, my husband could still get 2 ESPN channels, 2 History channels, AMC, Adult Swim, Cartoon Network and CNN. And I would also get HGTV, Lifetime, and ABC Family (yes, I watch Pretty Little Liars- sue me). We would also have the Disney channel for our son. Here is a full list of the channels they offer with their $20 package: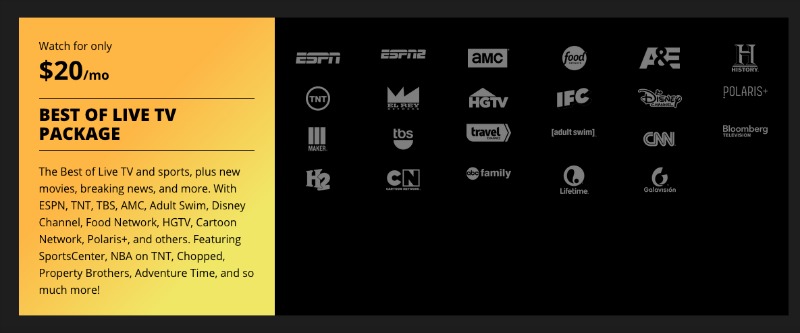 That's not to say that my husband doesn't complain about not having Comedy Central or National Geographic, but the price difference is definitely work losing those 2 channels. They also have extra packages that you can add like HBO, sports, Hollywood movies, more kids channels, world news, lifestyle channels, etc. The only extra we added was HBO, because Game of Thrones. Down the line I may add the kids package though- it comes with 5 extra kids channels for just $5. Here are some of the packages they offer:



(You can also try Sling TV for free for 7 days here)
You can watch Sling TV on a Roku, Amazon Fire TV, Xbox One, Nexus player, iOS, Android, Mac, and PC. From what I've seen, they always have deals where you can get a streaming stick for free or 50% off of another player. When we got it, we got the Amazon Fire stick for free and already had an Xbox one plus our phones and computers, so we put the free stick in our bedroom and we were good to go. Here is what they are currently offering: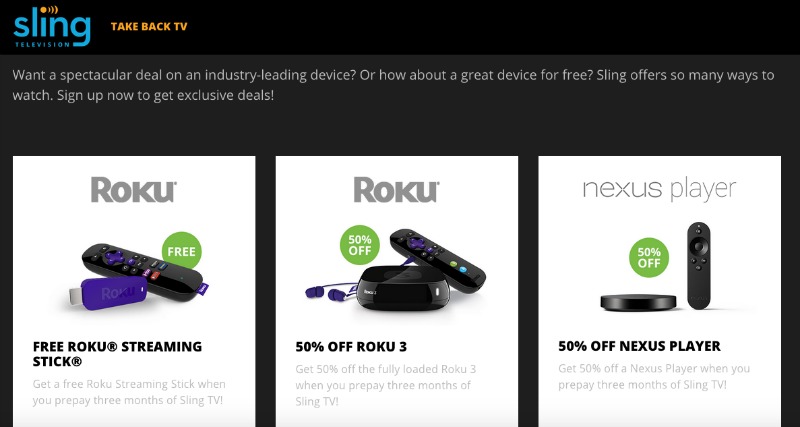 So, all in all, we now pay $43.25 a month for our TV entertainment VS the $180 a month we were paying for cable. Which means we are saving $136.75 a month and $1,641 a year!! So, yes, the $400 cancelation fee was totally worth it since we still had a year on our contract with Comcast. We can totally go cheaper by eliminating Sling all together or even just removing the HBO package, but with as much as we are saving this seemed like the sweet spot for us.
One things for sure, I will never pay for cable again! What works for you?
**I pay for these services myself**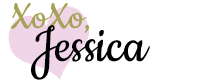 This post may contain affiliate links to help our readers find the best products.