This post may contain affiliate links to help our readers find the best products.
When I posted my full transformation story the other day, one of the most frequently asked questions was how did I get rid of my stretch marks. So, I wanted to share what worked for me and how to get rid of stretch marks naturally.
Let me start by saying that my stretch marks are still there and I didn't technically "get rid" of them, they just faded drastically. With the fading, they are hard to see unless there is direct lighting on them. You can see the before and after picture below.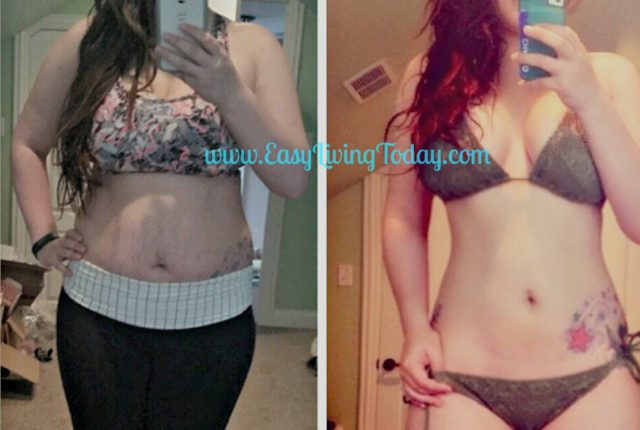 How to Get Rid of Stretch Marks Naturally:
Drink lots of water:

A well hydrated body will help increase the elasticity of your skin and will also help manage your weight. You should aim to drink half of your body weight in ounces every day. So if you weigh 140lbs, you should be drinking 70oz of water daily.

Take coconut oil baths:

Whenever I take a bath, I add 1 tablespoon of coconut oil under the running water and then mix it in to the rest of the tub. This helps helps soothe, moisturize and clarify your skin. You will see how nice your skin feels the minute you get out of the tub. I like to use an organic, extra virgin coconut oil like the one below for best results.

DIY Stretch Mark Cream:

I make my own stretch mark cream and put it on twice a day, once in the morning and once at night. This stuff is amazing and is much cheaper than any gimmicky stretch mark cream you can buy in stores (trust me, I've tried them!). On top of that, it's just better to know exactly what is penetrating in to your skin.

  DIY Stretch Mark Cream Recipe:

½ cup coconut oil (solid form)
½ cup sweet almond oil
1 cup shea butter
15-20 drops of lavender essential oil
Glass jars with lids

Coconut OilSweet Almond OilUnrefined Shea Butter Lavender OilBall Jar, 32-Ounce

&

      Directions:

Add the coconut oil, almond oil and shea butter to a stainless steel or glass mixing bowl. Using a double boiler method, constantly stir with a whisk until melted.
Remove from heat and place in fridge to cool.
Once solid, add essential oils and use a hand mixer to whisk mixture until creamy. Immediately spoon into glass jars and seal with an airtight lid.

Eat Clean!:

Eating a diet that consists of zinc, vitamin, and protein-rich foods can help fight off stretch marks and promote the healing of stretch marks you already have. It can also help with collagen production, which will help tighten your skin. If you're not sure where to start, check out the 21 Day Clean Eating Meal Plan that I followed to get from my before picture to my after picture.

Exe
Hope this helps!!