The nerd in me has always loved to make to-do lists, write down goals, and plan every single aspect of my life. With all the technology available to us, I tried using the google calendar to keep myself organized… no, just no. That didn't work for me at all. I absolutely need to write things down and there is something about checking my chores off that just gives me a natural high (I know, I'm weird!).
Naturally, shopping for a planner is always exciting for me. After the endless research, I decided to go with the Erin Condren Life Planner gold edition in turquoise, which was $75. I also added the coil clips, pen holder, markers, and notepads. I was so excited to receive my planner! Unfortunately, it took forever! It got here almost two weeks after the "expected delivery date," even after I paid the extra for faster shipping. Customer service was not the greatest and not very easy to deal with (they do not have an actual phone number and take a while to email you back).
Finally, the planner arrived and it was gorgeous!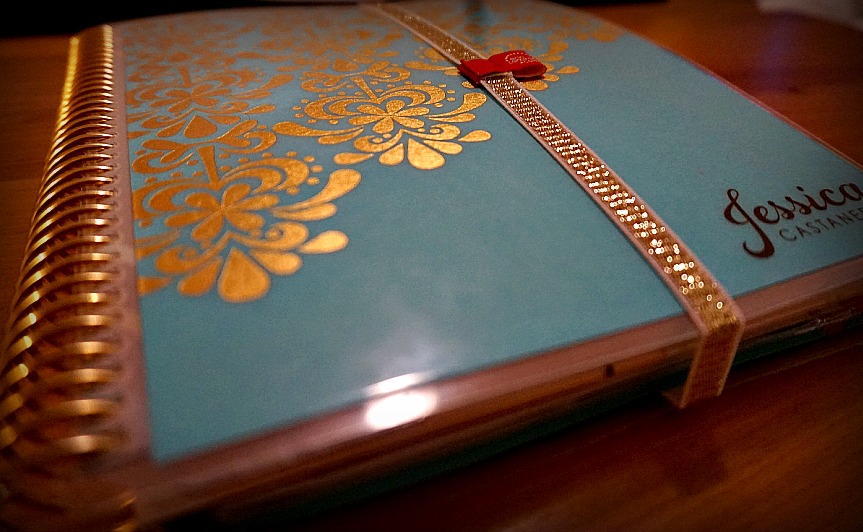 I spent a lot of time deciding how I was going to organize it and also spent a lot of time figuring out what would work best for me. I'll share what ended up working for me with you here.
When you first open the planner, it looks like this: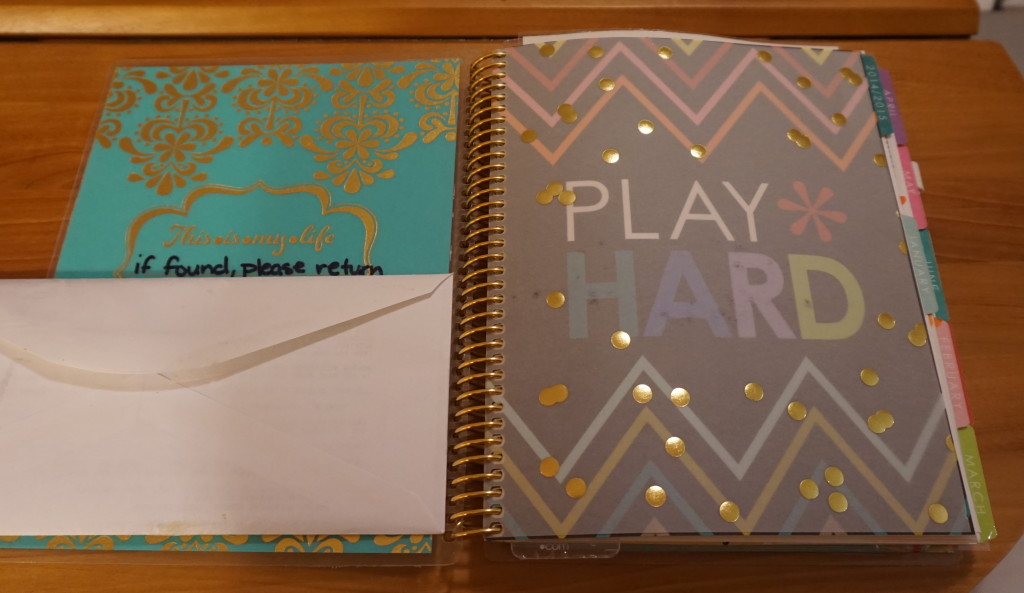 I put my name and contact information on the inside of the cover, because if I lose my planner I basically lose my life. Okay, not really- but really.
The monthly calendars all have cute quotes at the top. I use the stickers that come with the planner to organize my monthly section. I use the yellow stickers for bills that are due, I use the pink stickers for my paydays, blue stickers for my husbands paydays, green for business, and the orange stickers are specific for doctors appointments (definitely wish there were more of these since I was pregnant and now have a baby with lots of appointments). If any of these things change I can just peel off the sticker and move it, which I have had to do a few times and was glad I didn't write them in. I just write things that I know will not change in. Then, on the right side, I keep track of my monthly goals.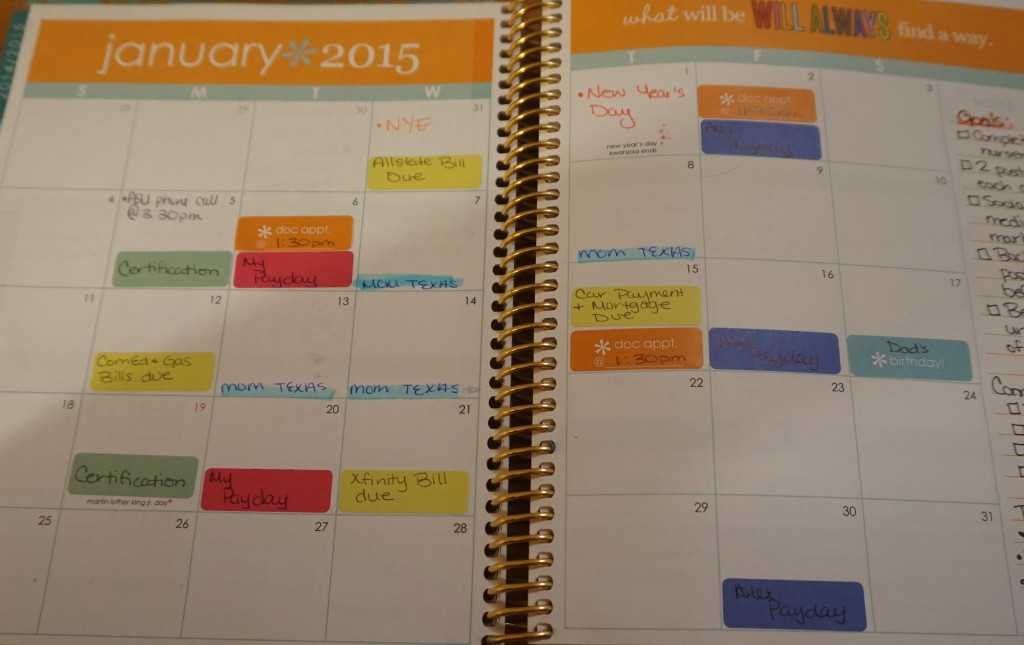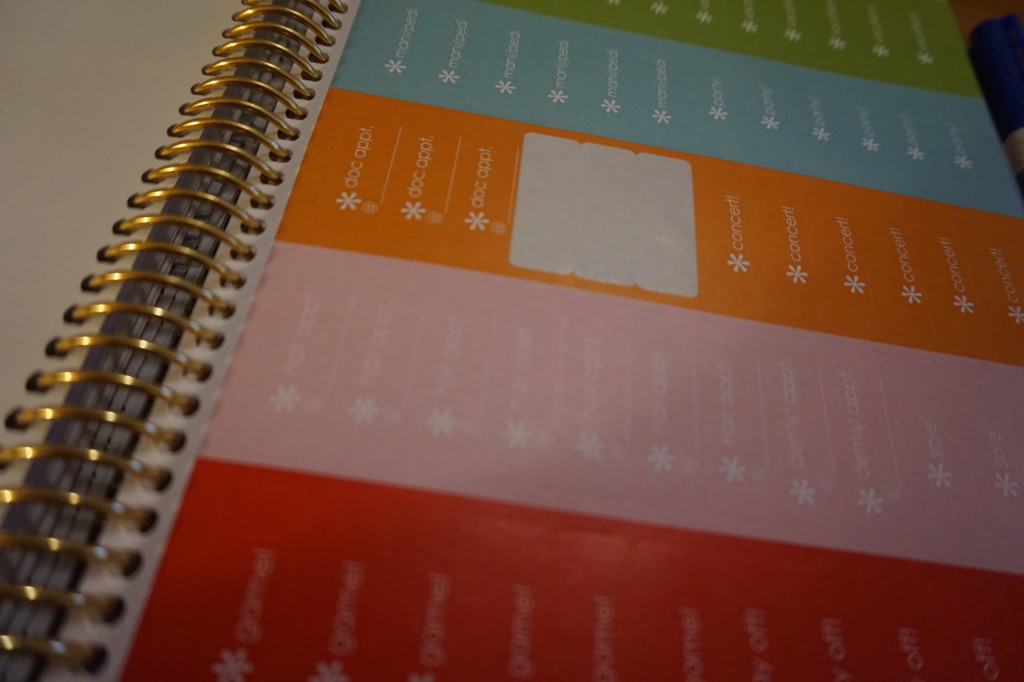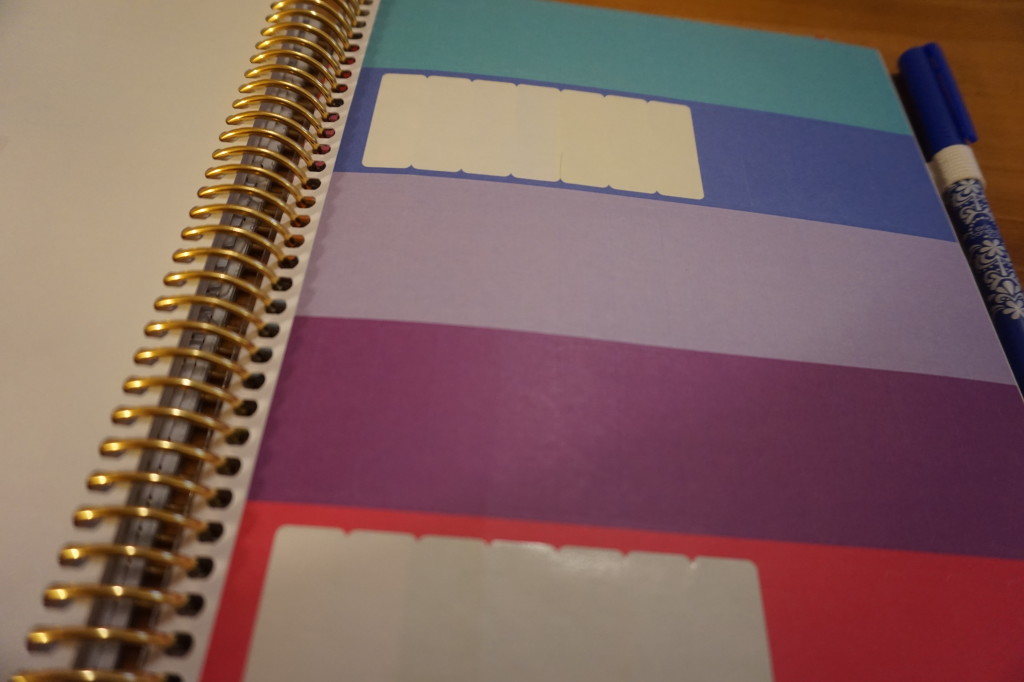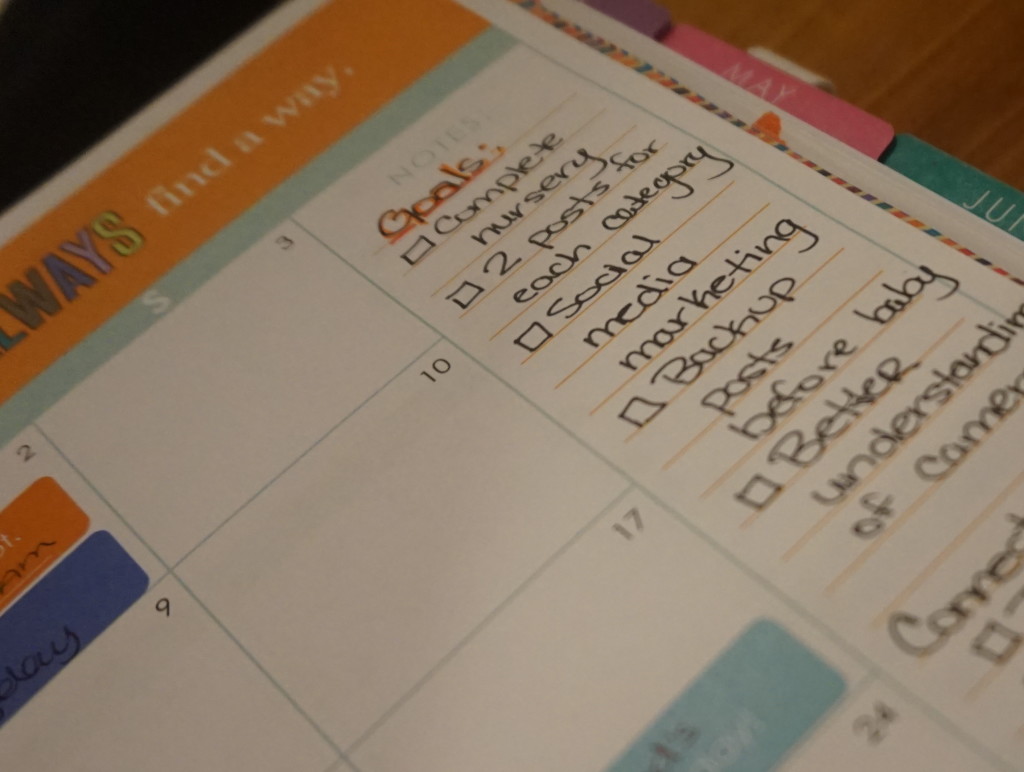 Within the monthly section, I added a monthly budget planner. I just designed it on my computer, printed it, laminated it, and then added the coil clips to clip it in. I use dry erase markers to write everything in and then just erase it and move it to the next month when the time comes.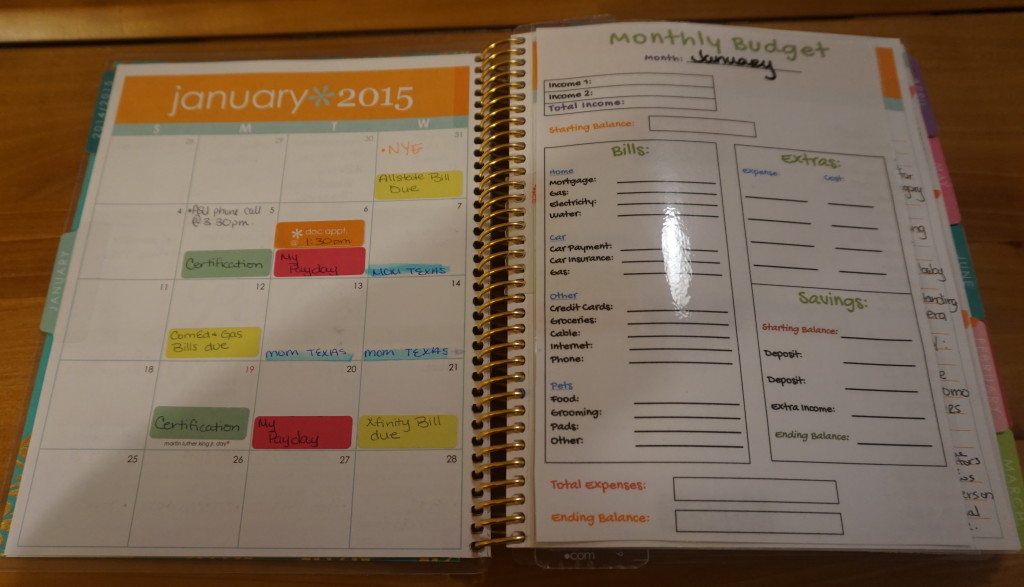 I divided my weekly calendar in to four sections: plans and appointments, home and personal chores, blog to-do's, and fitness. The bottom section is where I keep track of water intake (at the time I was keeping track of my Red Raspberry Leaf tea intake).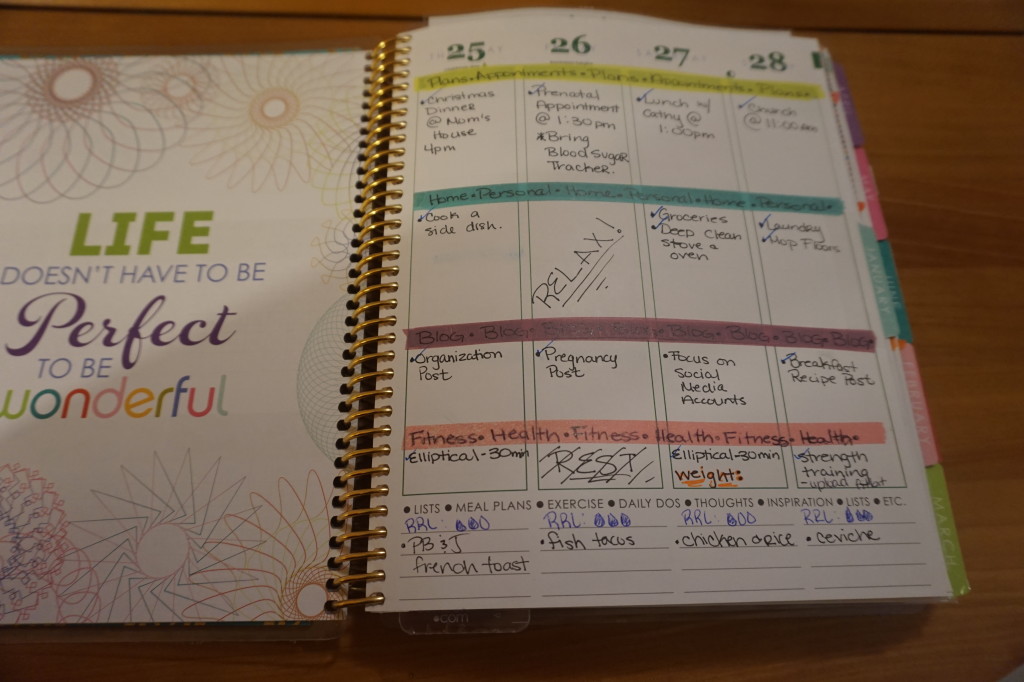 When I took this picture I was also using the bottom for meal planning, but it ended up not being enough space so I made a meal planning insert.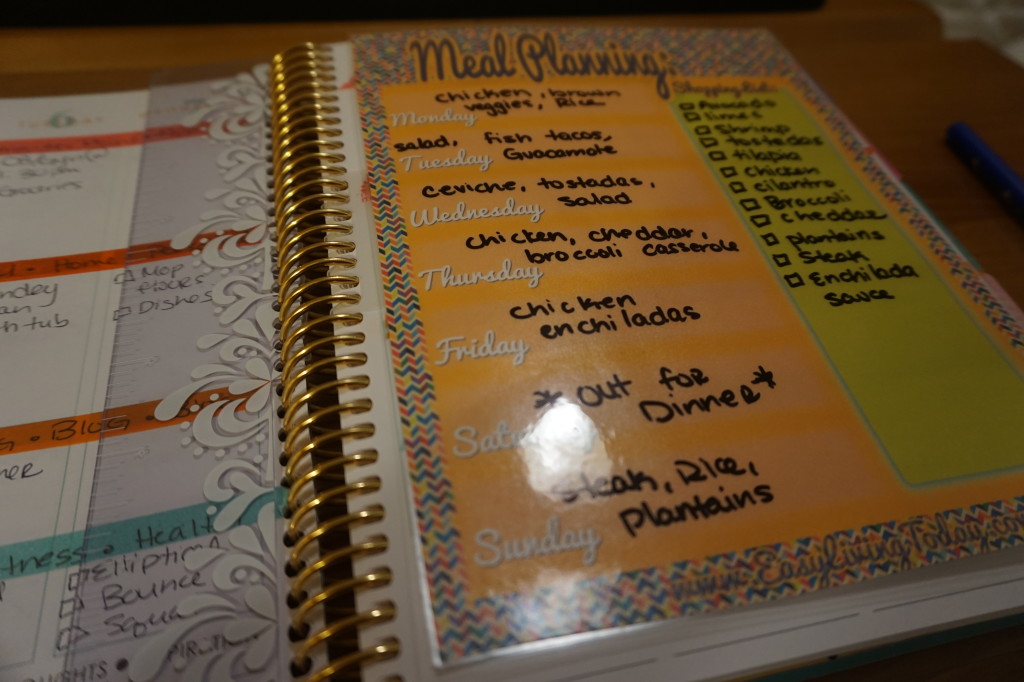 The notes section is a bit more complicated. It is basically divided in to lined pages and plain pages. I divided my notes section in to three sections: personal/home, blog, and fitness.
My personal/home section has a password tracker for bills.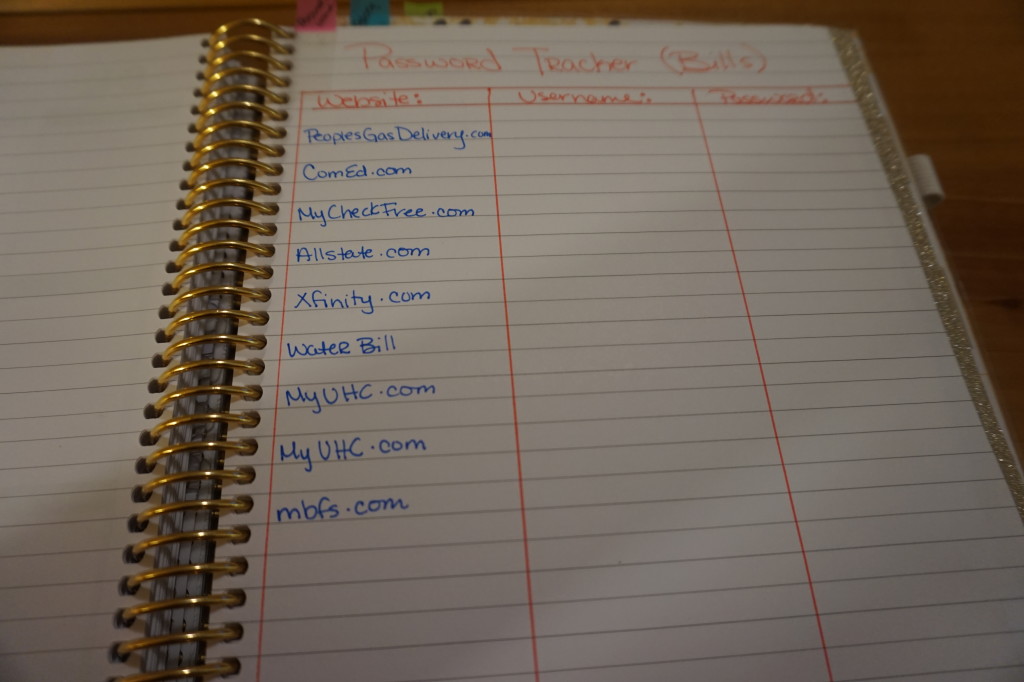 Then I have a wish list to keep track of all of the goodies I want.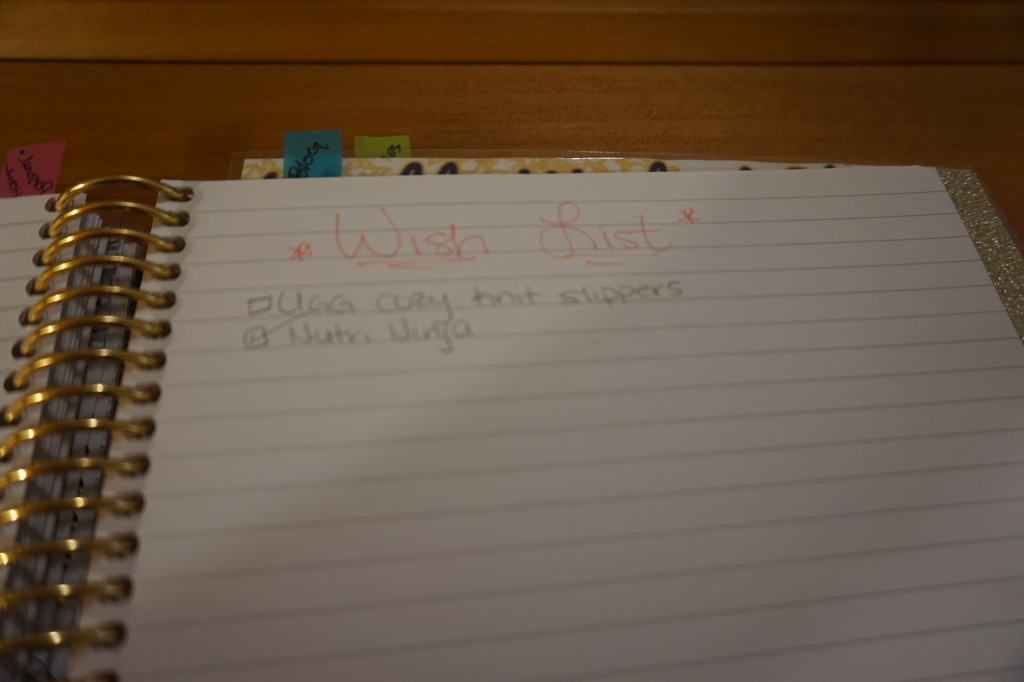 And the bulk of my personal section consists of event planning for the year, including Christmas gift lists and party planning.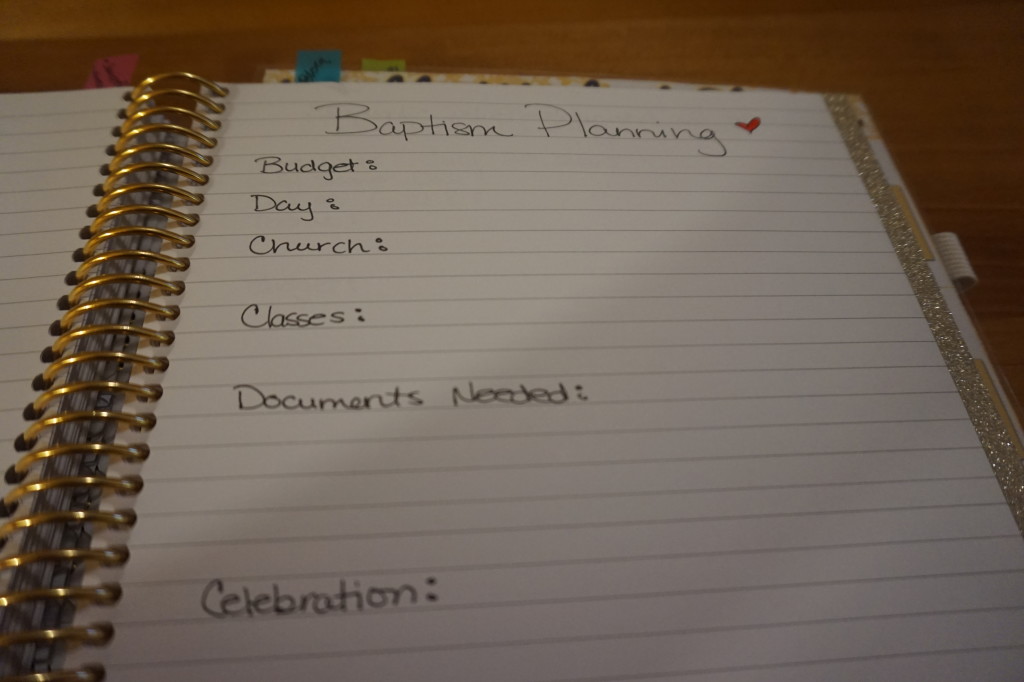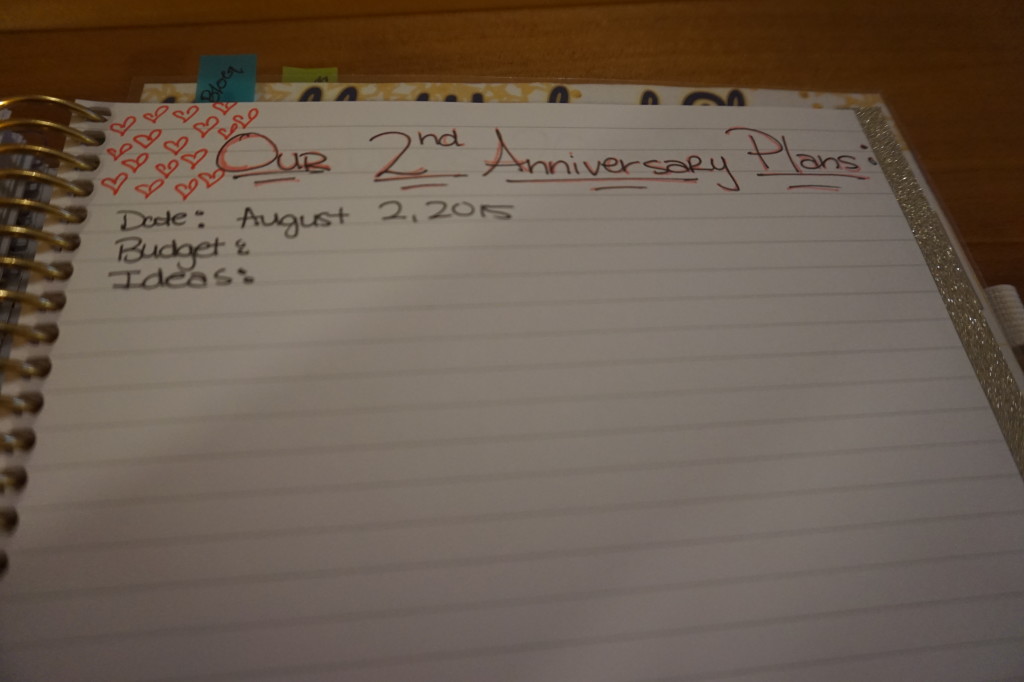 I use this section so much that I had to add washi tape to the edges of this section so I could get to it faster.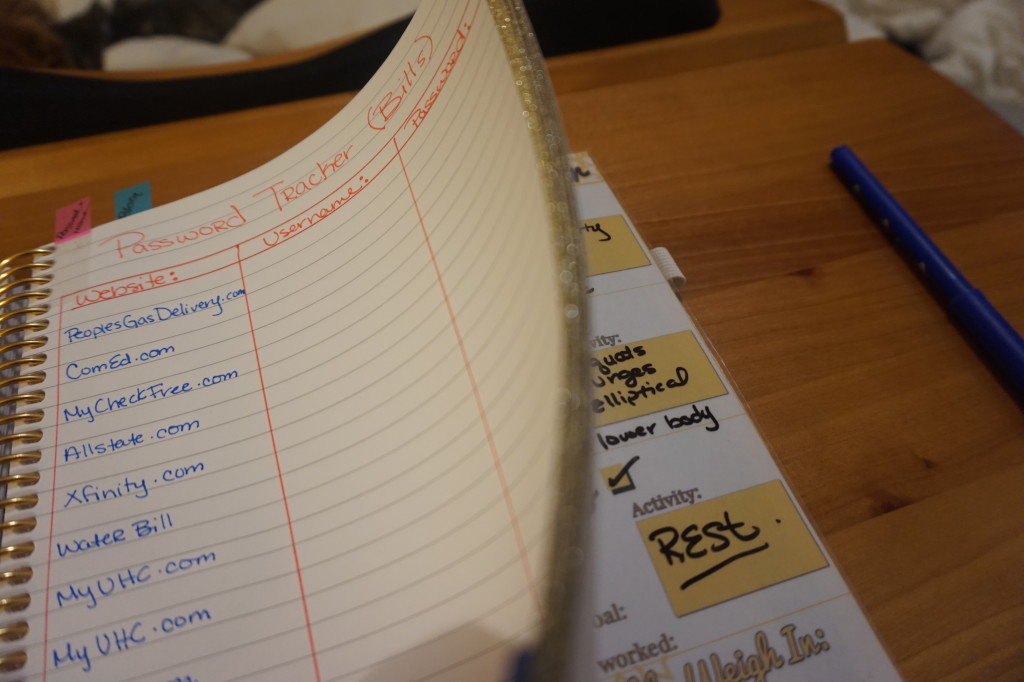 My blog section has a password tracker, my blog post ideas, and lots of other business pages. I keep my blog post idea on sticky notes so that I can remove them when I'm done, so I do not have to use up a bunch of pages.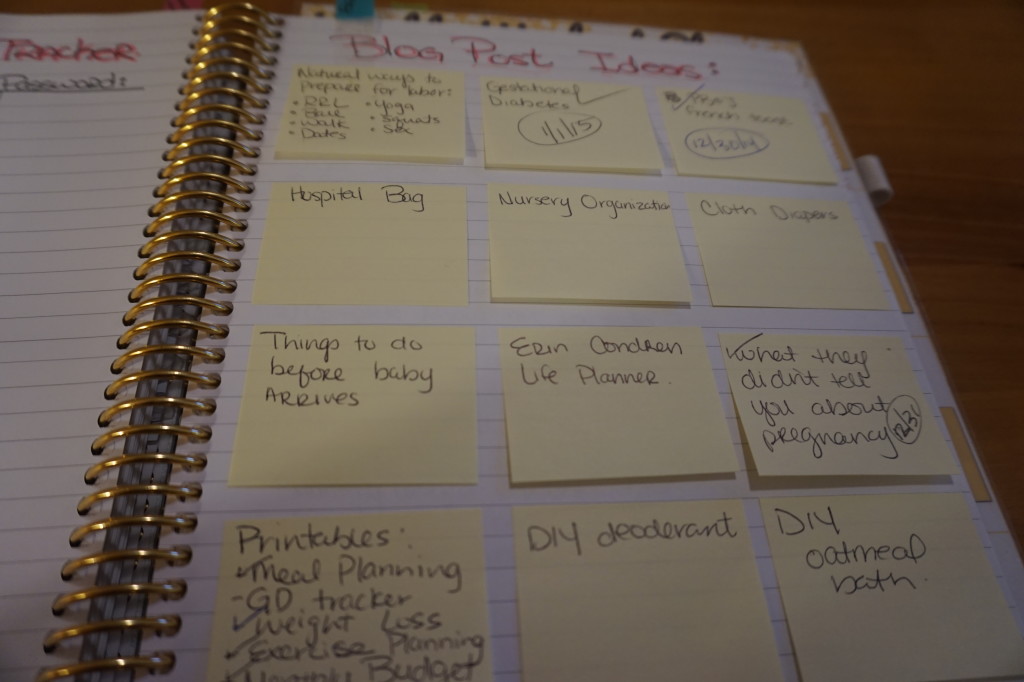 I use the same sticky note trick in my fitness section, so that I can remove my goals and replace them with new ones as I hit them.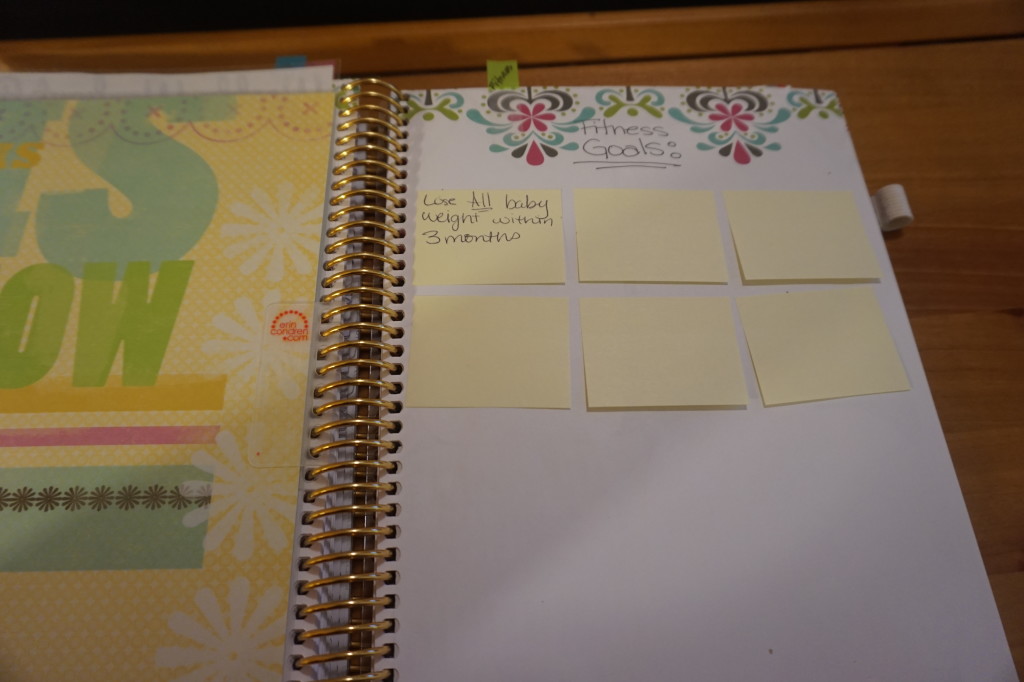 I also made a weight loss tracker that I clipped in with the coil clips. As I lose the weight, I will move the sticker to the other mason jar.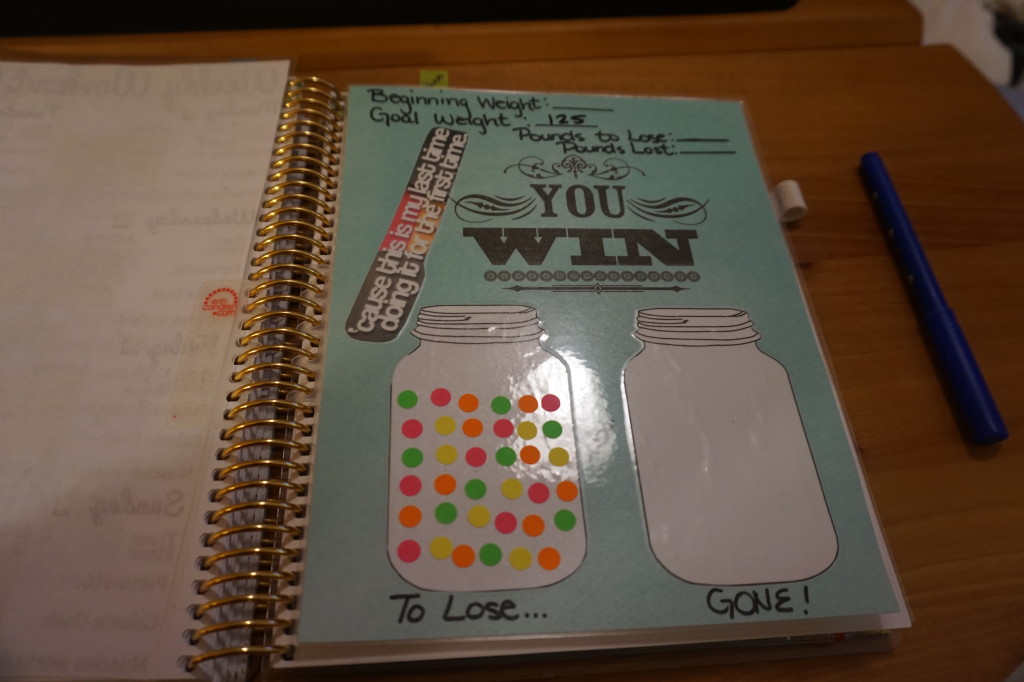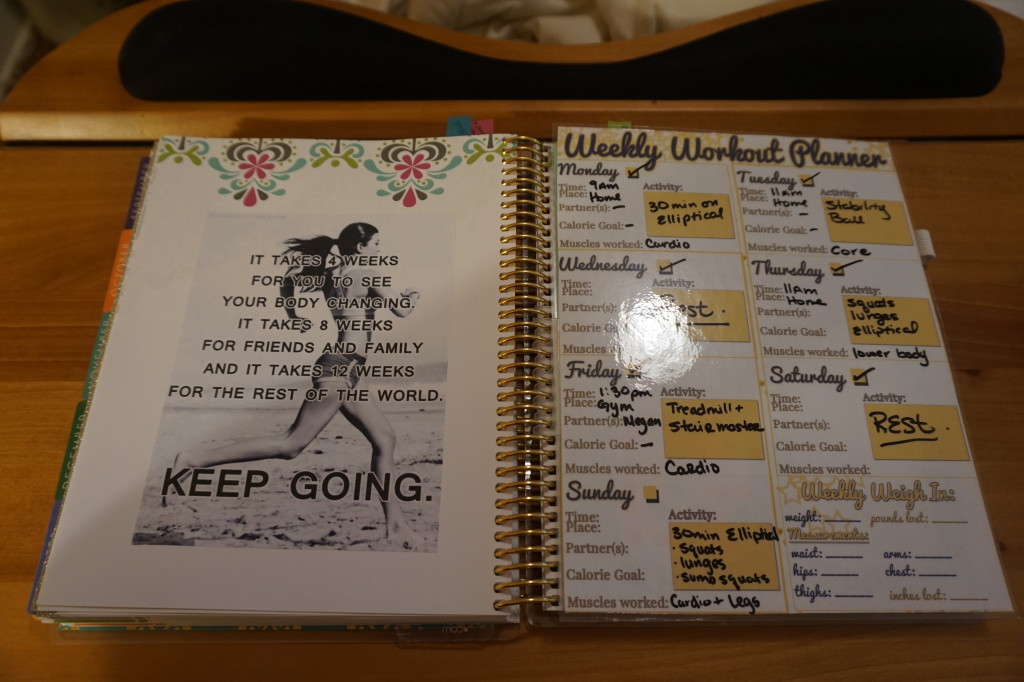 I also used the other pages as motivation with quotes and pictures of dream bodies haha. What is the point of pinning them on pinterest if you never go back and look at them?!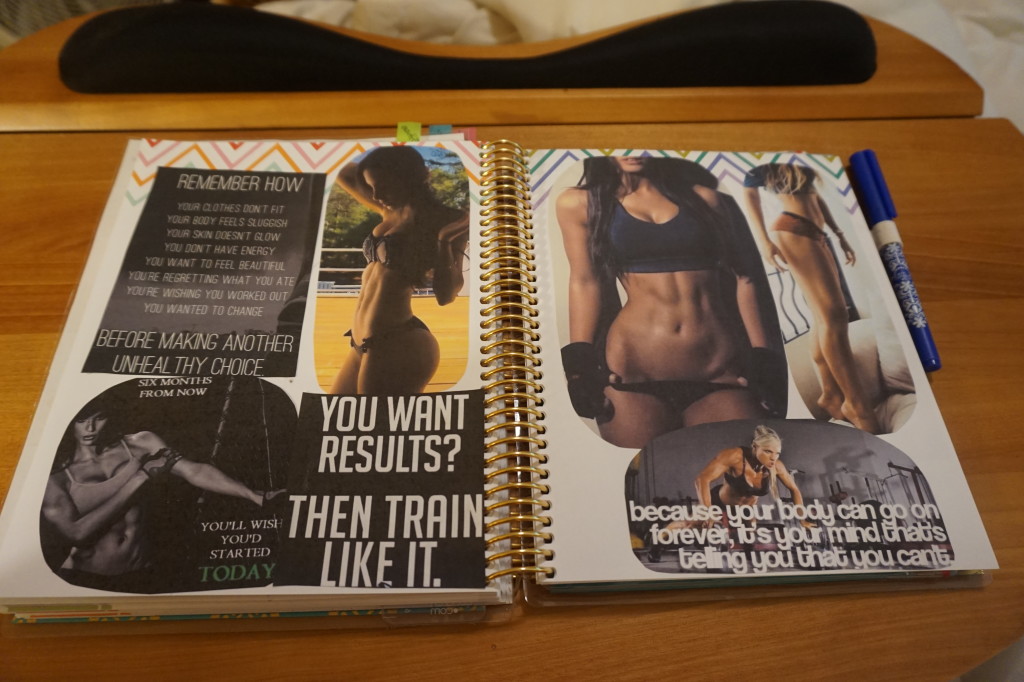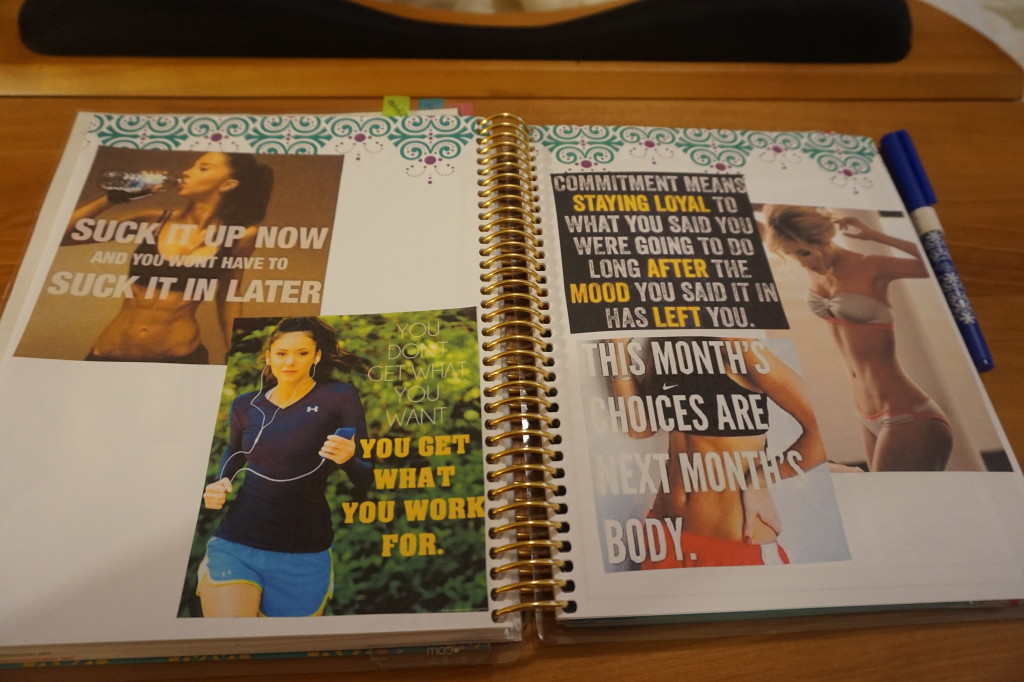 After the notes section, there is a folder with a perpetual calendar and contacts book. Here is what it looks like: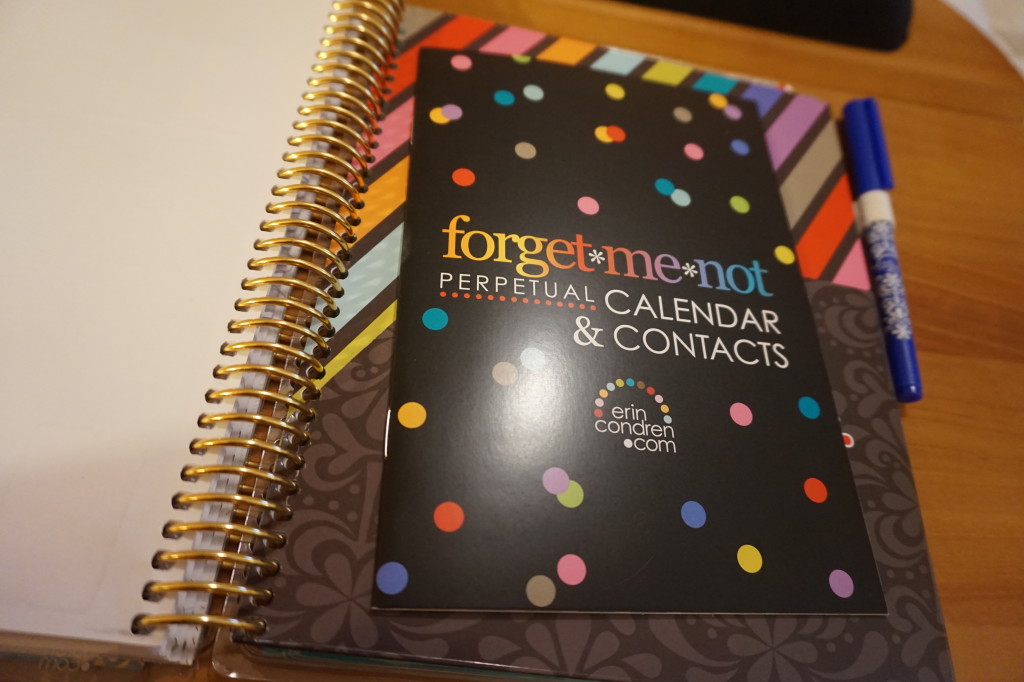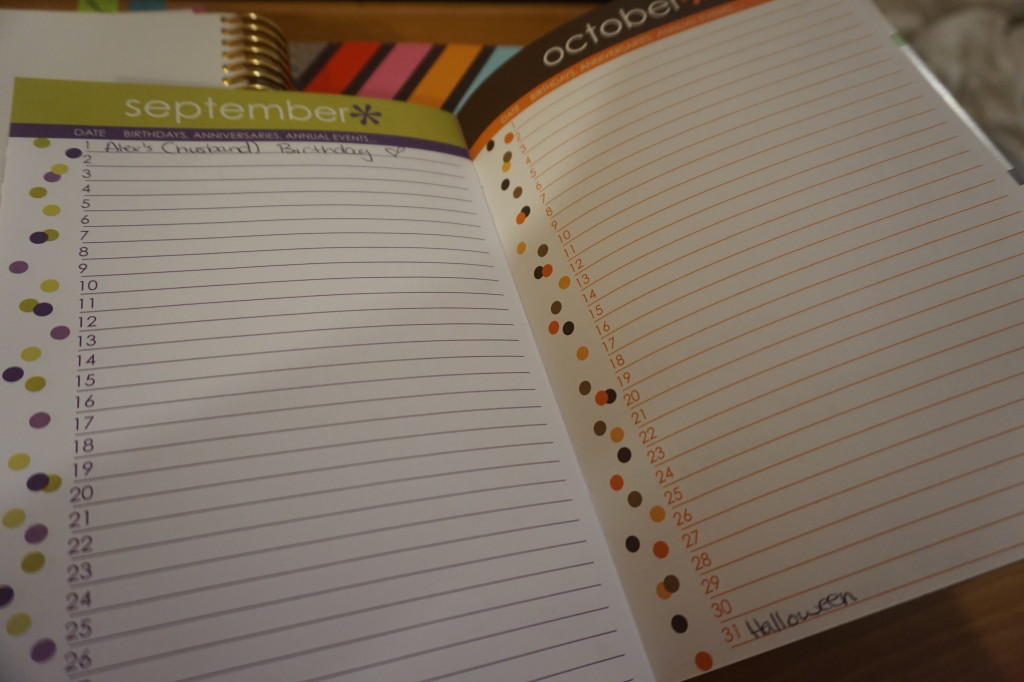 There is also a zip bag: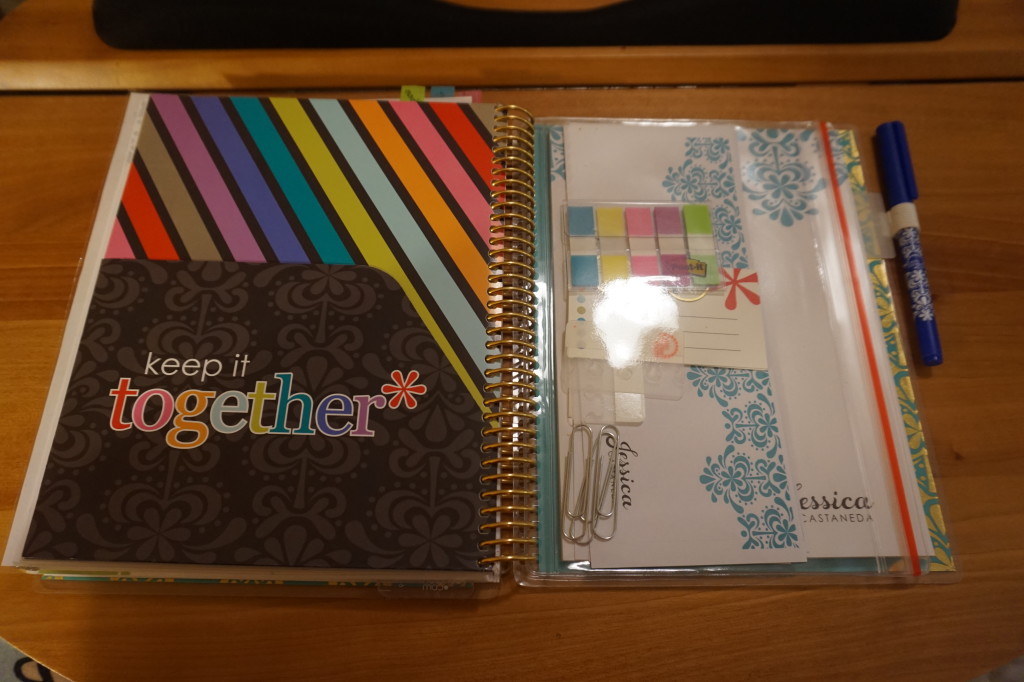 Here are the notepads I added: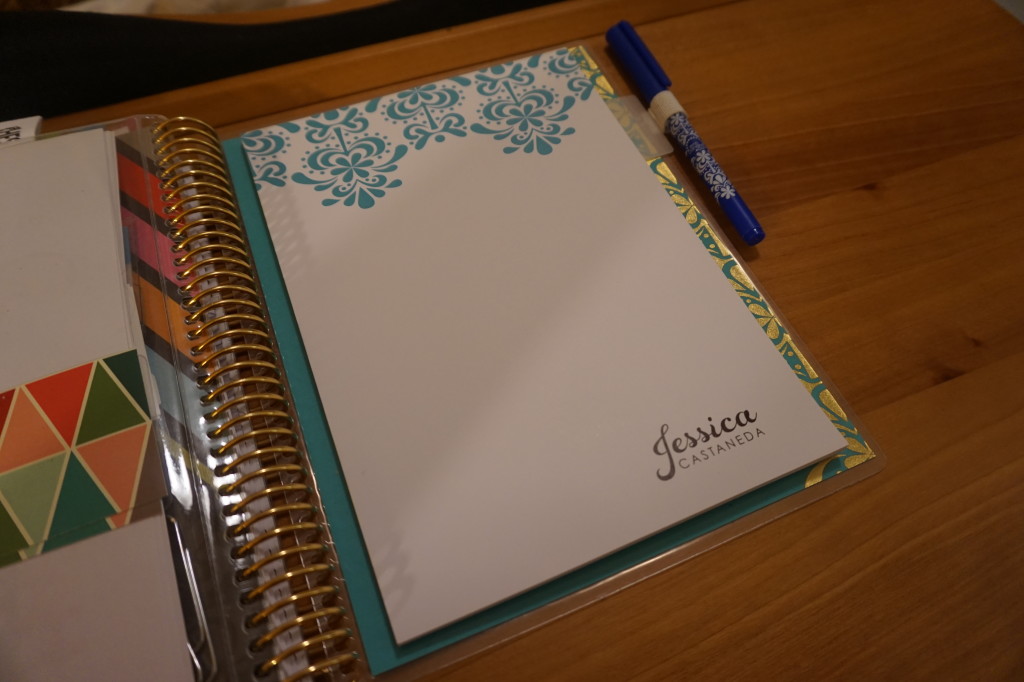 There is also a 2016 and 2017 year at a glance section: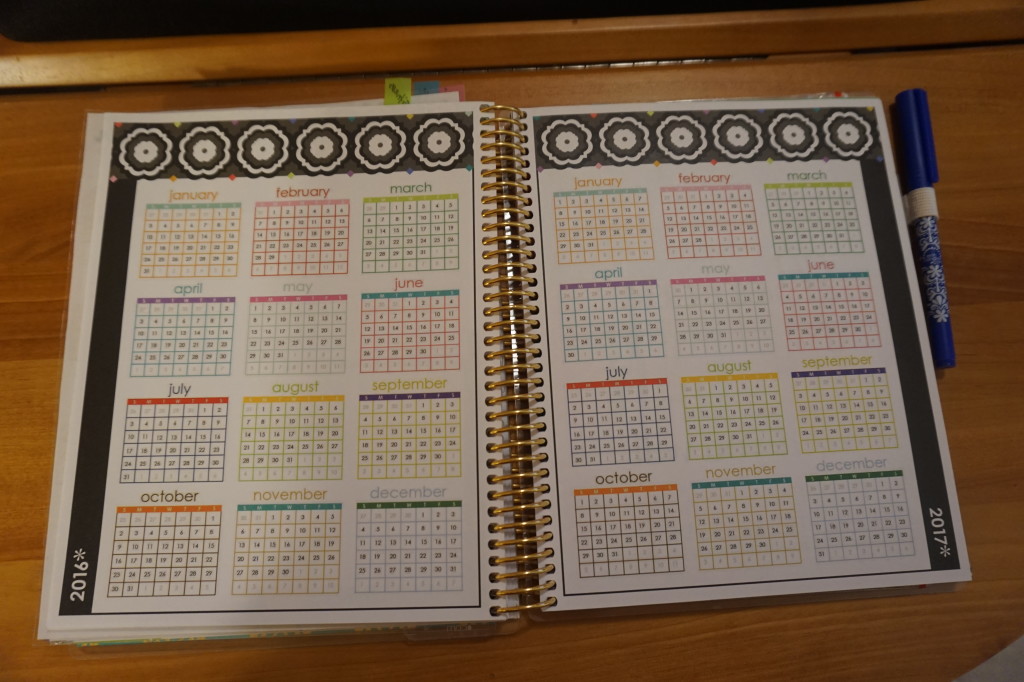 Now I will say that as beautiful as the planner is, there were some issues I had with it. The gold binding peeled just days after I received it. The folder ripped with gentle use. And as I previously mentioned, customer service is just not great. I do think that for the money you spend on this planner, these three things should be fixed.
Is it worth the money? It really depends on what you are looking for. It is gorgeous and very customizable, and if that is what you are looking for then you will find it with this planner. Remember, you will be using it all year so you want to make sure you love it. With that being said, you can definitely find cheaper planners that will get the job done.
If you decide to order it and would like $10 off, you can sign up with this link: https://www.erincondren.com/referral/invite/jessicacastaneda1122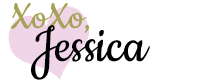 This post may contain affiliate links to help our readers find the best products.